También puedes leer este artículo en: Español
Food is the essence of all life since it bestows with sufficient energy to conduct daily activities. For that reason what we decide to consume becomes the fuel that our body needs to stay in control. Having a wonderful variety of food to choose from is such a comforting feeling, since you can decide what is best for you. The food doesn't necessarily have to be over the top, but so long as the dish in front of us is edible then we're totally fine. Food speaks to us in a variety of different ways, from a variety of different cultures. Food can speak to us and provide abundantly to our well being, while speaking universal language that we all can understand and appreciate. Cooking anime are full of imagination and creativity and so we're going to provide you our top 10 cooking/food anime for you to dig in and enjoy.
Whether you're strictly a meat eater, vegetarian, or you enjoy a slice of everything, we have just about every menu covered so sit tight and we'll be at your table shortly to assist you.
Beware of spoilers!
10. Jang Geum's Dream

Episodes: 26
Aired: October 29, 2005 – April 29, 2006
Rolling in at number ten on our list of Food/Cooking Anime is a Korean anime that released in the fall season of 2005. This wonderful story revolves around the life of Jang Geum and her passion for cooking. Jang Geum's dream was to become a palace chef, but she met with numerous hurdles along the way. Jang Geum has to pass all of the tests to become a refined chef while in fierce competition with her rival. No matter what, Jang Geum always managed to impress everyone with her exceptional creativity, determination, and zest. You can't help but cheer for her as she always strives for the best and makes sure to do things the right way, and her way.
One fantastic example is in episode two when Jang Geum decides to create a very simle rice dish which goes very well for her in the beginning. Rice is very delicate and must be prepared with the right amount of attention, and Jang Geum had it all completely. Suddenly an accident occurs which puts her behind the rest of the competitors, leaving her with very little time to work with. In the end, the judges try her rice dish and are very impressed by it, despite her not having much time to prepare it. We feel this show is deserving of the tenth spot because it tells a wonderful story of passion with a touch of warmth to provide meals that not only serve the hungry stomach, but to fill our empty souls.
---
9. Bonjour♪ Koiaji Patisserie

Episodes: 24
Aired: October 10, 2014 – March 20, 2015
Food will always be the gateway to our souls because of how much variety is out there to choose from. This brings us to the next entry on our list of Food/Cooking Anime. Bonjour Koiaji Patisserie makes its appearance as our number nine. Seeking to pursue a career in pastry making, Sayuri decides to enroll into an elite confecitonery academy that's surrounded by many handsome men in uniform. They all aspire to be chefs much like herself and to her amazement, can create some fantastic dishes as well. Pastry design will always be popular no matter what part of the world you reside in, and when you watch this anime you'll be blown away at what these characters come up with.
The show teaches us about the importance of having a focus and sticking to it, as shown by Ryou and his supreme baking skills. Many of us are led astray by others who don't serve a purpose similar to our own, and we become distracted and end up leaving our passions behind. Bonjour Koiaji Patisserie teaches us to regain that focus and to surround yourself with wonderful like minded individuals who will not only help you strive for success, but to help build character and live the life you've decided in your heart.
---
8. Muteki Kanban Musume

Episodes: 12
Aired: July 5, 2006 – September 20, 2006
Coming in at number eight is Muteki Kanban Musume. This cooking anime story focuses on Miki, a poster girl who works by her mother's side at their Chinese ramen restaurant. Miki seems to have a very innocent persona at first glance, but that all changes once you get on her nerves. Whenever a conflict arises Miki tends to lose her temper, fighting with everyone in the restaurant including her mother, which ends up causing mishaps. Now, we simply can't leave out the most important dish of the entire series, and that's ramen. When watching the series you get a glimpse of the true essence of how the popular dish is made, and the heart that goes into it. Ramen is a very delicious bowl of savory goodness that can be served in a variety of ways.
In Muteki Kanban Musume, the style that is used primarily is the Chinese method of preparing which is quite simple and easy to do on your own. In Japan it is called Chuuka Soba which literally translates to Chinese Soba or Chinese Noodles. What you'll usually find in a bowl of ramen consists of Chashuu which is sliced braised pork, Scallions, Menma (bamboo shoots), and the very popular Nori (Dried Seaweed). Other items can be added such as a boiled egg or bean sprouts which add an extra bit of texture and flavor to the meal. If you truly love ramen and would like to see more then be sure to check out Miki and her friends!
---
7. Sushi and Beyond

Episodes: 24
Aired: April 12, 2015 – October 11, 2015
Sushi and Beyond is a food anime based on the book by British travel and dining Journalist Michael Booth. Booth and his family embark on a 100-day trip to Japan where Booth takes the viewer on an adventure to several Japanese styled restaurants focusing on various dishes. Not only does the show provide you with an entry way into the world of Japanese culture, you're educated on how to properly eat and enjoy the beautiful cuisine it shares with everyone.
For most of the show, it teaches us how special Japan really is and how unique much of the cuisine is with regards to Japanese tradition. This is a show that is full of great information not just about food but will educate you about Japanese culture as well. We suggest you watch it and learn more about the great restaurants that are found all around the amazing nation.
---
6. Wakako-Zake

Episodes: 12
Aired: July 5, 2015 – September 20, 2015
Wakako-Zake follows the audacious life of Wakako Murasaki, who truly enjoys going out alone to eat and drink where ever she desires after finishing work. Wakako takes us on a journey filled with an assortment of great food served in a very Japanese style. Each episode of the show lasts for roughly 2 minutes, making a short food/cooking anime that show us some very delicious meals throughout. A lot of the show introduces viewers to various Japanese methods of cooking such as the episode 11 where Wakako shows us a very popular dish named "Hokke". Japanese custom its own method of preparing the dish and from watching this particular episode, you can see that every part of the fish is considered and not ignored.
In more of the episodes we start to see more unique dishes created by various chefs in different restaurants such as Crab Miso, Goya Chanpuru, and Sea Urchin Cresson which are very delicious Japanese dishes that can only be found in certain parts of the nation. We highly recommend watching this anime to really get a true feel of Japanese style culinary.
---
5. Kofuku Graffiti [Gourmet Girl Graffiti]

Episodes: 12
Aired: January 9, 2015 – March 27, 2015
Kofuku Graffiti comes in at number five on our list, and we'll provide reasons why we think this awesome cooking anime deserves its position. Machiko Ryou is a middle school student that decides to live with her second cousin Morino Kirin. Knowing that her passion lies in the form of cooking, she finds happiness can be created through making great dishes for everyone, including Kirin. Her late grandmother had passed down her knowledge to ensure that Ryou can not only bring inspiration into her life, but also bring satisfaction to those around her. Gourmet cooking is such a blast to watch because of its sheer attention to detail relating to taste, color texture, and more.
A lot of moe is shown throughout the series which in Japanese refers to the feeling of bursting out or using a special power to make your heart burn with passion and love. You can definitely see passion and love come straight out of the hands of Ryou as she always has ideas running through her mind, ready to share great foods with her friends on their wonderful journey through the gourmet world. If you enjoy the moe-style approach along with mouth watering cookery then be sure to watch this great anime.
---
4. Yume-iro Patisserie

Episodes: 50
Aired: October 4, 2009 – September 16, 2010
Making its way into our top five spot in our favorite cooking/food anime is Yumeiro Patisserie. This sweet cooking anime series follows the life of Ichigo Amano who doesn't necessarily have the talent of creating a beautiful cake, but her strong palate makes up for it quite easily. Her grandmother who was a pastry chef encourages Amano to pursue a career in pastry, and tells her to find a school to study and become a chef herself. We see that throughout the series Amano uses her great sense of taste to create some very potent pastries that will have you foaming from the mouth.
For those who have a sweet tooth, Amano whips up a great assortment of cakes while her competition throughout the series make some of the best pastries we've ever seen. The sheer attention to detail and accuracy are what make this such a great addition to our list. The food may be the selling point of the series, but what truly places the icing on the cake is the presentation. Have you ever walked into a pastry shop only to see everything so neatly stocked and designed? Yumieiro Patisserie will not only have you licking your lips in satisfaction, but also inspire you to truly live out your dreams and become a master of what you love doing in your heart.
---
3. Yakitate! Japan

Episodes: 69
Aired: October 12, 2004 – March 14, 2006
Yakitate! Japan is a wonderful classic cooking anime that focused on the life of the bread obsessed Azuma Kazuma whose dream was to become the best bread maker in Japan. He was gifted by the gods with having hands that could produce natural heat and help speed up the fermenting process when making bread dough. The special power was known as "Solar Hands" which you can see him use frequently all throughout the competition. His goal is to make his Ja-Pan the national bread of Japan, and so he ventures out to ensure he secures a spot in the very prestigious Pantasia Bakery. We chose this as our number two spot because Kazuma shows determination his willingness to succeed doing what he loves, which is to make bread. Furthermore there aren't that many anime that really focus on the process of making bread from scratch, using real methods to demonstrate to the viewer.
Not only does this baking anime educate you and make you crave some sweet pastries, it is full of great humor that will keep you laughing for hours after watching one episode. One great example is how the show really focuses on exaggerating those moments when the judges taste a certain pastry only to burst out in this pseudo-orgasmic behavior that just creates a wonderful tone, and helps to balance out the more serious moments of the show. If you truly enjoy your cakes and sweet pastries like we do, then make sure to check out this very wonderful slice of life comedy.
---
2. Ristorante Paradiso

Episodes: 11
Aired: April 9, 2009- June 25, 2009
We most certainly love diversity when it comes to the preparation of food, and so our next contestant for Food/cooking anime is Ristorante Paradiso which comes in at number two. Nicoletta felt resentment towards her mother Olga, as she ran off to Rome to remarry. Nicoletta never accepted her mother's decision and throughout her youth she vowed to get back at her, that is until she comes across an Italian restaurant called Casetta Dell'Orso. As Nicoletta walked inside she was immediately greeted by very handsome gentlemen in formal clothing, and much like the employees the clientele were very well kept too. Before she could ever really let out her feelings towards her mother, the environment in which she found herself in started to grow on her leading to a love of the Italian lifestyle.
The wonderful thing about this anime doesn't just come from Nicoletta's complicated past, but from the marvelous cuisine that comes from it all. You can see that much of Nicoletta's mother's love is displayed through her fine dining being very meticulous. Once you're greeted with a glass of red wine and some of the world's best Italian pasta, every bit of hatred in your bones dissipate and you're immediately amazed with all of the many herbs and spices that blend well with each other. We suggest you take a bit of time to relax and enjoy the adventures that Nicoletta experiences, and truly take in all that Casetta Dell'Orso has to offer.
---
1. Shokugeki no Souma Ni no Sara

Episodes: 13
Aired: July 2, 2016
Shokugeki no Souma really turned heads and made many drool when it made its debut back in the spring of 2015. Yukihira has had a dream since he was very little to become a world renowned chef, but never had much opportunity to showcase his talents. His father one day decided to close the restaurant and encouraged Yukihira to enroll in the Tootsuki Culinary Academy to sharpen his skills as a chef. This elite cooking school is home to some of the world's best and it has now become the purpose of Yukihira to fulfill his dream to becoming the best the world has ever seen.
The first season of the this cooking anime really left us craving for more as each episode that aired was overflowing with information pertaining not just cooking, but Japanese style cuisine too. With a variety of culinary techniques we were amazed at just how well prepared these dishes were and how remarkably similar they are to their real life counterparts. In the second season Yukihira makes his triumphant return continuing from where it left off in the very tense culinary finals, where he squares off against highly skilled chef Alice. While we don't want to giveaway much of the episode, much of it focuses on the very popular Bento. This new season is already shaping up to be a very intense one which is why we had to give it the number one spot.
---
Closing Statement
We've come to the end of of this delicious list of food/cooking anime, and we hope you found it informative. With there being so many types of foods out in this world, it becomes easier to find the dish that serves your needs. These ten shows demonstrate how cooking can not only change your life, but also the lives of others if what you cook comes with the heart. Sharing is caring here at Honey's Anime and any ideas are always appreciated in the biggest way. Make sure to share some of your own favorite cooking anime along with some recipes if you feel the need to share with us!
As always, for your sweet anime fill, keep it locked here at Honey's Anime.
---
---
Do you seem to crave food or suddenly just go hungry after seeing some photos or TV shows about food? If you do, get ready for this next Top 10 List about Cooking/Food Anime that will mentally stimulate those taste buds and maybe even make your mouth water. The list will revolve around food and beverages, also how the food is 'presented' to others in the anime. Basically, we're providing viewers with a different and more unique perspective on food. So grab a bite, and let's get on with the list!
10. Bartender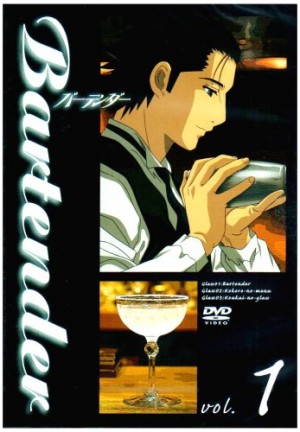 Episodes: 11
Aired: Oct 15, 2006 to Dec 31, 2006
This anime chronicles the story of a talented bartender, Sasakura Ryuu as he serves every customer that comes into Eden Hall the perfect drink as a remedy for their life problems. Ryuu possesses a form of higher understanding towards customers that come in for a drink, as he never fails to make customers reminisce about the root of their problems through alcoholic drinks; behind every drink served, there is a story to be told.
This anime would be the perfect example of a classic excuse everybody uses to justify drinking: "Alcohol is the solution to all problems". But the way alcoholic drinks are depicted in the anime revolves around the emotions the customers went through, rather than being a method to forget about their problems. Albeit, this anime is more centered on 'drinks' than actual food, the way those drinks are served would definitely give anyone a unique perspective on alcohol.
---
9. Koufuku Graffiti (Gourmet Girl Graffiti)

Episodes: 12
Aired: Jan 9, 2015 to Mar 27, 2015
Enter Machiko Ryou, a middle school student that ends up living with her second cousin, Morino Kirin. With her forte being cooking, she learns to believe that she is able to create happiness through the gourmet food that she shares with Kirin. Join Ryou as she reminisces about her late grandmother and the memories they had together revolving cooking and life.
The details of the dishes and food in this anime are very well drawn; the color texture, etc. It's almost certain to make viewers crave for more. The characters' moe filled expressions after eating the food is probably the 'cherry on top' for this mouth-watering anime about food. If you watched K-ON and other moe-like genres, this anime is quite similar to them. Whereas K-ON! Is more about music, Koufuku Graffiti is more about food.
---
8. Ristorante Paradiso

Episodes: 11
Aired: Apr 9, 2009 to Jun 25, 2009
Nicoletta, daughter of Olga, seeks out vengeance against her mother who abandoned her to marry the owner of Casetta dell'Orso, a renowned restaurant in Rome. But soon she finds herself captivated by the restaurant's unique ambience. Not to mention the staff that works there is also very gentleman-like; wearing fake reading spectacles and serves food in a very proper manner.
This anime has the perfect depiction of a classic Rome/Italian restaurant as it gives you that heart-warming vibe through things like its amazing background music. If you love the idea of a fancy restaurant or food, this anime will be perfect to go with it. This anime emphasizes how the food is served to the customers; the staff learns to understand the customers and get to know what and how to serve them.
---
7. Ben-To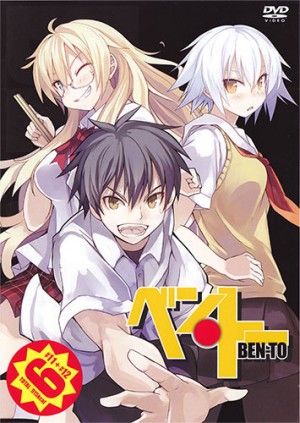 Episodes: 12
Aired: Oct 9, 2011 to Dec 25, 2011
Satou You is a typical innocent high school student who finds himself unconscious at the supermarket after going to buy some food for dinner. He then wakes up with a series of injuries that he later finds out was due to the battle over who gets to buy the half-priced lunch box (bento). He was then recruited by Yarizui Sen, as a member of the Half-Pricer Club. A club that strives to get lunches at half-price in this battle over who gets to buy them at the supermarket.
This anime is one-of-a-kind in the way that the characters actually fight over food. Literally. It might seem ridiculous at first as to why the characters in the anime make so much fuss over some half-priced food, but that's what actually makes the anime appealing in the first place. You might even be able to relate to how desperate and important it can seem to get food at discounted prices after watching this anime.
---
6. Toriko

Episodes: 147
Aired: Apr 3, 2011 to Mar 30, 2014
During the world's Gourmet Age, Toriko, a Bishokuya (food investigator) sets out on a journey to discover new ingredients that are still unknown to the world. Accompanied by Komatsu, a highly-skilled chef, Toriko journeys to fulfill his dream to create a Lifetime Full Course Menu, starting with hors-d'oeuvre, then soup, fish dish, meat dish, main dish, salad, dessert, and a drink. Toriko has to fight his way through monsters that will be potentially used as an ingredients for his meals.
Whereas in the previous selection we have an anime that involves fights over food, now we have an anime that features fights against the food. Quite literally so. The protagonist in this anime sets out to fulfill his dream, but the only way to do that is to discover and fight ferocious monsters to harvest their meat. Even though dishes derived from monster meat seem like they'd taste questionable at best, the anime made it look so delicious! The scarier and rarer the monsters are, the better the quality of ingredient that it will provide. This anime has an uncanny resemblance to One Piece with many of the intriguing monsters that lurk around and comical appearances of both protagonists – people who happen to love eating. A LOT.
---
5. Yume-iro Pâtissière (Dream-Colored Pastry Chef)

Episodes: 50
Aired: Oct 4, 2009 to Sep 26, 2010
Amano Ichigo, a hopelessly clumsy scatterbrain whose sister outshines her in every way, discovers her hidden talent of having a wonderfully accurate pallette especially when it comes to pastries. Inspired by her grandmother who was also a pastry chef, Ichigo decides to move to the same pastry school that her late grandmother used to attend, in hopes to realize her dream of becoming a pastry chef and to convey feelings of happiness through her pastries to others.
Moving on from gourmet dishes, as you might notice already, this anime is all about pastries. The overall plot and characters in this anime are very colorful and cute. It's even got a small fairy that will aid the protagonist later in the series. The pastries portrayed in the anime are also extravagant in color, they will definitely make viewers crave some sweet pastries after a hearty meal!
---
4. Mister Ajikko

Episodes: 99
Aired: Oct 8, 1987 to Sep 28, 1989
Despite his young age, the cooking prodigy Ajiyoshi Youichi, manages to impress one of the most respected food critics in Japan, Genjirou Murata with his cooking after a surprise visit to
Youichi's restaurant. The event then led to an invitation by Murata to the Aji-oh Building, where Youichi competes with other renowned rivals to be the best chef.
The cooking processes in this anime are phenomenal. It doesn't just highlight the dishes when they're done, but also multiple cooking techniques were introduced throughout this anime. This is also known as the first ever cooking themed anime aired on television. Dating back to 1987-1989, it also became a real-life inspiration of the reality cooking show, Iron Chef. You could really learn a thing or two about cooking through this anime, and it might very well might inspire you to be a chef one day.
---
3. Chuuka Ichiban! (Cooking Master Boy)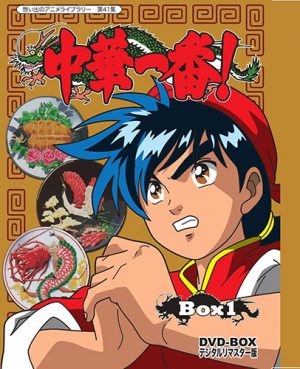 Episodes: 52
Aired: Apr 27, 1997 to Sep 13, 1998
The plot takes place during the 19th century in the Szechuan region of China where Mao, a child born with great talents in cooking, has to compete in a nationwide cooking competition to preserve his family owned restaurant, Kikkaro. After his first cooking showdown with a disgruntled disciple of his late mother, Mao realizes that he must work hard to earn the title of best chef in China and decides to travel around the nation to learn various cooking styles along the way.
The whole concept of cooking in this anime really captivates viewers everywhere. Just like the #4 selection on this list, the show offers various trivia tidbits about real life cooking and food. It's really interesting as to how the characters in the anime go through certain 'struggles' to learn new things about cooking itself and the whole anime is 'packaged' so well that viewers can relate to the excitement in cooking dishes even though they might not be interested in cooking.
---
2. Yakitate!! Japan (Freshly Baked!! Ja-pan!)

Episodes: 69
Aired: Oct 12, 2004 to Mar 14, 2006
In present-day Japan, Azuma Kazuma, a boy born with the 'Hands of The Sun' (the ability to generate enough heat from his hands to hasten fermentation in bread-making) has a dream to create a bread identity for Japan – much like the French with French Toast. He calls his creation the 'Ja-pan'. Inspired by a hometown baker, Kazuma decides to pursue his career as a baker in a well-known bakery in Tokyo, Pantasia, after only graduating from middle school.
'Ja-pan', is actually a pun or play on words, the word 'pan' in Japanese actually means 'bread'. The puns in this anime are one of its strong points that illustrate an intriguing sense of humor and comedy. Not to mention, how the characters react and their facial expressions are priceless. Aside from the fact that this anime brings you in-depth insight about bread and pastries, it's also pretty darn entertaining.
---
1. Shokugeki no Souma (Food Wars! Shokugeki no Soma)

Episodes: 24
Aired: Apr 4, 2015 to Sep 26, 2015
Yukihira Souma reluctantly enrolls in Japan's top culinary school after receiving news that his father is closing down their family owned restaurant to work together with his old friend. Armed with sublime cooking skills just like his father, Souma aims to be the top student in the culinary school that has a graduation rate of less than 10% and to surpass his father's cooking skills.
It might seem pretty obvious that this anime would be No.1 on this list of Top 10 Cooking/Food anime. The fact that this anime is categorized under "ecchi" really does give you some perspective on the term 'Foodgasms' or 'Food Orgasms' as the characters often exhibit sensual satisfaction after eating the food. The cooking aspects of the anime are no less satisfying either. The detail dedicated to the process of preparing the meals is really entertaining! You will really enjoy the excitement and suspense of Souma trying to graduate from this elite cooking school!
---
That's all for our top 10 Cooking/Food anime list! If you're still left wanting seconds, be sure to check out some of these ONA and other anime: Wakako-zake, Bonjour♪Koiaji Pâtisserie, Muteki Kanban Musume, and so on! What's your favorite cooking/food anime? Which one from this top 10 list makes you the hungriest?
Be sure to leave your thoughts in the comments below!
---