Crime doesn't pay but in manhwa, it is entertaining. The characters as they avoid the law or those who try to hunt the lawbreakers down is just exciting to behold. Do you side with the villains and hope they escape or side with the law and hope justice is served? Then you have an even harder question to answer, what manhwa can you read that has amazing crime concepts? Well, we here at Honey's Anime will help you out with our services in the form of a Top 10 Crime Manhwa list.
Now the crime theme isn't a genre that much needs to be pointed out before we dive into this list. In making this top 10 crime manhwa list, we examined a lot of crime manhwa for concepts such as horror, thriller and mystery. Those three genres are usually in any story that focuses on the criminal theme. Yet that is what we love about the crime theme that it can be infused so well into any manhwaga's work. We hope you enjoy this Top 10 Crime Manhwa list as much as we enjoyed doing it. Now then it's time to run straight into this crime manhwa list!
10. She Loved Him, and He Loved Himself

Manhwaga: Kim, Yun A
Genre: Horror, Romance, Shoujo, Psychological
Volumes: 1 Chapter
Published Date: Apr 2010
A young woman sees a young man. The famous line, it was love at first sight rings in her mind. The young girl hopes—prays even—that he will notice her. Following him around, she hopes his eyes will reach hers. Then one day it seems her wish came true. However, will this be the wish she really wanted?
She Loved Him, and He Loved Himself is literally something you can read in probably two minutes, and yet it is definitely worth the read. Manhwaga Kim Yun A created a work that has barely any dialogue in it and yet the imagery and art really show a mastery of a simple storyteller. Now you may be wonder, where does the crime theme come into play? Well, we could answer that but it would be a big spoiler so we won't. Just take our word for it, sometimes learning the truth about someone can be a scary revelation. This is especially true in She Loved Him, and He Loved Himself.
---
9. Gui Mo

Manhwaga: Ha, Hoiyaie, Ma Wing Shing
Genre: Horror, Supernatural
Volumes: 2
Published Date: N/A
A grave robbing team hoped an expedition into some old crypts would lead to the treasure of a lifetime. The team lead by an expert grave robber named Nail Head descends into the crypt hoping their leader has found a quick way to get rich. However, the team notices something odd...bodies that look like zombies. What did this team really find? Why does one of the dead bodies look like Nail Head also?
Gui Mo is actually part of a larger series of short stories but we wanted to focus on this tale because of its criminal element and creepy story. At only fifteen pages, this is another quick read but it left us with our hearts pounding for a few minutes when the ending arrived. Honestly once you see Nail Head you will know what you want to happen to him as he shows his personality and the ending was quite fitting. We fully recommend checking out Gui Mo as it really is an awesome quick crime story. Maybe you should let the dead rest…you don't want to disturb them do you?
---
8. Lady Detective

Manhwaga: Lee, Gi Ha- Jeon, Hye Jin
Genre: Mystery, Historical, Romance, Shoujo
Volumes: 6
Published Date: Apr, 2011- Feb, 2013
Lizzie, to most, looks just like your typical classy lady. However, Lizzie secretly is trying to become a famous writer and has been gaining some notoriety. One day though, Lizzie ends up having to switch careers when she witnesses a murder. Now the lady like Lizzie will go from writer to detective. Can she crack the case?
When you think of detectives, we don't usually think of female ones to be honest. Well manhwaga Jeon, Hye Jun and illustrator Lee Gi Ha want to make sure you don't forget that women can be famous detectives too in Lady Detective. Thanks to some incredible art and impressive stories, Lizzie's journey various cases will intrigue the reader and wow them all in the same beat. You've heard of Sherlock Holmes, but now you're about to witness the future thanks to Lizzie in Lady Detective. Criminals beware, Lizzie will find you if she sets her mind to it!
---
7. Dear Boy

Manhwaga: Sgt.
Genre: Action, Drama, School
Volumes: 75 Chapters
Published Date: Dec, 2014- Jul, 2016
Yonju is getting fed up. Yonju has been constantly bullied and harassed for the last time. However, when Yonju's attempt at vengeance back fires, his brother gets harmed. Now even more furious at the bullies, Yonju is willing to take his anger out in his own twisted version of justice. What lies in wait for not only Yonju but the bullies that have made this young boy into anything but kind?
What happens when someone is pushed to their limits? Well, you're about to find out in Dear Boy by the manhwaga Sgt. Dear Boy really shows what happens when bullies push people and how it affects their targets. The art and story are very strong causing a lot of emotion to flow out in each chapter of Dear Boy. The anger and pain escalates in Yonju's story and you'll want to see what happens to him as he goes too far. Dear Boy deserves being on our Top 10 Crime Manhwa list and we're sure you'll agree with us once you enter this school story gone wrong.
---
6. Hanged Doll

Manhwaga: None
Genre: Action, Mystery, Drama, Horror
Volumes: 3
Published Date: 2008- 2010
Back in 1994 something happened that changed the lives of five people. When a crime happened, it sealed their fates for the worst that day. Then the revelation occurs, one of these 5 individuals is not to be trusted. Who can I trust? Why is this happening? You're about to found out in Hanged Doll.
One thing we love here at Honey's Anime is a good story like Hanged Doll. Multiple authors worked on Hanged Doll to create a story that leaves readers guessing in the ultimate game of who done it. Watch as each of the 5 characters get their time to talk about their stories and then from there ,piece together the cause of why their lives have been cursed. Hanged Doll literally lets the reader become the detective and that is such a rare treat in manhwa. Hanged Doll was an easy choice to have on our list of Top 10 Crime Manhwa and now we know you're going to look forward to it.
---
5. Metronome

Manhwaga: Lee, Won-Jin
Genre: Mystery, Drama, Fantasy, Romance, School, Supernatural, Psychological
Volumes: 3
Published Date: Jun, 2010- Present
Love sometimes hits like a truck. One minute you're just leading the single life, then the next you have some blood covered man approaching you. Yuna has this literally happen to her and is then told a dark warning. Apparently Yuna has only one year to make a choice that will change her life in a very large way. Yuna can either fall in love with this odd man or die once the year ends…
Crime and romance seem to be like oil and water in the world of manhwa. However, that doesn't stop manhwaga like Lee Won Jin to create Metronome a story that has such a warped romance plot it's truly something you have to witness. The story from the beginning to end in this 3 volume work is truly gripping and when you begin to wonder what the true plot is, the story hits you with some nice curveballs to keep you guessing. Any crime story aficionado will tell you a good mystery is needed for a good crime story and that is what Metronome is truly. Seriously though, would anyone listen to a guy covered in blood confessing their love to you?
---
4. Superior Day

Manhwaga: Team Getname
Genre: Horror, Mature, Mystery, Psychological, Seinen, Tragedy
Volumes: 40 Chapters
Published Date: N/A
Imagine for a moment your neighbor wasn't normal but was actually a serial killer. What actions would you take? Would you tell the police and get the guy or girl arrested? Then add to these questions, would you kill them if you were told to?
Superior Day by Team Getname is a terrifying tale of what ifs. Actually a spin off story to Hanged Doll, Superior Day focuses on Ho-Chul who has just discovered that his neighbor is actually a killer. Being a father, though, makes Ho-Chul question what to do to keep his family safe. As a parent, would you kill someone to keep your family safe? Superior Day is a strong story about what could possibly make you commit the heinous crime of murder.
---
3. Bastard

Manhwaga: HWANG Youngchan
Genre: Horror, Mystery, Psychological, Romance, School Life
Volumes: 93 Chapters
Published Date: 2014
When people go missing around Jin's home it seems very odd but he seems unaffected by it. Jin is mostly just concerned with his school life and how people see him as an odd introvert that's hard to approach. Then something odd seems to occur in Jin's world. It seems as if Jin's home has a serial killer…
Bastard by HWANG Youngchan is an odd story of a killer's mindset but boy does it make for some interesting chapters. Jin seems odd but once you begin to see into his life, you'll realize he's not just odd but deranged too. As they also say the apple doesn't fall too far from the tree giving you a good hint at who else might be a dangerous entity in Bastard. This gripping crime manhwa is not only well done in terms of its plot but HWANG Youngchan made sure to give the series some great art that really feels as unique as the plot. We give Bastard a full recommendation here at Honey's Anime and we're sure you will too.
---
2. Gaksital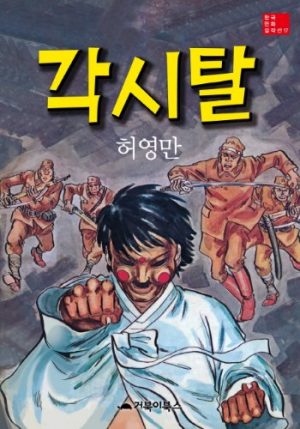 Manhwaga: Heo, Young Man
Genre: Action, Drama, Historical, Police
Volumes: 1
Published Date: Nov, 1974
Hey have you heard of the rumor? There is apparently a man who fights for justice wearing a Korean Bridal Mask to hide his identity. This warrior—named Gaksital—saves those who need help. Meanwhile, there are two Korean brothers who are at ends with each other. One opposes Korea and the other believes in protecting his homeland no matter what. How does this link with Gaksital? Find out in this one volume work about what it means to stand for justice even if that goes against those closest to you.
Gakistal is a very highly regarded manhwa despite being made in 1974 as a great cat and mouse story. Manhwaga Heo Young Man is a short story but we were blown away by how amazing this story of justice versus morals plays out. What's even cooler is the hero theme that makes this play out almost like a hero versus villain story. Gaksital may be now 43 years old but it hasn't lost a beat thanks to its amazing art and great narration. Now then it's time to enter our number one spot!
---
1. Killing Stalking

Manhwaga: koogi
Genre: Drama, Horror, Psychological, Yaoi
Volumes: 26 (chapters)
Published Date: 2016- Present
Yoon Bum has found himself in love with the school idol Sangwoo. Yoon Bum has constantly found himself thinking about him and his love has been increasing at an alarming rate. Thus Yoon Bum ends up stalking Sangwoo in his adulthood and following him to his home. As he enters Sangwoo's home, Yoon Bum realizes that his idol and love hides a very dark secret. What awaits for Yoon Bum now that Sangwoo's eyes are focused on him in a very bad way?
Would you hurt someone for the one you love? Would you stay quiet to keep them safe even if they're action are breaking the law? Killing Stalking by manhwaga koogi narrates those questions and more in Killing Stalking. We saved this horrifying tale for last because almost every concept in this twisted romance story is criminal and we absolutely love it. Trust us folks, it is criminal not to read Killing Stalking so go right now after finishing this list. Okay it's not really criminal but you should still read it okay?
---
Final Thoughts
Whether it's a story about cops and robbers or a story about those living with a criminal element, we can honestly say that we will never get tired of reading them. The rush and adrenaline of these types of stories is something not found in a lot of works and luckily the manhwa above have done an excellent job of doing just that. We really hope you enjoyed this recommendations list for what we feel are the best crime manhwa. As always it helps us here at Honey's Anime letting us know how we're doing. Comment down below and tell us did we miss a good crime manhwa or did we get it perfect? As always don't go too far as we're always working extra hard for you great people out there to bring you even more excellent articles.
---