También puedes leer este artículo en:Español
The world as we know it has been plagued with crime for as long as man can remember, and in modern times the whole crime industry has evolved to another level. Crime can vary from nonviolent activity all the way to the very brutal, and there's no shortage of victims that suffer at the hands of it. From drug trafficking, to prostitution, gang activity, and more, there's always something to look out for in this unsettling world where nothing is ever guaranteed. In this top ten crime manga list, we'll be taking a closer look at the best of the best when it comes to crime fiction, and just how impactful they've become in the manga community as a whole.
10. Smuggler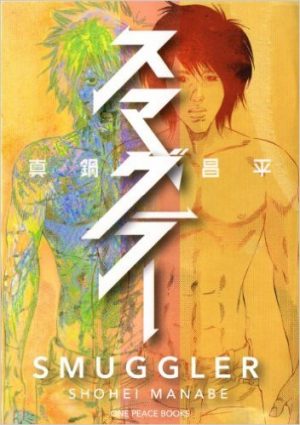 Mangaka: Manabe, Shohei
Genres: Action, Crime, Drama, Mature, Psychological, Seinen
Volumes: 1
Published: March 2000 - June 2000
Smuggling is no easy task for anyone, as they have to clean up all of the dirty work that these corrupt gangs leave behind. Heads are left on the floor and three men must take the responsibility to ensure things are spotless. The young man among the three however makes a huge mistake in his job and now the price he must pay for allowing a rival to escape is going to cost him a lot more than just his paycheck in this action packed crime drama.
Manabe Shohei is the mastermind behind the other crime hit Yamikin Ushijima-kun, and he takes Smuggler to a whole new level of crime and punishment. This manga was such a hit among fans of the genre that it managed to receive a movie adaptation, along with many other accolades. Smuggler is dark, grimey, and reeks of blood since the mafia stops at nothing to ensure their ends are met, and if they aren't then many of the victims find themselves on the wrong side of the gun. If you enjoyed films such as Pulp Fiction, Smuggler certainly has a similar feel, and with all of the insane violence that even the police find hard to control, it's most definitely a must read for anyone looking for a taste of action.
---
9. Shinjuku Swan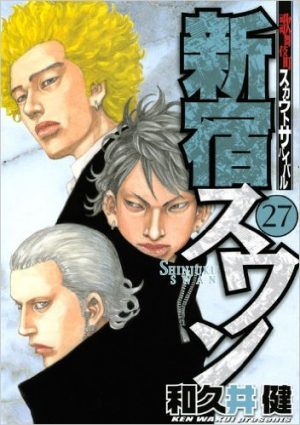 Mangaka: Wakui, Ken
Genres: Action, Crime, Drama, Mature, Seinen
Volumes: 38
Published: April 2005 - October 2013
In Shinjuku Swan, Shiratori had it rough as he was a wreck, living on the streets with no money tied to his name. That all seemed to change immediately when he came face to face with Mako, a scout who works for an agency that recruits women off the street for income. Shiratori saw this is a great opportunity to somehow bounce back and regain his footing, and so he quickly learns the ropes of scouting slowly realizing just how much bank he's raking in. One thing that Shiratori couldn't seem to get a grasp of however was how corrupt the industry was, and that he needed to lie, deceive, build rapport with yakuza, and resort to violence just to get his way. He wants to maintain his morals and beliefs, but as he experiences over time it's no easy task.
It's just bad experiences one after the other for Shiratori, as he desperately tries to turn his life around only to become a part of an incredibly deceptive and deadly industry. His debt motivated urges got him into this mess and now he's in a world of dirty crime, one that he's finding it hard to swallow since it has an impact on his self beliefs. Now with his feet already soaked in the blood stained carpets of the yakuza drug and prostitution trade, Shiratori must now find ways to get over his ignorance before he becomes the next victim on the list.
---
8. Black Joke

Mangaka: Koike, Rintarou
Genres: Action, Adult, Comedy, Crime, Mature, Sci-Fi, Seinen
Volumes: 9
Published: February 2008 - Present
In Black Joke, Japan has now become a part of the US and is now the 51st state of the global supernation. Located on the distant island of Neon, is where heavy loads of prostitution and gambling take place, and there is where you'll find the Chinese Triads, Italian Mafia, and Yakuza in constant battle to gain supreme control over the casinos and brothels.
Assassinations, massive amounts of blood and gore, sexual themes, you name it, this manga has it all for you fans of the intense crime genre. When gambling and money come into play there's just no telling what will occur, and with three of the world's most deadly mafia organizations fighting for the whole stake of the casino industry there's bound to be a lot of heads flying. While unrealistic in some regards, there's a haunting truth behind it all and it's that these mafia organizations still exist and in fact do control a lot of the gambling scene. Next time you roll the dice, make sure you know your dealer.
---
7. Heat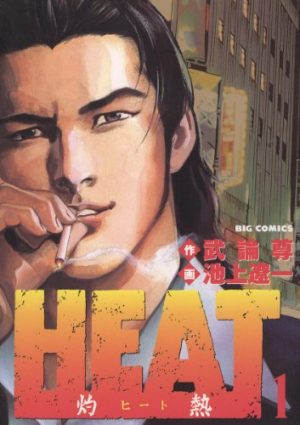 Mangaka: Buronson
Genres: Action, Adult, Crime, Drama, Mature, Seinen
Volumes: 17
Published: 1999 - 2004
Heat just can't seem to bringing the hype, as it finds itself on our top list again and none other than Buronson himself is the one behind it all. Tatsumi becomes the owner of a very popular host club in Shinjuku in a matter of a couple days after working there. He leads a large group of fearless hoodlums who care less about the police, and are just as hungry to make their way to the top in this award winning masterpiece full of blackmail, mafia, rape, and extreme violence.
When you're hungry for success you'll sometimes do just about anything to get there, and for Tatsumi he'll break bones if it means breaking bank. He's no slouch however as this criminal mastermind knows all the tricks of the trade, and shares any advice he gets with his team so everyone stays in the know. It's incredibly tactful, keen, and deceptive and while you may not agree with a lot of what takes place, you can only respect Tatsumi for having the guts to pull off what he does. Using a realistic art style to really portray a living breathing world, Heat is one manga you don't want to put down because the story is hot.
---
6. Kurosagi

Mangaka: Natsuhara, Takeshi
Genres: Crime, Drama, Mystery, Psychological, Seinen
Volumes: 20
Published: November 2003 - May 2008
Kurosagi focuses on the life of a swindler, people who will cheat others out of their money, or for sexual reasons. The story looks at three types of swindlers, red, black, and white, with the latter using its skills to swindle the other two. Things don't seem good for Kurosaki however, as his family is swindled by the white swindlers (ones that take money), and so now Kurosaki intends to take his revenge by siding with the black swindlers in order to find retribution.
Kurosagi became such a popular hit that it not only managed to land a live action movie out of it, but also turned into a well known J-Drama that lasted for a couple seasons. Kurosaki was having none of the garbage that was taking place, and so he turns to the dark side and becomes a con man himself to ensure the enemy gets what they deserve. It's a tactical warfare of strategic minds in this crime ridden drama that really drives home the truth that we need to be careful of who we place our trust to sometimes, because you just never know if you'll be the next to be swindled.
---
5. Yamikin Ushijima-kun

Mangaka: Manabe, Shohei
Genres: Crime, Drama, Mature, Psychological, Seinen
Volumes: 38
Published: May 2004 - Present
Japan has been at the forefront for all things pertaining to Asia, but while there are plenty of successful people in the country, there's also a large handful of those who struggle to get by and will do whatever it takes to keep food on the table. Gambling, drug abuse, you name it, these people will try their hands at anything to get the yen. Just how will these people cope with their addictions, knowing that it will only continue to manifest into a vicious cycle of problems, and only open a new world of danger all organized by the black market with the sole purpose of cheating them out of their lives?
People become sketchy in their ways and will use any means of force to dig themselves out of their debt, while the loan sharks are waiting with bats in hand to punish those who miss their deadlines. In this very dark and twisted underworld society, Yamikin Ushijima-kun teaches us that it's probably better to be broke and happy, than rich and broken in terms of your bones. The black market is unforgiving and will do whatever it takes to milk money out of the weak for their own self satisfaction, while painting a brutal picture of what happens on some parts in the real world.
---
4. Jiraishin

Mangaka: Takahashi, Tsutomu
Genres: Action, Crime, Drama, Mature, Mystery, Psychological, Seinen
Volumes: 19
Published: September 1992 - November 1999
Kyoda Ida is a determined and hardworking detective from the Shinjuku Police Force. He's unreasonable whenever it comes to dealing with certain cases, using brute force at times to ensure the problem is solved immediately. This brash behavior doesn't sit well with the rest of the force, making him an unpopular figure among the high ranking officials. On the other hand, there are some that look up to Ida for his tactful approach to situations, and ways of dealing with dirty criminals. Kyoda is no laughing matter.
He's cold hearted, direct, and doesn't take no for answer. Crimes are plaguing the once peaceful city and it's up to Kyoda to reshape the city once again, so that its citizens can sleep easy and never have to worry about corruption plaguing their lives. Many investigations take place and detective work is abundant throughout the story, as new leads take Kyodo on this crazy adventure that often puts him in a conundrum, and so he relies on his fists to do the talking. It's a gripping crime drama that looks at a strong willed man who's out to bring violence to its knees and bask in his own ways of serving justice for the people. Along with Eriko, his female colleague, the two work alongside each other to ensure things are restored.
---
3. City Hunter

Mangaka: Hojo, Tsukasa
Genres: Action, Comedy, Crime, Drama, Ecchi, Romance, Shounen
Volumes: 35
Published: February 1985 - November 1991
Ryo Saeba, also known as the Sweeper in Tokyo, is a man determined to clean up the messy streets and he'll do so on his terms. He'll do whatever it takes to help out those in need, by being a bodyguard, while other times he'll put on the dark shades and become a ruthless assassin. Whatever he does, he most certainly makes sure it's done well. The only setback to this incredibly strong willed man is that his confidence with the ladies is lacking, and always slips up when the opportunity to snag one arises. That's alright though, because all he really needs is his partner in crime Kaori to back him up wherever he goes.
City Hunter is an all time crime comedy classic, which is still quite popular today despite it being well over 30 years old. The story focuses on a young man with a mission to make sure the city he loves stays clean, along with the help of his romantic partner Kaori to keep him in check at all times. His immaturity at times will make you laugh because it's like the complete opposite of his incredibly powerful and confident demeanor, but then once he turns into that cool assassin you respect him again. Ryo's having none of the crap that the mafia is dishing out and if that means he'll need to crack some skulls to ease tension, he'll do it just as long as Kaori gives the ok.
---
2. Tokyo Crazy Paradise

Mangaka: Nakamura,Yoshiki
Genres: Action, Comedy, Crime, Drama, Gender Bender, Romance, Shoujo
Volumes: 19
Published: December 1996 - April 2002
Tsukasa Kozuki's parents didn't want her going down that same path, and so they raised her as a boy to mask her real appearance. However tragedy strikes as her family is killed by the yakuza and is left orphaned on the street along with her brothers. With nothing left to her name, Tsukasa turns to Ryuji, a close friend and classmate of 8 years who's also the head of a notorious yakuza group named Kuryugumi. Ryuji knows how Tsukasa feels as his father had succumbed to the pains which resulted from a yakuza fight, and so he becomes her bodyguard. As the two embark on their journey to seek out the mastermind behind it all, Ryuji's debt continues to rise and he throws it all on Tsukasa just to keep her by his side.
Tsukasa is out for revenge and so is Ryuji, but while the two are struggling to find the answers behind what's happening, Ryuji's massive debt is starting to cause more trouble. These two quirky characters somehow manage to get through all of the drama, while dealing with blackmail, extreme violence, and a large debt that needs to be paid. Despite all of this, Tokyo Crazy Paradise is a nice little love story that looks at two souls whose lives have been tainted by corruption, and must now rely on each others tactical approach to see things through the right way.
---
1. Sanctuary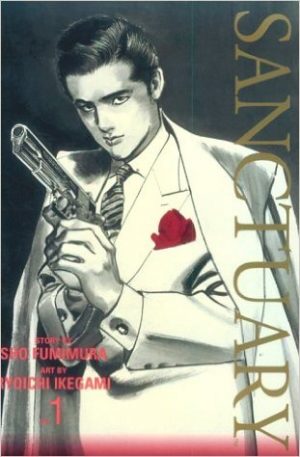 Mangaka: Buronson
Genres: Crime, Drama, Mature, Police, Psychological, Seinen
Volumes: 12
Published: 1990 to 1995
Two young men are determined to set things straight and to revitalize Japan back to its original ways, by any means necessary. They survived the gruesome aftermath of the Cambodian killing fields, so surviving a corrupt political regime along with a dark yakuza organization behind it all, seems like a piece of cake to them. Hojo and Asami are cold yet calculated and will use their intellect to bring down the criminals and show compassion for those in need. Police Chief Ishihara is having none of their vigilante styled tactics, but she soon realizes that her heart can't seem to stop beating for Hojo.
Buronson is back at it again with another heavy hitter that manages to reach the number one spot, and for very good reason. Sanctuary mixes in love with gunplay, and sees two men on a mission to retaliate against the corrupt government and bring them down before it's too late. Their ambition and hard work are nothing to ignore, while Buronson's notorious realistic approach to art style really gives the story an extra boost in excitement. You're just never sure how things will end, and you worry whether the romance between Hojo and Ishihara will become a distraction in the long run. Twists and turns are all over this one, so if you truly enjoy a nice slice of psychological crime drama, then check out Buronson's Sanctuary.
---
Closing Statement
Crime will almost always be a part of our society because so long as there's good in the world, there needs to be bad to somehow balance things out. Such is the yin and yang effect of the universe, but we need more superheroes like the ones found in these manga, because it would surely make this world a better place in the long run. Which of the crime manga did you like best from our list? Let us know in the comments section down below, and be sure to like, share, and tweet out our articles to keep the community buzzing!
As always, if you want to know about all the latest buzz straight from the bee's nest in Japan, be sure to keep it locked here at Honey's Anime.
---