También puedes leer este artículo en:Español
Ecchi is a genre that has heavily implied sexual tension and situations between a small or large group of characters. While most may thirst for the abundance of fan service, others have been known to seek out the comedy, romance and even action to keep us entertained. Regardless of why you watch it, I think we can all agree that it's the females that really drive this style of anime. In this particular top 10 list, we're exploring the well-endowed realm of female ecchi characters in anime.
Typically when you watch anime, it's the male characters who add a little perversion to the story, but for this article, we're looking at perverts of the female variety. The great thing about this list, is if you're a well-versed fan of the ecchi genre, you're probably going to know (and like) most of these female perverts. If you're not familiar with these girls, we suggest checking out some of these characters most infamous ecchi scenes.
These particular females are ranked based on several factors, that include, but not limited to, memorable events or situations, personality (ecchi level) and physical appearance. Now that we've got the basis covered, it's time for Honey's Anime to bring you the top 10 ecchi girls in anime.
10. Matsu (Sekirei)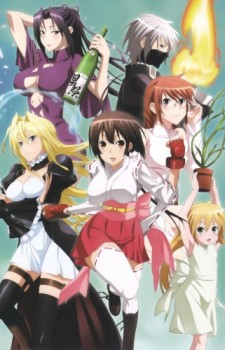 Episodes: 12
Aired: Jul. 2008 – Sept. 2008
Kicking off the list is Matsu from the anime Sekirei. She is a red-headed computer genius, who is skilled in the art of computer hacking. She's known for being stealthy and lives in a secret room at the Izumo Inn. Minato, the main male protagonist, often considers her the strategist of the group. However, what Minato quickly finds out, she likes to dip into some debauchery, at Minato's expense.
Matsu uses her resources to peep on the residents of the Izumo Inn. When Minato was alone taking a bath, she used her knowledge of the situation to pounce on him; breasts exposed and asked if he would like to be a part of her sexual experiment. She wanted him to cool her hot body off with his "DNA". Another perverse moment came as she was ready to prey on an unsuspecting Minato, just as he woke up. However, her plan went awry when she looked to plant a kiss on Minato and Musubi stepped in and took the kiss right from Matsu. To Matsu's surprise, she actually liked it. Those are some of the examples why she is considered by some, the 'shameless' Sekirei.
---
9. Katsuragi (Senran Kagura )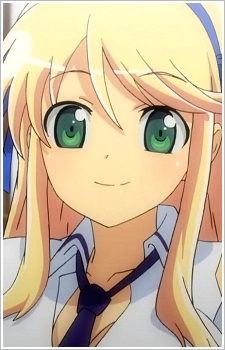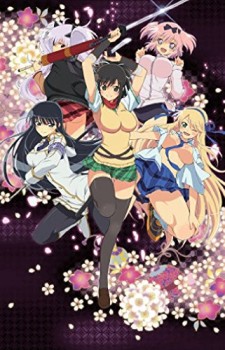 Episodes: 12
Aired: Jan. 2013 – Mar. 2013
If you like some yuri in your anime then look no further than Katsuragi. This is an excellent choice for our number nine spot, as this blonde-bombshell doesn't hold much back when greeting her fellow kunoichis. How does she like to greet them you ask? Well let's just say, she grabs more than her hands can manage of the girl's fun bags. Katsuragi claims, that all that massaging will make the females boobs grow.
There are many opportunities Katsuragi affords herself to get Asuka, in particular, to submit to her dirty ways. That includes, tripping Asuka into a small blow-up pool and getting her all wet. While Asuka is defenseless, Katsuragi leeches onto her boobs and offers to help Asuka change into dry clothes. If her perverted actions don't speak loud enough to you, just take a look at her outfit when she 'transforms'. It consists of her school uniform that is unbuttoned, in which it exposes most of her torso, including the majority of her chest. Her blue tie dangles down and gets nearly lost in her cleavage. It looks as if a small bit of breeze could expose her breasts completely.
---
8. Maria Naruse (The Testament of Sister New Devil (Shinmai Maou no Testament))

Episodes: 12
Aired: Jan. 2015 – Mar. 2015
I could start off and simply say, "well Maria is a succubus, enough said". That should already give the audience a general idea, of her personality. However, I will elaborate as to why she is on this list. For starters, she deceives her sister Mio, into forming a pact with Basara, in which if the servant rebels against the master she needs to be 'punished' by the form of fondling her body. Not only does Maria take pleasure out of her sister being fondled, but also orchestrates those instances with zero regret.
As with being a succubus she can also manipulate her appearance to please whomever she wishes. This happens during the anime, and her true form is revealed much to her desire. There's even a moment where Maria is laying on top of Basara grinding on his crotch begging for him to say "Maria… I want to be inside you". If that's not perverted enough, how about during an episode when Maria is video recording Mio, Yuki and Basara in the bathroom all naked, while Mio is having another master and servant attack. We could keep going on, but we don't want to spoil the entire series. Check it out for yourself and see why Maria cracked this list.
---
7. Xenovia (High School DxD New)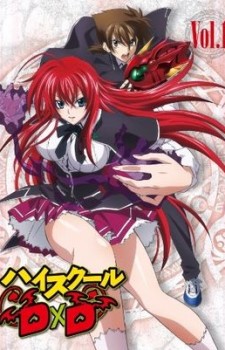 Episodes: 12
Aired: Jul. 2013 – Sep. 2013
If you're talking about anything that relates to ecchi, you have to mention High School DxD. In this case, we're going to select Xenovia who first appeared in season two of this series. We want to come out and say that the only reason why she edges out Maria from The Testament of Sister New Devil is because she wants the male protagonist Issei, to impregnate her. She forces herself onto Issei but he's able to slip out of the situations by interruptions from the cast. That to us takes it to a whole new level considering that Issei, being one of the biggest male perverts in anime, is even frightened by that proclamation from Xenovia.
During an episode in season three, Xenovia locks Asia and Issei into a storage room and suggests that the three of them should experiment and have a three-some together. Not only does Xenovia take advantage of Asia's innocence by taking her shirt and bra off, but she also forces Issei onto the ground and puts his hand on her revealed breast to initiate stimulation. You have to give her credit, when she puts her mind to something, she goes all-out!
---
6. Ayame Kajou (SHIMONETA: A Boring World Where the Concept of Dirty Jokes Doesn't Exist (Shimoneta to Iu Gainen ga Sonzai Shinai Taikutsu na Sekai))

Episodes: 12
Aired: Jul. 2015 – Sep. 2015
Ayame Kajou, is what appears on the surface, to be your everyday high school student, who happens to be the vice-president on the school council. What makes this an interesting pick for our number six slot, is outside of school, she has an alter-ego that wears panties on her head. Yes, you read that correctly. She goes by the name of "Blue Snow" and terrorizes the city by spreading pornographic photos and shouting perverted jokes in defiance to the Peace Makers. It's the ultimate act of disobedience in a world that has strict morality laws and sexual suppression. You have to see this one to believe it!
The Peace Makers had Ayame's father, Masashi Endo, framed for raping a high school girl, thanks to a group of delinquents. With that, Ayame/Blue Snow, vowed vengeance against the Peace Makers. Ayame, who runs around exposing panties and teasing soldiers about revealing her nakedness to the city, is not your typical act of terrorism. While shouting obscene words that has a large chunk of the city full of lust, and at the peak of their sexual frustration. It's no wonder she is the number one target to be shut down, by the Peace Makers.
---
5. Rika Shiguma (Haganai (Boku wa Tomodachi ga Sukunai))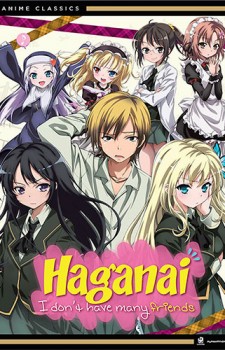 Episodes: 12
Aired: Oct. 2011 – Dec. 2011
What a list we have so far! We're at the mid-way point, so let's take a deep breath and continue this list of degeneracy. Coming in a number five is Rika Shiguma, one of the females who ultimately join the "Neighbors Club". That's a club for people who don't have a lot of friends and want to make friends. Rika brings a smart, but outlandishly sexual personality to this club that often clashes with some of her fellow members.
Rika is intelligent but it's often overshadowed by her own debauchery. She's often seen putting herself out there for the main character Kodaka Hasegawa. Rika frequently hints at sexual pleasures, her attire and overall attention and approval from him. There's this one instance where Rika has Kodaka read out one of her books and needless to say, it gets extremely graphic. Sometimes she likes to sneak in subtle moments for him, like when she tells him to close his eyes while she changes into a maid outfit, and she gets dissatisfied when he doesn't try to peep on her. In some situations it's amazing that Kodaka doesn't give in to her. She really tries hard but it never seems to pay off.
---
4. Miyako Shiina (Majikoi: Oh! Samurai Girls (Maji de Watashi ni Koi Shinasai!))

Episodes: 12
Aired: Oct. 2011 – Dec. 2011
When compiling a list of ecchi females in anime, this girl was one of the first that came to mind. It's quite possible some of you haven't heard of her, so let's break it down. For starters she is an exceptional archer, with supreme accuracy. Now that we got that out of the way, it's time to talk about her perverse side. She's in love with the main protagonist Yamato Naoe, and she certainly shows it, much to the chagrin of Yamato, who wants to be just platonic friends.
Throughout the series there were several ecchi scenes involving her and Yamato. The first one that comes to mind is the visual novel game, which she made (with some assistance) for him to play. While it was playing out, you almost wondered if you were watching hentai or not. It definitely blurred the lines with that scene. Another moment was when she crawled into his bed and started rubbing his crotch thinking it was his penis, little did she know, it was a setup and it was a large pickle she was massaging. The sexual tension continued when she took Yamato's underwear and decided to wear it. She proclaimed that he isn't getting it back unless he comes and takes it off of her.
---
3. Yamada (Yamada's First Time: B Gata H Kei (B Gata H Kei))

Episodes: 12
Aired: Apr. 2010 – Jun. 2010
We knew we couldn't make a list without Yamada. This anime is about Yamada trying to have sex for the first time. Not just with one partner, but 100 different sex partners. Yes, she's not comfortable with the way her vagina looks, so she finds another virgin to be her tool of lust, by the name of Takashi Kosuda. She wants to slowly ease her way into a new world of sex, before she moves onto more experienced partners.
Yamada has an overactive sexual imagination and often finds herself thinking about sex, even when the situation doesn't call for it. For example, when a guy asks for her picture, she instantly thinks that he is going to go home and masturbate to it. She collects erotic magazines, highlights sexual terms in the dictionary, what more could we need? Well she even has a top 10 sex strategies that she feels will get her to the 'promised land'. It was hard not to make this number one, simply due to the content of this anime.
---
2. Panty (Panty & Stocking with Garterbelt)

Episodes: 13
Aired: Oct. 2010 – Dec. 2010
Coming in at number two is the ghost-hunter known as Panty. She's a blonde angel, who uses her panties to transform them into a spiritual gun, known as the "Backlace" to take on ghosts. So how do we top someone who wants to have sex with 100 people? I'm glad you asked, because we have Panty who wants to have sex with 1000 people during her stay on earth. Panty always has sex on her mind and doesn't take her ghost-hunting job as seriously as her younger sister Stocking.
Panty doesn't have high standards when it comes to guys and she will sleep with the worst of them. She often points out how bad the sex was afterwards and she keeps tabs on how many guys she has slept with. She is considered to be shameless, since she doesn't care who is watching or recording her while having sex or pole dancing. That includes showing a porno she made in a theater of all places. The animation is different from your average Japanese anime and the subject matter certainly stands out. Consider yourself warned.
---
1. Riko & Ako Suminoe (Kiss x Sis OVA)

Episodes: 12
Aired: Dec. 2008 – Apr. 2015
Here we are, number one on this perverse-laden "lust", I mean list. Honey's Anime is announcing that both Riko and Ako Suminoe from Kiss x Sis is the number one spot. The reason is because we consider both sisters to be on equal terms when it comes to sexual activity and perversion.
This OVA series (in particular), is about as close to a hentai as you can get without going over that line. What these sisters do with their step-brother, Keita Suminoe, is mind numbingly sexual. Whether it's having dry-sex, having him suck on their nipples or just them massaging his crotch, there isn't much else you can say. Oh wait, you mustn't forget the time where Keita gave oral sex to Riko with her panties on but pushed off to the side. We feel these girls rightfully deserve the number one spot for the most ecchi females in anime.
---
Final Thoughts
As with any top 10 list, it gets exceedingly difficult to make that cut down to the final ten. These articles will always be mired in controversy and might not fit everyone's taste, but there is a lot to like on this list. With that being said, there is enough boob grabbing, panty showing and sexual innuendoes to keep you up at night.
We hope you seen some familiar faces, as well as fresh blood for you to sink your teeth into. Honey's Anime now wants to hear from you! What did you think of this list? Let us know in the comments section below! We'd love to hear some of your favorites, whether they made the cut or not.
---