También puedes leer este artículo en:Español
Anime watchers have gravitated to both lewd and non-lewd comedies, but there's just something that strikes you when there's a bit of ecchi mixed in with the laughs. These anime tickle you and get you to either groan or chuckle at the misfortune or luck of the protagonist involved. Tsunderes are usually a staple of this genre, and open-handed slaps aren't far behind an unlucky male MC. Since you're here, you're obviously interested in knowing what we feel are the top 10 anime in the genre. Here are our picks for the best ecchi comedies anime has to offer.
10. Netoge no Yome wa Onnanoko ja Nai to Omotta? (And you thought there is never a girl online?)

Episodes: 12
Aired: April 2016 - June 2016
For any avid online gamers, the chance is small but not outright non-existent that a member or your online gaming group is secretly a girl. However, Nishimura Hideki finds not just one of his guild members are girls, but all three of them. After initially rejecting an offer from Ako to get married in the game, he goes through with it, only to find out she attends his school and can't separate them being a couple in the game and real life. Needless to say, Nishimura has lucked out, even if ecchi misunderstandings are something he's not accustomed to. This ecchi comedy is for the gamers, so give it a watch!
---
9. B-gata H-kei (Yamada's First Time: B Gata H Kei)

Episodes: 12
Aired: April 2010 - June 2010
Some people handle first love very differently, but probably not to the degree Yamada is taking things. She wants to sleep with a hundred guys during high school, but her inexperience and lack of confidence are holding her back. Thus, she decides to approach Kosuda Takashi, an obvious fellow virgin himself. Even though it should be a simple straightforward approach, Yamada can't quite seal the deal with Takashi, and the ecchi situations pile up quickly. Forget 100 sexual escapades, Yamada might not even get one if things don't pick up. Watch B-gata H-kei if you want to see a quirky female MC who really can't take the easy way of doing things.
---
8. Sora no Otoshimono (Heaven's Lost Property)

Episodes: 13
Aired: October 2009 - December 2009
What would you do if you stumbled upon a mechanoid angel that could grant any and all wishes you might have? If you were Sakurai Tomoki, you'd probably mess it up somehow and destroy the world. All's well that ends well though, and Tomoki finds himself living a beautiful harem lifestyle with a growing group of angeloids who are very uncertain about the human world and prospects of romance. Whether he knows it or not, Tomoki is teaching them, slowly and incorrectly. An ecchi comedy that showcases Heaven is missing several angels, Sora no Otoshimono isn't one to miss.
---
7. Mayo Chiki

Episodes: 13
Aired: July 2011 - September 2011
You can be afraid of girls, not good with them, even run out of the room screaming if you have to, but to actually put your life in jeopardy due to incessant nosebleeds is really out there. Thankfully for Kinjirou, he has the help of a sadistic ojou-sama who has taken a fancy of having her crossdressing butler and childhood friend Subaru help deal with his gynophobia. Kinjirou has to contend with their attempts to "cure" him while keeping Subaru's female identity a secret. Easier said than done, but this is going to be one hilarious ride.
---
6. Crayon Shin-chan (Shin-chan)

Episodes: 940+
Aired: April 1992 - Ongoing
Shinnosuke is a very peculiar kindergartner. His catchphrase being "To be a man you must have honor and a pen*s" is enough to convince you that his exploits aren't for children. The rules of common decency don't really apply to Shin-chan. If you go into watching this thinking it's a kids show, you're in for a rude awakening. Think more South Park than Doraemon. All crude and all hilarious, Crayon Shin-chan is definitely worth watching.
---
5. Aho Girl

Episodes: 12
Aired: July 2017 - September 2017
No political correctness, no sugar coating, Yoshiko is just a dumb girl. Her childhood friend Akuru had had enough of her shenanigans from the first time they met, but being neighbors has sentenced "A-kun" to a fate worse than death. When Akuru isn't studying he's fending off Yoshiko's perverted attempts to seduce him with her panties or trying to keep her from creating a scene in public. Add in the other ensemble of whacky characters and you have the zaniest ecchi comedy featuring bananas ever created. Pantsu pandemonium!
---
4. Saenai Heroine no Sodatekata (Saekano: How to Raise a Boring Girlfriend)

Episodes: 12
Aired: January 2015 - March 2015
Why is it that the protagonists that have the least qualifications always seem to wind up in the most ecchi situations? There's nobody more unqualified than Tomoya Aki, as he wants absolutely nothing to do with real women whatsoever. However, after mistaking his classmate for a peerless beauty, he ropes her into his scheme to become the heroine for a dating sim of his own making. What's more, he also cons his female creator friends into joining him, completely disregarding the unresolved romantic entanglements each of them brings. A dense male lead, lucky pervert, and oblivious to the feelings of others, Tomoya will bring laughs at his own expense and the situations he unwittingly causes.
---
3. Mangaka-san to Assistant-san to The Animation (The Comic Artist and His Assistants)

Episodes: 12
Aired: April 2014 - June 2014
Mangaka Aito Yuuki means well… probably; but he still makes every working day more difficult for his kindhearted assistant Ashisu Sahoto. Sahoto has to go to work nearly every day with her boss talking about something perverted for his manga. The pair is constantly at opposite sides of arguing over ethics, morality, and panties. Yuuki loves Sahoto, but she really wishes he'd act more mature and preferably find someone else. An ecchi comedy that hints at a very, very slow romantic resolution, this show is always a riot.
---
2. Shimoneta to Iu Gainen ga Sonzai Shinai Taikutsu na Sekai (SHIMONETA: A Boring World Where the Concept of Dirty Jokes Doesn't Exist)

Episodes: 12
Aired: July 2015 - September 2015
In the world of Shimoneta, Japan has restructured itself as a society, shedding anything impure or sexual in nature. This has given rise to a repressed youth, unsure of their feelings or changes in their bodies. Through circumstance, Okuma Tanukichi finds himself involved with his classmate Ayame's SOX rebellion, an organization whose goal is to undermine Japanese censors and return lewdness to society. Through guerilla tactics, driveby panty flashing, streaking and more obscene measures, the pair put themselves in the crosshairs of the Japanese government. A show that tries to show that ecchi is justice, Shimoneta is as close to righteous as you can get from this genre.
---
1. Prison School

Episodes: 12
Aired: July 2015 - September 2015
Kiyoshi and four other high school boys are the first male students ever to attend Hachimitsu Private Academy. It doesn't take long for them to try to take advantage of their position and sneak a peek at the girls' bathing facilities. The plan backfires, and the five are sentenced to prison… Not anything sanctioned by the government, but an area on campus controlled by a group at the school known as the Underground Student Council. These girls torture the boys, trying to craft them into the ultimate subservient male specimens or get them to quit and leave the school outright.
The funniest thing about Prison School is how with the most serious tone it delivers the craziest lines. The plot doesn't merely suspend belief but flat out ignores laws, ethics, and morals at their very base. Prison School is anything but your typical ecchi comedy, but you will more than likely have some of the largest laughs you've ever had with an anime. A must watch.
---
Final Thoughts
Everyone's sense of humor is a little different. What are some of your favorite ecchi comedy anime? Did any of yours make our list? If not, let us know in the comments section. We can share a laugh!
​
---
---
It's safe to think we can all agree that when we hear a show is Ecchi, chances are it's going to be a comedy-centric harem anime of guy slipping and grabbed the girl's skirt down, or falling over her and their hand luckily landed on their heavenly mounds. Whatever the case is, this kind of show makes us laugh and at the same time, titillates.
In this list we're going to list down 10 of the best ecchi comedy shows with one very simple condition: The show must contain lots of fanservice, is funny (slapstick, dirty or dark), and gives you this funny feeling downstairs. *ahem*
Let's get started!
10. Onii-chan Dakedo Ai Sae Areba Kankeinai yo ne! (OniAi)

Episodes: 12
Aired: October 2012-December 2012
Himenokouji Akiko, 16 years of age, has moved in with her brother, Akito, after 6 long years of living apart. All seems good, right? I mean the two siblings finally reunited and are living together. So, Akiko will no longer be lonely and can now live a healthy life with her one and only sibling. However, trouble arises after Akiko suddenly confessed her incestuous love for her brother, Akito.
Let's start the list with something not too extreme. OniAi is a love comedy involving a very cute, charming, lovable, huggable, kissable little sister and her incestuous love towards her brother. Throughout the series, Akiko speaks her mind very loudly that, I'm sure, everyone in school knows she loves her brother so much. As the story progresses, things will get extreme with the girls making lots of sexual advances towards Akito.
Really, the best part of OniAi is the little sister Akiko, with her funny personality which is very expressive. You'll love her doing some crazy things and chuckle at her reactions.
---
09. Girls Bravo: First Season

Episodes: 11
Aired: July 2004-September 2004
Sasaki Yukinari is a young, small, man for his age. He often gets bullied by girls for being small and an all around weakling, that he developed an allergic reaction whenever a girl is near him. One day, after he got a kneed to the face by childhood friend Kojima Kirie, Yukinari fell into a bathtub and was suddenly teleported to a mystical world called Seiren. There he meets Sena Kanaka Miharu, a girl who is very kind to him, shorter than him, and the only girl who can't trigger his allergy of women.
Girls Bravo is a traditional harem anime with the usual set-up: meek/small/unpopular boy meets girl who is oblivious to the world, the busty childhood friend and a perverted rich friend/enemy, and each episode is about them doing crazy and lewd things. Despite all that, however, the anime is extremely funny and charming, partially thanks to the crazy antics of Yukinari's perverted friend-enemy, Fukuyama Kazuharu. Personally, the English dub version is way more funny and lewd because, like most English dubs, they improvise on the dialogue in creative ways. I gotta give props to the English actors for showing effort.
After watching this, eating bananas will never be the same.
---
08. Kämpfer

Episodes: 12
Aired: October 2010-December 2010
If your wish is to become a girl, then Senou Natsuru is one of the luckiest guy on the planet, as he can do just that. Unfortunately for him, there is a consequence to his transformation: He/she is now a Kämpfer, a female warrior with powers who are locked in an eternal struggle to fight other Kämpfer for the fate of the universe.
There's no hiding it: Kampfer is bad. It's so bad, that it's good. Natsuru is the typical dumb, and extremely dense, guy who happens to have the ability to transform into a girl that every other girl in the school finds sexually attractive. The humor is mostly yuri, often involving Natsuru's crush Kaede Sakura, and the rest of the Kämpfer. The story is, well, bad. So bad, the only redeeming factor is the lewd comedy.
This shortcoming shouldn't distract you because if you want some yuri ecchi comedy, Kämpfer delivers. And even though I said the story is bad, the twist (unexpected or no) was very good.
---
07. Haiyore! Nyaruko-san (Nyaruko: Crawling With Love!)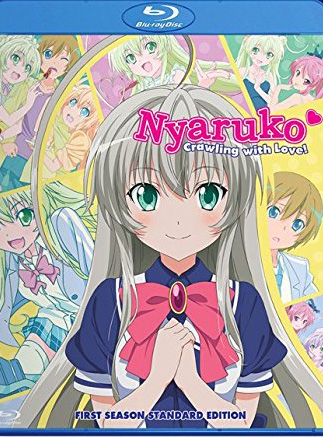 Episodes: 12
Aired: April 2012-June 2012
Yasaka Mahiro, your average and blandest boy (fact) around, was minding his own business until he met a mysterious girl named Nyaruko. This girl is a special agent who was sent to Earth to protect Mahiro from monsters. Why are there monsters after Mahiro? Does he have something they want? And who is Nyaruko? And is H.P. Lovecraft rolling in his grave after he found out Japan turned his Eldritch horrors into cute and sexy girls?
The story plays out like any harem anime, but with an Eldritch twist and lots of anime references. Nyaruko is madly in love with our hero, but she's so assertive with no little tact, Mahiro brushes off her advances and often times avoided getting drugged by her love potions. It is a paint-by-numbers harem anime, but it's funny enough and filled with anime jokes, and references that sorta challenges you on how much Japanese culture you understand. Oh, let's not forget our lovely seductress, Kuuko, and her undying lesbian lust towards Nyaruko.
---
06. Fight Ippatsu! Juuden-chan!! (Charger Girl Ju-den Chan)

Episodes: 12
Aired: June 2009-September 2009
Plug Cryostat is a girl from a parallel dimension. Completely invisible to everyone, her job is to recharge people who are down with their luck by means of plugging a huge, well, plug to their bodies! Her daily routine turns around after she encountered Oumi Sento, a temperamental young man who somehow can see her.
This anime caters to a specific type of hardcore viewers because, aside from Plug getting whacked with a baseball bat by Sento, the anime has lots and lots, and lots, and lots of peeing scenes. Yeah, peeing is the main fetish of the anime. See, I told you this is for the hardcore types. Once you get over it though, Juuden-chan has good characters and a rather nice story behind all the boobs and pee.
---
05. To-LOVE-Ru

Episodes: 26
Aired: April 2008-September 2008
Yuuki Rito is your average nice guy who has a crush on his school sweetheart, Sairenji Haruna, since junior high, and has yet to profess his love to her. Things get more problematic when a stark-naked girl crashed landed on Rito. Our confused hero soon discovers the girl is, Lala Satalin Deviluke, a crowned princess of an alien empire, who ran away from home. Why did Lala, a princess of a powerful alien race, run away to Earth? Rito is gonna find out really soon.
TLR is another harem anime with lots of beautiful girls who have somehow taken a liking to Rito. Remember the phrase, "Nice guys finish last"? It doesn't apply here. Like the majority of harem protagonists, Rito is a clumsy yet, nice guy that girls can't help but fall in love with, and then, uh, deny that they're in love. Geez, make up your mind already, Kotegawa Yui.
Yeah, it's a typical romantic comedy anime that sadly never goes anywhere. I mean, TLR has lots of sequels and OVAs and yet our hero Rito keeps on getting into these lewd situations, and sometimes can't make up his own mind. It's kinda frustrating, but hey, you watch these shows for the girls, and not for the guy. That is fact.
The humor is on the slapstick side usually involving Lala testing out her new inventions or Rito is always in arm's reach of girls' breasts. After watching the series for quite a while, the lewd humor gets old, but fortunately, they still manage to give you a good laugh.
---
04. Monster Musume no Iru Nichijou (Everyday Life with Monster Girls)

Episodes: 12
Aired: July 2015-September 2015
Monsters are actually real and they're already living with humans. With the combined efforts of humans and non-humans, they passed the Interspecies Cultural Exchange Act — All manner of beasts and mythical creatures are assigned to live with host families to help them adapt to human society.
Kurusu Kimihito is one of these hosts who lives with Miia, a lamia—a half human, half snake being who is madly in love with our hero. As host of Miia, Kimihito must do what he can to help Miia adapt to her new world. Since our hero is the nicest guy on Earth, and with some "help" from Agent Smi—Ms. Smith, more monster girls have fallen in love with Kurusu and are now living with him. Is he the luckiest guy on earth, or the unluckiest?
I'm was at a loss for words when I saw this for the first time. Japan can literally make anything into anime. And I mean literally anything.
In essence, Monster Musume is a harem anime and the twist is, well, as the title suggests, the girls are monster girls of varying species. There's a snake girl, a harpy, a centaur, a mermaid, you name it. Other than that it's a love comedy of monster girls falling in love with our rather exhausted hero, Kurusu Kimihito. The humor usually stems from these monster girls doing non-human behaviour that often leads to Kimihito groping or seeing them naked, and it will guarantee to give you a good laugh at how absurd the anime is. I say that as a good thing. Oh yeah, there is the matter of uh… mating.
If a monster girl dating sim is way out of your reach, Monster Musume is a good way to do it. The only difference is you're playing the dialogue on auto and can't pick which monster to win over.
---
03. Prison School

Episodes: 12
Aired: July 2015-September 2015
Fujino Kiyoshi, Morokuzu Takehito, Nezu Jouji, Andou Reiji, Wakamoto Shingo are a group of male friends who transferred to a former all-girls school, Hachimitsu Private Academy, located in the outskirts of Tokyo. The school is famous for its high-quality education and disciplined students, but this group of friends transferred mainly because they want to score with the girls who dominated the population of the school.
Being the nervous virgins that they are, they couldn't muster up the courage to talk to their female classmates. All that changes after one fateful night where they were caught peeping by the infamous Underground Student Council. Due to their heinous crime of peeping in the girls' bath, the 5-man crew are sentenced to prison for one month. Like pretty much Stalin's Gulag, the men are subjected to harsh forced labor, punishment, and denial of freedom. Will Kiyoshi and the gang make it out alive? Or will they forever be subjected to the strict punishment by the Underground Student Council?
The anime centers around these guys struggling in the school's prison. Though the premise sound serious, Prison School is pretty much a comedy anime with a dark sense of humor and ecchi moments. After getting whipped, kicked, punched, one of these guys developed pleasure from being abused. Who wouldn't be when one of the student council body is a big-breasted girl with glasses, very short skirt and cracking the horse whip. When a sexy dominatrix with a whip asks you to pick heads or tails, for the love of everything that is holy, pick "heads".
---
02. Panty & Stocking with Garterbelt

Episodes: 13
Aired: October 2010-December 2010
The Anarchy Sisters Panty and Stocking are foul-mouthed, nasty angels that got kicked out of heaven and they're spending their days hunting mischievous ghosts in Daten City, a place located between Heaven and Earth. Panty is a sex-starved nymphomaniac who wreaks havoc with her moans and bodily fluids, and Stocking, a goth loli girl with a huge sweet tooth. The two angelic sisters must work hard by killing ghosts to hopefully go back into heaven.
If you fantasize horny and fetishtic sexy, heavenly angels, then this anime is for you. The catch? The angels Panty and Stocking are one of the most foul-mouthed angels you can imagine. Each episode involves Garterbelt, giving the angels orders from Heaven to hunt down ghosts who are attacking Daten City. During a routine mission, Panty whores herself out and screws around with any handsome man she sees, and Stocking is either too busy eating sweets or getting angry over her sister Panty.
The bulk of the comedy ranges from toilet humor, sex jokes, puns, and lots and lots of sex scenes by Panty. Thankfully they didn't explicitly show the sexual acts, or otherwise this anime would be rated R-18. The comedy is crude at best, but they're a good way to show humor that doesn't involve slipping over and grabbing the girl by the skirt. Oh, when you get the chance, switch to the English dub. I guarantee you'll never go back to the Japanese original… unless you're a purist.
---
01. Golden Boy

Episodes: 6
Aired: October 1995-June 1996
Oe Kintaro, age 25. After studying Law at Tokyo University, he left the school before graduation. Curiously enough however, he already finished all the courses required for his degree. Since that time, he has roamed the land, changing jobs frequently as he studies the world around him. Riding his favorite bike, the Mikazuki 5, he keeps moving forward, always on the lookout for new knowledge and adventure. And who knows, perhaps someday he may even save the world.
At first glance Kintaro is a dimwitted and perverted guy, but he has the heart of gold and is very smart. The stories revolve around Kintaro taking a job and getting involved with girls and their lives or problems. Through his deeds, he helped changed the lives of the people around him… while getting into trouble or ending up in rather lewd situations.
Golden Boy is a good example of telling a meaningful story without ruining it with unnecessary fanservice. If you want a good story while having some great laughs and fanservice, you can't go wrong with this memorable classic.
---
Conclusion
Bam! There you have it. Yeah, we know Love Hina isn't there or even one of the Tenchi Muyo shows, but hey, Japan loves making shows like these and sadly, and obviously, we can't put them all in a top 10 like this.
So, what do you think of this list? Are there any more ecchi comedy anime you've watched and would like to reccomend? Please leave your comments below!
---