También puedes leer este artículo en:Español
Romances come in all shapes in sizes. There are fantasy romances, romances geared towards boys, romances meants for girls, and even horror romances. This time around, we'll be discussing romance anime within an unlikely genre; ecchi! Sure, you're probably watching these series for the fanservice, but there are ecchi anime that put the work into their story, and make us say "aw" like a little girl. Keep in mind that this is an update, so please read the original one before you continue on with this one. With all that said, let's get on to the list.
10. B-gata H-kei (Yamada's First Time: B Gata H Kei)

Episodes: 12
Aired: April 2010 to June 2010
She's a gorgeous freshman who's on a mission; have sex with one hundred guys before she graduates high school. Yamada schooled herself in the art of man pleasing and is ready for some action. If only she can get through her first. Yamada chooses cherry boy Kosuda to be the first guy she sleeps with. But building up the courage to have sex has proven to be quite the obstacle. Will Yamada complete her goal?
Usually when an anime has the ecchi tag, it's bound to be a harem series. B-gata H-kei is a rare breed in this case because it's an ecchi romance anime without the harem. Yamada and Kosuda's relationship progresses throughout the story from starting out as friends to dating, and it's a hilarious ride. Even though Yamada has a lot of sex knowledge, she has no clue how to handle a relationship. Kosuda, on the other hand, is trying his best to be a proper boyfriend by giving Yamada gifts, and asking her out on dates. It's a super sweet series with an odd premise, so definitely watch this anime on a group date.
---
9. Hajimete no Gal (My First Girlfriend is a Gal)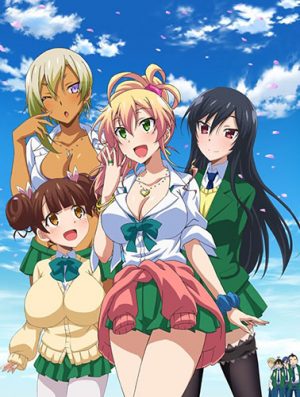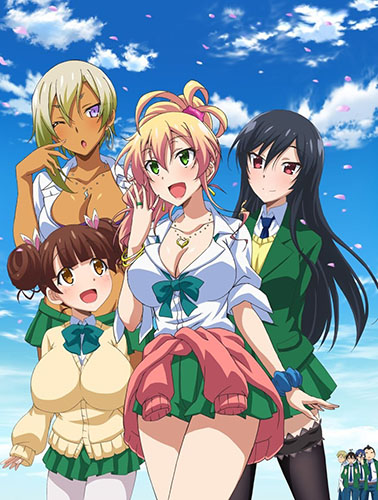 Episodes: 10
Aired: July 2017 to September 2017
Junichi is a second year high schooler and is ready for some action. Only problem is, he and his friends are total losers. The three of them fantasize about their dream girl and all the dirty things they'd love to do to her, until one of their fantasies comes true. Somehow, by making a complete fool of himself, Junichi was able to land a date with the hottest girl in school, Yame Yukana. At first, Junichi wants nothing but to get in her pants, but behind all the gal makeup, Junichi realizes that Yame is a pretty cute girl.
When you first start Hajimete no Gal, you expect it to be a trashy ecchi with tons of fanservice. Although you do get loads of oppai and panty shots, Hajimete no Gal has a rather adorable lesson about treating ladies as people instead of sex objects. Yame looks like a total sex goddess, but she's actually a virgin and just wants a guy to treat her like a lady. Junichi is not that kind of guy, but over time, he notices Yame is a girl all the same and wants to get to know her better. Instead of watching this series with your bros, why not bring a lady friend? Whoever you choose, we highly recommend watching this anime uncensored, because the giant hands that pop up to censor nipples and panty shots are very distracting.
---
8. Freezing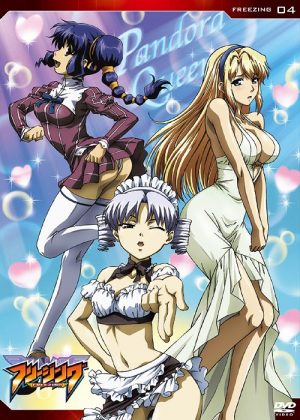 Episodes: 12
Aired: January 2011 to April 2011
The world is being destroyed bit by bit thanks to the alien race known as Novas. In order to save humanity, academies are created to train students to defeat the Novas. The females, known as Pandoras, deal most of the heavy damage. The men, known as Limiters, provide support for their assigned Pandora. One of the most powerful Pandoras in the school is Satellizer el Bridget, nicknamed The Untouchable Queen, she continues to win without the help of a Limiter. But when Limiter in training Kazuya Aoi enrolls, Satellizer begins to have a change of heart.
Freezing has a very touching romance behind all the paper-thin clothing. Satellizer went through some very traumatic things as a child, and because of that, she refuses to have a Limiter. Somehow, Kazuya was able to break through Satellizer's tough shell and became her Limiter...well, not officially. To truly become a Pandora and Limiter pair, the two must have sex in order for their powers to be fully synced. Due to those traumatic events, Satellizer cannot bring herself to let Kazuya become her official Limiter. Kazuya doesn't pry any further, and instead, helps out Satellizer the best he can.
---
7. Rosario to Vampire (Rosario + Vampire)

Episodes: 13
Aired: January 2008 to March 2008
Bumbling idiot Tsukune somehow makes it into high school. What he doesn't know is that he got accepted into a high school for monsters. At first, Youkai Academy looks like a normal high school. But that's because the first rule is to never reveal your monster form. Tsukune (literally) runs into Moka, a cute but clueless vampire who didn't know about the rule. With Tsukune's human scent, he constantly attracts the attention of almost every student at the academy. But if Tsukune breaks the rosary from Moka's neck, she'll turn into her true vampire form and beat up anyone who's trying to kill him.
Monster girl anime are very popular these days, but Rosario + Vampire came out long before the theme became a trend. The series has many classic ecchi harem tropes such as every scene having a panty shot, but Rosario + Vampire has its cute moments as well, with the adorable romance between Tsukune and Moka. Ever since Tsukune first laid eyes on Moka, he was in love, but Moka was only interested in his blood. After multiple instances of Tsukune saving Moka's life, and even risking his own, Moka begins to develop feelings for him. On the flip side, the other Moka has been in love with Tsukune for a very long time, but Tsukune has no interest in her. On top of that, there are several other ladies after Tsukune's affection. Who will Tsukune choose?
---
6. Shuffle!

Episodes: 24
Aired: July 2005 to January 2006
Rin is in quite the predicament. One moment, he's living his regular school life with his childhood friend Kaede, and the next, he's the trophy for the King of Demons and the King of Gods' daughters. On top of that, Rin is starting to develop feelings for his best friend Asa. Will Rin be able to follow his heart? Will dating Asa get him killed by these powerful kings? And how does Kaede feel about this?
Warning, once you start Shuffle, you won't be seeing the sun for a few days. You'll lock yourself in your room and you won't come out until you finish this amazing anime. Shuffle is another anime that tricks you into thinking it's a basic ecchi harem series, but overtime, Shuffle reveals itself to be a dark and dramatic tale. Each character Rin runs into either has some sort of tragic backstory or has a serious problem they need to face. Not just the girls, but Rin himself went through some very heartbreaking events as a child. You feel for every character, and by the time you finish the series, you'll never forget any of them.
---
5. Chobits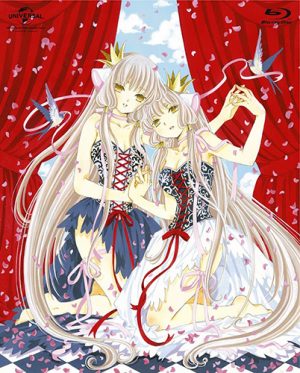 Episodes: 26
Aired: April 2002 to September 2002
Hideki moves from the countryside to Tokyo and notices that everyone is using androids. Androids are like a computer but they look like humans. Hideki really wants one but doesn't have enough money. While walking back home, Hideki finds an abandoned android on the side of the road, and decides to take her in. The android seems to be broken, can't complete simple takes, and only says "chi", which Hideki ends up calling her. Despite her flaws, Hideki takes care of Chi and delevops a crush on her.
We know the premise sounds a little strange, and maybe even uncomfortable. A human falling in love with an android? Definitely weird. If you're able to give this anime a shot, you'll find the first 12 episodes to be cute and charming. The final 12 episodes take a completely different turn and the anime becomes a dramatic soap opera. Things are revealed about side characters that you had no clue about, the relationship between Hideki and Chi gets serious, and the truth behind Chi's existence is revealed. A lot goes down in the final act, so if you're a patient person and have the time on your hands, you have to watch Chobits.
---
4. Monster Musume no Iru Nichijou (Monster Musume: Everyday Life with Monster Girls)

Episodes: 12
Aired: July 2015 to September 2015
Monsters and humans now coexist on Earth, but are not allowed to get into a relationship. As part of an exchange program, Kimihito is taking care of the beautiful lamia, Miia. For showing such kindness to her, Miia cooks him food, cuddles with him, and calls him darling. However, Kimihito isn't just nice to Miia, but to all monsters. Soon, Kimihito's house becomes crowded with all sorts of monster girls who are all after his heart.
Rosario + Vampire had the monster girls retain their human form, but Monster Musume goes all out by actually having the girls look like monsters. You never knew you wanted to have spider woman as a girlfriend until you watch this series. Monster Musume is more of a rom-com, as you see Kimihito, or darling as he's mostly referred to as, almost dying each episode from the new monster girl he picks up. Each girl has their own quirk to them, and it's impossible to hate a single character.
---
3. Rakudai Kishi no Cavalry (Chivalry of a Failed Knight)

Episodes: 12
Aired: October 2015 to December 2015
Ikki is considered the worst mage at Hagun Academy. While moving into his dorm, he opens the door to Stella Vermillion changing. Not only was he assigned to dorm with a girl, but the strongest mage in the academy as well. They don't get along at first, but Stella agrees to help Ikki become better at magecraft.
Grab your tissues, because this anime has so much love power that it'll make you cry. Rakudai Kishi no Cavalry is a very well written anime with fantastic pacing and engaging fight scenes. The series starts off as your typical battle magic high school series, and even has cliches like Ikki walking into Stella changing and getting hurt for it. But after three episodes, Ikki and Stella become and couple and the rest of the anime is about their relationship. Stella comes from a royal family, while Ikki was outcasted by his upscale relatives. This is a huge obstacle in their relationship, as Stella's family is constantly trying to keep Ikki away from her. You'll laugh at the jokes, blush during the sweet moments, and cry by the finale.
---
2. Yamada-kun to 7-nin no Majo (Yamada-kun & the 7 Witches)

Episodes: 12
Aired: April 2015 to June 2015
Yamada is the school bad boy who constantly skips class and doesn't do his homework. Shiraishi always has her nose in her books and rarely talks to anyone. One day, the two clash into each other and accidentally kiss! They wake up in the nurse's office to find out that they switched bodies.
Are you a fan of all romances like yaoi, yuri, and straight? What if we told you that Yamada-kun and the 7 Witches has all of that? Let your ships run wild, because the main theme of this series is kissing. Yamada mimics another girl's power if she's a witch, but he can only copy her power if he kisses them. Yamada's friend, Yukimura, is also curious about these powers, and joins in on the kissing parade. Although everyone is kissing left and right, Shiraishi refuses to kiss anyone else but Yamada. Seeing this unlikely pair fall in love and eventually become a couple is the true highlight of this anime.
---
1. Love Hina

Episodes: 24
Aired: April 2000 to September 2000
When he was a child, Keitaro promised his first love that he would would meet her again at Tokyo University. Sadly, Keitaro is stupid and wasn't able to make it into the school. The only other option for him was to move in with his grandmother who owns a hotel. It's been a while since Keitaro visited his grandmother, but upon arrival, he finds out the hotel is now an all girls dormitory. Surrounded by beautiful babes, and getting beat up in the process, will Keitaro be able adjust to his new life?
We end our list with a classic among classics. We probably wouldn't be getting harem anime today if it wasn't for the incredibly successful Love Hina. The premise is simple and nothing new if we compare it to modern harems, but back in 2000, Love Hina was a great break from all the mecha and crime dramas that were airing. If you're interested in seeing what basically the birth of harem anime, then you have to watch Love Hina.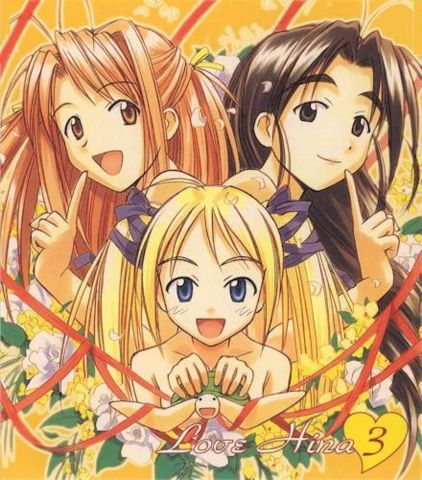 ---
Final Thoughts
Are you a fan of ecchi romances? Did you agree with our recommendations? What your favorite romance anime? Leave us a comment and we'll be sure to get back to you as soon as we can. Till next time!
---
---
While there are plenty of ecchi and romance series about, shows often have some difficulty straddling the two genres, with the more ecchi series not being taken seriously, and the more romantic series lacking in ecchi. Hopefully, our previous Top 10 Ecchi Romance Anime list remedied this problem a bit by providing you with some shows that do manage to hit both birds with one stone for the ultimate ecchi romance combo.
With new shows being released, though, and some great older shows still in need of a shout out, we're back to give you an updated list of the very best ecchi romance anime about. We hope you enjoy.
10. Mayo Chiki!

Episodes: 13
Air Date: July 2011 - September 2011
Gynophobia, fear of women, is not a hugely common problem to have, but given how his home life revolves around getting beaten up by his wrestler mum and sister, it's no surprise that Kinjirou Sakamachi has developed such a fear. But everyone has their own problems, and he's about to find out one of Subaru Konoe's. Walking in on Subaru in the school bathrooms, Kinjirou discovers that the school's famed butler is, in fact, a girl! After some understandable complications regarding the bathroom peeping, Subaru's master Kanade Suzutsuki makes Kinjirou sign a contract, agreeing that he won't disclose the crossdresser's secret, as long as they help him get over his gynophobia.
Although a pretty run of the mill harem series at first glance, Mayo Chiki stands above many of its peers and is one harem show worth recommending for both it's ecchi and romance aspects. Additionally, if you happen to enjoy watching the main character getting constantly beat on then that's a plus. While there are of course numerous girls hanging around, the relationship between Subaru and Kinjirou is especially cute, partly due to their unusual predicament and partly because Subaru is adorable. While there is no second season, Mayo Chiki is a series that'll have you hunting down the novel to find out what happens next.
---
9. Yosuga no Sora: In Solitude, Where We Are Least Alone.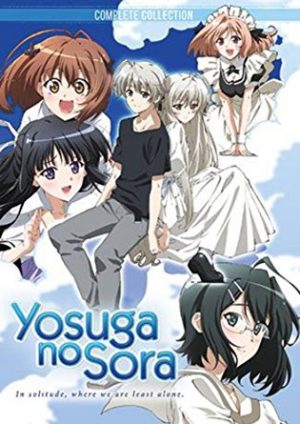 Episodes: 12
Air Date: October 2010 - December 2010
After the death of their parents, Sora and Haruka Kasugano are returning to their old home, where they grew up as children, to make a fresh start in a familiar place. With old friends to catch up with and plenty of new friends to make, things seem to be looking up for the pair, at least on the surface. You see the bond between the two of them is much more complicated than that of regular siblings, and it's a bond that a third person could quite easily get in the way of. Prepare for plenty of hardships and drama, as the twins try to figure out what, and who, they really want.
If you've heard of Yosuga no Sora it's probably for one of two reasons: either the borderline hentai levels of ecchi or the incest. Frankly, though, if you can get over the incest part, then the ecchi is great, and the character interactions and story are pretty interesting to watch. As it's a visual novel adaptation, Yosuga no Sora is done in an omnibus format with each girl's route getting a few episodes before the timeline resets. Despite the resets, Sora and Haruka's relationship is built up very well throughout the series, leading to a very climactic final arc. Far too hot for TV and demonstrating some questionable moral content, Yosuga no Sora might not be for everyone, but it's probably the ecchiest romance anime you'll ever come across.
---
8. Nazo no Kanojo X (Mysterious Girlfriend X)

Episodes: 12
Air Date: April 2012 - July 2012
Akira Tsubaki and Mikoto Urabe are an interesting couple, as while he might seem pretty ordinary, she is very much the opposite. Sleeping in class, being generally anti-social, and carrying around a pair of scissors that she wields with a surprising degree of skill, Urabe's nature is quite a mysterious one. But how the two got together is the weirdest part: Akira tasted Urabe's drool while she was sleeping! After that, the two entered a bizarre, drool-fueled relationship that, although unusual, seems to be going fairly well.
One of the stranger romances we've come across, Nazo no Kanojo X's focus around drool is a fairly specific fetish, but none the less a pretty interesting story element to play around with. One of the nice things about the series is how Urabe and Akira are such a solid couple throughout when compared to a majority of other ecchi romance series, which tend to be harems. Besides the romance and ecchi of the series, another point worth making is the interesting choice of art style, which although obviously modeling itself on the manga, is also a nice throwback an older aesthetic that we don't tend to see anymore. A unique series to say the least, if you're not put off by the drool then Nazo no Kanojo X is a very interesting, if unusual, watch.
---
7. Netoge no Yome wa Onnanoko ja Nai to Omotta? (And You Thought There Is Never a Girl Online?)

Episodes: 12
Air Date: April 2016 - June 2016
Hideki "Rusian" Nishimura doesn't trust girls in online games. Not anymore. Not after the girl he liked crushed him by rejecting his marriage proposal and telling him she was an older dude. So who can blame him really, it's a sorry situation to end up in. Fast forward some years and Rusian has been proposed to by a cute fellow guild member named Ako, which he, with some degree of reluctance, accepts. But things start to get real when the guild decides to have an offline meeting, and he discovers that all his guildmates who he thought were male, are actually real girls at his school, including his in-game wife Ako.
Oh, my, it's just so adorable. NetoYome is perhaps the cutest show on this list, with Ako being just the sweetest girl in the world, if a tad clingy at times. She's also the one who's driving the romance forward like a charging bull, with apparently no one, least of all Rusian himself, being able to separate her from her "husband". While the Ako + Rusian pairing is quickly established, that doesn't stop the ecchi reaching the other girls, so look forward to half clothed cuties, inappropriate battle gear, and some sexy swimsuits.
---
6. Rakudai Kishi no Cavalry (Chivalry of a Failed Knight)

Episodes: 13
Air Date: July 2008 - September 2008
Very much a failed knight, despite getting into Hagun Academy, one of Japan's seven Mage Knight schools, Ikki Kurogane is an F-ranked student, the very worst. Despite this, he's still working to become a Mage-Knight: the dream of many Blazers, people who can control magical powers. In a turn of events not particularly helpful to his cause, at the start of his school term, Ikki accidentally peeps on Stella Vermillion, a first year A rank student, who challenges him to a duel so that she can destroy him and make him her slave. Only Ikki is not the lowly F-rank student that he would have us believe.
Rakudai Kishi no Cavalry kind of tricks you into thinking it's going to be a harem, when actually the pairing is quite quickly decided, with Stella and Ikki becoming a couple only a few episodes in. It's actually quite nice that the decision gets made because it means we can take the show's romance, as well as the series as a whole, a bit more seriously. Don't worry, though, there's still plenty of fan service too, as well as a dash of ecchi to top it off. With a big focus of the series being the fight scenes, if you're also a big fan of action anime then we'd definitely recommend Rakudai Kishi no Cavalry.
---
5. Saenai Heroine no Sodatekata (Saekano: How to Raise a Boring Girlfriend)

Episodes: 12
Air Date: January 2015 - March 2015
Tomoya Aki has decided it is time for him to make his mark and give something back to the otaku community he has long been a part of. A high-level otaku himself, Tomoya might be a fan of cute girls and dating sims, but that doesn't mean he has the skill to make a galge of his own. Fortunately, he happens to know a couple of very talented people who he can rope into his newly forming doujin circle, including a writer and an artist. He's still lacking one thing, though: inspiration. Enter Megumi Katou, normal high school girl who does the very opposite of stand out. But how can such a bland girl possibly help the three create a doujin game?
While not an overwhelmingly ecchi series, Saekano is known for its excellent fan service, often in the form of leggings, skirts, and short shorts. Basically, if you like legs, watch it. Anyway, although Saekano is essentially a harem, the dialogue and relationships between each girl and Tomoya are actually quite interesting, more specifically his development with Megumi, who is basically tagged as the main girl from the beginning. There's a quality that oozes from Saekano as if the series is flat out planned and written better than your standard ecchi romance series, which would likely explain its popularity along with the sequel airing next season. So be sure to catch up on Saekano before the April release of Saenai Heroine no Sodatekata ♭!
---
4. High School DxD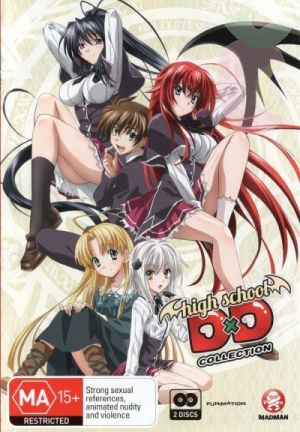 Episodes: 12
Air Date: January 2012 - March 2012
High school student and pervert Issei Hyoudou has just had all his stars align and got himself a date with a kind and pretty girl. Only she's not a kind, pretty girl. She's a terrifying fallen angel that kills people for fun. Not what one usually looks for in a partner. As he lays dying, Issei is found by Rias Gremory, one of his school's most beautiful seniors, who offers him a chance to live on as a devil. Now Ria's servant and part of the Gremory peerage, Issei must adapt to his new life as a devil along with all the challenges and hardships that come with it. And boy is there gonna be a lot of challenges.
High School DxD is one of the cornerstones of the current ecchi romance genre, a series which other new series are compared against. It ticks all the boxes really: Constant ecchi and fanservice? Check. Progressing romance between the main protagonist and heroine? Check. Actual plot with interesting battles sprinkled with comedy? Check. It's not perfect, but it's as solid as a Nokia 3310. One really nice thing about High School DxD is that it just keeps going, with no apparent signs of stopping, and we all know how rare it can be to get so much as a second season out of a series. So if you want a show that gives you the whole package and with plenty of content, High School DxD might be the one for you.
---
3. Zero no Tsukaima (The Familiar of Zero)

Episodes: 12
Air Date: July 2006 - September 2006
Ripped from his normal life in our world to a land of magic and fantasy, Saito Hiraga has just been summoned as a familiar to a very cute, very flat mage. His new magic wielding master Louise Françoise Le Blanc de La Vallière, along with having an unreasonably long name, is also a very unique mage in her academy. You see, she didn't earn the nickname "Louise the Zero" for nothing, actually thinking about it, she did. Louise has zero magical ability, leading to the question, how did she manage to summon a human as a familiar? There's not much time for those concerns, though, as with the nearby kingdom of Albion under attack, and an ever growing unrest spreading throughout the continent, there are much bigger things for the mismatched pair to worry about.
Fantastically fun, Zero no Tsukaima is an "I'll just watch one more episode" kind of series that you will have no difficulty marathoning. It does a good job of balancing a magical world filled with comedy moments and fan service, with more serious story sections that are accompanied by some great character development and an ongoing sense of urgency. The romance between Saito and Louise is always at the forefront of the series, with their relationship playing a key role throughout the story as well as being super cute if a little violent. The fan service is in plentiful supply as well, with busty elves and maids about. A great series all around, we can't recommend Zero no Tsukaima enough.
---
2. Motto To LOVE-Ru

Episodes: 12
Air Date: October 2010 - December 2010
Rito Yuuki, the astoundingly normal high school boy, has a crush on his classmate Haruna Sairenji, the brilliantly plain high school girl. As one would expect in this situation, he is making a grand total of zero progress towards confessing to his dream girl, apparently satisfied with watching her from afar. It's at this point that the story gets shaken up a little, when cute alien girl Lala shows up in Rito's bathroom, naked, and on the run. After saving said run-away from her "pursuers", she decides to stick around her hero for a while: in his house, and in his class! And she's not the only space girl that's decided to drop by...
Alright so I have a disgusting bias towards the To LOVE-Ru series but you gotta trust me on this. To LOVE-Ru not only has some of the most well thought out ecchi content around, but has also managed to keep the romance between Rito, Lala, and Haruna reasonably relevant despite the enormous harem of girls in the series. Although it's the second season, Motto To LOVE-Ru is probably the best at balancing the ecchi and romance, as the first season veers off in a weird anime original way, and To LOVE-Ru Darkness (the third and fourth seasons) draws focus away from the main pairings towards other characters. Though with that said, all four series are well worth watching on their own merits. So if you really, really like fan service, with a dash of romance to keep things interesting, we highly recommend Motto To LOVE-Ru.
---
1. Bakemonogatari

Episodes: 15
Air Date: July 2009 - June 2010
It's been a long time since Koyomi Araragi was last normal. Part vampire, with some friends in supernatural places, his high school life is very much the short respite he gets in between absurdities. So it's only half a surprise when he sees a girl falling, or rather floating down the stairwell at his school. Catching her, he realises that she is virtually weightless, which is quite obviously not normal for a high school girl. Being unable to leave a damsel in distress, Araragi decides to help the girl, Hitagi Senjougahara, with solving her oddity related problems.
It feels a little odd calling Bakemonogatari an ecchi romance because it feels like there's so much more to it than that, but at its core, both of these genres are a key part of the series. Come for the fanservice, stay for the plot, Bakemonogatari is a fascinating collection of stories with a unique visual style and where the concept of a chronological order has been casually thrown out of the window. With regards to the romance, Senjougahara and Araragi's relationship is one of the most confusing, dysfunctional, and yet perfect relationships you will find in an anime series and a joy to watch develop. We think the Monogatari series is something that has to be watched regardless of your interests in fan service or romance, which are if anything the icing on this supernatural cake.
---
Final Thoughts
Whether you prefer the romance side or the ecchi, fanservice side of these series is very much down to the individual, but we hope this list covered both camps fairly.
So which series was your favourite? And which do you plan to watch next? Be sure to let us know in the comments below!
---
---
---
There are two kinds of comedy in anime as far as I can recall: Lewd and non-lewd comedy. It's very self-explanatory… I think. Anyways, this top 10 list can easily be confused with other top 10s like our Top 10 Harem Anime because an ecchi or lewd romance-centric anime are more or less synonymous to Rom Com or Romantic Comedy, and harem anime tends to be in the rom com category.
To make this list differentiate itself, the following anime must have romance as one of its main themes and the main character had ended up with someone or at least has a potential in picking a partner. Oh, and the shows must be ecchi in nature.
Please be warned that some of entrants are very explicit and may be controversial. You have been warned.
You might wanna bring a box of tissues. You'll never know when you'll need it… for wiping off the blood after a severe nosebleed. W-What? I wasn't implying something else.
10. Shuffle!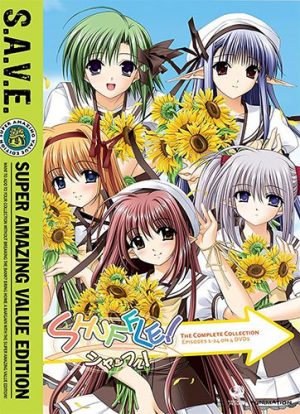 Episodes: 24
Aired: July 2005-January 2006
Imagine a world where gods, demons and man peacefully coexist and interracial partnership is allowed? Welcome to the world of Shuffle! …! The title has an exclamation point, so…
Tsuchimi Rin is a normal high school student living with his childhood friend Kaede and has an eccentric and playful friend in school, Shigure Asa aka the Mary S—*ahem*. Rin might as well be the future ruler of the universe because the royal families of the God and Demon world moved into Rin's neighborhood.
Apparently, the daughter of the king of the gods, Sia, and the daughter of the demons, Nerine, are deeply in love with our hero Rin after having met him in the past. With lots of girls vying for his love, Rin has a lot of things to do.
While this a token harem anime, Shuffle! was nice enough to give every girl character development and a decent entry point if you're interested in diving into the world of harem anime. You'll be watching the show like you were reading the Visual Novel the anime is based from. Seeing Sia's, Nerine's, Asa's and Kaede's stories and them why they fell in love with Rin. It's great and the art is great too… if you can get past the rather chipmunk voices of certain characters…
---
09. Kanokon (Kanokon: The Girl Who Cried Fox)

Episodes: 12
Aired: April 2008-June 2008
Oyamada Kouta (voiced by Mamiko Noto) is a country boy that moved to the city to attend high school. His life changed quite chaotically as he encountered Minamoto Chizuru — a well-endowed fox spirit… girl. As typical as anime goes, Chizuru finds Kouta very attractive and spared no expense trying to seduce him. Things get more chaotic after the two attracted a wolf spirit named Ezomori Nozomu… obviously a girl despite lacking the defining features of a… never mind.
With two supernatural entities around him, trouble is bound to happen — Kouta is involved in many supernatural events. Kouta's high school life will never be the same. And he's a lucky ba—*ahem* Sorry, my jealousy got the best of me.
How do I put this… Kanokon is similar to Shuffle!, like the guy met the girl at a young age, they meet again a few years later, and girl announced she's in love with the guy. Kanokon's pacing usually deals with something supernatural and Chuzuru seducing Kouta using the plump body of hers. Unlike Shuffle!, Kouta finally declared his love to Chizuru, but like Shuffle! (one of the girl is fine with polygamy), Chizuru is fine with having Kouta as a mistress. Hey, it's anime logic. Don't argue.
---
08. Kiss x Sis

Episodes: 12
Aired: April 2010-June 2010
Suminoe Keita, Suminoe Ako, and Suminoe Riko are step siblings (yeah, I know) after their parents remarried. Since this is a romance-centric anime, the sisters are very attracted to our hero in a very, very, very, VERY lustful way.
Initially Keita avoided her (step) sisters' advances since he thought it wasn't right to get so—romantically involved with his new family. Things changed after Keita transferred to the same school as his sisters. He's slowly getting attracted to them.
Incest is one of Japan's favorite fetish and Kiss x Sis is one of the best out there, but… It's not really "real" incest since Keita isn't related to her sisters. But who cares! The story is usually centered around their school lives developing feelings among the three. Keita would get jealous when his male classmates flirt around his sisters and same thing for the sisters getting all jealous when Keita is with some girl. Oh, and their parents totally approve. Lucky guy!
---
07. Zero no Tsukaima (The Familiar of Zero)

Episodes: 13
Aired: July 2006-September 2006
Louise Françoise Le Blanc de La Vallière (that was a mouthful) is a young magician who rather sucks at conjuring spells, resulting in either an explosion, or an explosion, or an explosion. Due to her lack of mastering the arts, she is nicknamed "Zero Louise" by her peers. Which is not entirely true, by the way. Making things explode is a successful conjuring of a spell too, right?
In an upcoming test, each student must summon familiars, or a servant to support their masters. Despite Louise's desire to summon a powerful familiar and prove that she can summon properly, she ended up summoning a boy from Japan named Hiraga Saito. Since Saito was summoned, he is officially Louise's familiar. Despite him being a familiar, Louise is slowly developing feelings toward Saito. I mean, come on, it was obvious. A girl and a boy together? You do the math.
The relationship with Saito and Louise is rather… well… unstable. Let me ask you: How many seasons does Zero no Tsukaima have? Okay. And what is the most common plot element you see in them? Yeah, that's right. Even though Saito and Louise became lovers in season 1, Saito is a playb—I mean, a flirtatious young man. The majority of the female cast, from the well-endowed maid Siesta to the future Queen herself, are all attracted to him. Louise really needs to chain Saito down like a dog.
---
06. Aki Sora (Autumn Sky)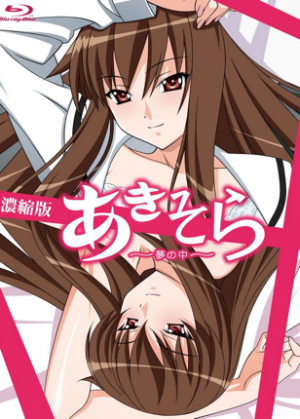 Episodes: 1
Aired: December 2009
Kiss x Sis on crack? You bet! Aoi Aki and Aoi Sora are a pair of close siblings that shared a strong intimate bond when they were young. During their, you know, puberty, she finally realized their the feelings for each other and eventually they made love.
Aki and Sora have another sibling, Aoi Nami, and they try their darndest to keep their new relationship a secret from Nami and, well, she wants a piece of the action. As any anime goes, Nami eventually found out. It's not a spoiler if it's already obvious. You know, John Wayne Bo—never mind.
Aki Sora can be summed up with one word: Lust. Sora is the typical short guy who happens to be the nicest guy in the world and girls love him for this trait. Like, you know, the only reason why guys in other harem anime get a harem. The story is rather sad and the most tragic character is Nami. She's not sure she wants her brother's love, or wants a penis, so she can bone her best friend. No, I'm not saying that metaphorically.
---
05. Haiyore! Nyaruko-san (Nyaruko: Crawling With Love!)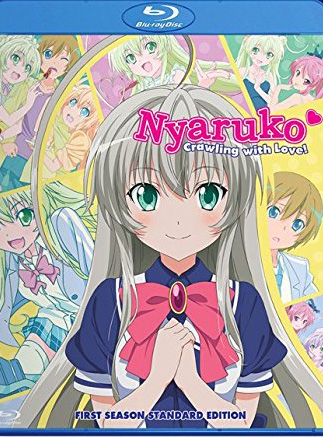 Episodes: 12
Aired: April 2012-June 2012
Yasaka Mahiro, your average and blandest boy (fact) around was minding his own business until he met a mysterious girl named Nyaruko. This girl is a special agent who was sent to Earth to protect Mahiro from monsters. Why are the monsters after Mahiro? Does he have something that they want? And who is Nyaruko? And is H.P. Lovecraft rolling in his grave after he found out Japan turned his Eldritch horrors into cute and sexy girls?
You get lots of fanservice from this one, courtesy of the Eldritch horrors trying to seduce Mahiro. Unfortunately, the relationship involving Mahiro and Nyaruko is rather slow and it took two seasons and 3 OVAs for something to happened.
Mahiro may be the blandest boy in the history of anime, he at least has some standards for a girl to love, and it clearly showed in Season 2 where Cthulhu, another Eldritch horror under the guise of a cute girl who practically stole the show. Nyaruko is in trouble unless she does something.
---
04. Kuttsuki Boshi (Stars Intertwined)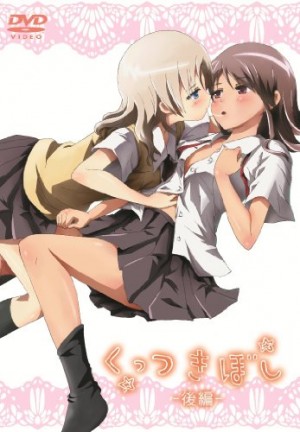 Episodes: 2
Aired: August 2010-May 2012
Kawakami Kiiko is a girl with supernatural powers: she can move things with her mind. Kiiko meets an attractive young girl named Saitou Aaya and starts developing feelings towards her. The two eventually get together and while everything's fine for the both of them, Kiiko will soon discover that Aaya holds a secret that could ruin their relationship.
Interstellar Space Lesbians! Aaya is a very sexually active young woman and the series revolves around them playing hooky. If you take out the constant love-making, the story overall is very barebones, but it won't deny the fact that these girls are madly in love.
There was a two year gap between episodes and the cliffhanger at episode one made a lot of people upset and speculate. At the time, it was one of the most controversial yuri anime and people speculated and argued for many, many months. Did the final conclusion satisfy these vocal fans? That's for you to find out.
---
03. B Gata H Kei (B Gata H Kei: Yamada's First Time)

Episodes: 12
Aired: April 2010-June 2010
Yamada (no, not that Yamada from Working!!) is a 15 year-old virgin who just entered high school. She is fairly attractive and any guy will fall for her, but there is one problem that's been bothering Yamada for a while: She thinks her vagina looks weird. Ah, anime. Ever so creative!
So Yamada's dream was to have sex with 100 men. However, she fears that experienced partners will tease her about the look of her vagina or find out that she's in fact a virgin.
Luckily she stumbles upon fellow virgin Kosuda Takeshi and with his help, she'll be able to gain more experience and bed more experienced men. Unfortunately for Yamada, Takeshi doesn't know how to sweep a girl off her feet. Yamada's journey to sex is going to be a long and difficult one.
The anime suffers from the usual "open ended story, must read manga for ending" syndrome and while it sucked, the anime is good at viewing sex through a female perspective. Yamada wants to have casual sex with many men, but can't make that jump. She sees Takeshi as a tool so she can achieve this goal, but soon realizes she fell in love with Takeshi and eventually find out that making love to the one you love is more enjoyable than having sex with 100 random guys.
---
02. Kodomo no Jikan (A Child's Time)

Episodes: 12
Aired: October 2007-December 2007
Daisuke Aoki is a 3rd grade teacher who meets Kokonoe Rin, a very young girl with long hair. After an act of kindness from Aoki, Rin made Aoki, her teacher, her lover. Rin literally wants her 3rd grade teacher to be her lover. Who would have thought that your biggest obstacles in your life comes from the most unexpected places.
But is Rin's love for Aoki really true? Are her feelings just puppy love? Or is it genuine true love? Does actively seducing Aoki mean something else? Aoki got 99 problems, but a lo—okay, that was bad.
The content of the show is really not for the casual viewer because, well, the synopsis states a love story between a grown man and a very young girl who seduces Aoki on several occasions throughout the series. Admittedly, I didn't watch rest of the OVAs and OADs, so I can't say Aoki and Rin ended up together, but if you read the manga, something did happen. This kind of romance story is very rare in anime. But it's interesting!
---
01. Bakemonogatari (Ghostory)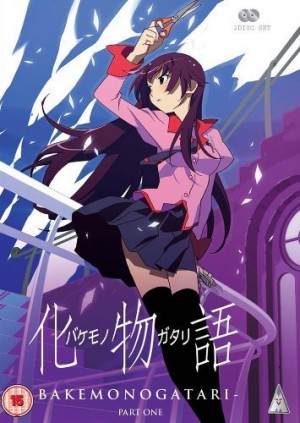 Episodes: 15
Aired: July 2009-June 2010
Bakemonoagatari tells the story of various characters with different circumstances… like… them being supernatural beings and all. Enter Koyomi Araragi and due to certain chain of events, he retained his humanity after being bitten by a vampire. After the encounter, Ararararararararagi (sorry, keys got stuck) meets people with supernatural issues and problems.
One of the people Ararararararararararararararararagi meets is Senjougahara Hitagi, a girl who doesn't weigh anything and has this thing about staplers. The story mainly involves the two as they argue and talk about their lives. Supernatural lives.
Bakemonogatari is number one mainly because it has a good story to tell and the development and relationship between Arararararararararararararararararararararararagi and Hitagi are realistic despite the show's fantasy setting. Their constant banter, or as I like to call it machinegun dialogue, is an amusing source of humor. And that's it… Saying any more will ruin it. Go watch Bakemonogatari if you haven't already! Try keeping up with this fast line of delivery though.
Bakemonogatari, isn't technically an ecchi show with lots of boob and panty shots, but rather Bakemonogatari has lots of well-placed dirty humor and a few semi-nude shots. Which is good because the show is focused more on the story rather than the fanservice.
---
Closing
And there you go!
I tried my best to keep the list filled with variety and avoid making it a Top 10 Harem Anime v2.0 by selecting the right ones that fit the description of an ecchi anime.
So what do you think of the list? Did I miss something that you think is more deserving? Please leave a comment below.
Oh and I need to my fix my keyboard. The R and A keys are getting stuck for some reason.
---