También puedes leer este artículo en:Español
Supernatural phenomena are a common conception in many human societies, cultures and religions. We're all well clued-up about these phenomena because we see them in our film, in our books, in our nightmares and (sometimes) in our own homes! That being said, it makes perfect sense that these entities would find their place in our anime too. Ghosts can be friendly or creepy, vengeful or peaceful; whatever their disposition, we like our ghosts and so we've put together a list of our favourite anime… featuring ghosts!
10. Natsuyuki Rendezvous

Episodes: 11
Aired: July 2012 – September 2012
Hazuki Ryousuke has a crush. The beautiful owner of a local flower shop has captured his attention and in order to make love blossom between himself and the subject of his affections—Shimao Rokka—he decides to get a part-time job at her shop. However, his plan to get closer to Rokka is impeded by a ghost living in her apartment who claims to be her dead husband, Shimao Atsushi. Atsushi has been watching his wife for three years since his passing and of all the people to have entered his home, Ryousuke is the only person who has noticed him. The jealous husband commits himself to thwarting Ryousuke's advances towards Rokka, while Ryousuke tries to find a way to get the angry ghost spouse to move on as ghosts should.
This interesting mix of drama and romance with a ghost at the centre of it all is the kind of show with incredible heaps of potential for each of its characters. However, the uniqueness that comes with this title is also unmistakable, creating a relationship among three characters who are all bringing their own personal landscapes to a paranormal situation.
---
9. Natsu no Arashi!

Episodes: 13
Aired: April 2009 – June 2009
Yasaka is a 13-year-old boy who is currently living with his grandfather during summer vacation. Upon entering a store one day, Yasaka meets Arashi, a beautiful 16-year-old girl who works at there. Yasaka becomes entangled in Arashi's life when he protects her from a man claiming to have been sent by her family to take her back home by force. The two of them flee to Yasaka's grandfather's house where Arashi now stays full-time. Soon after she moves in, Yasaka begins to realise that Arashi isn't a regular girl as a 60-year-old photograph of Arashi and a girl named Kaja emerges. Soon thereafter, Kaji herself makes an appearance and much like Arashi, Kaja hasn't aged a day herself.
Natsu no Arashi is a comedic romance which places its ghost character squarely into a strange mystery, but not only does it create enigma, it brings a secondary ghost character! With two ghosts now in Yasaka's life, the show dips its toes into a harem element with its romantic aspects concerning Yasaka and the two ghost girls. This anime also has the added boost of beautiful art and decent animation.
---
8. Asura Cryin'

Episodes: 13
Aired: April 2009 – June 2009
Natsume Tomoharu is a regular high school student living a regular high school life… apart from the fact that his best friend, Misao, is dead and her ghost follows him everywhere he goes. After he moves into his brother's old house, Tomoharu receives a strange briefcase with no instructions. He decides to put it into storage but soon after receiving the briefcase, multiple groups make their way into Tomoharu's house, prompting him and Misao to flee with it. Tomoharu now spends his time trying to uncover the secrets of the strange package that has made its way into his life, while looking into how it links to Misao and its incredible potential.
While the ghost is not presented to be the main element of interest in Asura Cryin', it is a large plot point which ties the events of the anime together. The mysteries surrounding the briefcase make for a thrilling journey into Tomoharu's life and the potential of the contents of the case to change the world as he knows it! However, in addition to this, the character Tomoharu finds himself in a situation which would normally be mentally and emotionally distressing with his dead best friend consistently by his side.
---
7. Gegege no Kitarou (2018)

Episodes: ???
Aired: April 2018 - ???
Kitarou is a friendly ghost who spends his afterlife trying to help people in any way that he can. In a world where youkai, monsters and other supernatural phenomena are commonplace, Kitarou helps humanity by combating the ones who cause harm in order to achieve his dream of having peace between human beings and spirits. 20 years into the 21st century, people have forgotten all about the youkai, but after strange events leave all the adults in her life dumbfounded, 13-year-old Mana writes to the Youkai Post, hoping to receive some kind of assistance. Kitarou arrives, ready to help!
The incredibly popular Gegege no Kitarou franchise has been rebooted yet again in order to celebrate the franchise's 50th anniversary. 2018's iteration boasts many of the same elements as its earlier counterparts, but also, pristine art and animation. The series follows Kitarou on his many adventures and the formatting of each episodes is... well, episodic. There is no overarching plot line in many respects but various events which all together are Kitarou's afterlife.
---
6. Muhyo to Rouji no Mahouritsu Soudan Jimusho (Muhyo & Rouji's Bureau of Supernatural Investigation)

Episodes: 12
Aired: August 2018 - Ongoing
Muhyo and Rouji are experts in magic law who are offering their coveted services in order to assist people experiencing any kind of uncomfortable situation concerning spirits, ghosts and any other supernatural entity. With Muhyo being the youngest to graduate from Magical Law School, he paired up with Rouji in order to form a business simply focused on the exorcism of supernatural entities. Need a ghostbuster? Call Muhyo and Rouji now!
This anime is fairly episodic in terms of how the events of each episode are carried out as individual cases that Muhyo and Rouji have to deal with as a result of their business. Exorcists aren't an unknown concept in anime and less so, anime featuring organisations created with the intention of helping people with their problems. Characters are interesting from a design perspective and very quickly display their archetypes, so the anime feels familiar, yet one feels enchanted by the crisp art that brings everything together. It's really pretty, and there are ghosts a-plenty – call Muhyo and Rouji now!
---
5. Another

Episodes: 12
Aired: January 2012 – March 2012
In 1972, Yomiyama North Middle School's Class 3-3 lost a student named Misaki Mei, who passed away during the school year. Ever since her death, the entire town has been enveloped in a dark atmosphere. In 1998, 15-year-old Sakakibara Kouichi transfers into the school's Class 3-3, noting the low energy exuded by all the students. An eyepatch-wearing student catches Kouichi's eye, but for some reason, everyone else seems to be acting as if she doesn't exist. Ignoring all the warnings he is given, including those coming from the eyepatch-wearing Misaki Mei herself, Kouichi begins to get closer to her and to the dark secrets about Class 3-3 of Yomiyama North Middle School.
Another is a fairly heavy horror anime with lots and lots and lots of blood. With everything being so closely tied to Misaki, the real ghost in question here, the anime is paced very much in a way which emphasises the horror aspects prevalent throughout the show. Another's creation of a long-standing ghost story that visibly terrifies the students at Yomiyama North Middle School is standard for horror ghost stories, but sometimes… sometimes Another will shock you.
---
4. Ling Qi (Spiritpact)

Episodes: 20 (ONA)
Aired: June 2016 – November 2016
Yang Jinghua is a man living in abject poverty who one day suffers a horrible accident. He wakes up after the incident, seeming to have aged backwards 10 years overnight; however, the reality of Jinghua's situation is that he has already died. As soon as he made up his mind to leave, a white-haired man named Duanmu Xi appeared in front of him with a strange proposition – he's asking Jinghua to sign away his life to him!
The interaction that happened between Jinghua and Duanmu is known as a Spiritpact and in this universe, such configurations allow souls of the deceased to remain in the same plane of existence as the living. As Duanmu's spirit, Jinghua can continue to "live", while assisting Duanmu with his exorcist work. One thing to note about the anime is that the characters' names have changed in order to accommodate a Japanese audience.
---
3. Punch Line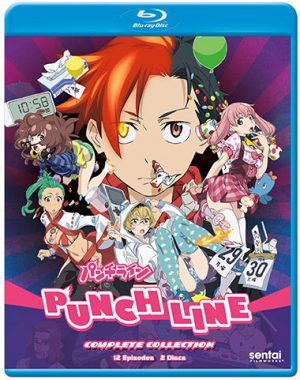 Episodes: 12
Aired: April 2015 – June 2015
Iridatsu Yuuta lives in a residence called the Korai House with his friends Daihatsu Meika, the genius inventor; Narugino Mikatan, an idol; Hikiotani Ito, a hiki-NEET and Chichibu Rabura, a spiritual medium. After escaping a bus hijacking with the help of the superhero Strange Juice, Yuuta's body is separated from his body and placed into the care of a sketchy cat spirit named Chiranosuke. Forced to wander the Korai House in his spirit form in order to return to his body, Yuuta is made aware of a dangerous threat; Chiranosuke gains incredible power upon sighting panties – seeing another pair while in spirit form could cause a catastrophic asteroid disaster to befall the earth, killing everybody! Yuuta must now investigate the dark secrets of Korai House, combat a villainous organisation hell-bent on world domination and prevent underwear-induced planetary destruction!
Punch Line, as the name would suggest, is a comedy with healthy action elements sprinkled in from the word go. It isn't a title to be taken too seriously; however, it seems to be focused mainly on bringing out hilarity through the eccentricity of the characters and of the show's lore itself. That being said, Punch Line is a whole lot of fun and it is really nice to look at – not to mention the swiftness with which it captures the viewer's attention!
---
2. Yuragi-sou no Yuuna-san (Yuuna and the Haunted Hot Springs)

Episodes: 12
Aired: July 2018 – September 2018
Kogarashi Fuyuzora has always had the ability to see ghosts and other supernatural phenomena. Unfortunately for him; however, his experiences extend to multiple cases of being possessed by ghosts and evil spirits, leaving him with no personal life and in poverty. However, his luck seems to be turning as he finds a cheap inn called Yuragi Manor, which is cheap because of the ghost of a high school student which haunts its halls. Unfazed by the paranormal activity and the host of beautiful women with whom he now lives, Fuyuzora finds himself having to help the ghost of 16-year-old Yuna who can't move on from Yuragi Manor because of unfinished business. In helping her, Yuna can move onto the next phase before becoming an evil spirit and facing eternal damnation; however, this agreement opens up the opportunity for other supernatural aspects to Yuragi to emerge!
Light-hearted and funny, Yuragi-sou no Yuuna-san almost feels like watching a version of anime like Love Hina for example, with a ghost main character. With romance and comedic tropes, the anime is the kind of title one picks up to even out the edge of more serious story-driven titles. Again, art and animation have to be mentioned because the show looks really, really good and characters while fairly archetypical and hence predictable, but worth the watch nonetheless.
---
1. Ryuugajou Nanana no Maizoukin (Nanana's Buried Treasure)

Episodes: 11
Aired: April 2014 – June 2014
Nanae Island is a man-made island located in the Pacific which was created by the Great Seven, a group of adventurers led by Ryuugajou Nanana. The island contains everything necessary for the proper education and training of its residents and it is a place where the youth can chase their dreams. After being exiled from his family, Yama Juugo arrives on Nanae Island and moves into a room, which he discovers to be haunted by the ghost of Ryuugajou Nanana herself! She is bound to the room after her unsolved murder 10 years prior and she informs Juugo of a set of unique items that she hid across the island before her death—items with mysterious powers. These items were dubbed the Nanana Collection, and finding them will definitely steer Juugo in the direction of the one responsible for Nanana's death.
This series is incredibly interesting as far as lore is concerned and it grasps attention from episode one due to the adventurous nature of the characters' escapades. Nanana's character as a ghost is also a shining variable, as she exhibits a happy-go-lucky attitude yet bears heavy emotional ties to Nanae Island as a result of her murder. The characters in this series are quirky and decently fleshed out for a short series such as this, not to mention the beautiful art and animation that ties it all together.
---
Final Thoughts
Ghosts come to us in anime in so many shapes and sizes – they've become part of a culture of supernatural anime that keep us entertained and enchanted. With paranormal elements being so interesting, what ghost anime do you recommend we check out for ourselves? Drop a comment below and tell us all about your favourite shows – careful not to be too spooked!
---
---
This is an update to an original list that was published previously. Be sure when you are done enjoying this list to check out the original underneath!
Ghosts are one of the more prominent monsters of the Halloween season, and they have a role in just about every culture. They play major parts in folktales as well as our understanding of spirituality, and so a lot of media will reference these supernatural beings. Anime is no different in this respect, as a lot of anime deal particularly with the after life or will have one character that is deceased. This really shouldn't come as a surprise considering how many anime focus on traditional folktales and how many fall under the category of fantasy/supernatural. That's part of the reason why this list is able to be a special updated list, with the original below. Now without further ado, let's get onto the top 10 ghost anime that you should watch.
10. Shaman King

Episodes: 64
Aired: Jul. 2001 – Sep. 2002
The Shaman fight, a massive tournament between spirit wielders that occurs every five hundred years, is about to begin in Tokyo. Tons of shaman will be entering the tournament and duking it out in order to become the Shaman King and gain control over the Great Spirit.
Following You Asakura and his friends, Shaman King takes us on one fantastic adventure. Essentially everyone you meet is in command of some ghost with its own incredible skillset. In many ways, it's a kid's version of a series you'll see a little later on, as it takes people with a certain magical aura and has them summon spirits to fight one another. Why are they fighting? To achieve a power that can change the world. What does it having going for itself? It has a roster of truly interesting characters and a plot that dives deep into family tradition while demanding personal independence.
---
9. Kyouaki no Rinne (Rin-ne)

Episodes: 25
Aired: Apr. 2015 – Sep. 2015
Rumiko Takahashi cannot be stopped. She's been creating manga that are adapted to anime for well over two decades. Her newest creation is Rin-ne, which follows Mamiya Sakura, a girl who can see ghosts, and then Rinne, a human shinigami as he does his best to make a living and ferry people to the after life.
If you want to talk about number of ghosts in a show, then few anime can beat Rin-ne. Every episode we come face-to-face with a new fellow of the departed clan; and though it becomes a slight bit routine, these ghostly introductions are some of the best moments as they help cement the light-hearted tone of the anime. More importantly, Rinne acts as a series that's easy to get into and one that's easy to finish. It never goes off the rails and provides a decent amount of action and humor to most people interested.
---
8. Hikaru no Go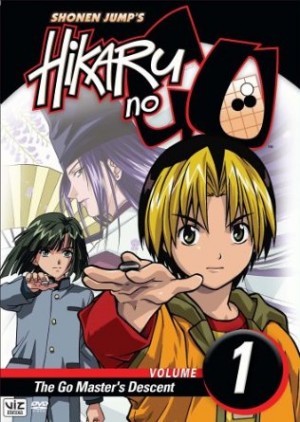 Episodes: 75
Aired: Oct. 2001 – Mar. 2003
Like a lot of sports anime, our protagonist learns through great persistence how to become a great player in his respective field. Unlike most sports/competition-based anime though, Hikaru no Go allows its hero, Hikaru to have the guidance of a spirit, who happened to be one of the best players of all time in competitive Go.
A more playful entry of this list, Hikaru no Go focuses on two primary things: the competitive world of Go and the master-pupil relationship that forms between Sai and Hikaru. It's this relationship in particular that allows Hikaru no Go to be on this list, as Sai, the ghost of the series, holds an enormous amount of influence over the direction and tone of the entire show. He not only provides comedic relief and wisdom, but a strong sense of mysticism that is entrenched with history.
---
7. Ano Hi Mita Hana no Namae wo Bokutachi wa Mada Shiranai (We Still Don't Know the Name of the Flower We Saw That Day)

Episodes: 11
Aired: Apr. 2011 – Jun. 2011
Anohana starts off with Jinta Yadomi, who has been living as a shut-in and avoiding responsibility at all costs. Then one day, his childhood friend, Meiko Honma, stops by and keeps asking him to grant a certain wish from long ago. Jinta at first tries to ignore because Meiko is dead, and then he can't ignore her because Meiko is dead but actually there. Just to clarify, Meiko's a ghost telling Jinta to stop being lazy.
Don't lie. If you watched this, you probably had to break out the tissues. Anohana details the lives of a group of friends that fell apart once a friend died. This story powerfully depicts the process of grief and one's ability to come to terms with a traumatic event. Taking advantage of multiple strained relationships that are juxtaposed against innocent childhood, Anohana weaves in issues of social anxiety, peer pressure, and so much more. Despite its rather sad premise and somber events, the anime is able to string together a lot of light moments to keep you intact.
---
6. xxxHolic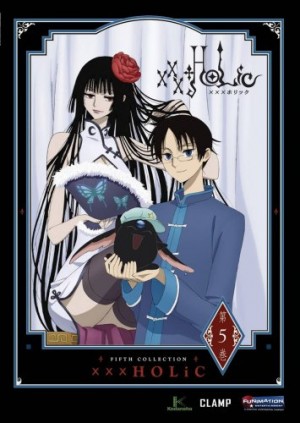 Episodes: 24
Aired: Apr. 2006 – Sep. 2006
What happens when a teenager, haunted by spirits on a daily basis, finds a witch who can dispel the spirits from him forever? Well, he ends up working for her shop and learning a lot more about the other side than he could have ever expected.
CLAMP is one of the most beloved companies for a reason and xxxHOLIC helps continue this trend. The story is subtle and beautiful and funny at every stage. There's not a single episode wasted in its 24-run. Similar to other CLAMP shows, this anime provides a gorgeous setting, but really finds its strength with its characters. Yuuko's aloofness plays so well with her vast knowledge and sharp wit. Watanuki is constantly entertaining as he toils under Yuuko and grows a deeper bond with the realms of other life. Then there's Himawari and Shizuka who each provide interesting backstories and give new dimensions to Watanuki's character.
---
5. Tasogare Otome x Amnesia (Dusk Maiden of Amnesia)

Episodes: 12
Aired: Apr. 2012 – Jun. 2012
For six years Seikyou Private Academy has been haunted by the ghost of a young woman. The woman, by the name of Yuuko, died in the school's basement, but does not remember anything about her life or death and goes unseen by basically everyone. That is until Teiichi Niiya comes along and is able to actually interact with her. Together these two (along with two others) try to figure out how Yuuko died as well as several other mysteries about the school.
Overall, the show is an interesting mix of horror and laughs with solid animation. However, the real reason a lot of people will give it a go and stick with it is because of the ghost Yuuko. She is definitely the core of the series (the title is named after her after all) and her personality is one to remember. It's through her that we get a good chunk of laughs as she tries to seduce Teiichi and it's through her that we delve into the more serious aspects of the show. Her character is both the light and darkness of the show as she is forced to deal with her past, despite her desire for freedom.
---
4. Noragami

Episodes: 25
Aired: Jan. 2014 – Dec. 2015
If you haven't seen Noragami yet, then you're missing out on one of the best anime of the 2010's. Now the first season follows Hiyori as she gets to know more about the world of gods and spirits through her interactions with Yato and Yukine. However, the second season focuses much more on an anti-hero of the first season: the goddess Bishamon. Now, Yato, Yukine, and Hiyori aren't forgotten, but we do get a much more indepth look at Bishamon and her godly domain.
When you have a show about gods that induct the spirits of the dead into weapons, then you have yourself a pretty epic anime about the spirit world. What's nice about this show is that the spirits are actually more than plot points. They are main characters and their insecurities and powers play a huge role in both seasons. In the first season, we get an in-depth look at Yukine, a recently deceased young boy, who is learning to deal with being invisible and under the command of a rather 'sketch' god. In the second season, we get a thorough look at all the departed that Bishamon have brought under her care and the issues with her trying to save every lost soul.
---
3. Fate/Zero

Episodes: 25
Aired: Oct. 2011 – Jun. 2012
This is the show that Shaman King would be considered a kid's version of. Fate/Zero throws viewers into the fourth Holy Grail War, which is canonically known as the most deadly war in the Fate universe. As in any Holy Grail War, seven magicians summon heroic spirits and then engage in a no-hold's-bar death match.
Fate/Zero does three things incredibly well. One, its animation is absolutely gorgeous and gives incredible life to the powers of the magicians and their heroes. Second, it has an incredible cast of characters, with both magicians the heroic guardians having unique philosophies. This season in particular demonstrates a strong focus on the motives of the spirits, as three "kings" discuss what it means to rule. These three 'kings' actually contribute the most to the development of the plot and success of this prequel. Finally, the plot is perfect, with twists set up perfectly to make you wonder what is right and what is wrong.
---
2. Natsume Yuujinchou (Natsume's Book of Friends)

Episodes: 52
Aired: Jul. 2008 – Mar. 2012
Takashi Natsume has a particularly difficult relationship with spirits/ghosts. He's been able to see youkai from a particularly young age and, well, they've been chasing/pestering the poor boy. This is because these youkai had been under the control of his grandmother and now they are his responsibility, as he has inherited the Yuujinchou, the "Book of Friends."
Brain's Base hit anime is one of those shows that you can watch over and over again, because it blends the perfect amount of sentimentality and drama with humor and light-heartedness. Consistently, Natsume Yuujinchou tackles problems of anxiety and loss and portrays the importance of being able to connect with another (doesn't have to be human!). Episode after episode, we find ourselves encountering spirits that are vastly different from one another who are dealing with a crisis that will hit close to home for at least one viewer. Just putting the cherry on top is that Brain's Base didn't waste any effort in making sure that this anime is absolutely gorgeous.
---
1. Ghost Hound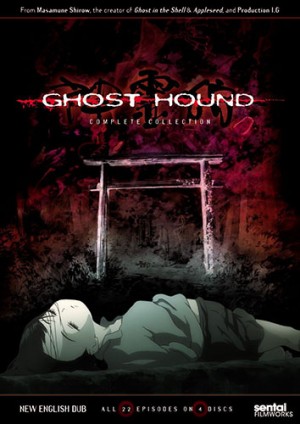 Episodes: 22
Aired: Oct. 2007 – Apr. 2008
Ghost Hound places us in the small town of Suiten, where three boys learn to cross into the Unseen World. Now, the Unseen World is basically a parallel world to our own, and acts as the world for souls of the dead. However, ghosts are now passing over into the real world and things are starting to get dicey. Thus, Makoto, Masayuki, and Taro decide to figure out what's causing this unprecedented phenomenon.
Filled with ghosts and psychology, Ghost Hound is a solid watch for the Halloween season. However, it's not an easy ride for the viewer. At first, the show will feel like college-level course on psychology, with large terms being thrown about and a bunch of occurrences that have no relative meaning behind them. However, as the show progresses, everything gets its fair explanation. In other words, if you can survive the initial confusion, you will find yourself enjoying an incredibly philosophical anime that tackles questions of death and trauma. How much of us can die in a past experience and how much does our past actually shape our future are just two of the questions that Ghost Hound cleverly handles.
---
Final Thoughts
First, it felt important to give a small shout out to Yu Yu Hakusho, a classic that would have been on the actual list if Yurameshi actually stayed dead, rather than come back alive. That aside, this list tried to focus on shows where the ghosts within them actually had a strong impact on the show's narrative, which is why you see something like Fate/Zero above Mushishi. With that said, were there any ghost anime that you feel should be up on this list?
---
---
Do spiritual beings and ghosts intrigue you? Do you fancy the suspense that supernatural themed anime give you? If you do, you might have come to the right article! Here I have compiled a list of Top 10 Ghost anime, I will be focusing mainly on the traditional sort of apparitions and ghosts, so vampire themed anime won't make it onto the list here. Sorry! Maybe those will be featured in a new article down the line, so stay tuned!
In addition, different aspects of the anime i.e. settings, artwork, story, background music, etc. will also be weighed for each spot on this list. Keep in mind though, the list won't be exclusively on horror themed ghost anime. So if you're the timid type, it's still fine to check out the list! Enjoy!
10. Shonen Onmyoji (The Young Spirit Master)

Episodes: 26
Aired: Oct 3, 2006 to Mar 13, 2007
Abe no Masahiro, despite being the grandson of the prestigious Spirit Master, Abe no Seimei, lost his 6th sense or his ability to see and sense spiritual beings. This became a great setback for him in trying to achieve his goal to be a Spirit Master himself. He then met Mokkun, the only mononoke he was able to see at that time – something that was all part of his grandfather's plan to awaken Masahiro's true potential to become the greatest Spirit Master ever.
This anime gives you a certain satisfaction through its characters and their personal development throughout the series. Even though there are arguments suggesting that the storyline was a bit mixed up and unfaithful to the original, it's still an interesting anime to watch considering how the protagonists both manage to create a strong bond with each other, in terms of how they worked together in dealing with apparitions.
---
9. Gegege no Kitarou (2007)

Episodes: 100
Aired: Apr 1, 2007 to Mar 29, 2009
The story follows a young ghost, Kitarou, who lives in the Gegege cemetery and his journey to save mankind from other evil ghosts and demons. Kitarou is accompanied by several of his yokai (spirit) friends; Medama-Oyaji (Daddy Eyeball), Nezumi Otoko (Rat Man), Neko Musume (Cat Girl), Sunakake Babaa (Sand Witch), Konaki Jijii (Old Man Crybaby), Ittan Momen (Rollo Cloth), and Nurikabe (Wally Wall). Together, they use their powers to help and to protect humans from other demons.
The demons and ghosts that appear in this anime were all derived from traditional Japanese folklore. Literally about 80% of the characters that you see in this anime are all ghosts or yokai. This is one of the classic old-school ghost themed anime that spawned several sequels and remakes from the original run of Gegege no Kitarou (1968). And in this one, it's not all about the horror. It's actually quite fun to observe the unique interactions between the protagonist and his group of ghost friends as they always have their own inside jokes, which makes each episode fun to watch and is why it definitely deserves to be on the list.
---
8. Ghost Hunt

Episodes: 25
Aired: Oct 4, 2006 to Mar 28, 2007
Taniyama Mai is a schoolgirl that eventually partners up with Shibuya Kazuya (the head of the Shibuya Psychic Research Company), after an unfortunate event that made his former assistant injured. They work together to exorcise and hunt down ghosts and supernatural beings throughout his investigation.
The anime revolves more around the process of exorcising ghosts and supernatural beings, with a unique detective-styled approach to each supernatural encounter. If you like the idea of hunting down ghosts using scientific methods and cool gadgets, this anime is the perfect fit for you! The well-thought-out scheme of the cases revolving around apparitions is one of the main reasons why this anime deserves to be on the list! Be sure to give it a try!
---
7. Gakkou no Kaidan (Ghost Stories)

Episodes: 19
Aired: Oct 22, 2000 to Mar 25, 2001
When Satsuki Miyanoshita and his little brother moved to a new school, they inadvertently found themselves trapped in an old abandoned school building that was said to be haunted after trying to find their cat, Kaya. Together with Hajime Aoyama, Momoka Koigakubo, and Reo Kakinoki, they find a "Ghost Journal" left by Satsuki's mother. Inside are magic spells and guides on how to exorcise ghosts and demons.
The suspense in this anime is real, it will definitely creep you out. Well, to say the least, the ghosts in this anime sure give you a nice scare sometimes! But it still manages to give you a touch of light comedy on the side through the characters and their interactions. If you enjoy a good scare as well as some good laughs in between, you'll enjoy this anime quite a lot!
---
6. Ghost Sweeper GS Mikami

Episodes: 45
Aired: Apr 11, 1993 to Mar 6, 1994
Reiko Mikami, a Ghost Sweeper, runs a business that helps other people exorcise and get rid of ghosts. Accompanied by her poorly-paid and perverted assistant, Tadao Yokoshima, they use highly-valued talismans and a sword infused with supernatural energy to either exorcise demons or help them cross over to the afterlife. Although it becomes apparent that Reiko is living the luxurious life, she is extremely cheap when it comes to money issues, and thus, the under-paid assistant.
If you like the comedy side of No. 7 on this list, you will probably have a field day with this anime as it brings you those priceless facial expressions and a slightly hentai-esque sense of humor derived from her perverted assistant and his misfortune-rich encounters with ghosts. Each character – both human and ghost – has their own comical personality that holds up well throughout the series, earning this anime a spot on the list.
---
5. Jigoku Shojo (Hell Girl)

Episodes: 26
Aired: Oct 5, 2005 to Apr 5, 2006
In modern times, there was a rumor going around that there was a mysterious website that only appears during midnight, known as Hell Correspondence, where you can type in someone's name and it will administer your vengeance for you. Ai Enma, the Hell Girl, will appear to whomever's name was written and ferry his/her soul straight to hell. Upon their death, the person who used the site to exact such revenge will also be sent to hell after the vengeance is done with.
This anime does give you the chills and creep you out a bit, but all in all it deserves to be on the list because it kind of makes you question your own morals and gives you a unique perspective of the real world between what is right and what is wrong. Basically, get ready for an emotional rollercoaster for this anime, as it brings you anger, sadness, fear, and maybe a bit of remorse. For those of you who really enjoyed Death Note, this anime has a similar plot. The only difference being that it's an online form of the Death Note. Be sure to give it a try!
---
4. Mononoke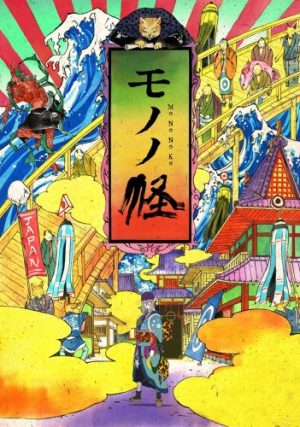 Episodes: 12
Aired: Jul 13, 2007 to Sep 28, 2007
During ancient Edo times in Japan, a travelling medicine man, Kusuriuri sought out to confront evil spirits known as mononoke. During his confrontations with those mononoke, he needs to determine 3 things before vanquishing them: its form (Katachi), the truth behind its form (Makoto), and its purpose (Kotowari).
This anime would be the one odd-ball on this list with its unique artwork and its extravagant colors. In addition, the atmosphere of the settings and the background music, both contribute to a nice recipe for a transcendental ghost themed anime. The way the protagonist gets rid of apparitions is unique too. It might seem strange at first, but you still manage to find yourself inexplicably drawn to this one-of-a-kind anime.
---
3. Mushi-Shi

Episodes: 26
Aired: Oct 23, 2005 to Jun 19, 2006
A 'Mushi' is a mysterious form of life that takes on the characteristics of living things i.e. plants, animals, etc. Just like ghosts and other supernatural beings, some are good and some are evil towards humans. It's up to Mushi Master Ginko to deal with said creatures and help other humans who have any issues related to 'Mushi'.
Albeit, this anime does not deal with real 'ghosts' but the interpretation of 'Mushi' as a supernatural being does seem to fit the context in this anime. The anime is mostly presented in a heart-warming series of events, the music and settings really express the 'human touch' that the protagonist has around 'Mushi'. It's definitely worth checking out if you want to enjoy a ghost themed anime minus the horror effects.
---
2. xxxHOLiC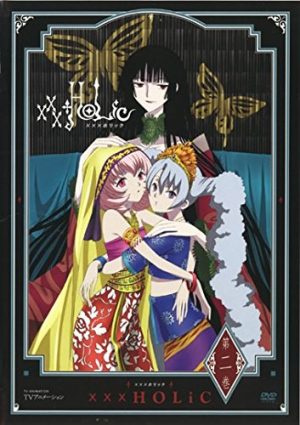 Episodes: 24
Aired: Apr 7, 2006 to Sep 29, 2006
Watanuki Kimihiro, a boy born with the ability to inadvertently attract ghosts and spirits, found himself drawn to a mysterious shop that 'grants wishes' owned by Yuuko Ichihara. He then agrees to work as a part-timer for Yuuko in return for the wish he made to get rid of his ability. Along the way, he eventually comes to understand the spirits and often find himself helping them through Yuuko's assignments.
This anime brings out a little bit of everything from suspense to comedy and light-hearted situations. The characters' development in this anime really flourishes as they each go on their own journey of seeking what they really want in life. The love-hate relationships between characters will also give you a good laugh. After watching this anime, you might be interested in knowing about and understanding the supernatural characters even more because of how they were portrayed in the anime.
---
1. Natsume Yuujinchou (Natsume's Book of Friends)

Episodes: 13
Aired: Jul 8, 2008 to Sep 30, 2008
Takashi Natsume, a boy gifted with eyesight that enables him to see ghosts and apparitions, stumbled upon the Book of Friends, a book filled with the names of ghost that can be used to control them – a book that was previously owned by his grandmother, Reiko Natsume. He then tries to return all the names back inside the book with the help of Nyanko-sensei, a Madara spirit that he accidentally rescued, in the hopes that the ghosts and apparitions wouldn't cause him trouble anymore.
This anime doesn't just give you the suspense of ghost themed anime but it also helps viewers gain a sense of understanding towards the apparitions involved through their past and their entanglements with the protagonist. It is very similar to the previous anime on the list; the comedic interactions between the characters and the development and transformation they undergo often lead to them 'maturing' in a sense, later on in the series. This is the kind of ghost anime that will make you feel less intimidated by apparitions because of how they are portrayed in the anime.
---
Are you intrigued by the anime mentioned on the list? There's bound to be more good quality ghost anime out there, but regardless I hope you found this list interesting and helpful! Which other anime do you think could have made it onto the list? Leave a comment below to let us know!
---