También puedes leer este artículo en:Español
Unsurprisingly being surrounded by cute girls remains a popular theme in anime, and 2015 was no different. As is always the case with harem shows, the themes and quality vary drastically, from the dramatic visual novel adaptations, to the forgettable and rushed messes that pop up every other season.
But rest assured there were some great series about this year, with a fair few new light novel adaptations as well as a handful of superb sequels. So to ensure you get to see only the best of 2015, read on for our top 10 recommendations for harem anime.
10. Gakusen Toshi Asterisk (The Asterisk War: The Academy City on the Water)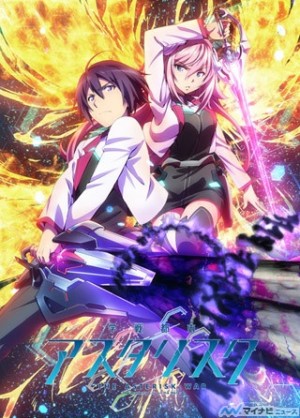 Episodes: 12
Aired: October 3rd 2015 - December 19th 2015
We start off with Gakusen Toshi Asterisk, often know as Asterisk War, a sci-fi action anime based around the Academy City Rikka, and in particular Seidoukan Academy which protagonist Ayato Amagiri attends. After accidently peeping on fellow student Julis-Alexia van Riessfeld, Ayato is forced into a duel, where he proves himself to be surprisingly skilled with a sword. One thing leads to another, and the two decide to partner up and compete in the upcoming Phoenix Festa tournament, cue harem and fan girls.
Shows based around fighting and magical schools have been pretty common this year, with quality unfortunately not always being very high. But out of all of them Gakusen Toshi Asterisk is one of the best, with some great visuals and an impressive soundtrack. Seriously the ending theme is beautiful. More importantly Ayato's harem remains interesting throughout: all the girls appear to have decent backstories, which thanks to the second season already being announced, have not been rushed through. Overall Asterisk probably won't blow you away, but if you enjoy the genre then it's worth a watch.
---
9. Taimadou Gakuen 35 Shiken Shoutai (AntiMagic Academy 35th Test Platoon)

Episodes: 12
Aired: October 8th 2015 - December 24th 2015
In a world where witches are seen as despicable, evil creatures, there are schools specialized in training youths to combat the magical menaces. Taimadou Gakuen 35 Shiken Shoutai focuses on the 35th test platoon at Antimagic Academy, also known as the "Small Fry Platoon" due to their total incompetence. Now with skilled witch hunter Ouka Ootori being demoted into his harem, sorry, platoon, Takeru Kusanagi sees this as a good opportunity to improve their standing in the school.
Another one of this Fall season's battle school anime, Taimadou Gakuen 35 Shiken Shoutai is a bit darker than the rest which makes for a nice change. The girl's arcs are pretty varied and there's ample fan service throughout, the only real downfall of the series being pacing issues. Tsundere lovers especially will find the harem nice, as around half the girls seem to have the trait. Like Asterisk, Taimadou Gakuen 35 Shiken Shoutai is another show that's great if you like harem anime and have time to burn.
---
8. Jitsu wa Watashi wa (Actually, I Am)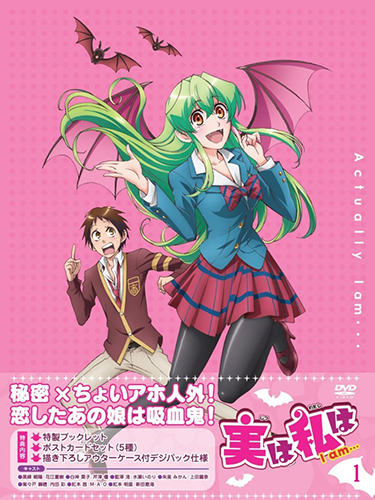 Episodes: 13
Aired: July 7th 2015 - September 29th 2015
When going to confess to your classmate after school, there are few things that could throw you off more than finding them stretching out their wings in your classroom. After accidentally discovering that his crush Youko Shiragami is actually a vampire, Asahi Kuromine is determined to make sure that her secret doesn't get out. Oh and did we mention that he is completely incapable of lying?
Jitsu wa Watashi wa came as quite a surprise, as despite the obviously low budget art and animation, it turned out to be a hilarious and enjoyable show, with the quite bizarre harem of girls ensuring ridiculous antics throughout. Very lighthearted, Jitsu wa Watashi wa is not a show to be taken seriously and is reminiscent of Rosario + Vampire with its supernatural school setting and, of course, vampires.
---
7. Shinmai Maou no Testament (The Testament of Sister New Devil)

Episodes: 12
Aired: January 8th 2015 - March 26th 2015
Getting two new, cute step-sisters sounds pretty good, until they turn into demons and try to kick you out of your own house. But as you would except, one thing leads to another and Hero, Toujo Basara, ends up protecting his two new sisters against the true demons that are out to get them. But two girls isn't quite enough for a harem, so I guess he better find some more quick!
The first ecchi harem show on the list, Shinmai Maou no Testament does exactly what it says on the tin, cute harem of girls with a lack of clothing, all after our guy Basara. Although not really showing off anything new, Shinmai Maou no Testament provides great, uncensored quality content on par with other, similar shows such as High School DxD. Additionally with a sequel released the same year, the plot feels like it's being given adequate time to develop, and each girl still gets her time in the spotlight.
---
6. Grisaia no Rakuen (The Eden of Grisaia)

Episodes: 10
Aired: April 19th 2015 - June 21th 2015
Continuing from Grisaia no Meikyuu, Grisaia no Rakuen once again follows protagonist Yuuji Kazami and the girls at Mihama Academy, only this time, it's their turn to help him out. With his situation as a suspected terrorist getting way out of hand, his harem must work together to ensure his safe return to their warm embrace.
Adapted from a Visual Novel, Grisaia no Rakuen is probably the most drama heavy show on the list, so if you want plot, this is where you want to be. As a sequel, you will almost certainly want to watch Grisaia no Kajitsu and Meikyuu beforehand, but with art and animation that oozes quality and an excellent story to boot, it's well worth your time.
---
5. Nisekoi

Episodes: 12
Aired: April 10th 2015 - June 26th 2015
The sequel to Nisekoi, we once again join Raku Ichijou as pretty girls vie for his attention, all the while pretending to hate him. Continuing his fake relationship with Chitoge Kirisaki, Raku begins to find even more girls appearing before him as little sisters and assassins cannot help but fall into his ever growing harem.
If someone asked what a harem show is, Nisekoi: is the kind of anime that I would get them to watch. It follows all the tropes and genre stereotypes you would expect, and yet it remains very enjoyable to watch. Nisekoi isn't about clever plot twists or ecchi fan service, it's about a cute group of girls that you just can't take your eyes off, something that it does very well. On top of that, Shaft have once again done a beautiful job with the art and animation, making Nisekoi one of the prettiest harem shows about.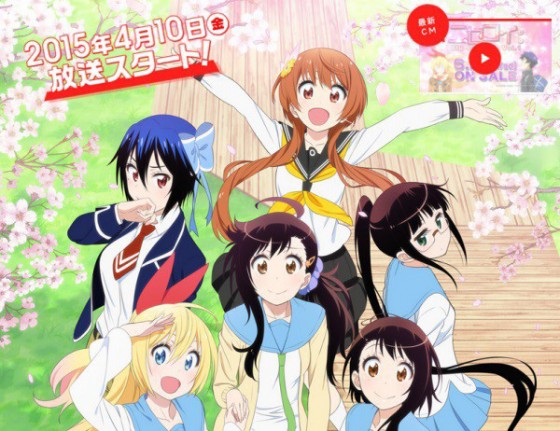 ---
4. Monster Musume no Iru Nichijou (Everyday Life with Monster Girls)

Episodes: 12
Aired: July 8th 2015 - September 23th 2015
With the discovery of monsters, more importantly monster girls, Kimihito Kurusu has kindly taken up reasonability of looking after young lamia Miia, as she enters the human world. But with more and more girls appearing and in need of his aid, Kimihito is quickly finding the responsibility becoming quite overwhelming.
Winner of the most unusual harem of the year award, Monster Musume no Iru Nichijou brings monster girls to our screens in great numbers. Although not the most inspired show in terms of storyline or art, Monster Musume makes up for all of that with its unusual monster related hijinks, which only get more interesting as the harem size increases. One of the most hyped shows of the year, Monster Musume is fresh and fun, and well worth a watch.
---
3. High School DxD BorN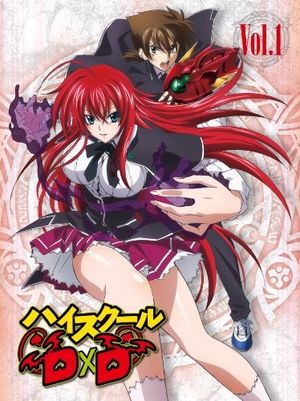 Episodes: 12
Aired: April 4th 2015 - June 20th 2015
Yet another installment in the High School DxD series, BorN does just what you'd expect, brings a harem of cute girls we love, along with some comedy and action packed battles. With the focus being away from main heroine Rias for most of the show we get to find out more about characters like the adorable Koneko who have previously been a little bit neglected.
It's good to see a harem anime getting some decent sequels, as with High School DxD we're now starting to see more real character development and plot progression, which given their nature, often isn't entirely present in many harem shows. With the usual fantastic fan service and fight scenes, if you enjoyed the prequels, there's absolutely no reason not to see High School DxD BorN.
---
2. To LOVE-Ru Darkness 2nd

Episodes: 12
Aired: July 7th 2015 - September 29th 2015
Sequels aplenty on this list, next up: To Love-Ru Darkness 2nd, where we watch Yuuki Rito awkwardly fall into girls, with varying levels of success. As Momo Deviluke tries to bring the harem plan into fruition, Nemesis has other ideas, stirring up trouble once again.
A perfect example of a harem show done right for two reasons: Firstly the sheer number and variety of female characters is brilliant, with almost all bases covered: shy, tsundere, big boobs, small ones, I could go on. Secondly the way the episodes are arranged, so that all of the girls in the harem get plenty of screen time, even with plotlines that don't directly involve them, so that no matter which girl you like, no fan is left behind. Coupled with the excellent visuals and incredible voice acting, To Love-Ru Darkness 2nd is yet another great quality title in the To Love-Ru series, and a must watch for any harem anime fan.
---
1. Saenai Heroine no Sodatekata (Saekano: How to Raise a Boring Girlfriend)

Episodes: 12
Aired: January 16th 2015 - March 27th 2015
Inspired by a chance meeting with a beautiful girl, Tomoya Aki is determined to no longer be just a regular otaku, but to create a galge of his own. Thankfully he knows both the school's best hentai artist and light novel writer, and reckons he can get them both on board with his spontaneous plan. But when he finds out the beauty on the hill was in fact his dopey classmate Megumi Katou, he has another important job to do: educating her on what a real girl game heroine should be like!
Saenai Heroine no Sodatekata stands out from many of the harem anime this year due to its clever and interesting dialogue, particularly between Aki and Katou, who are a very strange pairing. The interesting writing, along with the fact that it's surprisingly plot driven for a harem anime, means that the show very rarely resorts to fan service to keep you interested.
This may sound like bad news to some, but rest assured this only demonstrates Saenai Heroine no Sodatekata strength in other areas. This is a show that can be watched and enjoyed by anyone, and the harem of pretty girls is just the icing on the cake.
---
Conclusion
Looking back over the year it's nice to see such a variety in harem shows, from the more serious likes of Grisaia no Rakuen, to the craziness that is Monster Musume. Hopefully the harems of 2016 will be filled with even more wonderful girls for all to enjoy, but only time will tell.
But with so much variety in harem shows, there's bound to be a lot of different opinions over which are the best. So maybe you preferred the drama of Grisaia, the action of Gakusen Toshi Asterisk or you think that Shomin Sample deserved a spot on the list (I give it honorary 11th place), whatever you think, let us know in the comments below!
---