If you are a fan of anime, no matter how old or young you are, you have probably seen an Idol singer. From Lyn Min May to the girls from Love Live!, the Idol singer is a very common figure in Japanese pop culture and they are as popular in real life as their animated counterparts. Groups like AKB48, Morning Musume, and Hello! Project have dozens of members and thousands of fans.
Although music is really hard to portray in manga, the Idol phenomenon has also inspired many artists to create great stories about the girls and boys trying to break into the business and the hardships of those who manage to do so. While some have later become anime series with tons of followers and some real Idols involved in the production, there are also a few very good stories that still haven't jumped to the small screen.
Join us as we review ten manga that show both the light and dark sides of the idol life, with a bit of fantasy thrown in for spice.
10. Idol Pretender

Authors: Haruse, Hiroki
Genres: Comedy, Ecchi, Seinen, Gender Bender
Volumes: 3
Published: April 2011 - August 2013
Eita Chinami has made some questionable choices in his life. He's a delinquent who thinks that he needs to be the most dangerous guy in school, beating up everyone in the neighborhood just to get the chance to talk to the most popular girl in school, Yukia Kitano. This is not really working for him, but he still perseveres until the fateful day in which he takes the wrong pills to fight a cold and wakes up as a cute girl. Unfortunately, the antidote costs 300 million yen, so the only way he can go back to his real gender is by becoming an idol, which makes him end up as a possible rival to Yukia.
While Idol Pretender focuses more first on the gender bender aspect of the plot, and later in the love triangle Chinami finds himself in as he acts more and more as a girl, there's a lot on the manga about the difficulties that every girl wishing to be an idol has to face: from handsy fans and producers, to the grueling rehearsal hours, and, most difficult for Chinami, the fact that they have to be nice and well behaved at all times.
---
9. Diamond Beat

Authors: Shibano, Yuka
Genres: Romance, School, Shoujo
Volumes: 1
Published: October 2006 – December 2009
Satsuki has a serious self-esteem problem. As the younger daughter of a family of classical musicians, and the only one without a real talent for playing an instrument, she always thought she was talentless and thus, a burden. However, when Kiichi, a young guitarist, asks her to join his band, she discovers that she loves singing and starts a relationship with him. But when a scout comes to one of their shows and decides that he only wants to sign Satsuki as the singer for a completely different band, Satsuki will have to decide between her career and her friends.
Diamond Beat is a very short manga, but that doesn't mean it doesn't carry a good story. It focuses mostly on Satsuki's choice, and how it could affect her life and her relationships with others. There's a more sinister subplot about the agent and his reasons for trying to sign Satsuki to his agency, but even that takes a second seat to the considerations that she makes about what she wants to do and how she wants to live her life.
---
8. Seiyuu Ka! (Voice Over!: Seiyu Academy)

Authors: Minami, Maki
Genres: Drama, Romance, School, Shoujo, Gender Bender
Volumes: 12
Published: June 2009 – February 2013
Hime Kino is determined to make her dreams of being a voice actress for the most popular series in Japan come true, no matter what. Fortunately, her family supports her so she is enrolled in a special school for voice actors and Idols, the Hiiragi Academy. Unfortunately, once she starts classes, they tell her that her voice is not suited to be a cute character or a voice actress at all. She gets nervous, and her voice sounds like nails on a chalkboard. Still, she's not ready to give up and that is when a producer realizes that she can do a special "prince" voice that would woo audiences, so he tells her he will help her to become a voice actress as long as she pretends to be a male voice actor. It's then that Hime must decide if she can take such a detour to become a voice actress or if she will remain faithful to her dream.
While Hime's goal is not to become an Idol, but a voice actress, the paths are quite similar. Her producer, Haruka, works with other students who are idol singers, and the rehearsals and demands are the same. In particular, Hime has to be very careful never to be seen as a girl near the dubbing studios, which is very similar to how real idols can't be seen as anything but perfectly nice, single girls so their fans can dream about having a chance with them. And although Hime at least has the chance to be herself at school, that doesn't mean we don't get to see how the pressures of work get to her.
---
7. Teppen!

Authors: Tsukimiya, An
Genres: Shoujo, Gender Bender
Volumes: 2
Published: February 2008 - June 2009
Uehara Kobato arrived in Japan following her mother's last words: she has an older brother that works on TV and has a burn mark on his body. Determined to find him, she believes that if she gets a job in Japan, she can use her free time to look for him. Instead, she bumps into Shinjou Takeru, an up and coming idol, and through a series of misunderstandings, she ends up getting scouted to become his partner in a new singing duo. The only problem is that everyone thought she was a boy when she signed up, so now she has to keep pretending because, as an idol, she has a better chance of finding her brother.
Teppen! Is a very curious manga because, at some point, the search for Kobato's brother gets forgotten, as she gets really caught up in the struggle to become a great singer, despite the fact that she and Takeru don't get along very well at first and that she has to hide her real identity at all times. We see how the rivalries with other groups begin and the jealousy and bullying that can result when you have 20 candidates for a single job living together in the same place. It's very short, but it also makes for a great impression of how hard Idols work to get to where they are.
---
6. Dream Kiss

Authors: Ooya Kazumi
Genres: Comedy, Drama, Music, Shoujo, Harem, Romance
Volumes: 4
Published: January 2000 – May 2001
When every single person you meet seems to be more interested in your father's connections with the entertainment business than in you, it's easy to think you will never find love. That is what happens to Azuki, whose father is the President of a talent agency. Worse, she has a great gift for scouting new talent, so that means she also has to work as a producer for the latest project of her father's agency, a reality show to make a new boy band called "Romeo School". But things get really complicated when she realizes that she is starting to feel attracted to one of the contestants and has to decide between helping him land the audition or risk the chance of never seeing him again.
Dream Kiss is a very interesting entry on the list, as it looks at the Idol business from the other side of the fence, that of the producers. We still get to see the rivalries budding within Romeo School, but there's more focus on the producer's side of things because that's where Azuki feels at home. She's young like the target audience for the groups and has the unique chance of dating one of the singers, but at the same time she worries about her professionalism and what would it mean for the company if it looked as if she abused her power. In general, it's a very good story that shows the other side of the idol coin.
---
5. Crash!

Authors: Fujiwara, Yuka
Genres: Comedy, Music, Romance, School, Shoujo
Volumes: 16
Published: April 2007 – November 2013
Hana Shiraboshi doesn't like idols. Or, more precisely, dislikes that her parents never have time for her because they manage the White Star Agency, creating many groups and trying to help them succeed. Not only that, she has a very strange condition: Whenever she's near a person that has the talent to become a star, her nose bleeds. So when five boys make her faint in the park, she decides to overcome her dislike of the job and begs her mother for the chance to sign and manage them in a new group called Crash!
Crash! is a fun reverse harem manga, that tries to show a bit of the hard work idol managers do and mixes it with a love pentagon because Hana, no matter how good she is at her job, is still a 15-year-old girl who is surrounded by handsome guys. While it takes a lot of liberties, particularly with Hana's age and her job as a manager, Crash! still makes a point of showing that the responsibilities of a manager are no laughing matter and how it can consume someone's life completely.
---
4. Love Stage!!

Authors: Tsuda, Mikiyo (Art), Eiki, Eiki (Story)
Genres: Comedy, Romance, Yaoi, Slice of Life
Volumes: 7
Published: May 2010 – July 2016
Sena Izumi comes from a very famous family: his father is a singer, his mother an actress, and his older brother leads the band "The Crushers". But he has no interest in following in their footsteps. Instead, what he wants to do is watch his favorite anime series in peace and become a mangaka. That doesn't stop his family from making him go to as many auditions as they can, because they want him to join them in the entertainment business. It's in one of those auditions that he reunites with Ichijou Ryouma, a new up and coming actor, who had once filmed a commercial with Izumi when they were children. And since Izumi was madly in love with Ryouma, he starts considering becoming an actor to stay near his beloved.
Love Stage! Is a very funny story that stands out because of the personalities of the leads. Ryouma may be a huge star, but he is also adorable whenever he is presented with something or someone he likes. On the other hand, Izumi is not a shy person who can be bullied into doing what he doesn't want and, even after deciding to try to be an actor, he still pursues a career as a mangaka. And that dream means that we get to see both worlds and how the climb to the top of both careers, mangaka and idol, is one that requires a lot of effort.
---
3. ½ Love

Authors: Kayoru
Genres: Romance, Shoujo, Gender Bender
Volumes: 1
Published: December 2010 – January 2011
Akari Ochai is a very shy and clumsy girl who wants to become as pretty and sparkly as the idol unit Flower, which she is a fan of. Nyu and Kaoru, the two members, are the perfect image of what girls should be, at least in Akari's mind. She has talent to sing and dance and can memorize a whole routine just watching it once, but her shyness prevents her from trying to stand out more. That is, until the day in which fate decides to intervene and, due to a series of accidents, she ends up on stage as the newest member of Flower and as a keeper of their biggest secret.
Once again, we see that the running theme of the manga are the secrets idols have to keep to stay popular. Sometimes it's a forbidden romance, sometimes it's a less than stellar lifestyle and, no matter how much they try to hide it, we can see how it hurts the Idol's mental state. ½ love highlights this very well by focusing on Akari's shyness and anxiety over Nyu and Kaoru's secrets and her own abilities. While the story is short, it manages to show everything about the idol lifestyle that is problematic, including the greedy producer. A must read for those who love the singers but think they should have more freedom.
---
2. Tenshi Ja Nai (I'm no Angel!)

Authors: Shigematsu, Takako
Genres: Comedy, Drama, Romance, Shoujo, School
Volumes: 8
Published: 2003 - 2007
Next, to "an idol is pretending to be the opposite gender in order to be more popular", the most common trope in Idol stories is "idol really doesn't want to be popular, but needs to because of reasons". This is the problem that Izumi has: he's so far into pretending he is a girl, that he was even enrolled into an all-girl school. When his new roommate Hikaru Takabayashi discovers his secret, he blackmails her into keeping his identity concealed, because he really needs the money in order to pay for his dad's medical bills. Hikaru, on the other hand, used to be a model but quit because her classmates in her previous school bullied her out of jealousy, so she wanted nothing to do with the entertainment business and its drama.
Tenshi Ja Nai adds the private school setting to the entertainment setting and manages to do a great job by showing the different kind of stress that both places have. Izumi and Hikaru's relationship starts in a bad place due to both of them assuming the worst of the other, precisely because of their experiences in the industry, and it takes a lot of work for them to start trusting the other. This makes Tenshi Ja Nai a very different take on old tropes.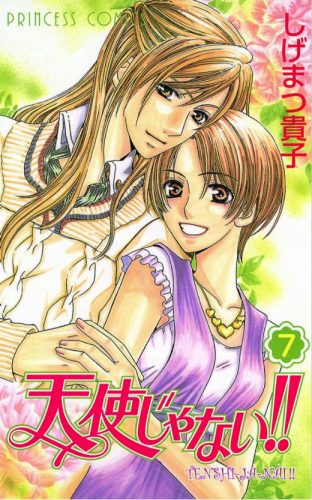 ---
1. Penguin Kakumei (Penguin Revolution)

Authors: Tsukuba Sakura
Genres: Comedy, Romance, Shoujo
Volumes: 7
Published: August 2004 – December 2003
Yukari Fujimaru has been taking charge of her father since she can remember, which has made her wish for a more reliable life as a public official. However, she has a talent that is better suited for the entertainment business: she can see wings on the backs of people who have potential. Thanks to that, she discovers that one of her schoolmates is, in fact, Ryou, one of the biggest stars of the PEACOCK agency. Since she manages to keep the secret, when her father runs away from his debts, Ryou helps her to get a job in PEACOCK as her manager, as long as she pretends to be a man.
Penguin Kakumei is a very cute romance and fantasy manga. Yukari is adorable, and her power gives the chance to have some amazing visuals. On the other hand, Ryou is a very empathic man who doesn't really use his fame to abuse Yukari. Instead, he does try to help her with her problems. The truth is that he is the lowest rank in the company, so he needs her as much as she needs him and that is why the main focus of the story is their friendship, more than a romantic relationship.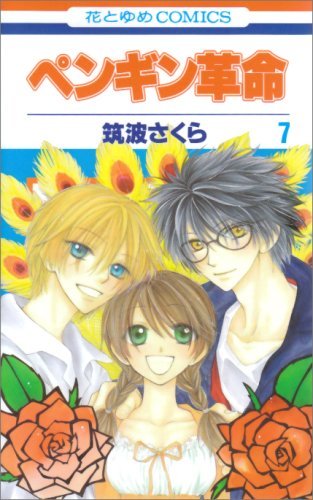 ---
Final Thoughts
The life of an idol is full of secrets and stress. Despite how cute and innocent they always look, every idol knows that they are in a cutthroat business and that the press follows them at all times. Of course, that makes romance very complicated and that is why most idol manga are shoujo where readers can see their favorites be happy despite the press.
With this in mind, which is your favorite idol story? What are the plot twists that you remember the most? Please, let us know in the comments below.
---