También puedes leer este artículo en:Español
Love it or hate it, idol anime is here to stay. Although, everything will eventually reach its peak and a new wave of anime will swoop in and take the spotlight, and we may see that very soon. Band anime is likely to become the new hotness in the coming years, or maybe there will be something else entirely, but before any of these happen though, let's look back at one of the very best idol anime made by Japan. These are the anime that defined idol anime and created a culture surrounding cute girls doing their best to make people happy with their frilly dresses and catchy music.
Honey's Anime will be updating our Top 10 Idol Anime with new entries we think are worthy to be the best. The list will continue to change in years to come, so for now, let's look back at 10 idol anime that graced the world with their charm.
10. PriPara

Episodes: 140
Aired: July 2014-March 2017
For every little girl, there's a ticket awaits them, a ticket that will grant them entry into the colorful world of Prism Paradise, a place where girls become idols and are what they want to be. Manaka Laala loves idols, but she only prefers watching them, and despite that, she somehow ended up being part of Prism Paradise as one of the most popular idols around. But Laala has to be careful, especially in school where it is forbidden for girls to indulge in such activities. Music, fun, adventure, anything is possible in PriPara!
PriPara is geared towards a very young audience and you can pretty much tell that's the case because PriPara has mahou shoujo-like transformation scenes, a very lighthearted storyline, and tons of wacky humor. Aikatsu!, PriPara, Full Moon wo Sagashite are little gateways for fans to enter the world of idol anime, and PriPara offers something big idol anime lacks—Extreme fun.
---
9. Aikatsu!

Episodes: 178
Aired: October 2012-March 2016
Ichigo has never really considered becoming an idol, but all that changed when she saw the Top Idol, Kanzaki Mizuki, sing and dance on stage. Mizuki's beauty and appeal on stage entranced Ichigo and from that day onward, Ichigo enrolled at Starlight Academy and her life changed as she became an idol. But despite her many successes as an idol, she still couldn't reach her senior. Was it something she lacked? Should she train harder? Run faster? Work harder?
Just like PriPara, Aikatsu! is a lighter and more wholesome than her big sisters with the focus more on doing various idol activities like auditions, meeting new friends, training, school, etc.. Oftentimes Aikatsu! is known as the imouto of idol anime. Currently on its third iteration Aikatsu Friends!, the Aikatsu! series is a fun alternative if you wish to watch idol anime without the unnecessary drama and conflict. There is conflict in Aikatsu!, but they're not as extreme or tear-jerking like from Wake up, Girls!, or even Love Live!. All you need to know is Ichigo, Aoi, Ran and friends are doing idol activities to bring smiles and laughter to fans in both the 2D realm and the IRL realm. Watch the original Aikatsu!, Aikatsu Stars!, or Aikatsu Friends!, every show is guaranteed to give you a wholesome fun time.
Also a protip: Do not get discouraged by the CGI. It'll improve over time!
---
8. Full Moon wo Sagashite (Searching for the Full Moon)

Episodes: 52
Aired: April 2002-March 2003
12-year-old Kouyama Mitsuki has big dreams of becoming a singer. One day, she made a promise with a boy named Eiichi, that one day when they meet again, they will have both fulfilled their dreams. Unfortunately for Mitsuki, she is diagnosed with a growth in her throat and if left untreated, the tumor will take her life. However, she refuses to be treated because in doing so, she will forever lose her ability to sing and fulfill her promise to Eiichi.
As her last days pass by, she is visited by two soul takers (shinigami), Takuto and Meroko to prepare for her departure to the afterlife. Refusing to give up, Mitsuki shows her resolve and passion to sing and convinces Takuto to help her. With his powers, as well as some reluctant support from Meroko, they push Mitsuki to pursue her dreams by giving her a temporarily healthy body. Will Mitsuki fulfill her dream as a singer and meet Eiichi or will she fail and succumb to her illness?
Mitsuki, her manager, and everyone who is helping her never claimed Mitsuki is an idol, but rather, they call her a singer. In Japan, the role of an idol is often seen as someone who is temporary in the entertainment business and people don't take them as seriously as singers, actors, etc. If one wishes to pursue their career professionally, the idols graduate and build their career from there. For Mitsuki, she is essentially an idol working to become a singer for her young love Eichi and throughout the series, we watch as Mitsuki start from a novice to a professional artist while overcoming the tumor that's slowly taking her life away.
---
7. The iDOLM@STER Cinderella Girls

Episodes: 13
Aired: January 2015-April 2015
346 Production has enacted the Cinderella Project—finding normal girls with hidden talent and take them to stardom as one of the most radiant of all idols. The Producer searches around the city, looking for that girl and one day, he has found one—The girl named Shibuya Rin.
After a long wait, the sequel, rather, the spin-off of the idol anime that started it all has arrived, and Cinderella Girls is, well, different than its predecessor. Being different doesn't mean it's also bad at all. While a lot of fans didn't like the less colorful art style, and, let's be honest here, the three main girls Rin, Uzuki and Mio weren't too interesting or boring even, Cinderella Girls still has a huge cast of supporting characters to make up for it.
The tone of the anime is more on the serious side than the original im@s, the main story and the aforementioned supporting characters carry the series about an idol production company looking for diamonds in the rough and make them shine and radiant like in the famous fairy tale Cinderella.
---
6. Macross Δ (Macross Delta)

Episodes: 26
Aired: April 2016-September 2016
A mysterious illness called the Var Syndrome is wreaking havoc throughout the galaxy. With its origins unknown, the syndrome spreads through planet after planet, turning every humanoid into mindless zombie-like creatures. Miraculously, the idol unit Walküre and the Delta Squadron has the power to put an end to this epidemic.
Macross Delta may not have a school setting or a story of an idol company producing cute idols, and Macross Delta is of the wrong genre of anime, but the idol unit Walküre is as "idol" as you can get. Led by the mysterious Mikumo Guynemer and new recruit Freyja Wion, they perform live in active battlefields and use their songs to transmit a special wave that can turn the tide of battle. It's a risky responsibility as they open to enemy fire and hazards. But thankfully Walküre has the Delta Squadron that consists a team of pilots that acts as the unit's dancers and protectors.
Music is an essential element in stories of Macross and each series has a songstress that helps the main character overcome obstacles and give them superhuman powers to turn the tide of battle. Out of the many series out there, Macross Delta was the first to feature an idol unit. If you something different other than typical school idol anime, then Macross Delta is an anime you didn't know has idols. It also has love, drama, action, and a fantastic music playlist.
---
5. Love Live! Sunshine!!

Episodes: 13
Aired: July 2016-September 2016
Inspired by the success of Otonokizaka High School's now-legendary school idol group μ's, Takami Chika, a seemingly normal girl who isn't part of any school club, decided to create her own idol group for her seaside school of Uranohoshi Girl's High School. However, things didn't go too well as the school president of the school rejected Chika's plans to set up an idol club. Undeterred and with the help of transfer student from Otonokizaka High School Sakurauchi Riko, Chika has recruited 7 more girls to form the new school idol group Aquors.
If it ain't broke, don't fix it. This is basically what Love Live! Sunshine!! is with elements all too familiar and oftentimes it feels like their riding the success of its predecessor Love Live!. This is, in retrospect, not totally a bad thing because the new cast of characters and music are anything but similar, and they're reason enough for you to care for them—Chika, Riko, Kanan, Dia, You, Yoshiko, Hanamaru, Mari, and Ruby goes through phases where they conquer their fears, settle their differences, and work together and be one of the best idols in Japan. Love Live! Sunshine!!, while familiar, it's still a must-see for idol fans who want to experience more of the Love Live! universe.
---
4. Wake up, Girls!

Episodes: 12
Aired: January 2014-March 2014
Small-time idol group Wake up, Girls! isn't as popular as the rest of their peers, but they got a modicum of success though it's not much to get them off the ground. Things turned for the worse after their manager ran off with their concert money, leaving the group without a future and Green Leaves Entertainment on the verge of closure. The girls got a second chance and it's a very rough road, but it's a path the girls must take in order to achieve success.
The Wake up, Girls! series as a whole was made with a low budget resulting in stiff animations, horribly drawn backgrounds and CGI has an abysmal frame rate. But despite its flaws due to a limited budget, Wake up, Girls! still managed to tell a realistic story about the struggle of idols like how they promote themselves, hunting for events, paying the bills, and tackling the dark side of the idol industry like character assassination, sexual exploitation, drugs, and corruption. The tone of Wake up, Girls! is definitely not on the cheerful side, but the anime offers a one of a kind experience that is not shrouded by frilly dresses and bubbly music. Maybe Wake up, Girls! is showing us something and we should wake up to the harsh reality of idol-hood.
---
3. AKB0048

Episodes: 13
Aired: April 2012-July 2012
Motomiya Nagisa is your typical girl in one of the industrial planets colonized by mankind going about her day. One day she witnessed something special—a live concert of the fugitive interplanetary idol group AKB0048. The dazzling lights and heartwarming music has captured her heart and this inspired her to join in their ranks. However, she must hide her love for music for The Deep Galactic Trade Organization deemed it illegal to like music as it's one of the sources of evil in the universe. What will you do when the universe becomes anti-fun and imposed a universe-wide Entertainment Ban? Create an idol group, spread love, cheer and fun throughout the galaxy and fight spoilsports with guns and robots!
AKB0048 is similar to Macross Delta in a way that the setting is in the far distant, off-Earth future, but without the destruction, despair and the death of someone close to you because your singing turned them into mindless berserkers. Instead of fighting other alien races, Nagisa and the new members of AKB0048 must travel from planet to planet to hold concerts while evading capture from the most anti-fun government in existence. This unique and fun premise is reason alone to watch AKB0048 and who wouldn't be dazzled at these beautiful girls with beautiful voices and with equally beautiful music?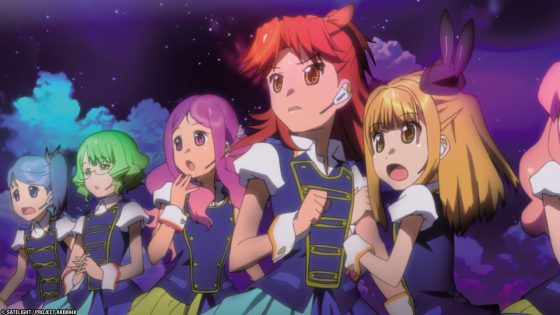 ---
2. The iDOLM@STER

Episodes: 25
Aired: July 2011-December 2011
765 Production Studio is the home and workplace of 13 young idols with different walks of life. Led by the 765 Pro staff, including the newly-hired Producer, the idols train hard, settle their differences for the group synergy, fix their shortcomings, conquer their fears and face whatever obstacles that come their way to become professionals in the booming and popular idol entertainment industry.
The iDOLM@STER is the template of the modern idol anime like a huge cast of idols with varying personalities, a look at how the idol entertainment works, how these idols promote their name or brand, and the hardships or scandals they experience. Unlike Wake up, Girls! and Aikatsu!, The iDOLM@STER strikes the perfect balance of drama and fun, so the anime won't feel melodramatic but at the same time not feel too campy. At one point the idols will do a fun music video on one episode and a serious story of a rival studio sabotaging 765 Pro on the other, The iDOLM@STER has it all and it's one of the best idol anime out there.
---
1. Love Live! School Idol Project

Episodes: 13
Aired: January 2013-March 2013
With the decline of the number of students enrolling every year, Otonokizaka High School is set to close its gates. However, the ambitious student of the school, Kousaka Honoka, is determined to keep the school open for the future generation of students by boosting the school's popularity through Honoka's idea to create an idol group and compete in the prestigious Love Live! Tournament. With the help of her friends Umi and Kotori, Honoka wastes no time to find more members to help save the school by forming the idol group μ's.
Like the iDOLM@STER, Love Live! is a massive multimedia franchise covering anime, manga, games, music and radio shows. Before the anime started, Love Live! is already popular in Japan with its music and beautifully drawn characters and having touched every form of media in Japan, an anime adaptation was expected. And the adaptation arrived and more or less it met the expectations of fans (maybe except Nico fans), and Love Live! was something different.
Unlike the IDOLM@STER, Love Live! didn't follow its rival's template but instead move in a direction that distinguishes itself from the rest of the idol anime. There are no production studios, no producers, the focus was solely on the girls working hard to save their school. Honoka may be an airhead or dumb at times, but she's very determined and she can make things work without the help of a producer or has the funds of a production company. Love Live! may have paved the way for a new idol anime template for future idol anime to use.
---
Final Thoughts
Honey's Anime wasn't implying idol anime is going to end, nor it's going to get replaced by a new genre, but rather we're reflecting on how idol anime captured the hearts of many fans these past few decades with these titles we've listed. The iDOLM@STER may have paved the way for modern idol anime, but we think Love Live! got the formula right by focusing on the main element—the idols themselves. Honoka and friends want to save their school and one way to do it is to win the prestigious Love Live tournament. But apart from working hard to reach that goal, the girls learned the values of friendship, teamwork and how their music can heal the souls of anyone who listened.
One would argue that the management staff, idol production, scandals, bad planning, rivalry in the entertainment industry are part of being an idol and there's an audience for this kind of stories, but a lot of fans just want to see idols have fun more than pondering the dark side for being an idol in Japan. But ultimately though, idol anime covers both sides and something in between. The list we showed you has all three, and it's great that idol anime has variety despite its very simple premise of girls working hard as idols.
---
---
---
Top 10 Idol Anime
It's no secret that music has a certain power to it that can be used to inspire joy amongst the crowds. This is the philosophy of the idol, singers within Japan that quickly become regarded as pop culture icons. Modelling, acting, singing, all of these fit within the role of an idol in Japan.
So what better way to take a look into this phenomenon than through anime. Whether it's kids shows, science fiction nonsense or excellent character stories, the world of idol anime has a lot to offer. Here's 10 standout shows that display the spirit of the idol in the best way possible.
10. Aikatsu!

Episodes: 163
Aired: October 2012 - Present
Starting off with the big shots, Aikatsu is one of Bandai's vanguards when it comes to their hit franchises. At 163 episodes, Aikatsu is huge amongst younger audiences and is incredibly influential. When Ichigo Hoshimiya is invited by a friend to join the idol training academy, Starlight Academy, she enters into a brand new world of rivals, friendship and the wonders of idol life.
But Aikatsu is more than just fun and friendship. There's some realities of the idol industry that's explored really well, diving into PR, interviews and public image. Sure, this might be a normal thing for idol series in general but for something as hugely popular within a younger demographic as this, it's impressive to see this level of information being delivered through the show.
---
9. Show By Rock!!

Episodes: 12
Aired: April 2015 - June 2015
Show By Rock!! is fantastic in the weirdest ways and it's one that's somewhat difficult to explain in a sensical manner. But I'll try. A girl who is too nervous to join her school band gets transported into a mysterious fantasy world powered by the magic of music. She turns into a catgirl for some reason or another and joins a band. They turn into CGI animals when they perform.
Now you're either hooked or confused by that summary but for those still with me, Show By Rock!! is an absolute blast. It's hilariously funny, ridiculous and brilliant all at the same time, offering one of the cheesiest experiences I've ever had watching anime. And if Season 1 isn't enough, a sequel has been announced!
---
8. The iDOLM@STER: Cinderella Girls

Episodes: 25
Aired: January 2015 - October 2015
Okay, so The Idolm@ster: Cinderella Girls may not hold a candle to the original, but that doesn't stop it from being great in its own right. This is particularly true for its second half where it put unexpected characters together, exploring each of the cast's personalities more thoroughly. It quickly gets into its stride, no longer relying on one-note characteristics and creating these moments that can be genuinely regarded as special.
It's a whole new cast for the Idolm@ster franchise and there's so much to explore here as the idols and producers try to make the Cinderella Project a big success. Much like the original series, it's an inspirational journey within the idol industry as they must gain fame and recognition to achieve their goals on the main stage.
---
7. Uta no☆Prince-sama♪ Maji Love 1000%

Episodes: 13
Aired: July 2011 - September 2011
Let's try a different approach. Maybe what you're looking for isn't a story about idols in skirts and ribbons, but rather a story about camp men in fancy suits. Uta no Prince-sama is one of the most popular series within the genre of male idols as it captures us with its charismatic charm. Whilst the setup is certainly one of a reverse harem, even the female lead, Haruka becomes a key part of the idol group.
Uta no Prince offers something that is both familiar, yet distant to many idol fans who will have enjoyed other series on this list. Despite it being somewhat unappealing to the male viewer, I'd highly recommend it regardless as much of the interactions and basic structure you'll be used to is still ingrained within it. Oh, and the music is actually really good too. That's probably important.
---
6. Pretty Rhythm: Aurora Dream

Episodes: 51
Aired: April 2011 - March 2012
Much like many other picks on this list, Pretty Rhythm: Aurora Dream is originally based on a video game where the player must dance to the rhythm of the song. However, unlike many of the picks here, Pretty Rhythm isn't just a game about dancing, with it also having a heavy focus on fashion. So with source material like this, it's no surprise that this idol show takes a heavy focus on the public image side of being an idol.
Pretty Rhythm is charming in its own special way as these superidols known as "Prism Stars" aim to become "Prism Queen"s and conquer the stage in this fun series. Yes, it's another combination between the slice of life and idol genres, but through its lovable cast, it's capable of supporting itself on its own merits through character interactions and the performances themselves.
---
5. AKB0048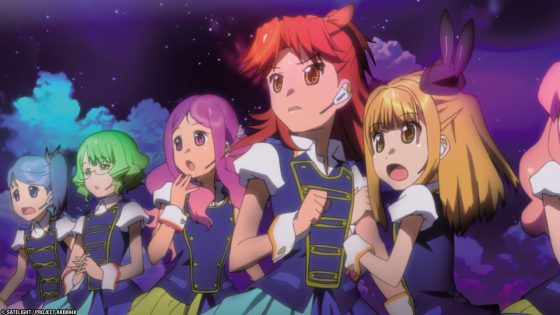 Episodes: 13
Aired: April 2012 - July 2012
Idols are forever, as AKB0048 clearly demonstrates. During the 21st century a world war breaks out, leaving the planet Earth devastated. With no other choice, the human race escapes the planet to settle across the galaxy and find a new future. But with this comes conflict and corruption as some planets start to regulate the entertainment industries, including idols when the world needs them most.
So, the sci-fi successor group AKB0048 must travel the stars as a rogue group, fighting against corrupt governments with the aim of reaching the people's hearts in an attempt to reunite humanity. It's definitely strange and by no means even remotely realistic, but it takes these leaps of logic to create something genuinely special and different. There's many ways to create an anime about the hit AKB48 band, but this was certainly out-of-the-box.
---
4. Futsuu no Joshikousei ga [Locodol] Yatte Mita. (Locodol)

Episodes: 12
Aired: July 2014 - September 2014
Locodol is a very very easy show to love. Take away the spectacle, the bright lights and the fame from your typical idol show and what are you left with? Locodol, of course! Focusing on local idols, Nanako and Yukari, they're not performing huge stage shows or acting in advertising campaigns for huge corporations. They're helping out their local stores, putting a wide smile on the faces of local residents and promoting the town to those that might choose to visit.
It's incredibly humble and it does so much to make this story stand out as a new direction for the genre, despite other shows being very much focused on the flashier side of this world. It even dives into the idea of local mascots acting as PR for regional towns with cheesy theme songs and family friendly events. It's just lovely in every definition of the word and is highly recommended.
---
3. Wake Up, Girls!

Episodes: 12
Aired: January 2014 - March 2014
Wake Up Girls is an idol show that is entirely aware of what it's out to achieve. By presenting itself as a more grounded series in comparison to its competitors, Wake Up, Girls isn't afraid to show both sides of what the idol industry really is. Occasionally a wonderful place but ever so often, a sickeningly dreadful one. After the prequel film that showed the group being set up, the series is very much focused on telling character stories and giving cause them to grow as people.
Whilst Wake Up, Girls doesn't deviate much from standard idol tropes and ideas, it very much has its own agenda when it comes to its tone and how it delivers its narrative. Just these small things give it so much plot direction with the characters starting as rookies and some having their own personal troubles. There's really something special lying within Wake Up, Girls and I strongly recommend you take the time to find it.
---
2. Love Live!

Episodes: 13
Aired: January 2013 - March 2013
Love Live! is arguably one of the most popular idol series out there. With Sunrise taking its next idol venture away from kids series and into the late night realm, Love Live appealed very quickly. Presented as this very oddly structured slice of life and idol show, Love Live captured audiences through its cast of 9 diverse characters, each with their own jokes and character dynamics, leading to it becoming a global success.
Through the concept of "school idols", where students represent their high schools through competition, Love Live seems to have found the ultimate blend and has capitalised on it big time. With a second season releasing the following year and then a film with a global theatrical release earlier this year, there's plenty of Love Live to go around and don't worry, it's not too late to jump into the franchise now.
---
1. The iDOLM@STER

Episodes: 25
Aired: July 2011 - December 2011
The Idolm@ster is the best idol series yet and for very good reason. Everything that we expect of a series of this genre, Idolmaster gifts beyond our expectations. With one of the best casts in anime, every single character dynamic within this surprisingly large cast works exceptionally well. With groups splitting off from the larger studio, there's plenty of opportunity for new interactions to arise and there's rarely cases where it feels at all wrong.
Whilst it is the typical, "Group of girls try to become more popular idols" story, it's always presented in new and unique ways, turning what should be boring PR events into something the viewer really wants to get involved in. Nothing feels obligatory or forced, every part of this puzzle piece finely fits into one of the larger stories, creating moments that can genuinely be regarded as standout all the way throughout.
---
Final Thoughts
So there's some great idol shows that you really need to be checking out. Whilst some of them may fit under the tag of 'generic', there's some really special shows here that expand beyond the definition of "Idol anime" to create new stories. If there's anything that I missed (There probably is), let us know in the comments section.
---