Video games appeal to people of all ages, from old to young and everything in between. But that doesn't mean that all games are for all age groups - and especially when it comes to young gamers, a lot of games are far from kid-friendly. Whether having too much violence, adult themes or even just being too difficult, it can be hard to find kid-friendly games that are still fun and engaging for children. A lot of people think the only solution to getting games for kids is to buy a Nintendo DS or Switch.
You may be surprised to learn there are actually a lot of great games for kids on PlayStation 4! Whether the child wants something to be creative, engage in some kid-friendly fighting, solve puzzles, or just explore freely there are a lot of games out there that are great for kids. And many of them you might find are fun for adults, too, especially if you're looking for something more casual or just fun to play! Do what games do we recommend for kids on the PlayStation 4? Read on it find out on our list of the Top 10 PlayStation 4 Games for Kids!
Of course, we always recommend screening all games in advance before giving them to children as each child is different and can handle different things. Only you know what is best for the young gamers in your life! On that note, let's move on to the list.
10. Yonder: The Cloud Catcher Chronicles

System: PlayStation 4, Microsoft Windows
Publisher: Prideful Sloth
Developer: Prideful Sloth
Release Dates: Jul. 18th, 2017
Yonder: The Cloud Catcher Chronicles is set on the magical island of Gemea, where the player finds themselves shipwrecked at the beginning of the game. On the island, a dark fog called Murk is causing a lot of fear for the people who live there as it poisons the environment. The only way to defeat Murk and return Gemea to how it's meant to be is to find sprites that can help dispel the fog. Of course, it's up to you to find these sprites and help save Gemea!
Yonder: The Cloud Catcher Chronicles is a great adventure game to help kids become interested in open world games, and to teach them how to play them. The gameplay consists of exploration to find and collect the sprites and is free from the fear of death and losing. On the side, you can also do farming, fishing, and crafting when you aren't exploring Gemea's eight distinct areas. Yonder: The Cloud Catcher Chronicles also features a customisable main character, which is a great place for young gamers to learn how to do that as well. Without the pressure of a high difficulty level or the frustration of constantly losing, Yonder gives kids a chance to play an open-world adventure that they can actually enjoy themselves - and pave the way for their future as gamers!
---
9. Rayman Legends

System: PlayStation 4, Nintendo Switch, PlayStation 3, Xbox 360, Wii U, PlayStation Vita, Xbox One, Microsoft Windows
Publisher: Ubisoft
Developer: Ubisoft Montpellier
Release Dates: Aug. 29th, 2013
Rayman Legends is the direct sequel to the game Rayman Origins and takes place after Rayman, Globox, and the Teensies have been asleep for a century. While they were sleeping, their enemy the Magician and also the Bubble Dreamer's nightmares have grown in strength. When they awaken, they discover that the ten princesses have also been taken! They all set out with their friend Murphy to rescue the princesses, defeat the Dark Teensies, and hopefully vanquish all the threats that are facing their home now.
Rayman Legends is a fun platform game that is very child-friendly. It features gameplay that can be done with up to four players cooperatively, which is perfect for kids that want to play games with their friends or even family. It has 120 different levels, so Rayman Legends will keep kids busy for a long time, and long-term fans of the series will be happy to see that 40 of those levels are remastered versions of ones they may have played as kids themselves! In addition to the main game, there is also a fun mini-game called Kung Foot where players have to score goals with a football. Overall Rayman Legends is a fun and safe choice for kids.
---
8. Crash Bandicoot N.Sane Trilogy

System: PlayStation 4, Xbox One, Microsoft Windows, Nintendo Switch
Publisher: Activision
Developer: Vicarious Visions
Release Dates: Jun. 30th, 2017
Crash Bandicoot N. Sane Trilogy is a complication game for PlayStation 4 that comprises re-releases of Crash Bandicoot, Cortex Strikes Back, and Warped. All three games follow the adventures of the main character Crash Bandicoot as he explores levels trying to stop the evil Doctor Neo Cortex from taking over the world. It's a classic tale of good and evil, controlling a hero to stop a bad guy from destroying everything. It works well as Crash Bandicoot N. Sane Trilogy holds true to the spirit and feeling of the original games while simultaneously giving them a refreshing facelift.
Crash Bandicoot N. Sane Trilogy gives kids the chance to play the same games that their parents may have played as children, but with updated graphics, voice-acting, and nice features like manual saving and checkpoints to appeal to a new generation of gamers. Gameplay is mostly using Crash's spinning and jumping attacks to attack enemies and smash barrels to collect cool loot. It offers a challenge, but without the super complicated gameplay that many newer games have. Once kids get the hang of what to do, they can enjoy playing the game. The cartoon style of the characters and environments is a big draw for kids as well!
---
7. Cartoon Network: Battle Crashers

System: PlayStation 4, Xbox One, Nintendo Switch, Nintendo 3DS
Publisher: GameMill Entertainment, Maximum Games (EU)
Developer: Magic Pockets
Release Dates: Nov. 8th, 2016
Cartoon Network: Battle Crashers is a simple side-scrolling game that features characters from a lot of popular Cartoon Network shows. Some of the featured shows include Adventure Time, Steven Universe, and Regular Show, just to name a few. The point of the game is just to get through the levels as your favourite characters fighting the bad guys and not dying. It's a basic beat 'em up style of gameplay that doesn't get muddled up by a plot - button mashing is the way to go.
The simplicity of Cartoon Network: Battle Crashers left a lot of people wanting more from it and didn't earn the game much praise. But when it comes to simple games that kids can enjoy, it definitely delivers. Battle Crashers features characters that kids already know and love and can enjoy playing as, especially with their friends or siblings. It's simple enough that even young children can enjoy just playing and fighting, and it can be played casually just for kids to kill some time when they want to play something. While it may not have long-term fans and be remembered forever, it's still a title that kids can enjoy on and off when they want to be their favourite Cartoon Network characters.
---
6. Abzû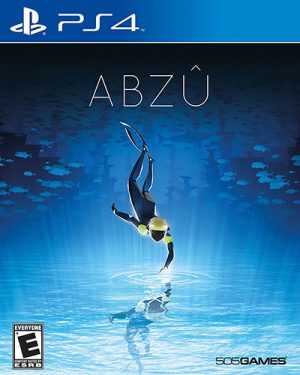 System: PlayStation 4, Xbox One, Microsoft Windows
Publisher: 505 Games
Developer: Giant Squid Studios
Release Dates: Aug. 2nd, 2016
In Abzû, you play as a female diver who awakens suddenly deep within the ocean. Following a great white shark, you begin to explore the vast waters, underwater caverns, and ancient ruins together. The shark shows you old wells that you can use an energy within you to restore the power of, and these wells begin to revitalise and bring life back to the ocean. Eventually, you find a huge underwater pyramid that seems to be the source of everything and is forcibly harvesting the power from these wells. Only by defeating the pyramid can you bring life fully back to the ocean waters.
Abzû's story is not complicated and is told entirely without words through cutscenes and gameplay. It means the game is easy to understand even for younger children because it can all be explained without words. There is no threat to life while playing, so children can also enjoy Abzû without being afraid or worrying about losing or dying in the game. While solving some of the puzzles and unlocking new areas might be difficult for younger children to do completely on their own, Abzû offers a lot of free exploration that can be done while ignoring the story. So if kids just want to swim in a beautiful, super colourful underwater environment just playing and exploring sandbox-style, they can. Plus what kid doesn't want to have a great white shark for a friend?
---
5. Knack

System: PlayStation 4
Publisher: Sony Computer Entertainment
Developer: SIE Japan Studio
Release Dates: Nov. 15th, 2013
Knack is a third-person action game where the player controls a character named Knack. Knack is a special being made up of one central relic that is surrounded by many smaller relics, which banded together make him what he is. The story follows Knack and his creator on a journey to try to save humankind from an evil species called the Goblins. But when Knack's creator's friend goes rogue, the pair find themselves on a difficult mission to stop his evil plans.
Knack features mostly beat 'em up gameplay, which makes it fun for kids to just turn on and jump right into the action. It also allows for cooperative play, which is great for kids with siblings or who want to play with their friends. The environment in Knack is very colourful and stimulating as well, which easily draws in kids' attention and helps to keep them focused on and interested in the game.
The levels are all linear as well, so kids always know which direction they need to go to reach their goal. The camera is also not controlled by the player, allowing younger gamers to focus just on moving their own character and succeeding in combat.
---
4. Little Big Planet 3

System: PlayStation 4, PlayStation 3
Publisher: Sony Computer Entertainment
Developer: Sumo Digital
Release Dates: Nov. 18th, 2014
Little Big Planet 3 is the third main game in the PlayStation exclusive series. As in previous titles, you control Sackboy as you progress through levels and solve puzzles to explore and move through the world. This time, the setting is a land called Bunkum. Upon arriving, Sackboy is greeted by a character named Newton who warns him that Nana Pud wants to unleash three titans in Bunkum. Hoping to stop this event from happening, Newton and Sackboy travel to Nana Pud's manor together to infiltrate it and try to stop the plot. But when they fail and the titans instead possess Newton, what will happen to the world of Bunkum?
Little Big Planet 3 is all about exploring and solving puzzles in the main story and fosters open creation in its creative mode. Both of these appeal to kids; if they want to have puzzle platforming gaming, they have it. But if they want to let loose and be creative making their own levels as worlds and customising Sackboy they can enjoy doing that, too. The world of Little Big Planet 3 is a colourful and visually stimulating one that encourages creative and unique exploring and finding solutions to puzzles. Plus it's best played in co-op mode, which is great for siblings or friends! It's all kid-safe entertainment that lets children think outside the box and show their imaginative side.
---
3. Ratchet & Clank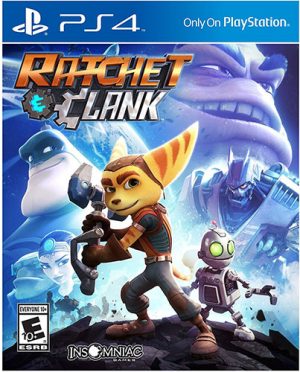 System: PlayStation 4
Publisher: Sony Interactive Entertainment
Developer: Insomniac Games
Release Dates: Apr. 12th, 2016
Ratchet & Clank for PlayStation 4 is based on the 2016 film that released around the same time as the game. It has a science fiction setting and follows the story of a Lombax named Ratchet who dreams of joining the Galactic Rangers. After being rejected because of his criminal past, Ratchet believes he can never achieve his dream. But when he rescues a mysterious defective warbot from a crash whom he nicknamed Clank, he learns from Clank that Alonso Drew is creating an evil mechanical army. The two need to let the Galactic Rangers know about the danger - but end up having to stop it themselves!
If you're thinking that the Ratchet & Clank movie was not good, you're absolutely right. But if you're then thinking the game must also be poor, that's where you're wrong! Surprisingly, Ratchet & Clank is a really fun game despite the movie being a flop! It has a lot of diverse gameplay, including defeating enemies, solving puzzles, racing, flying, swimming, and even space battles. The environments are bright and colourful, with a cartoon style that will really catch kids' eyes. And the story is good and intriguing while still remaining easy enough to understand. Ratchet & Clank is a kid-friendly adventure game that sticks to cartoon-style violence but is still full of action, keeping young gamers entertained.
---
2. Disney Infinity 3.0

System: PlayStation 4, Xbox 360, PlayStation 3, Wii U, Xbox One, Android, iOS, Microsoft Windows, Apple TV
Publisher: Avalanche Software
Developer: Avalanche Software
Release Dates: Aug. 28th, 2015
Disney Infinity 3.0 is a toys-to-life action-adventure video game. It's the third and final game in the Disney Infinity instalment and focuses primarily on Star Wars. Using the toy packs that can be purchased separately, you can play as your chosen character throughout the game's storyline. The first starter pack for the game is called Twilight of the Republic and comes with characters from the Star Wars prequel trilogy during the Clone Wars. By buying and using additional character packs, you can play even more storylines from other Star Wars films, Marvel, and other Disney titles.
Disney Infinity 3.0 is really appealing to kids firstly just by carrying the Disney name. It's something that they already recognise and are familiar with, which makes them excited to engage with it. They also can play as some of their favourite characters from Disney's most popular films. Disney Infinity 3.0 gives kids something to collect and play with as well with the figures that are used to unlock characters. It offers sandbox-style combat action for kids to just enjoy fighting as their favourite characters without having to worry too much about a plot. Since the game is older now and the play-sets discontinued, some of them can be picked up really cheaply these days!
---
1. Lego Dimensions

System: PlayStation 4, Xbox One, Xbox 360, PlayStation 3, Wii U
Publisher: Warner Bros. Interactive Entertainment
Developer: Traveller's Tales, TT Games
Release Dates: Sep. 27th, 2015
Lego Dimensions is a toys-to-life video game in the Lego game series. By placing real Lego figures on the USB pad, you can play as them in the game. Lego Dimensions features characters from over 30 different series in just one game! The game begins on Foundation Prime at the centre of the Lego Multiverse. Lord Vortech is searching for the Foundation Elements on all the different universes so he can bind them together under his control. Using local villains from these different universes, he fights against the heroes from them who are trying to protect their homes. They have to keep the Elements out of his control!
Lego Dimensions is an easy sell to kids because it combines one of the most popular children's toys with characters from movies and television that they love. Being a toys-to-life game, it also gives children something fun to collect and use to bring their favourite mini-figures to life on the screen. With packs releasing from 2015 all the way to autumn 2017, there's no shortage of choices for kids to make about what characters they can add to the game. When you add these characters in, their corresponding universe will unlock for exploration. Lego Dimensions can be enjoyed by two people at once, so it's great for two kids together or a kid and an adult that can help them get through some of the tough puzzles.
---
Final Thoughts
Are the kids ready to get out there exploring, fighting, and jumping their way through puzzles? Or maybe you as an adult are instead? There's nothing wrong with enjoying games geared at kids - and it's even better if you want to play together with a child! These games are a great way to give kids games that are accessible to them, fun, and stimulating while not being full of themes that they aren't ready for. Whether the kids already like games and want something new to play or are being introduced to the world of video games, there's something on our list of the Top 10 PlayStation 4 Games for Kids for them!
Did we miss your best suggestion of a PlayStation 4 game for kids? Would you have put these games in a different order? What do the young gamers in you know like playing? Are you going to try any of these out for yourself? Let us know in the comments below!
---