It's hard to pick just 10 games for kids from Nintendo's library. The company has made it their mission to provide games that fill younger audiences with as much joy as possible, and as such, it allows older gamers like myself to feel young at heart. Nintendo, without a doubt, possesses the largest variety of genres for their target age group. Their titles range from kid-friendly racing games, fighting games, sports titles, and even more recently, shooters. Arguably the best console manufacturer for buying games for children, here's our hard-fought list of Nintendo's top 10 games for kids.
10. Poochy & Yoshi's Woolly World

System: 3DS
Publisher: Nintendo
Developer: Good-Feel
Release Dates: Feb. 3rd, 2017
Getting his start as the beloved rideable dinosaur of Mario, Yoshi has endured as one of Nintendo's most recognizable characters. From the development team behind Kirby's Epic Yarn for the Nintendo Wii, Yoshi's Woolly World has players returning to the same yarn aesthetic that stood out in that game. The gameplay has the same lovable style to it from previous Yoshi platformers as well as the main game remade from the Nintendo Wii U. It has a strong focus on co-op gameplay, but also allows you to use an Amiibo to duplicate moves that would be used by a second player in the singleplayer game. As an enjoyable platformer for a young audience, Woolly World is a great start for kids.
---
9. Rocket League

System: Switch
Publisher: Psyonix
Developer: Psyonix
Release Dates: Nov. 14th, 2017
Is it a toy car, is it a rocket ship, or is it Cristiano Ronaldo?! The answer to all of those questions is yes if we're talking about the playable rocket cars in Rocket League. Able to blast through the air to maneuver an oversized soccer ball into an enormous goal, you'll find yourself performing so many acrobatic feats in Rocket League that you might just as well get a pilot's license. The game has become a contender in the eSports scene on PC and has been ported to almost every other platform on the market. Now, after making its way to the Switch, kids and gamers of all ages can take it wherever they go.
---
8. Minecraft

System: Switch
Publisher: Mojang AB
Developer: 4J Studios
Release Dates: May 11th, 2017
If you build it, they will come. Though it would be more accurate to say that half the world has seemingly already come to Minecraft to build. The game has achieved mass popularity with a wide audience, becoming a digital LEGO alternative that has been ported on almost every device and platform by this point. The Switch port brings the same great game that everyone knows and loves to a device that they can play at home and on the go. A win win for kids and gamers of all ages.
---
7. Layton's Mystery Journey

System: 3DS
Publisher: Level-5
Developer: Level-5
Release Dates: Oct. 6th, 2017
The Professor Layton Puzzle/Mystery games have intrigued gamers since the series launched on the original Nintendo DS. Now, it's his daughter's turn to go on an adventure all on her own. Hot on the trail after her father goes missing, Katrielle Layton and her companions begin solving cases in his stead. Instead of previous games which had an overall story that was segmented by chapters, Layton's Mystery Journey is twelve separate and self-contained mysteries that the player must solve. This is one title that audiences of all ages will enjoy.
---
6. Pokken Tournament DX

System: Switch
Publisher: The Pokemon Company
Developer: Bandai Namco Studios
Release Dates: Sept. 22nd, 2017
While Pokemon battles are nothing new, Pokken is an entirely new way to experience them. From the studio that brought us the famed franchise Tekken, comes a fighting game that fills out its roster with the heavy hitters of the Pokemon games. Gamers can experience exciting 1-on-1 battles just like they've seen in the shows and games, all while controlling the moves and actions of the Pokemon directly. It's essentially a Tekken-inspired Pokemon fighting game, a sure way to entertain a younger crowd of Pokemon fans.
---
5. Splatoon 2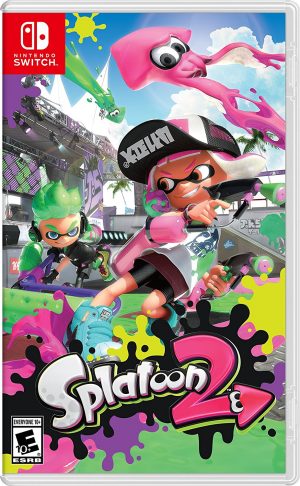 System: Switch
Publisher: Nintendo
Developer: Nintendo EPD
Release Dates: July 21st, 2017
For years, no one really associated Nintendo with good online shooters. They made some attempts in the past, but nothing that ever took off like their rival consoles. Splatoon on the Wii U was their first big "splash" in that category and fans stuck to it despite it being on a less popular platform. However, all that's changed with Splatoon 2. With the game being a must-play on the 'go anywhere' gaming device, shooter fans and newcomers alike will be blasting away at each other online if they give Splatoon 2 a shot.
---
4. Mario Kart 8 Deluxe

System: Switch
Publisher: Nintendo
Developer: Nintendo EAD
Release Dates: April 28th, 2017
How many generations of youths have gotten into a heated exchange over a turbulent round of good ole' Mario Kart? Coming from way back in the 1992 SNES days, the series has endured and improved with each new entry. Following the latest Mario Kart 8, the game has seen a re-release on the Switch as Mario Kart 8 Deluxe. Even as the Mario Kart series goes, 8 is a huge step forward for the series. With many classic levels and items getting drastic changes for upside down, topsy turvy racing excitement. If you have a Switch, there's no reason to miss out on this one.
---
3. The Legend of Zelda: Breath of the Wild

System: Wii U, Switch
Publisher: Nintendo
Developer: Nintendo EPD
Release Dates: March 3rd, 2017
Exploration is one of the most fun things about being young. A whole sense of everything surrounding you being new, and the possibility of just about anything lying right over the horizon. The Zelda franchise has captured that feeling and manufactured it perfectly for decades, and Breath of the Wild is their grandest experience yet. Taking the reawakened Link on a journey that once again transcends the limits of time itself, you are introduced to his world through story cutscenes like never before. An open world with limitless possibilities, Breath of the Wild is a game that no young gamer should deprive themselves of.
---
2. Pokemon Ultra Sun/Moon

System: Nintendo 3DS
Publisher: Nintendo
Developer: Game Freak
Release Dates: Nov. 17th, 2017
Gotta catch 'em all is the phrase generations of kids are familiar with. The Pokemon series has been the staple of Nintendo's handhelds since the very first Gameboy, and the series has reached new heights on the Nintendo 3DS. While it's not the console masterpiece fans have been pleading for since back in the Nintendo 64 era, Pokemon Sun & Moon is a completely 3D world unlike any seen before in the franchise. If you like collecting, exploring, trading, and battling, these games are a must play.
---
1. Super Mario Odyssey

System: Nintendo Switch
Publisher: Nintendo
Developer: Nintendo EPD
Release Dates: Oct. 27th, 2017
Of all Nintendo's enduring franchises, Super Mario is probably the one that has evolved the most over all its many years. Odyssey takes the plumber from his homestay of the Mushroom Kingdom to all-new areas, such as the metropolitan New Donk City. Mario is without his signature cap, with it being replaced by a sentient hat called Cappy that allows him to take control of others who he places the hat on. The gameplay is the same explorative, free-roam style that we've seen over the years in previous games. This time, however, it's more expansive and beautifully rendered thanks to the improved hardware of the Nintendo Switch. Perhaps the console's prettiest game, it's definitely one that provides pure fun over anything else. Super Mario Odyssey is capable of bringing joy to even the most jaded of gamers.
---
Final Thoughts
Nintendo has a library of games aimed at a younger audience, but that doesn't stop them from being fun for everyone else. At their core, video games are supposed to be fun, regardless of their subject matter or art styles. If you're having a blast with them, then their purpose is fulfilled.
Did you enjoy our list or any of the games on it? Think we missed a few or have any games on a Nintendo device you absolutely love? Let us know in the comments. We're interested to hear what you think!
---