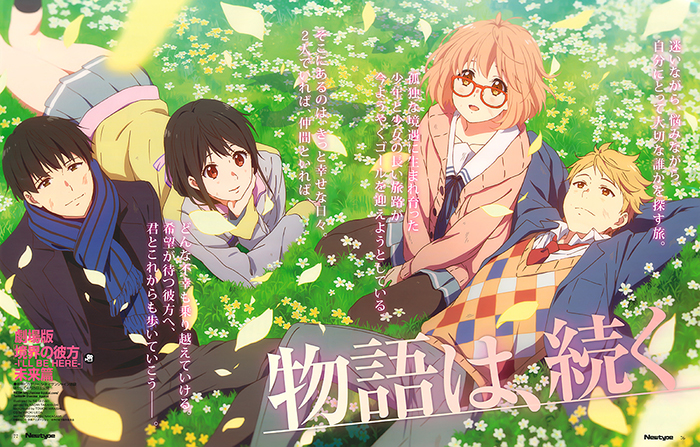 What You Need to Know:
Kyoto Animation is known for their close-knit studio atmosphere and gorgeous animation style - that's why at the end of last year, we put together our very own top ten recommended KyoAni series!
Today, we bring you what Japanese fans think, with a new poll from Akiba Souken. Held from March 3 to 17, a massive 3,157 people voted to let us know their KyoAni favourites.
So, do Japanese fans agree with our selections? Which series do they love best from Kyoto Animation? Let's read the results and find out!
---
Top 10 - Top 6
---
10. The Melancholy of Haruhi Suzumiya 2nd Season / 73 votes
9. Nichijou / 88 votes
7. Free! Eternal Summer / 120 votes
7. Chuunibyou demo Koi ga Shitai! / 145 votes
6. Kyoukai no Kanata / 146 votes
---
Top 5 - Top 1
---
5. Hibike! Euphonium
Episodes: 13
Aired: April 2015 to July 2015
Synopsis
After swearing off music due to an incident at the middle school regional brass band competition, euphonist Kumiko Oumae enters high school hoping for a fresh start. As fate would have it, she ends up being surrounded by people with an interest in the high school brass band. Kumiko finds the motivation she needs to make music once more with the help of her bandmates, some of whom are new like novice tubist Hazuki Katou; veteran contrabassist Sapphire Kawashima; and band vice president and fellow euphonist Asuka Tanaka. Others are old friends, like Kumiko's childhood friend and hornist-turned-trombonist Shuuichi Tsukamoto, and trumpeter and bandmate from middle school, Reina Kousaka.
However, in the band itself, chaos reigns supreme. Despite their intention to qualify for the national band competition, as they currently are, just competing in the local festival will be a challenge—unless the new band advisor Noboru Taki does something about it.
From the studio that animated Suzumiya Haruhi no Yuuutsu, Kyoto Animation's Hibike! Euphonium is a fresh and musical take on the slice-of-life staple that is the high school student's struggle to deal with their past, find romance, and realize their dreams and aspirations.
(Source: MAL Rewrite)
4. K-On! 2nd Season
Episodes: 26
Aired: April 2010 to September 2010
Synopsis
It's the final year of high school for Yui Hirasawa, Ritsu Tainaka, Mio Akiyama, and Tsumugi Kotobuki, the founding members of the Light Music Club. Together with their junior member, Azusa Nakano, they spend their days after school in the music room enjoying tea and sweets and practicing music. Amidst band practice, preparations for the new student orientation performance, scouting for new members, and student responsibilities, they still have time for "After School Tea Time."
(Source: ANN)
3. Free!
Episodes: 12
Aired: July 2013 to September 2015
Synopsis
The story revolves around Haruka Nanase, a boy who has always loved to be immersed in water, and to swim in it. Before graduating from elementary school, he participated in a swimming tournament along with his fellow swimming club members, Makoto Tachibana, Nagisa Hazuki, and Rin Matsuoka. After achieving victory, each of the boys went their separate ways.
Time passed, and in the middle of their uneventful high school lives Rin appears and challenges Haruka to a match, showing Haruka his overwhelming power. Not wanting it to end like this, Haruka, gathers together Makoto and Nagisa once again and brings a new member named Rei Ryugazaki to create the Iwatobi High School Swimming Club in order to defeat Rin.
(Source: ANN)

2. Clannad: After Story
Episodes: 24
Aired: October 2008 to March 2009
Synopsis
Clannad: After Story, the sequel to the critically acclaimed slice-of-life series Clannad, begins after Tomoya Okazaki and Nagisa Furukawa graduate from high school. Together, they experience the emotional rollercoaster of growing up. Unable to decide on a course for his future, Tomoya learns the value of a strong work ethic and discovers the strength of Nagisa's support. Through the couple's dedication and unity of purpose, they push forward to confront their personal problems, deepen their old relationships, and create new bonds.
Time also moves on in the Illusionary World. As the plains grow cold with the approach of winter, the Illusionary Girl and the Garbage Doll are presented with a difficult situation that reveals the World's true purpose.
Based on the visual novel by Key and produced by Kyoto Animation, Clannad: After Story is an impactful drama highlighting the importance of family and the struggles of adulthood.
(Source: MAL Rewrite)

1. Hyouka
Episodes: 22
Aired: April 2012 to September 2012
Synopsis
Energy-conservative high school student Houtarou Oreki ends up with more than he bargained for when he signs up for the Classics Club at his sister's behest—especially when he realizes how deep-rooted the club's history really is. Begrudgingly, Oreki is dragged into an investigation concerning the 45-year-old mystery that surrounds the club room.
Accompanied by his fellow club members, the knowledgeable Satoshi Fukube, the stern but benign Mayaka Ibara, and the ever-curious Eru Chitanda, Oreki must combat deadlines and lack of information with resourcefulness and hidden talent, in order to not only find the truth buried beneath the dust of works created years before them, but of other small side cases as well.
Based on the award-winning Koten-bu light novel series, and directed by Yasuhiro Takemoto of Suzumiya Haruhi no Soushitsu, Hyouka shows that normal life can be full of small mysteries, be it family history, a student film, or even the withered flowers that make up a ghost story.
(Source: MAL Rewrite)
Source: Akiba-Souken
---
Hyouka is number one, huh? I was sure Japanese fans would prefer K-On!
Free! made it on here twice!! That's my swimming boys for you!
---
[ad_dfp position="bottom1" unit_pc1="true" unit_pc2="true" unit_sp1="true" class="mt40"]