What You Need to Know:
Like it or not, Winter 2016 anime is almost over! That's right. We are in the home stetch as there are only aout three more weeks left until Spring 2016 anime begin to start airing.
The people over at AnimeAnime decided to poll their readers and see who is looking forward to what in spring 2016. We do have to say, some of it is a bit suprising, and some of it makes total sense.
They polled 495 people from March 5th to March 9th. What are you waiting for? Let's see what the hot picks are!
---
Top 10 - Top 6
---
10. Kiznaiver
9. Boku no Hero Academia
8. Tanaka-kun wa Itsumo Kedaruge
7. Sakamoto Desu ga?
6. Gakusen Toshi Asterisk (2nd Season)
---
Top 5 - Top 1
---
4. (TIE) Macross Delta
Synopsis

Macross Delta is set eight years into the future after Macross F. In the remote reaches of the Milky Way, We failed to contain the destruction that was caused by the Var syndrome. It has now spread throughout the universe. The Hoshima Fukuai Coorporation has taken a great look at the situation that has been created and decided on a path to fight this disease. They have created a musical fighting unit comprised of five girls named Walküre. The girls will be fighting along the group known as the Aerial Knight Valkyries.
The Walküre unit begins to work with the mysterious Aerial Knight Valkyries from the Kingdom of Wind. Intertwined now with the strange "Proto-culture legacy," the story of love and passion that is going to transcend the star system is about to begin.
Source: (Macross Delta)

4. (TIE) Magi: Adventure of Sinbad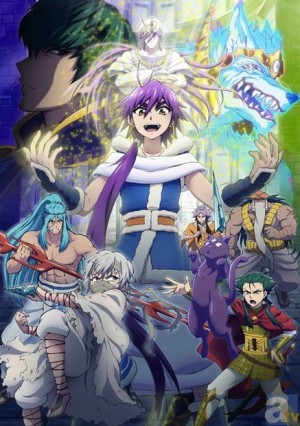 Synopsis

This is another Magi - a tale reciting the adventures of the young High King of the Seven Seas!
Adventure of Sinbad is a spin-off series that started serialisation as a continuation of the previous big hit manga from Ootaka Shinobu, Magi.
This story takes places thirty years before the events in Magi.
Sinbad, a young man who would later become known as the High King of the Seven Seas, grows as he experiences many meetings and farewells. Eventually, he plunges forward into the path that will make him a king.
Source: Magi: Adventure of Sinbad
2. (TIE) Netoge no Yome ha Onnanoko Janai to Omotta? (And you thought there is never a girl online?)
Synopsis
Hideki Nishimura is a student at Maegasaki Prefectural High School and an avid MMORPG player. His favorite game is called Ledgendary Age. While playing that game one day, he confessed his feelings to someone who he thought was a girl, but was actually a boy! What a shock! Ever since that moment, he was sworn to keep his real life and game life separate. He enjoys playing in his new guild. Until one day when a character named "Ako" confesses to him. Hesitant because he was burned in the past, he slowly accepts her as his in-game girlfriend and their characters get married. Now the guildmaster has told him that he has decided to hold an offline meetup… What is in store for Hideki at this meetup??
2. (TIE) JoJo's Bizarre Adventure Part 4 Diamond is Unbreakable
Synopsis
The fourth part of JoJo's Bizarre Adventure is set 11 years after DIO's defeat in Egypt. Jotaro Kujo visits Morioh Town in Japan to search for his grandfather's illegitimate child, Josuke Higashikata, and discovers that the boy also possessed a 'Stand' like himself. At the time of Jotaro's visit, mysterious incidents involving new 'Stand Users' were wreaking havoc across Morioh. To protect the peace of his hometown, Josuke and the crew stand to fight.
Source: Jojo's Bizarred Adventure Part 4 Diamond is Unbreakable

1. Bungo Stray Dogs
Synopsis
Atsushi Nakajima has nowhere to go. On the verge of starving, he has just been kicked out of the orphanage he was living in. He meets two very different and interesting men. The first is attempting to commit suicide by drowning himself. He is Osamu Dazai. The other appears to be neurotically flipping through a notebook while wearing glasses. He is Doppo Kunikida. They are part of a rumored "superpower detective agency" that deals with crimes and events that the normal police and army cannot handle. They are on the hunt for a human eating tiger that is disturbing the public and Atsushi just also requests to travel with them. Taking place in the city Yokohama, these men are those who have taken on the name of "bungo," or literary master, and have embraced it. Each has their own different power that is revealed during combat. The curtains are now rising on these very strange "literary masters" who are about to have their own battle right now!
Source: Bungo Stray Dogs
Don't forget to check out our Spring chart for these shows and more!
Source: Anime Anime
---
Boom! There it is! Bungo Stray Dogs is #1!
Macross Delta is here! yay! I want to be a singing siren like the girls. I wonder if I audition, if I can get in...
---
[ad_dfp position="bottom1" unit_pc1="true" unit_pc2="true" unit_sp1="true" class="mt40"]