What You Need to Know:
It's Tuesday here in Japan, and you know what that means - it's time for our weekly light novel ranking, straight from the Oricon charts!
We've got a few new entries compared to last week, and the fight in the top three is still raging on.
So which light novel did Japanese fans buy the most copies of this week? Let's get to the ranking and find out!
---
Top 10 - Top 6
---
10. Overlord
9. Full Metal Panic! Another
8. Kono Subarashii Sekai ni Shukufuku wo! Spinoff
7. No Game No Life ↑
6. Monogatari Series ↑
---
Top 5 - Top 1
---
5. Seiken Tsukai no World Break
4. Saijaku Muhai no Shinsou Kiryuu Bahamut ↑
3. Hataraku Maou-sama! ↓
2. Hai to Gensou no Grimgar ↑
1. Kono Subarashii Sekai ni Shukufuku wo! →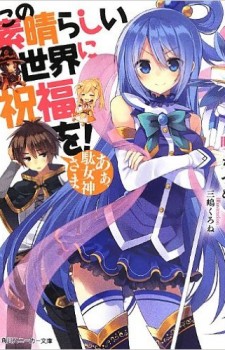 Source: Oricon
---
Gengar's finally gone up to number two! And Overlord and the KonoSuba spinoff are back!
Yeah, but the original KonoSuba is still at number one, for the third week running! I don't think it'll shift any time soon, either!
---
[ad_dfp position="bottom1" unit_pc1="true" unit_pc2="true" unit_sp1="true" class="mt40"]