What You Need to Know:
Another week, another brand-new weekly light novel ranking straight from the Oricon charts!
Compared to last week there have been some changes, with new series entering the top ten and others dropping in the ranks.
But which novels had the most success this week in Japan? Read on and find out!
---
Top 10 - Top 6
---
10. No Game No Life ↓
9. Magdala de Nemure
8. Saijaku Muhai no Shinsou Kiryuu Bahamut ↓
7. Monogatari Series ↓
6. Durarara!! SH
---
Top 5 - Top 1
---
5. Heavy Object
4. Zettai naru Isolator
3. Hai to Gensou no Grimgar
2. Hataraku Maou-sama!
1. Kono Subarashii Sekai ni Shukufuku wo!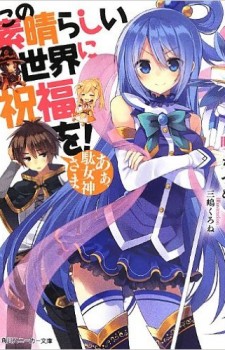 Source: Oricon
---
KonoSuba is still at number one! I guess that's to be expected with such a great series - the anime is super popular too!
Grimgar has managed to stay at number three, too... I'm definitely interested in some of these new entries though! I want to read Durarara!! SH!
---
[ad_dfp position="bottom1" unit_pc1="true" unit_pc2="true" unit_sp1="true" class="mt40"]