Maids have become a staple of modern anime, whether it's full time employees or a maid café conveniently turning up in episode 6. With that has come the evolution of the maid theme itself, from standard house maid to animal maids and the more elaborate cosplay-esque outfits. It's hard to know whether the fascinating array of maid cafes in Akihabara has influenced anime, or the other way around.
To demonstrate some of the best outfits from more recent years, we've created a list of what we think are the top 10 maids outfits in anime. With a mix of classic looks and more fantastical pieces, hopefully you'll see something you like.
10. Sena Kashiwazaki from Boku wa Tomodachi ga Sukunai Next (Haganai Next)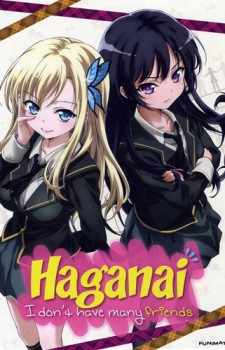 Episodes: 12
Aired: January 2013 – March 2013
Everyone's favorite kind of Meat, Sena Kashiazaki is Haganai's blonde beauty and popular princess girl. Neither of which have helped her make any friends mind you. Way too into video games and little girls, despite her appearance Sena is possibly the creepiest member of the cast, although the competition for that spot is fierce. Given that, along with how gullible she is, it's no wonder they managed to get her into a maid outfit.
With her maid outfit being originally designed for someone much, much flatter, an unintended feature of Sena's maid outfit is its tightness. On a girl as ample as her, we'd consider this a great asset, with the outfit graciously emphasizing her incredible chest and succulent thighs. The design of the dress itself goes from very poofy to very tight, such as on the sleeves, which emphasizes even more Sena's most prominent features. Despite its lack of revealing areas, Sena's maid outfit is certainly designed to be sexy more than anything else.
---
9. Sanae Shikikagami from Ladies versus Butlers!

Episodes: 12
Aired: January 2010 - March 2010
With her family falling on hard times, Sanae was sadly reduced from a high class lady to a household maid. Still not very proficient at the job, her clumsy and nervous nature leads to many "unfortunate" accidents throughout the series. With her air headed, innocent personality, Sanae is the perfect maid for a series like Ladies versus Butlers.
Sanae's maid outfit is exactly what you'd expect to see in an ecchi series, with its "conservative" style working in the shows favor more often than not. Despite the old-fashioned long skirt, its true purpose is to hide the thigh high stockings and garter belt underneath. Not just that, the enormous pouch at the front designed to hold Sanae's gigantic chest looks like it could pop open at any moment, and offers little in the way of support. This is actually a design that is seen fairly frequently on big chested girls, hence why it's an outfit well worth mentioning.
---
8. Rito Tsukimi from Absolute Duo

Episodes: 12
Aired: January 2015 - March 2015
Half teacher, half insane killing machine, you should be concerned if Rito Tsukimi shows up to one of your lessons. With two vastly different personalities, on one hand Rito can be one of the nicest people you ever meet, on the other hand if she's angry you're going to die horribly. Though either way she's probably going to tease you far too much.
A mix of maid outfit and bunny costume, Rito's attire says something about the innocent and wild sides of her personality. Starting off as a fairly standard maid outfit, the addition of the loose, open chest area, as well as the very short skirt make it much sexier. Of course not forgetting about the bunny ears, as well as the pink thigh highs which are a nice touch.
---
7. Sabre from Carnival Phantasm

Episodes: 12
Aired: August 2011 - December 2011
As a spin-off of the main Fate series, Carnival Phantasm's Sabre is fairly different from the original's serious, knight-like girl. Although still very much in service of her master Shiro, given the show's ridiculous nature, Sabre's orders and logic are much sillier and the way she acts around Shiro is much cuter.
It's surprising how well Sabre suits a maid costume given that it definitely does not match her original character design. But then maybe that's why it works so well. The design and colors of the maid outfit while simple, resemble the armor Sabre is normally seen wearing, making it suit her perfectly. Along with that the frills along the sleeves, open back, apron and collar are abundant but not over the top, making the outfit look cute but still refined.
This isn't so much an elaborate maid outfit, as it is an outfit designed perfectly to fit the character it was made for, which is always satisfying to see. This scene also features Sabre Alter in a gothic Lolita maid outfit which is yet another excellent piece.
---
6. Sharo Kirima from Gochuumon wa Usagi desu ka? (Is the Order a Rabbit?)

Episodes: 12
Aired: April 2014 – June 2014
The girls might all work at cafes but Fleur de Lapin's Sharo is the only true maid in Gochuumon wa Usagi desu ka. As we've seen before though, she's yet another girl who's not exactly suited to the job, getting very easily embarrassed and flustered. But that bashful nature is very much one of Sharo's strong points, along with her slight yuri obsession with her senpai Rize.
As expected of a series named after rabbits, there's very much a rabbit theme going on with Sharo's outfit. Slightly more subtle than regular bunny ears, the lop eared attachments to her headdress are simple, cute, and don't take away from the innocence of the outfit, if anything adding to it. The frills down the center and waistcoat like buttons also add a formal, butler kind of element to the dress, fitting the respectable setting of the café. Overall Sharo's maid outfit is designed to make her look super cute rather than sexy, and does a very good job.
---
5. Rumiho Akiha (Faris) from Steins;Gate

Episodes: 24
Aired: April 2011 - September 2011
With her pink twin drills and cat-like speech, Faris is an unforgettable member of the Steins;Gate cast. Spending most of her time in character as Faris Nyannyan at the MayQueen+Nyan2 café, she provides protagonist Okabe someone equally insane to talk to. Steins;Gate's art style really lends itself to Faris's character design giving her unusually perfect hair, as well as some intense pink eyes, without it looking too out of place.
Faris's maid costume is one of the more normal ones, but also one of the most stylish, featuring a black waistcoat as part of the design. The abundant use of red ribbons adds a really nice touch of color to the outfit and makes it look cuter, in addition to the belt around the midriff which makes the waist look slim whilst emphasizing the chest area. Of course we can't forget the unusually pointy nekomimi, and whilst we're used to seeing smaller, cuter cat ears in anime, the unique design of these ones is part of what makes the costume so interesting. The best part of this costume by far though is how believable it is, as being one of the less over the top maid outfits, it's something you can imagine seeing in a real maid café.
---
4. Stephanie Dola from No Game No Life

Episodes: 12
Aired: April 2014 - June 2014
Originally Princess of Elchea, now reduced to the royal punching bag, Stephanie is the punchline of everyone else's jokes despite her best efforts to be otherwise. Terrible at winning games in a world that revolves around just that, it's safe to say she drew the short end of pretty much all the sticks. But despite that, and the fact that she's an emotional wreck, Stephanie has a positivity that's downright admirable given her circumstances.
Forced on more than one occasion to wear ridiculous clothes, it's no surprise to find Stephanie's maid outfit is one of the most revealing on the list. The two piece outfit reveals as much skin as possible whilst still keeping the maid theme intact, from the ultra-short skirt, to the bear shoulders and midriff. One of the really nice details about the top part of the outfit, is how although it's straight cut along the bottom, the black cups curve upwards in the center, emphasizing the shape and size of her chest.
---
3. Misaki Ayuzawa from Kaichou wa Maid-sama! (Maid Sama!)

Episodes: 26
Aired: April 2010 - September 2010
One of the most well-known anime maids, Misaki is a student council president by day, and maid café employee by night, or rather late afternoon. Working hard to help repay her father's ridiculous debt, the last thing Misaki expected to find whilst working her secret job was romance. The perfect combination of cute and serious, Misaki is the lovable girl we're all rooting for.
Thanks partly to the art style, Misaki's maid outfit does a great job of making the young girl look like a beautiful young woman. The overlapping, off the shoulder sleeves as well as the high laced boots give an elegance and maturity to the outfit which is not normally present. The corset style section around the midriff has a similar effect giving her figure curves, whilst the same white color throughout the front of the dress stops the chest area being over-emphasized, as this outfit is supposed to be fairly innocent. This is a maid outfit that's been well designed to be appropriate for both the character and the series itself.
---
2. Azuki Azusa from Hentai Ouji to Warawanai Neko (The "Hentai" Prince and the Stony Cat)

Episodes: 12
Aired: April 2013 - June 2013
With her tsundere personality, Azuki Azusa is one of the last people you'd expect to put up with working at a maid café. Though tsunderes do have an odd habit of working as maids. Despite her exaggerated lady-like act, Azusa is actually a fairly ordinary girl, only putting up a strong front to deal with bullies and working hard for her pretty clothes.
Working at an animal maid café, Azusa's outfit is one of the most unique on the list: a dog maid. The brown and white colors make a nice change from the traditional black and white, as well as the kimono style top half with flowing, open sleeves. The best part of the outfit however is of course the animal theme, with cute little dog ears, as well as a collar and long fluffy tail. We're pretty used to seeing kitty maids, but it definitely seems that doggy maids are just as good.
---
1. Ram & Rem from Re:Zero kara Hajimeru Isekai Seikatsu (Re:ZERO -Starting Life in Another World-)

Episodes: 25
Aired: April 2016 - ?
Currently airing this season (Spring 2016), Re:Zero kara Hajimeru Isekai Seikatsu's maid girls Ram and Rem have been hard to miss with fan art knocking about everywhere online. Rude, judgmental, and obviously hiding something, Ram and Ren are trouble for anyone they don't take a liking to, but ideal maids for their masters. Regardless of their maid status, the girl's cute, loli appearance, along with their unusual way of speaking, has been enough to win them a metric ton of fans.
To match their character designs, Ram and Rem's maid outfit has a dainty, also pixie-like feel to it, rather than being heavy with frills and pleats. The flower shaped headband and hair ribbon, as well as the considerable number of small bow details, make the whole outfit very sweet and girlish, an amusing contrast to the character's personalities. Lastly the open shoulders, loose sleeves and rounded, smooth skirt give an airy, fairy feel to the costume, as part of the previously mentioned pixie-ish look that's going on. Overall ram and Rem's outfit is an awesome fantasy spin on the traditional maid look.
---
Final Thoughts
It's interesting to see how depending on the character, the function and appearance of their maid outfit changes dramatically. As opposed to swimsuits or bunny costumes, it's one of the few anime cosplays that can anywhere from super cute and innocent, to incredibly sexy.
There's a lot of maids out there and honestly preferences are more likely to be based on the character than their outfit. But in either case, we'd love to hear about your favorite maids and outfits in the comments below!
---