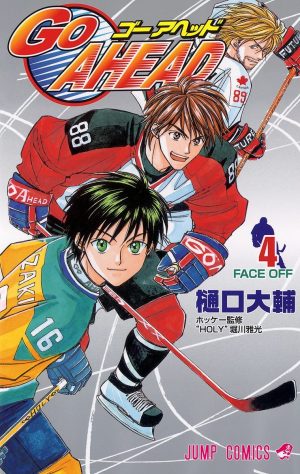 Ever since manga has been in publication in Japan, the sports genre and its featured characters have been part of its legacy. Some famous sports manga range from Kyojin no Hoshi to Prince of Tennis. A good number of titles can focus on school sports like All Out, and there are some that highlight the pro level of sports like Hajime no Ippo. Heck, in some instances, there are some titles that focus on underground sports such as Initial D. These mangas not only educated readers about the respective sport its plot centers on but gave us some memorable characters. So who are some of the best athletes from the history of manga? Read our list to find out!
Disclaimer: Please read before reading the list! Since this is a list dedicated to characters from manga, this list is featuring characters that have ONLY been featured in manga, and NOT in anime (with some small special exceptions). So if you're expecting characters that have been featured in anime regardless of being from an original manga, they ARE NOT GOING TO BE listed.
10. Rikitarou Iwamaki from RRR Rock 'n' Roll Ricky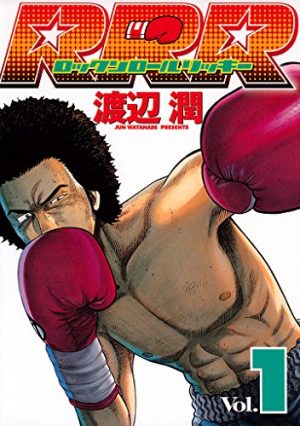 Authors: Jun Watanabe
Genres: Comedy, Drama, Seinen, Sports
Volumes: 10
Published: Jan 29, 2007 – Aug 24, 2009
In today's music industry, appearance tends to be emphasized over talent. This is seen in the American music industry with and this is seen in the Japanese industry as well. Rikitarou Iwamaki, or Ricky, is an aspiring rock star who has the talent, but to get a record deal, he is required to lose weight so he can be more bankable. He decides to join a boxing gym run by a former world champion to quickly get in shape. Around the same time, his sister passes away in an accident and gains custody of her toddler son so he has a lot on his plate. But as he finds himself losing weight, his trainer sees a great potential in him to go pro despite being relatively old (the age of 27) by the sport's standards.
What makes Rikitarou a distinct athlete compared to other mainstream boxing titles such as Hajime no Ippo and/or Ashita no Joe, is that Rikitarou is a great representation that boxing is more of a mental sport as it is a physical though those titles do a good job of doing that. Rikitarou naturally picks up the sport, but of course, faces obstacles just like any other athlete, but finds ways to persevere. Because Rikitarou is older than average, what he lacks physically, he has to make it up spiritually and mentally. Due to the adversities in his life, boxing just turned out to be the outlet to let it all go and find his own self-worth for himself, trainer, and nephew.
---
9. Gun Koma from Bari Bari Densetsu

Authors: Shuuichi Shigeno
Genres: Action, Sports, Drama, Shounen
Volumes: 38
Published: 1983 - 1991
While Bari Bari Densetsu does have an anime adaptation, it only covers a small fraction to the point it feels insignificant compared to its epic manga. Heck, just call it a commercial for a manga. Brought to you by Shuuichi Shigeno, the creator of Initial D, it focuses on motorcycle racing as opposed to mountain street racing with Japanese cars. The manga tells the story of Gun Koma (while the name is pronounced as "goon" based on the Japanese syllable system, he is given the name Gun Boy overseas because the spelling to English speakers is read as the weapon), who is initially introduced as an anti-social high school student who only enjoys riding his motorcycle in the mountains and taking all comers.
After impressing a classmate who is also a motorcycle enthusiast who has some connections, he finds his way onto the pros. Thanks to his passion and his street experience, he becomes a star racer before he even graduates from high school. As a college student, he becomes a champion on the international level. Thanks to his experience on the streets where there are no rules, he takes his special move, a guardrail kick turn (as in he uses his leg to kick the guard rails to boost his turn speed) to the pros to save himself from many close calls. He is known for his wild streak and his peers and the media call him destructive and crazy. In addition to his racing skills, he is a natural brawler and is strong enough to kick down a car door, and is an intelligent engineer.
---
8. Iruka Nanase from Beach Stars

Authors: Masahiro Morio
Genres: Comedy, Ecchi, School, Seinen, Sports
Volumes: 7
Published: Mar 8, 2007 – Dec 25, 2008
In Beach Stars, the Higazaki High School volleyball team is disbanded due to lack of members and the main character Iruka Nanase is bummed out about it. However, after a trip to the beach, she finds a good alternative to making a beach volleyball team, which only requires two-on-two. The good thing about Iruka (meaning dolphin in Japanese) is that she never gives up. Beyond losing the school's volleyball team, she is rather short for the sport.
Even though she is about 5'3", she is passionate about volleyball and would do anything to play despite being discouraged from professional players. What she makes up for her lack of height, she makes up with her mind and other parts of her body to excite male spectators. She can analyze her opponent's techniques and find ways to counteract them. So sometimes, big things come in small packages and Iruka is a great example of that.
---
7. Atsuhiko Kouno from U-31 All You Need is Football

Authors: Masaya Tsunamoto (story), Motoki Yoshihara (art)
Genres: Sports, Seinen
Volumes: 2
Published: Mar 28, 2002 – Nov 11, 2004
While some people think the age of 31 is still a young age, but in the case of Atsuhiko Kouno, a former member of the 1996 Olympic Soccer Team, he's practically a grandpa and a nobody in the media and the sport of soccer. He loses his spot on a national team and is back to his former semi-pro team where his teammates mock him. Instead of letting it keep him down, he uses it as motivation to prove that he can still be the number one player in Japan.
Throughout his four-year journey, Atsuhiko finds his way back to the national team and competes in the 2005 Asia Cup and the 2006 World Cup. He proves that age is only a number and that if you don't give up on your dreams and work hard, then all things are possible.
---
6. Yuuki Izaki from Go Ahead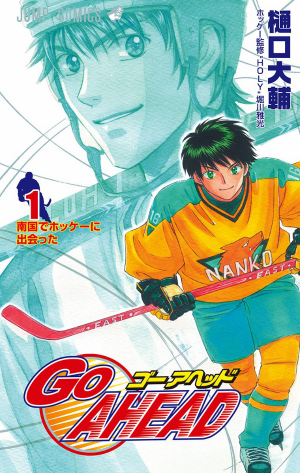 Authors: Daisuke Higuchi
Genres: Sports, Shounen
Volumes: 4
Published: Feb 5, 2005 – Jun 6, 2006
Canada is the land of hockey and Yuuki picked up the sport while living there and his grandfather was the coach of a college hockey team in Fukuoka. He was a promising member of the team he played on during his time in the Great White North but after a family situation, he is forced back to Miyazaki prefecture in Southern Japan where he can't find any place to play. There he meets Gouhei Aiba, his teacher who once had a promising career in the NHL but had to give it up for personal reasons. After they meet up, they inspire each other to once again ignite their passion.
Even though his circumstances are initially limited, with the right guidance, Yuuki is very capable of the sport. As he spends time with Gouhei, a former pro, he picks up his techniques and dominates the junior high hockey scene. The fact that he has to go across prefecture lines in order to get better shows how some athletes in youth sports go in order to get better. No, he's not like a trophy kid like in that Netflix documentary where parents force their kids to get good at a sport but what he is doing is out of his own free will.
---
5. Shuta Sekikawa from Rookies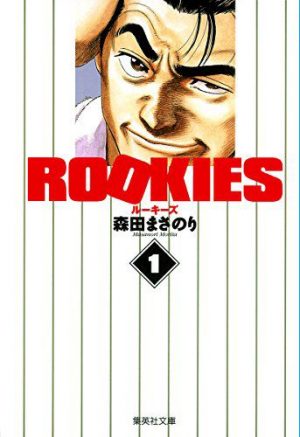 Authors: Masanori Morita
Genres: Sports, Comedy, School, Slice of Life, Drama, Shounen
Volumes: 24
Published: Feb 3, 1998 – Aug 25, 2003
While he looks like Broomhead or Cho from Rurouni Kenshin, Shuta is the star player of Futakotamagawa High School's recovering baseball team. So what makes him a great player, the fact that he can run 50 meters within 5.6 seconds and that he can run 100 miles in 10 seconds when he is in top condition. So if you need someone to steal bases, he is your man. But like the rest of the team, he does have his discipline issues such as using his running abilities to steal from local stores.
Thankfully, he comes to learn the value of not only playing baseball for the love of the game but also having a future beyond high school. By retaking his passion and abilities, he not only becomes a great athlete but just an overall good kid.
---
4. Masashi Kawata from Slam Dunk

Authors: Takehiko Inoue
Genres: Sports, Comedy, Shounen, Drama, School
Volumes: 31
Published: Sept 18, 1990 – Jun 4, 1996
Featured in the un-animated arc of the inter-high tournament of the original manga to Slam Dunk, Shohoku has to take on Sannoh Kougyou High School, one of Japan's best high school basketball teams. Beyond Michael Jordan, the 1990's in NBA was dominated by some of the most legendary centers the world has ever seen. Those names include Hakeem Olajuwon, David Robinson, Patrick Ewing, and the debut of Shaq. But who was the number one center in Japan's high school circuit? It was Masashi Kawata, a senior student of Sannoh. While the character is 6'2" when Shohoku faces him, he made his freshman debut at 5'4" and during his 3 years in high school, his growth spurt allowed him to play all five positions to give him all-around skills as a big man.
Because of his unique experiences throughout high school basketball, he gained his position as the best center in Japanese high school basketball with a nasty combination of speed and power. Not only does he possess offensive capabilities, he also rivals Sakuragi in rebounding. While he is a center, many fans compare him to one of the best Power Forwards of the 1990's, Sir Charles Barkley who have similar appearances, have unassuming abilities you don't expect out of their builds, and they push through no matter who is guarding them.
---
3. Jesus Christ from Ring ni Kakero

Authors: Masami Kurumada
Genres: Sports, Shounen
Volumes: 25
Published: Dec 28, 1976 – Sept 29, 1981
Long before Masami Kurumada gained worldwide fame for Saint Seiya in the late-1980's, he made his name in Japan with his breakout boxing hit, Ring ni Kakero. While it has a small anime adaptation, it is a very tamed version of the original manga. The original manga is probably one of the most politically incorrect mangas ever made so depending on what your views are, it may not be for you or in some cases, it could be for you.
The Italians are portrayed as mobsters, the French are snobby nobles, the Greek team takes the personas of their Gods, the Germans are Nazis, and team America is a motley crew of a death row inmate, a crossdresser, a Hell Angels leader, a KKK Grand Wizard and their leader is a spoof of blaxploitation characters. So in this strange manga, who is the reigning world champion? It is our lord and savior, Jesus Christ from Monaco!
Despite having the name, Jesus Christ looks nothing like the traditional Jesus and looks more like Char Aznable from the Gundam franchise. Beyond its stereotypes, the Ring ni Kakero isn't your typical boxing manga as characters can use projectiles. It turns out that Jesus Christ has a special move called the Neo Bible, a left uppercut that has a rainbow-like after effect. As he fights, he recites bible stories such as Genesis showing he can do more than walk and chew bubblegum at the same time.
The man is champion for a reason and his devastating boxing prowess makes you wonder how Pacquiao, a devout Christian, would take him. The fact that he has these devastating abilities and puts the fear of God into you is why he's a top-notch athlete.
---
2. Bunshichi Tanba from Garouden

Authors: Baku Yumemakura (story), Keisuke Itagaki (art)
Genres: Action, Martial Arts, Seinen
Volumes: 25
Published: Jun 26, 1996 – Oct 12, 2010
Bunshichi Tanba was practically MMA before there was ever MMA. For the longest time, he challenged fighters from various styles in dojos or on the street. All of that changes when he is defeated by a wrestler, so what does he do? He goes out and trains for a re-match! After three years of training, he wins the rematch and now many dojos and wrestling gyms want to recruit him. Even though his primary style is karate (with some mix of Japanese style kickboxing and Muay Thai), he can compete in whatever rules you put him in whether they would be karate, MMA, wrestling, or no rules! He can adapt to any situation and will try and find ways to combat a fighter from a certain style.
While MMA has been rising in popularity the last decade, Garouden made its debut during a time when people didn't value cross training and through Bunshichi, readers get to see it long before the modern day UFC emphasized it. He is also a great representation of the atmosphere and influence of MMA in Japan at the time being a mix of traditional Japanese martial arts and Japanese strong style professional wrestling.
While he is a striker at heart, after losing to a wrestler, he knew what he needed to work on so he picked up some sambo, a Russian form of judo that works best for MMA and wins the rematch. While his initial feelings after losing were natural, the fact that he doesn't let it keep him down and learns from his failures is why he is a great athlete for this list.
---
1. Kiyoharu Togawa from Real

Authors: Takehiko Inoue
Genres: Sports, Psychological, Drama, Seinen
Volumes: 14 (as of Dec 2014)
Published: 1999 – Present
In addition to Slam Dunk and Buzzer Beat, Inoue makes another basketball manga with Real. What makes Real different from his previous works is that it relies more on wheelchair basketball and drama as opposed to comedy. The main lead is Kiyoharu Togawa, a former star track runner in his younger teen years. But due to a degenerative muscular disease, he is rendered paralyzed and loses his right leg. He finds new life through wheelchair basketball and becomes a star shooting guard.
Kiyoharu is number one on this list because he is a true inspiration that everyone is capable of doing something despite the adversities he faced in life. If you dedicate yourself to a goal and put in the hard work, you will find success. Kiyoharu is so good to the point that in his introduction, he beat an able-bodied high school star at a game of one-on-one. He shows a Michael Jordan/Kobe Bryant like work ethic with himself and his teammates to the point that he can be hard on his teammates like those real-life players were in their primes. Even though he can be hard, the fact that he doesn't allow his condition to keep him down makes him an amazing inspiration.
---
Final Thoughts
Just like in real life, athletes in manga come from all walks of life. Some can have the DNA necessary to do a certain sport, but without knowing the basics they mean nothing. In some instances, an athlete may not be blessed with the best genetics, but with hard work and dedication, you can make it to the top.
Some characters find themselves into the sport by accident, and other characters were brought into it by a friend or parent. In the end, they find ways to appreciate it and find a form of success with it. Because many regular people can learn many values from participating in sports, they can relate to these characters, which is why they all make the list of their distinct merits.
---