When we throw ourselves into a sport, our competitive nature takes over, playing to win and perfecting our skills and strategy. Training for hours, days, and weeks, we must expand our routine, as what was once difficult suddenly becomes second nature. So when this occurs, we devise new methods of practice, often making up drills to drive us out of our comfort zone in order to make room for more improvement.
Contrasting this, when we hear "all work and no play makes Jack a dull boy", we should heed this statement, as repetition can always drive some into boredom. That is why revision and making up new rules for sports keeps games entertaining and engaging. With that being said, as we turn to the world of anime, with many popular sports being spotlighted, we are also introduced to more unconventional ones. Therefore, listed below are a few interesting sports for us to explore. When it's all said and done, would you give these a go?
10. Survival Game - Stella Jogakuin Koutou-ka C³-bu (Stella Women's Academy, High School Division Class C³)

Episodes: 13
Aired: y 2013 – September 2013
Stella Jogakuin Koutou C³-bu is a sports, school, and military themed anime. We focus on the story of Yura Yamato, who begins her journey at Stella Women's Academy. In an attempt to familiarize herself with her new surroundings, Yura's dorm-mate introduces her to the school's airsoft club, C³-Bu. Actually, Sonora kind of throws this hobby in her face, as Yura finds herself in an unavoidable hide-and-go-seek game with airsoft guns stashed around the room. After joining the club, Yura discovers new facets of herself; she is more outgoing and personable than she realizes. Additionally, we are introduced to other members of the club, ranging in personalities and quirks. Throughout the anime, we observe these girls enter numerous competitions. What starts as something the girls do for fun, ultimately turns into a serious sport.
C³-Bu takes place in a school setting where non-conventional clubs for airsoft and tank battling exist. While we commonly associate weapons and military strategies with brute force, this anime portrays a light-hearted and cheerful vibe. Moreover, this made-up sport bares a close resemblance to paintball and airsoft gameplay. With a limitless amount of rules specified before the start of a game, the one main goal that is stressed is that the last one standing is the champ.
---
9. Beyblade - Bakuten Shoot Beyblade (Beyblade)

Episodes: 51
Aired: uary 2001 – December 2001
Bakuten Shoot Beyblade (Beyblade) follows the story of a group of energetic friends, thirteen-year-old Takao Kinomiya, Kai Hiwatari, Max Mizuhura, and Rei Kon, as they enter and compete to become the best Beybladers in the league. Alongside Kyouju, the Bladebreakers, as they named themselves, tour across the globe to battle against other teams. With the power of BitBeasts resembling shooting disks, will Takao have what it takes to become a Beyblade World Champion?
Competitive spinning tops have never been as extreme as when you've watched an episode of Beyblade! This action sci-fi adventure really gets your energy flowing and the determination that the Bladebreakers have is absolutely contagious. This made-up sport is very similar to the yo-yo craze back in the 90s. Yomegas anyone? Collectively, it wasn't just about tossing around a disk at your opponent, but having technique and finesse while doing it, ultimately bringing Takao to the top.
---
8. Flying Circus - Ao no Kanata no Four Rhythm (Aokana: Four Rhythm Across The Blue)

Episodes: 12
Aired: January 2016 – March 2016
Ao no Kanata no Four Rhythm (Aokana: Four Rhythm Across the Blue) follows a girl named Asuka Kurashina who recently moved to a new town and will be starting her schooling at Kunahama High. In her world, flying is a common occurrence, as the invention of Grav-Shoes gives citizens the ability to fly and freely travel about. Moreover, this new way of life has introduced a new recreational sport called "Flying Circus," where participants play "tag" on a points-based system. After pulling a difficult maneuver on her first try, Asuka then joins her school's Flying Circus club. Here, we watch Asuka blend into her new surroundings, soaring into greatness and joined with a bunch of interesting characters along the way.
"I believe I can fly, I believe I can touch the sky!" Aokana: Four Rhythm Across The Blue is a fantastic anime capturing humanity's dream of flight. It is an all around great show that portrays beautiful, airy animation, a simplistic, yet engaging story, dynamic characters, and the overall message of practicing endlessly, teamwork, the success that follows, and sometimes failure when sports are involved. As we still await the invention of Grav-Shoes in our era, this made-up sport continues to be a dream and fantasy for many of us.
---
7. Stride - Prince of Stride: Alternative

Episodes: 12
Aired: January 2016 – March 2016
Prince of Stride: Alternative follows the Honan Academy Stride Club. Striding, in contrast to basic running, resembles the disciplines of parkour and freerunning. In this club, teams of six members compete against others by maneuvering through obstacles to reach the finish line. In its current state, the Stride Club doesn't appear ready for any wins, until they are introduced to Riku Yagami and Takeru Fujiwara. As manager Nana Sakurai tries to revive this sport, we watch the team transform with a lot of help from dedicated practitioners. Now, get a running start on watching this anime!
A simple story, Prince of Stride: Alternative highlights a sport on this list that was popularized in the late 90s, Parkour, encompassing movements developed and influenced by military obstacle course training. By maneuvering without equipment through complex environments, practitioners utilize speed and precision to make the sport appear all too easy. However, it requires one to be put to the challenge, physically and mentally.
---
6. War Sport - Dog Days

Episodes: 13
Aired: il 2011 – June 2011
Dog Days follows Cinque Izumi, a normal middle school student from Earth who gets sucked into a magical portal, taking him into a parallel universe. In the world of Flonyard, an alternate Earth, its inhabitants are beings that resemble humans possessing certain characteristics of animals, e.g. ears and tails. In this world, war is treated as a sporting event where no one is harmed in the process, the winner is awarded riches, and the whole ordeal is a celebratory occasion. As Cinque agrees to become a representative of Biscotti and the dog-people, he defends the Republic from the feline Galette Leo Knights. With no idea how to return home, Cinque must remain and fight as scientists research his worrisome predicament.
War as a sport is an interesting concept. When Flonyard citizens engage in its enjoyable, social activity, societies can collectively profit. Devoid of any catastrophe, the war sport shields and protects the citizens, allowing for no casualties. Additionally, in this fantasy adventure anime, we notice that this sport exists to maintain peace. Displaying vibrant and bright animation and characters, the action and energy in Dog Days is something that must be observed. Check it out!
---
5. Angelic Layer - Kidou Tenshi Angelic Layer (Battle Doll Angelic Layer)

Episodes: 26
Aired: April 2001 – September 2001
Kidou Tenshi Angelic Layer, also known as Battle Doll Angelic Layer, is about junior high school student Misaki Suzuhara and her advancement in the game known as Angelic Layer. Angelic Layer is on the rise and so is Misaki. Using electronic dolls called Angels to battle other competitors, Misaki is knocking out each of her opponents, showing advanced skills and great potential. Episode after episode, we watch Misaki grow and enter various tournaments, making her way to the Angelic Layer championship.
Misaki starts her battles with little knowledge as a beginner. As she demonstrates her qualities and abilities, we follow her and the other characters as they charge into success and efficacy. The matches that we encounter are an eventful occasion, as many gather in the stadium to watch opponents duke it out with their Angels. Their profiles are highlighted, helping the audience keep track of their stats and gauge the likely outcome. Angelic Layer tournaments produce a massive following, guiding players and enthusiasts to root for their favorite MVP.
---
5. Keijo - Keijo!!!!!!!!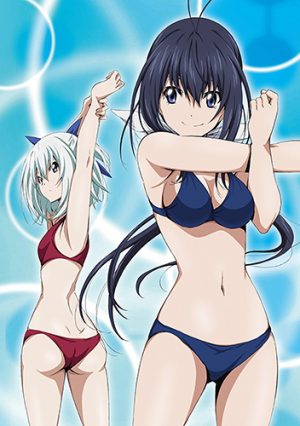 Episodes: 12
Aired: October 2016 – December 2016
Keijo!!!!!!!! is an anime about a fictional competitive sport that pits well-endowed ladies against one another in wrestling-like fashion upon a platform floating on water. The only methods of attack that these ladies can use are … their boobs and butt! The sport of keijo is so serious that there is an institution dedicated to training prospective keijo participants. Sweeping across the country, many young ladies train and participate as keijo players to become the next national champion and win the first place prize!
Probably the silliest on this list, Keijo!!!!!!!! is definitely a hilarious and one-of-a-kind anime. It may not make any sense to try and rationalize how a sport like keijo can draw anyone's interest besides all the fanservice. Nevertheless, we can appreciate the creative design of the story and development of this unique sport. Content writers really put a lot of detail into the mechanics of keijo, including special training techniques and "scientific" data, overall highlighting the fighting spirit. Moreover, this anime is reminiscent of many reality competition shows to date, as opponents try to knock each other down in order to win lavish prizes.  
---
3. Gundam Fight - Mobile Fighter G Gundam

Episodes: 49
Aired: April 1994 – March 1995
Mobile Fighter G Gundam is an old school anime, but still a classic on this list, highlighting the story of Domon Kashuu, a Gundam fighter. It is the Year FC 60, and humanity has established space colonies orbiting Earth. Every four years, a competition exists to determine dominance over these colonies, utilizing Gundam or giant robots to represent each division. However, Domon has other motives in mind, as the tournament rests behind the other things he needs to achieve. Domon seeks clarity for his brother's murder accusation and must also find the location of two misplaced deadly weapons.
A sci-fi, mecha, adventure anime, Mobile Fighter G Gundam provides viewers with awesome battle scenes and tons of action. Using robots to fight as a sport, each Gundam is unique and distinct, highlighting a different robot in each episode. Furthermore, the combat sequences are filled with cheesy, yet awesome 90s effects, focusing on original, low-key animation of this time. Lastly, this anime is simple and entertaining, a franchise definitely worth looking into.
---
2. Tankery (Sensha-do) - Girls und Panzer

Episodes: 12
Aired: October 2012 – March 2013
The Ooarai Girls High School has done the impossible; the sensha-dou team has won the championship in the 63rd tournament, ultimately saving their school from closure. Even with their recent victory, the Japanese Ministry of Education still plans to close down the school. So in an effort to keep the school open, Miho Nishizumi and her team must win a match against a university level team. With the aid from other schools, both new and previously battled, their joint operation will help save the school for good. Crossing our fingers!
When it comes to ultimate extreme sports, leave it to these girls who hold the big guns! Disciplined, bold, and dangerously cute, Girls und Panzer displays these ladies competing with massive military equipment effortlessly! The tank battles and the tournament are very engaging and exciting, keeping your hopes up, and leaving you satisfied with the end result! Don't expect any girls this young and cute to be operating this heavy machinery IRL. Simply another made-up sport, Girls und Panzer provides a thrilling viewing experience!
---
1. Lifting - Eureka Seven

Episodes: 50
Aired: April 2005 – April 2006
The story of Eureka Seven begins with an ordinary boy living an ordinary life, until he is thrust into the lifestyle he's always dreamt of living: joining the group, Gekkostate. Caught in between balancing mechanics like his grandfather and living under his father's research and legacy, Renton Thurston passes the time riding the Trapar. Soon after, his life starts to change when he becomes involved with the Nirvash typeZERO. Renton, along with his idol Holland Novak, co-pilot Eureka, and other members of Gekkostate, is swept into an amazing adventure that will no doubt shape their futures and the world.
Eureka Seven features a character that has the ability to pilot certain special yet mysterious machines. The trapar-propelled airships piloted are outstanding and interesting pieces deeply entrenched in the planets' history. Lifting is the sport that surrounds Renton's life, gliding and riding the waves of the sky in a fashion similar to surfing. Probably the closest thing to flying, this made-up sport is another one that's flight-inspired, something that we all hope becomes reality very soon.
---
Final Thoughts
We hope you enjoyed our choices for top 10 made-up sports in anime! If you haven't already, make sure to check out all of these great titles! The best part about made-up sports is that they are fluid, allowing players to think up fun ideas as they come up! As such, let us know if we've missed any other great made-up sports by commenting below! See ya!
---