We are not talking about Romance Dawn, but about love! Great passionate romances! Tragic romances! Bring them on board! We also recommend you to grab a pack of tissues, because many of these top 10 manga romances will make you cry. Ready? Let's get going!
10. Takiko Okuda and Rimudo Roun "Uruki" from Fushigi Yuugi Genbu Kaiden

Authors: Yuu Watase
Genres: Adventure, Drama, Fantasy, Historical, Romance, Shoujo, Gender Bender
Volumes: 12
Published: Mar 15, 2003 to Feb 14, 2013
Yuu Watase is one of the best shoujo mangaka alive, so her great storytelling shines in her second installment about the Universe of the Four Gods. Takiko Okuda is a normal teenager in the Showa period of Japan, but her rocky relationship with her father will make her steal the book of the Universe of the Four Gods. Absorbed by it, she becomes the Priestess of Genbu, in charge of finding the seven Genbu stars and protect the kingdom of Hokkan.
The relationship between Takiko and Rimudo is pure art. At first she assumes Rimudo is a woman warrior, which makes for some funny scenes. However, the fact that they have difficult relationships with their parents and that they are independent and strong willed make them grow close. Despite the fact that their romance is forbidden (she being a priestess and he being the crown prince of Hokkan, among other issues), they always end up fighting to protect each other. They truly deserved a place in the top ten!
---
9. Hana Suguruno and Arashi Aota from 7 Seeds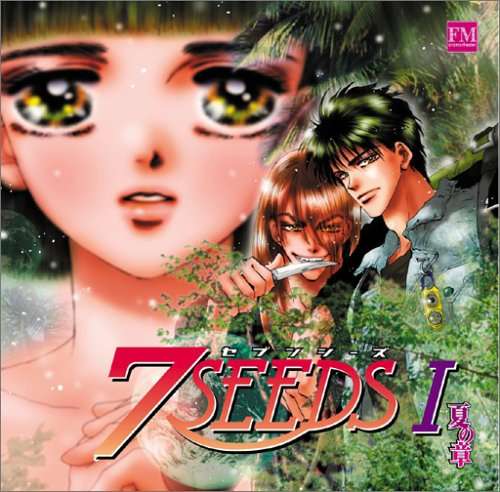 Authors: Yumi Tamura
Genres: Action, Adventure, Mystery, Drama, Horror, Romance, Sci-Fi, Shoujo, Psychological
Volumes: 35
Published: Oct 13, 2001 to May 27, 2017
Welcome to a future without us on Earth! Or we should say without most of us, because five groups of youngsters were put in cryogenic sleep to preserve humanity. Will they be able to survive in this new inhospitable world? You will have to read 7 Seeds to find out!
Among the couples and love triangles we find in 7 Seeds, Hana and Arashi should be mentioned. Hana, at first, was so sad that she survived and Arashi did not that she wanted to die. However, when she finds out he might be alive, Hana does everything to find him. While Hana is good at surviving in the wild, Arashi is one of the kindest survivors. Their loyalty to each other is endearing.
---
8. Tsukasa Kozuki and Ryuji Shirogami from Tokyo Crazy Paradise

Authors: Yoshiki Nakamura
Genres: Action, Comedy, Drama, Romance, Shoujo, Gender Bender
Volumes: 19
Published: Dec 25, 1996 to Apr 25, 2002
This is another version of our future, in 2020. In here, Tokyo becomes a high crime city where women are at a great peril. That is why Tsukasa was raised as a guy by her parents. When they die though, she has to work as a bodyguard for Ryuji, who happens to be part of a yakuza family. So yes, that is a head start for romance!
The thing with this pair is that Tsukasa keeps hiding the fact that she is a girl. Ryuji finds her fascinating, but being the tough and serious guy he is, he does not show it frequently… until she dresses up as a woman. Then he flirts with her, but she is unassuming, too focused in being his security guard. So yes, there is comedy, but also drama among these radically different young people.
---
7. Hana and Vivi from Hana to Akuma

Authors: Hisamu Oto
Genres: Comedy, Demons, Mystery, Drama, Fantasy, Historical, Romance, Shoujo, Supernatural
Volumes: 10
Published: Oct 20, 2007 to Nov 20, 2010
Warning: contains sensitive content!
A 200 year demon decides to live among humans and adopts a baby girl. All is well, as Vivi cares for Hana like a father would for his child. However, when Hana becomes a teenager, feelings grow wilder. Can a weird relationship between human and demon survive?
For starters, Vivi is not an evil demon, although he is not very sentimental. This means that sometimes he feels jealous of others who court Hana. Everything becomes more complicated when she forgets her feelings about Vivi, too! Add the supernatural part to this, and we have a fantasy like romance with a bittersweet tone.
---
6. Teru Kurebayashi and Tasuku Kurosaki from Dengeki Daisy

Authors: Kyousuke Motomi
Genres: Comedy, Drama, Romance, Shoujo
Volumes: 16
Published: May 12, 2007 to Dec 24, 2013
Teru loses her brother too early in life. He only leaves behind a cellphone with recommendations to write to Daisy if Teru ever feels alone. With this confident literally at hand, she goes on and finds work with the school janitor. This guy is not the kinder person around, although perhaps Daisy and him have a lot in common…
This is the classic love story with someone who acts with disdain but really is interested in the other person. However, that is only on the surface. Dengeki Daisy turns out to be an upbeat story of hacking and mediated love. For being a unusual but modern romance with the right amount of drama, we had to mention it in this top Ten Manga Romances.
---
5. Yuri Suzuki and Kail Mursili from Red River (Sora wa Akai Kawa no Hotori)

Authors: Chie Shinohara
Genres: Action, Adventure, Drama, Fantasy, Historical, Romance, Shoujo, Supernatural
Volumes: 28
Published: Jan 5, 1995 to Jun 5, 2002
Warning: contains sensitive content!
Imagine what would you do if you were suddenly transported to the Hittite Kingdom (now Turkey)? Everyone pursues you, you cannot speak the language and your mere presence could bring down the Crown Prince of the Empire… who happens to be fascinated with you. The only thing you want is to go home, but you start to fall in love with the prince. What to do?
If your name is Yuri Suzuki, you stay and fight alongside the prince to make sure he ascends to the throne. You go to war. You learn the language and the culture. And you make use of the 20th century knowledge you have. You rise on the ranks despite the constant conspiracies and attempts to marry the prince to someone else. That has to make for some epic and steamy romance!
---
4. Noriko Tachiki and Izark Ka Tarj from Kanata Kara (From Far Away)

Authors: Kyouko Hikawa
Genres: Adventure, Demons, Fantasy, Romance, Shoujo
Volumes: 14
Published: Sep 24, 1991 to Jan 24, 2003
This is another story about a spirited away girl called Noriko. She appears in the middle of a war and Izark teaches her the ways of that place. Izark is a swordsman, but inside him, a powerful demon awaits for the awakening. However, it turns out that Noriko is the key for such an awakening.
Noriko is your average young woman (she is 18), who is innocent and chatty, but also mature and down to earth. She also is loyal when she falls in love, because despite that many fear Izark, she is willing to be by his side. Throw in some apocalypses and fatality, and you have another epic romance. If you are into the spirited away genre but would like more maturity in the protagonists, this is the romance you have to read.
---
3. Pariya and Umar from A Bride's Story (Otoyomegatari)

Authors: Kaoru Mori
Genres: Drama, Historical, Romance, Seinen
Volumes: 9
Published: Oct 14, 2008 to - In Hiatus
The time is the 19th century and the place central Asia. Amir becomes the new bride in the Eihon family, which belong to a different life style. Her adventures will introduce us to an exotic world where daily life is marvelous. However, conflict is not that unusual in the story.
Among the several characters that surround the protagonist, her friend Pariya has a romantic and funny story. She is a skillful baker, but her bluntness and lack of "lady-like manners" make most of the town believe that she will not be able to marry. Enter Umar, the son of the owner of an inn and stock of sheep. Although they start as an awkward couple, it is simply delightful how they try to communicate and find out that they can overcome everything together. If you prefer down to earth love stories, these two are the right couple to read.
---
2. Kaguya Shinomiya and Miyuki Shirogane from Kaguya-sama wa Kokurasetai

Authors: Aka Akasaka
Genres: Comedy, Romance, School, Psychological, Seinen
Volumes: 8
Published: May 19, 2015 to Present
Welcome to the prestigious Shuchiin Academy, where the Students Council is the intellectual elite of the school. Miyuki Shirogane is the president, and as a workaholic who is also always there to help anyone, one wonders when he sleeps. His second in command is Kaguya Shinomiya, a girl from a prestigious family who is a bit clueless about love. They fancy each other but do not say anything about it.
What makes the magic for this couple is their battle of wits. If you ever wondered what would Death Note look like if it was about romance, here is how L and Light would have battled against each other. Proud and calculating, Miyuki and Kaguya will do everything so that they confess to each other, because the one who does it first will be the submissive part of the relationship.
---
1. Juuri Mutou and Yuu from Watashitachi no Shiawase na Jikan

Authors: Sumomo Yumeka
Genres: Drama, Music, Romance, Slice of Life, Psychological, Seinen
Volumes: 1
Published: Mar 28, 2008 to Aug 22, 2008
Warning: sensitive content ahead once again!
Juuri Mutou is a pianist who has attempted suicide several times. As for Yuu, he is an inmate condemned to death who has also attempted suicide. Thanks to Juuri's aunt, they meet. Their world will be completely transformed, and love will bloom of course.
We had to give the first place to this master class in narrative. In just a single volume, Watashitachi no Shiawase na Jikan makes us care for the characters. Not so different from us, the couple learn to interact with other humans again and re-evaluate their attitudes towards life. Deeply emotional and warm, the story of Juuri and Yuu will make you shed a tear drop or two… em... Ok, better keep those tissues close u.uU
---
Final Thoughts
There is not a single template for romance. However, we can see how the characters in these stories tend to be multilayered. Although many of them are inexperienced, they give their best to try to communicate and support their partners. Throughout all sorts of hardships, they become more and more beautiful as couples. Which other great manga romance do you remember? Do not forget that we are open to all your comments and suggestions. See you soon!
---