Sometimes, there's nothing quite like a good romance anime. Sure, there's plenty out there with ecchi and there may be hints of romance in shounen, but when you want an anime focused entirely on romance, where do you go? A josei romance is complicated, harsh and there's no guarantee of a happy ending, but a shoujo romance may have heartbreak, cute couple moments, and almost always, there's a happy ending regardless of the outcome. Shoujo romance anime are the perfect anime for a light hearted time.
With that said, there are so many out there that have been released over many decades, it's easy to find a terrible shoujo romance anime and throw the whole genre out the window. Don't let one bad egg spoil the rest. There are still plenty of other shoujo romance anime with just the right amount of drama, excitement, and adorable moments. Check out this list of the top 10 shoujo romance anime to get you started!
10. Bokura ga Ita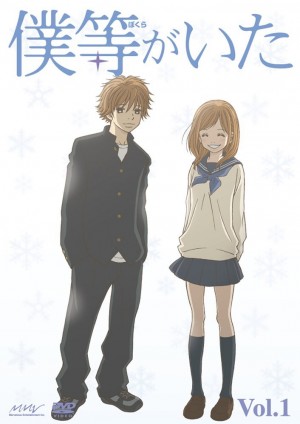 Episodes: 26
Aired: July 2006 - December 2006
Takahashi Nanami is starting life at a new high school, hoping to make as many friends as possible. The girls in the class talk about a boy, Yano Motoharu, and 2/3 of the girls are in love with him. When Nanami asks the girl sitting next to her about Yano, she curtly states that she hates him. Nanami soon discovers why when Yano intentionally gives her the name of one of her classmates incorrectly and she ends up making a fool out of herself in front of the class. Although her feelings are that of hate, there's a thin line between hate and love, and her feelings begin to teeter!
When people say that shoujo romances are unrealistic, they probably haven't seen Bokura ga Ita. Nanami battles her own insecurities as she tries to learn what it means to have her first boyfriend, but Motoharu doesn't make it easy with his complicated past and secretive nature. This is one shoujo romance that really tugs on your heartstrings as you follow Nanami as she seeks out the truth and learns what she must do for her relationship.
---
9. Hana Yori Dango (Boys Over Flowers)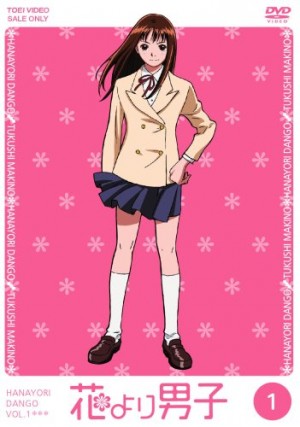 Episodes: 51
Aired: September 1996 - August 1997
Makino Tsukushi can't wait to finish up her years at Eitoku Gakuen. Unfortunately, she negatively catches the attention of the Flower 4, the four boys with the most power and influence in the school, which causes her to gain the red card. Tsukushi isn't ready to back down from the challenge, but then she finds herself falling for one of the F4, Hanazawa Rui. Will she rise to the challenge or crumple under her feelings?
There is probably no shoujo series as popular as Hana Yori Dango. It is about the love story of Makino Tsukushi and starts off with her crush on Hanazawa Rui. From her crush to her true love, Tsukushi endures many trials that overall, make her a stronger heroine that is worthy of the one she loves. This is a shoujo romance that has a few turns and although it doesn't turn out the way you believe it will, it shows you that good can come out of it in the end even though you strayed from the path.
---
8. Kareshi Kanojo no Jijou (Kare Kano/His and Her Circumstances)

Episodes: 26
Aired: October 1998 - March 1999
Miyazawa Yukino is the essence of perfection; she's beautiful, kind, intelligent, and modest. She's the perfect student, but in actuality, it is just a façade to garner adoration amongst her classmates! Her façade won't last long; Arima Soichiro comes in to steal the top placement from her. In fact, he's also smart, handsome, and modest. Worst of all, Soichiro has also discovered Yukino's secret. Now he's blackmailing her to do things for him! Can they ever be friends or is Yukino's peaceful high school life in peril?
Kareshi Kanojo no Jijou, or Kare Kano for short, is the love story between Miyazawa Yukino and Arima Soichiro, who start off similar and branch off into their own individual personalities. This shoujo romance anime is about finding the deeper truth behind someone and accepting them for all that they are. Kare Kano starts off as a sweet romance, but there is so much more than meets the eye.
---
7. Kodomo no Omocha (Kodocha)

Episodes: 102
Aired: April 1996 - March 1998
Kurata Sana is the daughter of an award-winning writer, a star of the hit comedy "Child's Toy", and her manager, Rei, also works as her chauffeur and "pimp". Yes, she lives a great life, but when she's at school, Sana has to undergo the chaos that is her class, which is overrun by the violent boys led by Hayama Akito. Sana's tired of all of the chaos in class and is determined to take it into her hands, but what will come out of her efforts? It may not be easy nor safe, but she's a headstrong fifth grade girl!
While Kodocha may not seem like anything so someone who has only watched a few episodes, there is so much for to Kodocha than you might think. Fifth graders don't always have it easy. Akito and Sana may seem like your average fifth graders, but they have much more going on behind the scenes that it appears, but it is when they finally meet that they find the real support they need as they try to overcome their past and present to gain a better future. This is a beautiful shoujo romance because it shows how hard life can be for even the youngest of people, but it can be overcome with the right person by your side.
---
6. Tonari no Kaibutsu-Kun (My Little Monster)

Episodes: 13
Aired: October 2012 - December 2012
Shizuku is known for being cold and unfeeling by her classmates which has earned her the nickname "Dry Ice." One day, she is asked to deliver some classwork to a classmate, Haru, who has refused to go to school for a few weeks. Haru decides that Shizuku is his friend, but he's been known to be violent and rash while Shizuku is just a studious bookworm. They both have not had real friends before, but now, can they survive their new budding friendly?
Tonari no Kaibutsu-Kun is a cute shoujo anime involving a colder than ice Shizuku who finds herself being stuck with a violent yet overall good guy, Haru. They seem like an unlikely pair, and even when it comes to confessions, they both suck at them, but they both need each other. This is a cute romance between two teenagers who are both surprisingly honest, but Shizuku is quick to call someone out while Haru is a little rash that he doesn't take other people into consideration! What trouble can they get into?
---
5. Kimi ni Todoke

Episodes: 25
Aired: October 2009 - March 2010
Kuronuma Sawako is just a misunderstood teenage girl, rumored to be able to see ghosts and malicious beings, but in truth, she's just a really shy girl whose resemblance to the girl from "The Ring" has led to countless misunderstandings. Sawako has always wanted to make friends, but has been unable to do so yet her one memory of helping her classmate Kazehaya Shouta, the most popular guy in class, has kept her hopeful. Since that time, they have not spoken, but what will happen now that he starts speaking with her? Will she be able to live the normal high school life she has always dreamed of?
As for as adorable shoujo animes go, Kimi ni Todoke takes the cake. Everyone thinks terrible of Sawako, but she's misunderstood and actually cares greatly for everyone and refuses to believe that anyone is bad. Although high school romance may not be the most innocent in today's society, Kimi ni Todoke shows you how innocent and pure a high school romance can be in this shoujo romance anime. Don't think there are no struggles along the way. You'll laugh, cry, and squeal with excitement as you watch Kimi ni Todoke.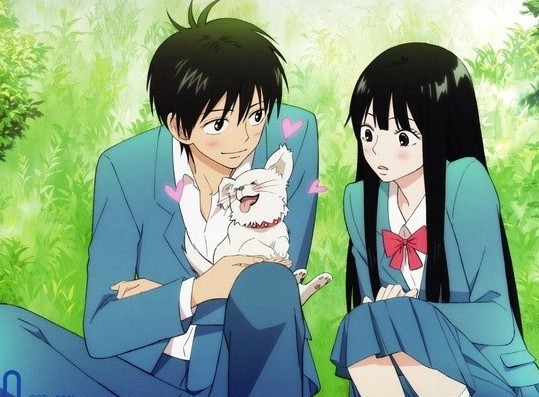 ---
4. Marmalade Boy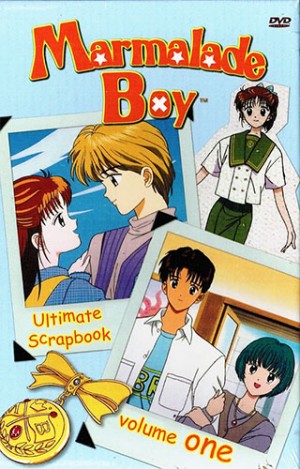 Episodes: 76
Aired: March 1994 - September 1995
Koishikawa Miki is your ordinary high school girl living an ordinary life until her parents suddenly decide to divorce. Not only do they divorce, they both switch partners with a newly divorced couple and move under the same roof. Miki's not happy with it, but soon, she finds herself falling for the son of the other couple. Matsuura Yuu.
Much like Hana Yori Dango, Marmalade Boy is one of those shoujo romance classics that you can't pass up. Marmalade Boy is about the romance between Miki and Yuu, but along the way there's love triangles, secrets, drama with friends, and a lot of insecurity. Miki and Yuu may struggle, but they do all that they can to conquer their mountains. Don't be fooled; the original premise is silly and strange, but it's the undertones and side stories in this anime that really drive Marmalade Boy to be a classic.
---
3. Sukitte Ii Na Yo (Say I Love You)

Episodes: 13
Aired: October 2012 - December 2012
Tachibana Mei is a girl who hasn't had friends or a boyfriend her entire life. She doesn't need them. So far, not making friends has worked out for Mei. Then she catches the eye of Kurosawa Yamato, a handsome, popular guy who says all girls look the same. For some reason, Yamato is interested in Mei; he even gave her his phone number! She wouldn't call; but she did when she really needed his help. Mei doesn't need saving, but maybe there's something about Yamato that will change her.
Sukitte Ii Na Yo plays off the same idea as Tonari no Kaibutsu-kun in that the main characters have no real desire to interact with others, but there is an added level of excitement as Mei discovers she may in fact need others and the person she needs the most, is Yamato. Yamato is the angel who saves Mei from her bitter life of solitude and may ultimately open her heart. It's an endearing story of love as it first blooms and how it can change you.
---
2. Ore Monogatari!!

Episodes: 24
Aired: April 2015 - September 2015
Gouda Takeo is a popular guy who is wanted for his large physique and musculature. Well, technically he's popular with other guys and clubs. His best friend and neighbor is Sunakawa Makoto, a guy whose popular with girls for his looks and personality. Every girl that Takeo has ever liked has fallen for Makoto. One day, Takeo saves Yamato Rinko from a groper on the train, and although he falls for her at first sight, he suspects that she likes Makoto. Sacrificing his feelings, Takeo takes it upon himself to get Makoto and Rinko together.
It sounds a little like School Days, doesn't it? Well, don't fooled because shoujo anime Isn't known for its tragedies. Ore Monogatari!! is an adorable shoujo romance anime that follows Takeo as he falls in love and learns what it really means to be a boyfriend. He may not seem like your usual shoujo protagonist, but he's very kind hearted and kind, despite his appearance. This is a love story that shows you that appearances aren't everything, and there's always someone out there for everyone.
---
1. Gokinjo Monogatari (Neighborhood Story)

Episodes: 50
Aired: September 1995 - September 1996
Yaza Gaku is a school dedicated to fashion design and one of its students, Kouda Mikako dreams of hitting it big with her own fashion brand. She lives next door to her childhood friend, Yamaguchi Tsutomu, who she has a platonic relationship with despite their many years together. Unfortunately, Tsutomu has been getting quite popular with the girls for his resemblance to the lead vocalist in a band. Mikako doesn't care for the band, but something is stirring inside of her.
Gokinjo Monogatari is the story of two childhood friends and their quest for love in high school, while also pursuing their dreams in fashion design. Relationships are complicated. There is more to a person than rumors say. What makes Gokinjo Monogatari an amazing love story is that it starts off with everything in the wrong direction and each individual must figure out what they must do to be with the one they love. There are many "what ifs" and "buts" that the characters ask themselves and their romantic stories become tangled.
Along with that, all of the characters in Gokinjo Monogatari are pursuing their dreams and must make a name for themselves outside of school. Life's difficult, but it's not impossible as these young teens will show you just how they balance school, passion for their work, and their romances.
---
Ao Haru Ride
When it comes to shoujo romance animes, it is easy to name the ones that are the most popular now, but this list gives a good mix of the old and the new. Shoujo romances can be deep with rich backgrounds and complicated love stories, so don't give up if that's what you're looking for. Hopefully this list gives you the happily ever after that you are looking for in a shoujo romance anime.
If there are any good shoujo romance anime out there that you recommend, please share so other readers can find some other great titles. What's your favorite love story?
---