As probably all of you already know, the word "shoujo" means young lady, and in Japanese comics, or anime, shoujo is the name used in order to indicate that genre aimed at a young female audience. Shoujo series can have a lot of sub-genres, such as action, Sci-Fi, and so on, but one thing is for sure: if you look for a very good romance, shoujo genre is your cup of tea!
Shoujo romance shows can send the viewers on a roller coaster of feels, up and down, and finally give them the craved happy ending. In this ranking, we'll mention ten shoujo romance anime: we tried to pick those masterpieces that stuck in the viewers' hearts, or some new ones. Stay with us until the end to discover our picks! And if you want even more, scroll down to the bottom of this article to read our previous one. We won't fail you!
10. 3D Kanojo: Real Girl (3D Girlfriend)

Episodes: 12
Aired: April 2018 – June 2018
Tsutsui Hikari is a high school student, and an otaku. He tends to avoid social interaction. In fact, he has only one friend. One day, he is asked to clean the pool together with a girl named Igarashi Iroha. She is all what Hikari has always tried to avoid: bad-mannered, without a single female friend, she tends to skip school frequently. As days go by, though, Iroha shows a good side of her, so much so that Hikari begins to look at her differently. Could she become his first, real life girlfriend?
By these premises, can you actually imagine how amusing can this show become? On one side we have a boy defined as "creepy", mocked by his classmates and in love with 2d girls; on the other side, a blunt girl who stands up to people who make fun of Hikari. Two different people such as Hikari and Iroha manage to understand that they may have found their significant other. This uphill shoujo romance series is funny enough to make you crack up, so it totally deserved a mention here!
---
9. Itazura na Kiss (ItaKiss)

Episodes: 25
Aired: April 2008 – September 2008
Kotoko Aihara is a third-year high school girl. She's clumsy, troublesome, and when her home gets destroyed by an earthquake, her life is literally turned upside down. In fact, she ends up sharing a roof with Naoki Irie, the school's smartest student. What's more, Irie happens to be the boy Kotoko had a crush on. Now within her reach, Kotoko is sure she will be able to win Irie's heart!
Itazura na Kiss may look like a cliched shoujo, but it is actually quite refreshing. We follow the constant struggle of Kotoko in order to convey her feelings to Irie, who is cold, and mean instead. She eventually manages to break through the huge wall Irie built, and we finally get to see their romance blossom. What's more, this series has a treat: what happens after the happy ending. Itazura na Kiss is a very lighthearted show and a must-see for those who love shoujo romance anime!
---
8. Ookami Shoujo to Kuro Ouji (Wolf Girl & Black Prince)

Episodes: 12
Aired: October 2014 – December 2014
Erika Shinohara lied to her new friends, claiming to have a beautiful boyfriend. When her friends ask for a picture of him, Erika easily snaps a photo to a handsome stranger on the road, but that single act turns on herself, as the boy in the picture is Kyouya Sata, the most popular guy of her school. Then, Erika begs Kyouya to pretend to be her boyfriend for some time, and he accepts. The problem is, Kyouya is not exactly the kindhearted prince the people in the school talk about!
Ookami Shoujo to Kuro Ouji is an amazing shoujo romance series, as we can clearly see the characters' growth, and their teenage deeds. Throughout the show, we see Erika showing a tougher side of her, and Kyouya realizing how much he cares for her. This sparkly couple is bound to give you non-stop laughter, and a cute romance. Give it a try, if you still haven't!
---
7. Toradora!

Episodes: 25
Aired: October 2008 – March 2008
Ryuuji Takasu is a kind and gentle boy, but in contrast his face is so intimidating that he is believed to be a delinquent. Taiga Aisaka, on the contrary, is a doll-like girl, with a tsundere, explosive personality. With their personalities as polar opposites, Ryuuji and Taiga cross paths, and they discover that Taiga is in love with Ryuuji's best friend, while Ryuuji is in love with Taiga's best friend. The alliance is created: they'll help each other conquering their crushes' hearts!
Toradora! is a popular romantic shoujo comedy, following the crazy duo and their funny deeds. As the story goes by, other characters enter the picture, and so we have love triangles, misunderstandings, troubles, and much more. Everything leading to a different ending, where both Taiga and Ryuuji finally realize that their interest lies elsewhere. Toradora! is a rare gem that can't be missed, so be sure to check it out.
---
6. Kaichou wa Maid-sama! (Maid Sama!)

Episodes: 26
Aired: April 2010 – September 2010
Misaki Ayuzawa is the first female student council president, and she has a lot of responsibilities. She's an Aikido master and not afraid of using her skills on misbehaving boys. That's why they call her "Demon President". Misaki has a secret, though: she works as a part-time maid, at a maid cafe, as her family is broke. Sadly, Takumi Usui, the most popular boy of the Seika High School, discovers Misaki's secret... and that's when Misaki's flawless image begins to get threatened!
Just like Toradora!, Kaichou wa Maid-sama! is yet another popular romantic comedy that stole viewer's hearts. Our heroine, Misaki, is popular among the girls, and feared by the boys, as she is strong, and hot-headed. Usui Takumi has a crush on her, but he is the quiet type. Step by step, he will break through the walls she built, like a real prince. We assure you that Kaichou wa Maid-sama! is absolutely worth watching and a real masterpiece of this genre.
---
5. Kimi ni Todoke (Kimi ni Todoke: From Me to You)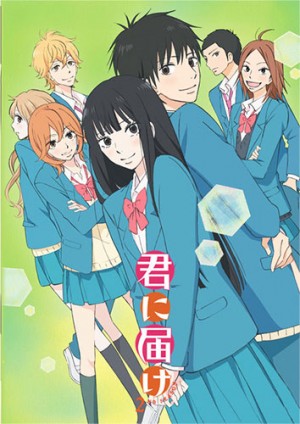 Episodes: 25
Aired: October 2009 – March 2010
Sawako Kuronuma's behavior is easily misunderstood by her classmates, who think she is scary. Actually, Sawako is just shy and suffers for her situation: she only wishes to make friends. She looks up to Kazehaya, her bright classmate and the most popular boy in school, as he is surrounded by nice friends and has a refreshing personality. JWhen Kazehaya talks to her for the first time, Sawako's school life begins to change for the better!
Kimi ni Todoke is an evergreen of this genre. In this romantic shoujo series, there's a big range of characters taking their first steps in romantic relationships. Aside from that, we follow the main protagonist – Sawako – as she manages to overcome her insecurities, thanks to Kazehaya's love. Kimi ni Todoke more than deserved our 5th position, as it is very sweet, without being corny!
---
4. Nijiiro Days (Rainbow Days)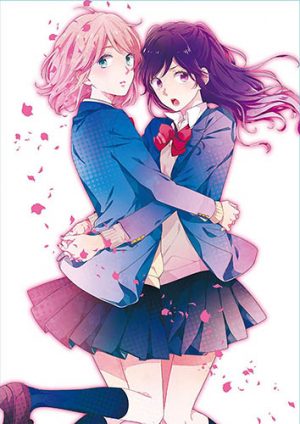 Episodes: 24
Aired: January 2016 – June 2016
Nijiiro Days revolves around four high school boys: Nacchan, Mattsun, Tsuyo-pon, and Kei-chan. These four friends are very different from one another, yet their friendship is a constant in their lives, as it represents a bond that can really overcome every hardship. They struggle to get through their teenage years, dealing with girls who don't reciprocate their feelings, delusional romances, and so on. Join them in this non-conventional shoujo romance series!
Nijiiro Days is a non-conventional shoujo romance show, revolving around four boys. The idea is quite refreshing, as we see the male character's point of view in matters involving love. These four boys, each of them with their own way of living, deal with their relationships differently, among ups and downs. Nijiiro Days is a must-see, all the more if you like a lighthearted show, full of comedy!
---
3. Lovely Complex

Episodes: 24
Aired: April 2007 – September 2007
Being 172 cm tall, Risa Koizumi is way taller than an average Japanese girl; being 156 cm tall, Atsushi Ootani is way shorter than Risa. United by a complex related to their own height, Risa and Ootani are like a comedy duo, constantly bickering with each other. When their relationship deepens, and one of them falls in love with the other, though, their differences in personality may become a huge obstacle...
Lovely Complex is yet another masterpiece that really needed a mention here. It is so full of comedy that it can make the viewers crack up, with Risa's character being so funny, and sparkling. On the other side, just like we expect from a shoujo romance show, it becomes a roller coaster of feels, with its unrequited love, teenage angst, third wheels, and hardships our protagonists must face. We highly recommend it, as it literally wields all what you want from a shoujo anime and at the same time, it's not cliched!
---
2. Ao Haru Ride (Blue Spring Ride)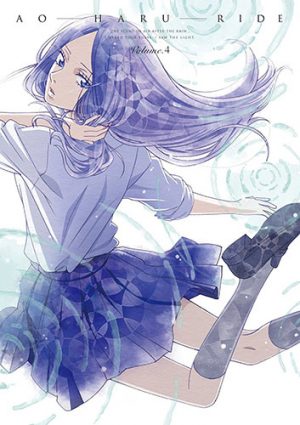 Episodes: 12
Aired: July 2014 – September 2014
Futaba Yoshioka, after being ostracized by her female classmates during junior high, just because she was cute, tried to reset her image altogether. Now in high school, she turned into a tomboy, eating nonstop, and stomping instead of walking. One day, she encounters once again Takana-kun (now Mabuchi), the alias the boy she liked during junior high, but to whom she couldn't convey her feelings. The fated meeting turns out to be a monumental disappointment for Futaba, as right now Tanaka seems to be a completely different person.
Ao Haru Ride is like a trip into teenage years, in a vortex of mixed feelings. Episode by episode, the viewers crave to know what kind of event made Tanaka an introvert, just like our protagonist Futaba does. Each character is very relatable, and it's not difficult to shed some tears with (or for) them. Futaba, Tanaka, and their friends, will manage to understand the importance of bonds. Not only that, they will understand what love means, and how many forms it can take. It's a wonderful shoujo romance show worth the attention!
---
1. Kamisama Hajimemashita (Kamisama Kiss)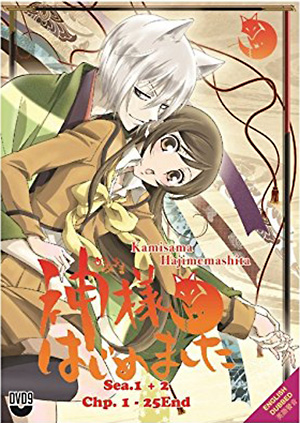 Episodes: 13
Aired: October 2012 – December 2012
Let's end this ranking with Kamisama Hajimemashita! Nanami Momozono is a high school girl who finds herself homeless, and broke. Lonely and desperate, though, Nanami doesn't hesitate one single minute to save a man harassed by a dog. She doesn't know, but the mysterious man is Mikage, the Land God. Seeing Nanami's situation, as a sign of gratitude Mikage offers her his own house. The house, though, turns out to be a shrine, and Nanami suddenly realizes how she just became the new Land God. If that wasn't enough, when she meets a boy with fox's ears – Tomoe – her life is literally turned upside down!
Kamisama Hajimemashita is yet another shoujo romance anime with a non-conventional heroine. Nanami is strong, determined, and ready to put all herself in whatever she does, even if it means becoming a Land God! Before meeting her, Tomoe had stopped believing in good feelings. Nanami, with her dazzling personality, and her clumsy behavior, will break through the walls he built, and together they'll understand the meaning of love. Kamisama Hajimemashita totally deserved our first position, as it has everything you'd expect from a shoujo romance anime, mixed perfectly and spiced up with a huge range of wonderful other characters!
---
Final Thoughts
And so, our ranking of shoujo romance anime came to an end! We hope you found it useful somehow. Unlike josei shows, where a happy ending is not guaranteed, and seinen, which can be tougher and darker than josei or lacking romance altogether, shoujo series represent a safe haven when you want a troublesome romance with a happy ending. So now, let us know what other show could have fit our ranking, and what your favorite shoujo romance anime are! Leave a comment below, and see you next time!
---
---
Sometimes, there's nothing quite like a good romance anime. Sure, there's plenty out there with ecchi and there may be hints of romance in shounen, but when you want an anime focused entirely on romance, where do you go? A josei romance is complicated, harsh and there's no guarantee of a happy ending, but a shoujo romance may have heartbreak, cute couple moments, and almost always, there's a happy ending regardless of the outcome. Shoujo romance anime are the perfect anime for a light hearted time.
With that said, there are so many out there that have been released over many decades, it's easy to find a terrible shoujo romance anime and throw the whole genre out the window. Don't let one bad egg spoil the rest. There are still plenty of other shoujo romance anime with just the right amount of drama, excitement, and adorable moments. Check out this list of the top 10 shoujo romance anime to get you started!
10. Bokura ga Ita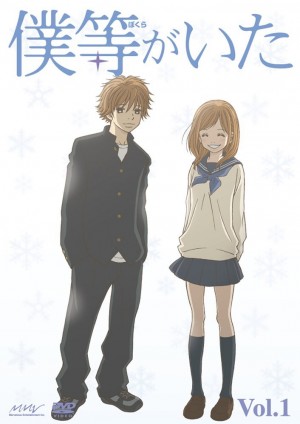 Episodes: 26
Aired: July 2006 - December 2006
Takahashi Nanami is starting life at a new high school, hoping to make as many friends as possible. The girls in the class talk about a boy, Yano Motoharu, and 2/3 of the girls are in love with him. When Nanami asks the girl sitting next to her about Yano, she curtly states that she hates him. Nanami soon discovers why when Yano intentionally gives her the name of one of her classmates incorrectly and she ends up making a fool out of herself in front of the class. Although her feelings are that of hate, there's a thin line between hate and love, and her feelings begin to teeter!
When people say that shoujo romances are unrealistic, they probably haven't seen Bokura ga Ita. Nanami battles her own insecurities as she tries to learn what it means to have her first boyfriend, but Motoharu doesn't make it easy with his complicated past and secretive nature. This is one shoujo romance that really tugs on your heartstrings as you follow Nanami as she seeks out the truth and learns what she must do for her relationship.
---
9. Hana Yori Dango (Boys Over Flowers)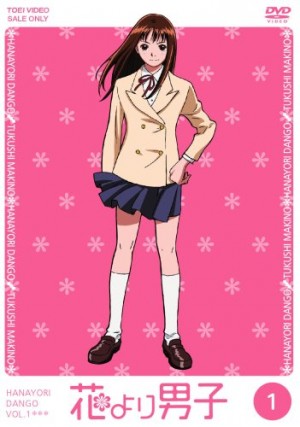 Episodes: 51
Aired: September 1996 - August 1997
Makino Tsukushi can't wait to finish up her years at Eitoku Gakuen. Unfortunately, she negatively catches the attention of the Flower 4, the four boys with the most power and influence in the school, which causes her to gain the red card. Tsukushi isn't ready to back down from the challenge, but then she finds herself falling for one of the F4, Hanazawa Rui. Will she rise to the challenge or crumple under her feelings?
There is probably no shoujo series as popular as Hana Yori Dango. It is about the love story of Makino Tsukushi and starts off with her crush on Hanazawa Rui. From her crush to her true love, Tsukushi endures many trials that overall, make her a stronger heroine that is worthy of the one she loves. This is a shoujo romance that has a few turns and although it doesn't turn out the way you believe it will, it shows you that good can come out of it in the end even though you strayed from the path.
---
8. Kareshi Kanojo no Jijou (Kare Kano/His and Her Circumstances)

Episodes: 26
Aired: October 1998 - March 1999
Miyazawa Yukino is the essence of perfection; she's beautiful, kind, intelligent, and modest. She's the perfect student, but in actuality, it is just a façade to garner adoration amongst her classmates! Her façade won't last long; Arima Soichiro comes in to steal the top placement from her. In fact, he's also smart, handsome, and modest. Worst of all, Soichiro has also discovered Yukino's secret. Now he's blackmailing her to do things for him! Can they ever be friends or is Yukino's peaceful high school life in peril?
Kareshi Kanojo no Jijou, or Kare Kano for short, is the love story between Miyazawa Yukino and Arima Soichiro, who start off similar and branch off into their own individual personalities. This shoujo romance anime is about finding the deeper truth behind someone and accepting them for all that they are. Kare Kano starts off as a sweet romance, but there is so much more than meets the eye.
---
7. Kodomo no Omocha (Kodocha)

Episodes: 102
Aired: April 1996 - March 1998
Kurata Sana is the daughter of an award-winning writer, a star of the hit comedy "Child's Toy", and her manager, Rei, also works as her chauffeur and "pimp". Yes, she lives a great life, but when she's at school, Sana has to undergo the chaos that is her class, which is overrun by the violent boys led by Hayama Akito. Sana's tired of all of the chaos in class and is determined to take it into her hands, but what will come out of her efforts? It may not be easy nor safe, but she's a headstrong fifth grade girl!
While Kodocha may not seem like anything so someone who has only watched a few episodes, there is so much for to Kodocha than you might think. Fifth graders don't always have it easy. Akito and Sana may seem like your average fifth graders, but they have much more going on behind the scenes that it appears, but it is when they finally meet that they find the real support they need as they try to overcome their past and present to gain a better future. This is a beautiful shoujo romance because it shows how hard life can be for even the youngest of people, but it can be overcome with the right person by your side.
---
6. Tonari no Kaibutsu-Kun (My Little Monster)

Episodes: 13
Aired: October 2012 - December 2012
Shizuku is known for being cold and unfeeling by her classmates which has earned her the nickname "Dry Ice." One day, she is asked to deliver some classwork to a classmate, Haru, who has refused to go to school for a few weeks. Haru decides that Shizuku is his friend, but he's been known to be violent and rash while Shizuku is just a studious bookworm. They both have not had real friends before, but now, can they survive their new budding friendly?
Tonari no Kaibutsu-Kun is a cute shoujo anime involving a colder than ice Shizuku who finds herself being stuck with a violent yet overall good guy, Haru. They seem like an unlikely pair, and even when it comes to confessions, they both suck at them, but they both need each other. This is a cute romance between two teenagers who are both surprisingly honest, but Shizuku is quick to call someone out while Haru is a little rash that he doesn't take other people into consideration! What trouble can they get into?
---
5. Kimi ni Todoke

Episodes: 25
Aired: October 2009 - March 2010
Kuronuma Sawako is just a misunderstood teenage girl, rumored to be able to see ghosts and malicious beings, but in truth, she's just a really shy girl whose resemblance to the girl from "The Ring" has led to countless misunderstandings. Sawako has always wanted to make friends, but has been unable to do so yet her one memory of helping her classmate Kazehaya Shouta, the most popular guy in class, has kept her hopeful. Since that time, they have not spoken, but what will happen now that he starts speaking with her? Will she be able to live the normal high school life she has always dreamed of?
As for as adorable shoujo animes go, Kimi ni Todoke takes the cake. Everyone thinks terrible of Sawako, but she's misunderstood and actually cares greatly for everyone and refuses to believe that anyone is bad. Although high school romance may not be the most innocent in today's society, Kimi ni Todoke shows you how innocent and pure a high school romance can be in this shoujo romance anime. Don't think there are no struggles along the way. You'll laugh, cry, and squeal with excitement as you watch Kimi ni Todoke.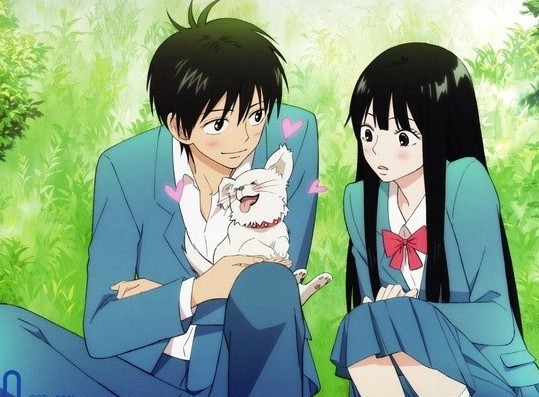 ---
4. Marmalade Boy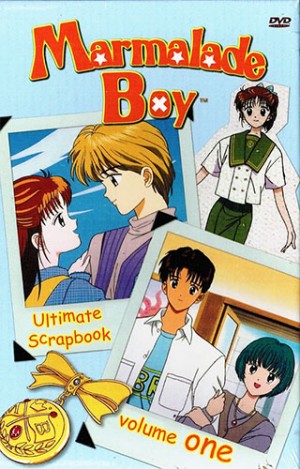 Episodes: 76
Aired: March 1994 - September 1995
Koishikawa Miki is your ordinary high school girl living an ordinary life until her parents suddenly decide to divorce. Not only do they divorce, they both switch partners with a newly divorced couple and move under the same roof. Miki's not happy with it, but soon, she finds herself falling for the son of the other couple. Matsuura Yuu.
Much like Hana Yori Dango, Marmalade Boy is one of those shoujo romance classics that you can't pass up. Marmalade Boy is about the romance between Miki and Yuu, but along the way there's love triangles, secrets, drama with friends, and a lot of insecurity. Miki and Yuu may struggle, but they do all that they can to conquer their mountains. Don't be fooled; the original premise is silly and strange, but it's the undertones and side stories in this anime that really drive Marmalade Boy to be a classic.
---
3. Sukitte Ii Na Yo (Say I Love You)

Episodes: 13
Aired: October 2012 - December 2012
Tachibana Mei is a girl who hasn't had friends or a boyfriend her entire life. She doesn't need them. So far, not making friends has worked out for Mei. Then she catches the eye of Kurosawa Yamato, a handsome, popular guy who says all girls look the same. For some reason, Yamato is interested in Mei; he even gave her his phone number! She wouldn't call; but she did when she really needed his help. Mei doesn't need saving, but maybe there's something about Yamato that will change her.
Sukitte Ii Na Yo plays off the same idea as Tonari no Kaibutsu-kun in that the main characters have no real desire to interact with others, but there is an added level of excitement as Mei discovers she may in fact need others and the person she needs the most, is Yamato. Yamato is the angel who saves Mei from her bitter life of solitude and may ultimately open her heart. It's an endearing story of love as it first blooms and how it can change you.
---
2. Ore Monogatari!!

Episodes: 24
Aired: April 2015 - September 2015
Gouda Takeo is a popular guy who is wanted for his large physique and musculature. Well, technically he's popular with other guys and clubs. His best friend and neighbor is Sunakawa Makoto, a guy whose popular with girls for his looks and personality. Every girl that Takeo has ever liked has fallen for Makoto. One day, Takeo saves Yamato Rinko from a groper on the train, and although he falls for her at first sight, he suspects that she likes Makoto. Sacrificing his feelings, Takeo takes it upon himself to get Makoto and Rinko together.
It sounds a little like School Days, doesn't it? Well, don't fooled because shoujo anime Isn't known for its tragedies. Ore Monogatari!! is an adorable shoujo romance anime that follows Takeo as he falls in love and learns what it really means to be a boyfriend. He may not seem like your usual shoujo protagonist, but he's very kind hearted and kind, despite his appearance. This is a love story that shows you that appearances aren't everything, and there's always someone out there for everyone.
---
1. Gokinjo Monogatari (Neighborhood Story)

Episodes: 50
Aired: September 1995 - September 1996
Yaza Gaku is a school dedicated to fashion design and one of its students, Kouda Mikako dreams of hitting it big with her own fashion brand. She lives next door to her childhood friend, Yamaguchi Tsutomu, who she has a platonic relationship with despite their many years together. Unfortunately, Tsutomu has been getting quite popular with the girls for his resemblance to the lead vocalist in a band. Mikako doesn't care for the band, but something is stirring inside of her.
Gokinjo Monogatari is the story of two childhood friends and their quest for love in high school, while also pursuing their dreams in fashion design. Relationships are complicated. There is more to a person than rumors say. What makes Gokinjo Monogatari an amazing love story is that it starts off with everything in the wrong direction and each individual must figure out what they must do to be with the one they love. There are many "what ifs" and "buts" that the characters ask themselves and their romantic stories become tangled.
Along with that, all of the characters in Gokinjo Monogatari are pursuing their dreams and must make a name for themselves outside of school. Life's difficult, but it's not impossible as these young teens will show you just how they balance school, passion for their work, and their romances.
---
Ao Haru Ride
When it comes to shoujo romance animes, it is easy to name the ones that are the most popular now, but this list gives a good mix of the old and the new. Shoujo romances can be deep with rich backgrounds and complicated love stories, so don't give up if that's what you're looking for. Hopefully this list gives you the happily ever after that you are looking for in a shoujo romance anime.
If there are any good shoujo romance anime out there that you recommend, please share so other readers can find some other great titles. What's your favorite love story?
---