While teachers in the United States are making lousy salaries and a large percentage of them don't last for five years, in the Land of the Rising Sun, however, the teaching profession is highly respected. If you watch any anime where teachers of any kinds are involved, they are always referred to as sensei.
This title applies not only to school teachers, but martial arts instructors, doctors, lawyers, and even manga artists! To have that title is considered a huge honor in Japanese culture. So in the world of manga, who are some of the best teachers we could ever ask for? Read our list to find out!
10. Yuu Tomonaga from Yasashii Sekai no Tsukurikata (A Method to Make the Gentle World)

Author: Kumiko
Genre: Drama, Romance, School, Shounen
Volumes: 6
Published Date: Jan 9, 2010 – Dec 27, 2014
Yuu Tomonaga is a 19-year-old researcher (who went to college in the US at 13) who is very passionate about his work. The bad news is that he is now out of funding. In order to continue his research, an instructor of his has assigned him a teaching position at an All Girls' High School. To make matters worse, he is replacing a teacher who was fired over sexual harassment allegations and his students are presently defensive around men. Thanks to his youth and genius, he earns the affections of two students, Haruka and Aoi.
They relate to each other in their own distinct ways, and the series does show how being a prodigy has its downsides and how it can affect development. While Yuu is not initially enthusiastic about the job, he comes to embrace it as he finds develops his relationships with his students, especially with Aoi, a girl who comes across as slow but hides her intellect that even disturbs her own mother. Due to Aoi's reluctance to demonstrate her true self, Yuu finds the motivation to stay on as a teacher even when he can get a better job.
---
9. Mitsuyoshi Anzai from Slam Dunk

Author: Takehiko Inoue
Genre: Comedy, Drama, School, Shounen, Sports
Volumes: 31
Published Date: Sept 18, 1990 – Jun 4, 1996
The real-life world of basketball has been filled with great coaches, most notably, Phil Jackson. In the world of Slam Dunk, Shohoku High School has Mitsuyoshi Anzai. Prior to being the Phil Jackson of manga, he was very comparable to controversial NCAA coach, Bob Knight. While he can get results, his methods were considered abusive and had a temper to the point a former player of his quit the team only to lose his life in an accident. After that, he became as jolly as Santa. Not only does he have the great qualities to teach the game of basketball, he has the motivational skills of Phil Jackson himself.
When he was attending a junior high game, a student had an accident and Anzai encouraged him to keep playing. He told him the moment you give up is the moment you lose the game and to never give up hope, and those words became one of the most inspirational words in manga as a whole to the Japanese (and there is even a self-help book based on them). Like Jackson, Anzai has to deal with bad boy players and he does have ways of keeping them under control and making them better players such as teaching Sakuragi to become a better shooter. By the end of the manga, it was thanks to Anzai's guidance that Sakuragi made the buzzer beater shot to beat Sannoh, one of the best team's in the nation.
---
8. Seijuro Hiko from Rurouni Kenshin: Meiji Kenkaku Romantan (Rurouni Kenshin: Meiji Swordsman Romantic Story)

Author: Nobuhiro Watsuki
Genre: Action, Drama, Historical, Shounen, Samurai
Volumes: 28
Published Date: April 12, 1994 – Sept 21, 1999
Kenshin Himura had to learn his bad ass Hiten Mitsurugi fighting style from someone, right? Well, in case you didn't know, that man would be Seijuro Hiko, the thirteenth man to assume that name. In contrast to Kenshin's small frame and feminine looks, Hiko is big and manly. He found Kenshin after his family was slaughtered and takes him under his wing. In fact, he gives Kenshin his name after hearing that Shinta, his real name, didn't sound like that of a swordsman.
He is rough and reclusive, but deep down inside, he cares about Kenshin who he affectionately refers to as an idiot. After Kenshin's sakabato was destroyed by Sojiro in their first encounter, Kenshin comes to Hiko for further training and even teaches him the ultimate technique of the Hiten Mitsurugi style, the Amakakeru Ryu no Hirameki. Due to his superior frame, his body can handle all the demands of the Hiten Mitsurugi style, which eventually takes a toll on Kenshin due to being small.
Not only was he a great teacher to Kenshin, he even showed he was a great teacher to an enemy, Fuji, by treating him not only as a fellow warrior but as a human being showing that teachers need to have compassion for all living things.
---
7. Korosensei from Ansatsu Kyoushitsu (Assassination Classroom)

Author: Yuusei Matsui
Genre: School, Comedy, Action, Shounen
Volumes: 21
Published Date: Jul 2, 2012 – Apr 25, 2016
Who could look more scholarly than a 9-foot octopus? We don't know, but Korosensei is certainly one of those teachers we ponder if we should or shouldn't have around our youth. And what's his endgame? To destroy the world! Taken into consideration that he grew up in a place where betrayal was the norm, who could blame him? As a result, he became a killer and found thrills in it. To make things worse, he was experimented on which explains his appearance and his numerous insane superpowers.
At the request of a dying friend, he became a teacher under the condition that he would not harm the students. Despite his twisted background, he managed to make strong relationships with his students and deeply cared about them. Whenever his students had a problem, he was never hesitant to be hands-on to solve whatever it is they had trouble with. While the students were aware of his goals, the fact that he was supportive was why they respected him.
---
6. Yuu Yazawa from Hammer Session!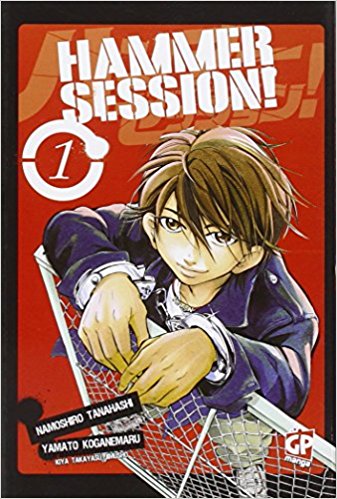 Author: Namoshiro Tanahashi (story & art), Yamato Koganemaru (story), Hiroyuki Yatsu (art)
Genre: Action, Ecchi, Comedy, Shounen, School
Volumes: 11
Published Date: Nov 15, 2006 – Dec 16, 2008
What if your teacher happened to be a criminal out on the run? If so, he could very well be Yuu Yazawa from Hammer Session, a master thief. After him and his partner escape police custody, they take refuge at a junior high school and the principal decides to hire Yuu as a new teacher with the expectations that he can use those skills to get some troubled students to straighten out. And what happens to Yuu's accomplice? He becomes the janitor. While he is a con artist at heart, he also has knowledge of the law, words, and psychological perception that allows him to connect with his assigned students and solve their problems.
A majority of how he solves their problems is by approaching it with reverse psychology. He knows that his students are plotting something bad and subliminally and bluntly encourages them to do it, witnesses them face the consequences so they understand what they were doing was wrong. While adults should discourage students from doing bad things, sometimes it's best that people make mistakes or make bad decisions so they can learn from them, and Yuu does a great job of turning his students around because of these methods.
---
5. Gouta Araki from Kamen Teacher

Author: Tooru Fujisawa
Genre: School, Seinen, Ecchi, Action, Comedy
Volumes: 4
Published Date: Aug 24, 2006 – Nov 1, 2007
Like many school-related mangas, Kyokuran High School has a severe delinquent problem and they try to use any means possible (both legal and illegal) to keep them under control. Teachers are also allowed to wear masks, which take influence from the Kamen Rider series. One of Kyokuran's newest teachers is Gouta Araki, who takes the name Hayato Juumonji, the name of Kamen Rider 2 from the inaugural Kamen Rider program.
While most teachers tend to resort to corporal punishment to put students in line, Araki as Kamen Teacher is willing to have a dialog with his students to understand their problems. Due to his students' mistrust of teachers, they don't take him seriously. While the premise of the story is rather ridiculous, Araki is another amazing teacher because he solves these crazy problems in a very realistic and logical manner and saves the school.
---
4. Koichi Kawato from Rookies

Author: Masanori Morita
Genre: School, Sports
Volumes: 24
Published Date: Feb 3, 1998 - Aug 25, 2003
Koichi from Rookies is a transfer teacher from a different school who is looking to find redemption after accidentally injuring a student at a previous school. At his new school, he is assigned to coach their once prestigious baseball team, but there are two major problems. First, he doesn't know anything about baseball (though he is an accomplished karate fighter and even won an all Tokyo tournament), and problem number two is that the baseball team is full of delinquents who are coming off a one-year suspension. While Koichi can't teach a player how to throw a ball or swing a bat, what he can do is support them in finding meaning with what they do, and how to dream.
Each member has their own qualities that contribute to the team and Koichi tries to find ways to make them grow. Despite his troubled past, he hasn't given up on being a teacher and he does everything possible to connect with his students and encourage them, which makes him a great teacher.
---
3. Kumiko Yamaguchi from Gokusen

Author: Kozueko Morimoto
Genre: Action, Comedy, Romance, School, Slice of Life, Josei
Volumes: 15
Published Date: Dec 15, 1999 – Feb 15, 2007
Some people believe you should achieve your dreams while you're still young, and that's what 23-year-old Kumiko Yamaguchi is doing before she inherits the Oedo yakuza clan from her maternal grandfather. So what is her dream? Her dream is to be a teacher like her father. At a young age, she is already the homeroom teacher to a bottom of the barrel class, class 2-D at an all boys' high school. With the exception of the administration, nobody is initially aware of her yakuza background. But because of her background, the principal feels that she can straighten up 2-D into shape.
While she is very enthusiastic about becoming a teacher, when push comes to shove, she is willing to use tough love on her students. Enrage her, she will frighten you with expressions that yakuza use. She does everything possible to connect with her students but when people see how strong she is, they give her the highest respect knowing that she cares about them.
---
2. Kenji Sakuragi from Dragon Zakura

Author: Norifusa Mita
Genre: Drama, School, Slice of Life, Seinen
Volume: 21
Published Date: 2003 – Jun 2007
Some of you are familiar with the story of the late Jaime Escalante, whose success as a math teacher became the inspiration for 1988's Stand and Deliver. Try to take that and put it in a Japanese setting and you get Kenji Sakuragi from Dragon Zakura. Kenji is originally a former biker turned lawyer who hasn't found any success in his career due to his troubled youth. He has the unfortunate job of delivering an eviction notice to a high school of underachievers due to being on the verge of bankruptcy. Instead of forcing the school out of business, he instead takes five students and creates a special class for them in order to get into Tokyo University, the equivalent to Japan's Harvard.
Initially, Sakuragi uses this as an opportunity for personal gain but at the same time, he is blunt with his ways. While his instruction method comes across as Spartan in an academic setting, he does encourage his students to stand up for what they believe in. He tells them if they don't like something they see, they should do something about it. While his initial goals may not have been the purest to get into education, he learned to value success when it's a team effort that goes beyond one individual, which is the root of a successful teacher.
---
1. Eikichi Onizuka from GTO (GTO: Great Teacher Onizuka)

Author: Tooru Fujisawa
Genre: Action, Comedy, Drama, Shounen, School, Ecchi
Volumes: 25
Published Date: Dec 11, 1996 – Jan 30, 2002
You will never find a teacher more unorthodox than Eikichi Onizuka. After encountering a teenage girl who was in a relationship with her teacher, he decides to become a teacher with the hopes of hooking up with a high school girl. Unfortunately, he ends up teaching junior high as opposed to senior high and is assigned the worst class at Seirin Academy, class 3-4, who has driven their previous homeroom teachers to quit or flat out disappear. What makes Onizuka unorthodox beyond his perverted motivations is that he is a high school dropout and that he was the worst delinquent in Shounan, a beach area south of Tokyo. Many of his peers look down on him and think he has no business in the classroom.
However, Onizuka manages to use his background to his advantage and uses a lot of reverse psychology to get through to his students. He's someone who makes his students eat their words and that does it to prove that their actions have consequences. He lets his students make mistakes seeing that they are the ultimate learning opportunity. In addition, to reverse psychology, Onizuka also plays the "I was young and reckless" card when he gives a one-to-one talk and that he is someone who has overcome adversity and enjoys where he is in life despite his obstacles. If he can overcome them, so can anyone, which is why readers love him as a teacher.
---
Final Thoughts
As seen on this list, many of these teachers come from all walks of life. They not only bring what is written in a textbook or what was taught before them but also enrich their students with meaningful experiences. Though these days we can learn many things from watching YouTube, Googling it, or reading from a book, it doesn't replace the value on what a teacher can give somebody.
Yes, people can make mistakes but an instructor can provide the support and necessary encouragement to learn from them and help us grow. Ultimately, teaching is about changing and impacting lives and that is what the characters on this list do best. Due to Japan's distinct relationship and value of education compared to numerous countries, telling stories about teachers through manga are creative ways of understanding the demands they must meet, and that they are still human but do a job that has everlasting meaning.
---