Teachers are the backbone of society in many ways, thanks to them we get an education. We get new scientists, artists, engineers, and politicians. Everyone has had a teacher in their lives, and while some of them are horrible, there is always that one perfect teacher that inspires us and makes us be better or at least want to be better. The ones who don't just teach us what is on the syllabus, but life lessons that can be used in more than our professional lives.
Of course, fictional teachers go to those extremes. We have either horrible monsters who in real life would never be allowed to be near a school for fear of what they could do, and the incredible people who may not be perfect teachers by the book, but will never leave their students behind.
And since we get so many new teachers with each new season, it's about time we update our old list of the top 10 Ideal Sensei/Teachers in anime. Please, pay attention as there will be questions at the end.
10. Aikuro Mikisugi from Kill la Kill

Episodes: 24
Aired: October 2013 – March 2014
The Honnouji Academy has a very strange system: The Student Council has absolute power and the higher a student is in the class standings thanks to their extra curricular activities, the more power they have both in the school and in the city that surrounds it. Because of this, it isn't easy to teach there. That's why we can't fault Aikuro Mikisugi from looking like the most useless and bored homeroom teacher in the world. His lectures are so long and boring that it's a miracle there are students awake at the end. But there's a lot more to him than meets the eye.
Aikuro is the leader of Nudist Beach, a terrorist organization devoted to the destruction of the Kiryuin Family who happen to control Honnouji Academy. He's there to infiltrate the Kiryuin's organization and make sure they can figure out their plans for world domination using Life Fibers and to guide and protect Ryuko Muto, the user of the last Kamui–living uniform-created by her father. While Ryuko never appreciates the way Aikuru gives her his advice, mostly because he does so while naked, she can't deny that he's part of the reason she is still alive.
---
9. Yukio Okumura from Ao no Exorcist (Blue Exorcist)

Episodes: 25
Aired: April, 2011 – October, 2011
Since he was a child, Yukio Okumura showed he was smart and talented. That was one of the reasons why his adoptive father, Shiro Fujimura, allowed him to become an exorcist at a very young age. This led Yukio to study hard and end up not only as a great exorcist on his own right, but also a teacher for younger students. And when his brother Rin finally enrolls in the school because he wants to avenge their father, Yukio becomes his homeroom teacher, much to Rin's utter surprise. As one of the youngest Exorcists to date, Yukio doesn't have enough experience dealing with students, but that doesn't mean he's not good for the job.
Young teachers always have problems at first. The closer they are to their students' age, the harder it is to make everyone respect them. Yukio has it a bit harder because Rin is not just his twin brother; he's technically older so there's not much respect for Yukio there in the first place. Now, Yukio is not a perfect teacher; he still carries a lot of guilt and resentment against Rin for what happened to their father and their upbringing, but even so, he's dedicated to teaching both Rin and his classmates how to make the best use of their abilities to fight for good.
---
8. Fujiwara no Sai from Hikaru no Go

Episodes: 75
Aired: October 2001 – March 2003
Fujiwara no Sai was one of the Emperor's Go Teachers back in the Heinan era. Although he was part of a noble family, he was quite patient and loved the game completely. Unfortunately, this made him the target of jealousy and one of his rivals framed him for cheating. This was so devastating that Sai killed himself, unable to continue playing his beloved game. However, the Gods of Go seemingly had mercy on him and allowed his spirit to live on in an ancient Go board, waiting for the right person to see him and let him continue playing and teaching the game. His first student was the real-life Go legend Hon'ibo Shusaku, and the second was Hikaru Shindo.
It's in Hikaru where we can see what an amazing teacher Sai really is. At the beginning of the series, Hikaru has absolutely no interest in Go or having good grades, and in fact, was just looking for something to sell when he found the Go board where Sai's spirit was anchored. But through Sai–and, let's be honest, Akira Toya's-enthusiasm for the game, Hikaru started to play himself, and Sai, despite knowing this would make it harder for him to play again, decided to teach Hikaru everything he knew. By the end of the series, Hikaru is a great player who could one day become the best in the world, and a more mature young man thanks Sai for everything he taught him.
---
7. Ursula Callistis from Little Witch Academia

Episodes: 25
Aired: January 2017 – June 2017
At first glance, Ursula Callistis is not better or worse than the other teachers at the Lunar Nova School of Magic. As the youngest teacher in the faculty–being 20 while others are pushing 200-she usually gets the jobs no one wants as the other teachers use their age as an excuse. She teaches Astronomy and Astrology and is quite protective of Akko, a young girl who unlike most Lunar Nova students has no magical heritage in her family. Unknown to the students, Ursula has quite a few skeletons in her closet, which explains why she is so determined to help Akko despite her difficulties using magic. The dedication Ursula has for Akko is born of a bit of guilt, but also of her desire to help everyone reach their goals.
Ursula is a very interesting kind of teacher because even when she is dedicated to helping a new generation of witches and truly enjoys teaching, she is also using the school to hide from the mistakes of her past. At times, she seems to be quite clumsy, but it comes off as a show to those paying attention because she's only clumsy when people are watching. In a surprising twist, the story in Little Witch Academia is about Ursula's secrets as much as it is about Akko and the other students learning about magic. This makes the whole series more enjoyable to viewers, and Ursula a teacher that is quite different from the rest.
---
6. Kakashi Hatake from Naruto

Episodes: 220
Aired: October 2002 – February 2007
There are teachers that become famous among their students for their leniency. The teachers who will take it easy during the final weeks and try to get even the slower student to earn a passing grade; the teachers every student loves. On the other hand, there are the teachers who are legendary for being strict and not letting anyone with less than a perfect score pass their class. Kakashi Hatake is one of the latter group, as, before Sasuke Uchida, Sakura Haruno, and Naruto Uzumaki became Team 7 under his guidance, he had failed every single applicant that had come to train with him.
Kakashi is also a great example of a teacher who never leaves their students floundering. Even after the time skip between Naruto and Naruto Shippuden, when he was more of a companion than a teacher, he was always ready to give advice to Naruto and Sakura, and never lost hope that Sasuke would return to the team. Even after Naruto found himself a different teacher because Kakashi couldn't teach him what he needed, he was still there for the young ninja during the hardest battles, ready to fight next to his student and lead him when needed.
---
5. Elias Ainsworth from Mahoutsukai no Yome (The Ancient Magus Bride)

Episodes: 24
Aired: October 2017 – March 2018
Teachers usually are the ones who form a student's sense of morality, right and wrong. However, Elias Ainsworth is completely unprepared for that part of the job, as he is a supernatural creature who doesn't understand human emotions, much less why he should protect people he doesn't quite care about. He got engaged to a human, whom he took as his student, not out of love, but out of curiosity; he decided to teach her magic just to see what would happen. He is a very talented magician, and as such, he is very qualified to teach Chise and help her come into her own power, but at the same time, he is open-minded enough to let her teach him about human feelings.
That is what makes Elias a good teacher despite his shortcomings: he is not arrogant enough to think he doesn't have anything to learn. While at times he does things without telling Chise and that hurts their relationship, he tries to understand why those actions anger Chise. Not only that, he tries to stop himself from repeating them. So he's both a teacher and a student, which makes him memorable.
---
4. Izumi Curtis from Fullmetal Alchemist Brotherhood

Episodes: 64
Aired: April 2009- July 2010
When strict teachers are good, they are remembered either with respect when the student realizes how much they learned, or with pure, unadulterated fear. In the case of Izumi Curtis, she manages to inspire both feelings in her former students, Ed and Al Elric, for good reason. She's not just strict, her training seems to teeter the edge between life and death. She fights them, abandons them on desert islands, and makes sure they know that even if they can do Alchemy, it doesn't mean they should use it for everything that can be handled normally. More importantly, she always reminds them that she's not an alchemist or a teacher; she's a housewife.
She's also one of the very few people her students truly fear. Ed and Al have faced untold dangers: Ed has seen the Truth and Al's armor body renders him practically indestructible, and yet, the mere idea of visiting Izumi fills them both with dread. What makes this more important, and makes Izumi one of the best teachers one can find in anime, is that they aren't afraid just of her strength but because they know they have disappointed her by joining the State Alchemists. They can handle her punches and her physical punishment, but they are defenseless against her anger.
---
3. Shinigami-sama from Soul Eater

Episodes: 51
Aired: April 2008 – March 2009
The Death Weapon Meister Academy is one of the strangest schools you will ever see because that's where "Death Scythes"– human hybrids who can transform into demon weapons-go to study and become stronger together with their meisters, the shinigami who use them in battle. With that kind of curriculum, one can expect the faculty to be legendary; and there's none more impressive than the head of the school, Shinigami-sama, better known as Lord Death. If you think your principal is scary, just picture having the Grim Reaper himself as your teacher's boss and school founder.
At first glance, Lord Death seems like the worst possible person to be in charge of anyone's education: he is rarely serious and most of the time seems to be living in his own reality. This is actually evidence of how good he is at teaching since the reason he acts that way is because he's aware that as Death, children normally fear him. So in order to teach them effectively, he changed both his looks and his personality to make them feel more comfortable, even if at times he ends up being disrespected by every student, including his son.
---
2. Shouta "Eraserhead" Aizawa from Boku no Hero Academia (My Hero Academia)

Episodes: 13
Aired: April 2016 – June 2016
When training the next generation of heroes, it is important to have both field experience and teaching experience. Shouta Aizawa, also known as the hero Eraserhead, has both and it shows; even when the first time the students meet their homeroom teacher he is in his sleeping bag and seems absolutely uninterested in giving the kids a class. But once he gets serious, we can see why he is a great teacher: As he can erase other people quirks, he understands that every future hero should be trained to be able to fight without powers. He is also very blunt and never sugarcoats things for his class because he knows being a hero is not an easy job and one has to be ready for disaster at all times.
He's one of the less flashy heroes in the faculty and has a reputation for flunking anyone who doesn't show any potential to be a good hero. This is not because he thinks all heroes should be perfect, but because he knows that people with no potential are the ones in most danger out in the real world. Unlike other teachers on this list, he doesn't like when his students break the rules even for a good cause: when they disobey older heroes, Aizawa is quick to tell them that he doesn't trust them anymore and he is not afraid of punishing them as needed, all in order to teach them to be better.
---
1. Koro-sensei from Ansatsu Kyoushitsu (Assassination Classroom)

Episodes: 22
Aired: January 2015 - June 2015
As the population in the world increases, so does a teacher's workload. Bigger classrooms mean more students and less time to devote to each one individually and so, some students fall behind. When this happens at Kunugigaoka Junior High School, said students are sent to Class E and other students are told to bully and ignore them in order to make them an example and push everyone else to do their best. And while this may help those in Classes A to D, it's quite unfair to Class E. Enter Koro-sensei, a strange octopus-like alien who destroyed 70% of the moon and then made a deal with the Earth government: they have one year to kill him or he will destroy the Earth and they can try to do so as long as Koro-sensei can teach Class 3-E during that year.
Despite being an alien killer, and having his students try to kill him every day, Koro-sensei is devoted to his work as a teacher. Thanks to his abilities, he can focus on each student individually, and tries to modify his methods to help each of them in the areas they need him instead of just following the subject guides blindly. The students take some time to realize this but it soon is obvious to them that he will do whatever it takes to protect them and to help them realize their dreams.
---
Final Thoughts
Teachers help build a future generation, so the better teachers we have, the better future we can imagine. So we love our fictional teachers because we can see how great they can be.
So please let us know in the comments below, who is your favorite teacher in anime? Did we include them on the list? Or did we miss them? If so, please tell us who they are and what made you love their teaching methods.
---
---
Whether reveling in a comedy show or enjoying an action series, we have all probably had that "aha" moment when watching anime. Even in anime, we can find teachers and lessons in unexpected places. Learning is not always confined to the classroom, and some of the best teachers or sensei-like figures are in anime outside of the school life genre. The following is a list of the top ten sensei/teachers we can find in anime. Though not all of them are schoolteachers per-say, we can still learn form them nonetheless.
10. Nino from Arakawa Under the Bridge

Episodes: 13
Aired: April 2010 - Jun 2010
Nino, a self-proclaimed Venusian, appears to not be a part of the education system much less a teacher despite her school uniform-like sweatshirt. Yet, there is much more to meet the eye in terms of who is a teacher and who is not. This is particularly true for Nino as she educates her boyfriend Kou Ichinomiya, also known as Recruit, of the ways under the bridge.
While Recruit acts as teacher for the village's children on the banks of the Arakawa River, Nino is the one who really teaches him how to slow down life and appreciate the weirder things in life. As a self-proclaimed Venusian, she has an almost out of this world perspective on everyday life that can give us a refreshing take even on the mundane elements of everyday life. Though a bit on the odd side, her offbeat outlook and lack of formal sensei-like predilections makes her appealing and mind changing to the audience.
---
9. Daigorō from 30-Sai no Hoken Taiiku (Health and Physical Education for 30-year-olds)

Episodes: 12
Aired: April 2011 - Jun 2011
The "birds and the bees" talk is generally acknowledged to be among the most awkward of lessons to be taught. Moreover, when this talk occurs, we more often than not receive information impractical for the real down and dirty. Unfortunately, we did not have Daigorō, the God of Sexual Love, to guide us in they ways of love.
Yet, we can watch Daigorō guide Hayao Imagawa, a 30-year-old virgin, in the anime 30-Sai no Hoken Taiiku. His utter practicality in romance and sensuality and wingman-ship makes Daigorō an ideal teacher for life outside of school.
---
8. Izumi Sakurai from Nichijou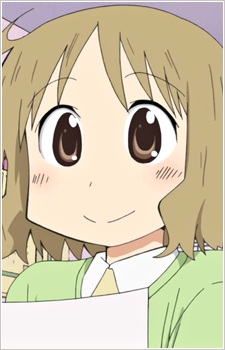 Episodes: 26
Aired: April 2011 - September 2011
Moving to an academic setting, we have Izumi Sakurai-sensei. Though still young, rather easily flustered, and not the most confident sensei, Sakurai-sensei truly means well for her students, even if it means encouraging them to draw ikemen.
She perhaps is an ideal sensei due to her "ganbare" (try hard) nature that is both amusing and encouraging for her students. Along with her idealism of the perfect sense, Sakurai-sensei is definitely a sensei to watch out for, even if it is just for the laughs.
---
7. Obaba Tamura from Ping Pong: The Animation

Episodes: 11
Aired: April 2014 - June 2014
The realm of sports also has its fare share of great sensei-like figures, perhaps one of the best being Obaba from Ping Pong: The Animation. Looking like your typical grandmother, Obaba knows her way around a ping-pong paddle. Owner of the local ping-pong dojo and a former competitive ping-pong player, she also acts as a mentor for the budding Peco as he enters the competitive and professional scene.
As a teacher, she is both tough and wise, offering support during Peco's times of need and severity when Peco's preparing for success. This balance and adaptiveness to her student elevates her status to the ideal sensei.
---
6. Ittetsu Takeda from Haikyuu

Episodes: 25
Aired: April 2014 - September 2014
High School volleyball club. Though he lacks experience and knowledge of volleyball, he actively endeavors to learn more about the sport, taking notes whenever he can.
Additionally, he is extremely supportive of all the volleyball club students and truly has the best intentions in mind. Even if he is not the best advisor when it comes to the nits and what more can we ask of a sensei who actually cares about his students?
---
5. Junichirou Kagami from Denpa Kyoushi

Episodes: 24
Aired: April 2015 - Ongoing
Returning once more to the classroom setting, we have Junichirou Kagami from Denpa Kyoushi. A certified genius in his own right, he is also an anime and manga otaku and formally a NEET (not in Education, Employment, and Training). At the insistence of his sister, Kagami becomes a sensei and begins changing lives.
Even though he is a genius, that does not mean he is distant and uncaring toward his students. Rather, his otaku, genius past allows him to help and evaluate his students in ways most teachers never could. In this way, we can see the power of otaku and how it creates an ideal teacher.
---
4. Nozomu Itoshiki from Sayonara Zetsubo Sensei

Episodes: 12
Aired: July 2007 - September 2007
On a slightly downbeat note, we have Nozomu Itoshiki, the pessimistic and quasi-suicidal sensei in Sayonara Zetsubo Sensei. Seeing everything in a negative light, Nozomu-sensei at first glance does not appear to be the ideal sensei. From failed suicidal attempt to failed suicidal attempt, this teacher acts more like a bad influence on impressionable teenagers than a glowing paragon of education.
However, oddly enough, Nozomu-sensei's despairing antics bring to light the contradictions and struggles that riddle everyday life. Through his eyes of pessimism, he teaches his students to look at the world with a more critical eye, though such criticism breeds despair.
---
3. Jiraiya from Naruto

Episodes: 220
Aired: October 2002 - February 2007
We now turn to among the most famous mentors of contemporary anime history: Jiraiya. For those well entrenched in the world of Naruto, it perhaps goes without saying why he made it to this list.
For those not as familiar with Jiraiya, here is a small lowdown on his ideal sensei qualities. Despite his perverseness, his ability to mentor Naruto, not the easiest student to educate, and guide him to maturity alone elevates him to the level of ideal. This, combined with his comedic persona and bravery, we have a great mentor.
---
2. Kumatetsu from Bakemono no Ko

Episodes: 1
Aired: June 2015
Listing a character from an anime film that has not left the shores of Japan is perhaps a bit cheating. Hopefully, listing Kumatetsu amps you up for the greatness that will soon enter the anime scene outside of Japan. Also keeping in mind many have not yet seen this film, I will also try to avoid spoilers.
Kumatetsu does not fit the typical ideal sensei image. Messy and slap-dash, his teaching ability seems to hold little promise. However, Kumatetsu proves that mentors grow along side their students and that teaching goes both ways. His transformation as a mentor and the true feeling he has for his student Kyuuta more than proves his worthiness as an ideal sensei.
---
1. Eikichi Onizuka from Great Teacher Onizuka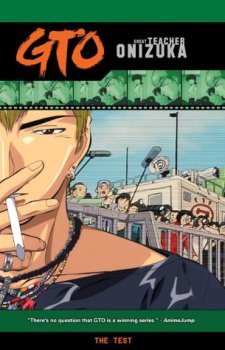 Episodes: 43
Aired: June 1999 - September 2000
We return finally to the classroom, this time for a sensei least expected to be found in school. A former bike gang leader, Onizuka takes his street smarts to education using unconventional methods to both help and discipline his students.
While he did not enter education with the best intentions in mind, Onizuka transforms into a teacher who is passionate about the welfare of his students. His growth as a teacher and subsequent zest for teaching is immense. Going from a delinquent to an unexpected role model, Onizuka differentiates himself as a head of the rest though his support and protection of his students.
---
Hopefully this list has helped guide you to the top ten teachers of anime. If you feel like this list is lacking or have any questions, comments, concerns, or complaints feel free to leave a comment below!
---