2018 has already been a great year for games and following all the titles that released in 2017, it has to be. Every month, gamers get ready to see what new titles are going to be launching and trying to finish the games they have already started to get ready for the next title to conquer. April 2018 promises not to disappoint anxious gamers waiting to see what is coming next.
With a little bit of something for all kinds of gamers, April 2018 promises to be a diverse month for video game releases! So without further ado, onwards to the Most Anticipated Games of April 2018.
10. Shoppe Keep 2

System: Microsoft Windows
Publisher: Excalibur Games
Developer: Strange Fire
Release Dates: Apr. 27th, 2018
Shoppe Keep 2 is the sequel to the original game Shoppe Keep. Again, it allows you to oversee your own economy of stores. You have to decide what to sell, gather the required materials, fight monsters, and more to expand your empire. And we aren't talking about in a modern-day shopping mall or something; Shoppe Keep 2 is much more interesting. If you hadn't already guessed from the spelling of "shoppe," it's set in medieval times! So the wares that you're hocking and the materials you're gathering and the customers you are aiming at all reflect that time period.
For gamers that like micromanaging and empire-building, Shoppe Keep 2 is a new challenge. It's also great for fans of medieval times that are just looking for something fun to kill time with. How serious you want to take it is up to you, and that flexibility is appealing to a lot of busy gamers. You can also choose to play the game online in multiplayer mode or single player, adding another great option so many kinds of gamers can enjoy Shoppe Keep 2. And of course, the people most excited for the release are fans of the first game; never fear, Shoppe Keep 2 returns with a promise of being bigger and better than ever!
---
9. The Swords of Ditto

System: PlayStation 4, Microsoft Windows
Publisher: Devolver Digital
Developer: One Bit Beyond
Release Dates: Apr. 24th, 2018
The Swords of Ditto is a fantasy RPG game where you play as an original hero fighting against Mormo, the evil antagonist. The game is meant to be played again and again as each adventure is compact and unique, and will affect the heroes that come with it. Some elements of The Swords of Ditto are traditional for a fantasy RPG, like wielding a sword and shield or bow. But others are more fantastic; it's fun to fight with a frisbee or a magic golf club, too! However you choose to battle Mormo, it will keep affecting your next adventures in unique ways that you'll have to play to discover!
The Sword of Ditto's unique approach to playing the compact story over and over is definitely an intriguing one that has people curious to try it. It also features flexibility for players to choose if they want to play single player or multiplayer in co-op mode with friends to fight Mormo. That gives the Sword of Ditto appeal to a wider range of different gamers depending on what they prefer and also gives players an even more of a choice for how they finish each adventure. With all of the elements of an RPG neatly tucked into this game with high replay value, everyone is waiting to see how the Sword of Ditto goes down.
---
8. Rick and Morty: Virtual Rick-ality

System: PlayStation 4, Microsoft Windows, Oculus Rift
Publisher: Adult Swim, Adult Swim Games
Developer: Owlchemy Labs
Release Dates: Apr. 10th, 2018 (PS4)
Rick and Morty: Virtual Rick-ality is based on the popular TV programme Rick and Morty. Virtual Rick-ality begins when Rick creates a clone of Morty in the garage to do the laundry, and when the task is complete, he shoots it and sends the clone to Purgatory. Clone Morty is given the chance to return to the garage and complete other tasks, however, which he gladly takes the chance to do. That's when things start to get really crazy. Clone Morty goes from finding seeds with mysterious powers in toilets to fighting off alien nations in outer space, and the rest of the story keeps rolling on from there.
With the popularity of Rick and Morty on television, it's no surprise that people are excited about the release of Virtual Rick-ality. The game previously released on the Oculus Rift and HTC Vive, but will be reaching a wider audience now that it's coming to PlayStation 4 and PlayStation VR this April. You get to step into the shoes of the Morty Clone in a VR environment, plunging fans as much into the show as is currently possible by the limits of technology. There's nothing bigger Rick and Morty fan could ask for! Plus the game already received favourable reviews at its initial release, so it's safe to say it's not a waste of time and money.
---
7. Metal Max Xeno

System: PlayStation 4, PlayStation Vita
Publisher: Kadokawa Games
Developer: Kadokawa Games, Cattle Call, 24Frame
Release Dates: Apr. 19th, 2018
Metal Max Xeno is the sixth game in the Metal Max series, but the first to be on a PlayStation 4 console instead of a handheld. It is set in a post-apocalyptic setting. Metal Max Xeno includes all new character named Misaki, who might look like a woman but is actually a man, and a talented medic. He is really intelligent and an incredible scientist and excels at healing his team and keeping them alive. Alongside Misaki is a large cast of characters that fight and hunt through this dystopian setting alongside tanks, huge guns, and intimidating aircraft.
Metal Max Xeno is only being released in Japan in April, but the hype is already big in the West because is only the second game in the entire series to get a Western release—despite the series is about 27 years old now! Metal Max Xeno is set to be localised for North America and Europe, giving English-speaking gamers a chance to experience a game series usually only available on the Japanese market. That means an all-new series, characters, and story for the Western market of JRPG fans to enjoy! The anticipation is warranted for sure.
---
6. Pillars of Eternity II: Deadfire

System: Microsoft Windows, Linux, Mac OS, Linux
Publisher: Obsidian Entertainment, Versus Evil
Developer: Obsidian Entertainment
Release Dates: Apr. 4th, 2018
Pillars of Eternity II: Deadfire is the sequel to the crowd-funded and massively successful PC game Pillars of Eternity. In this sequel, you return to the open world of Eora where you play as the Watcher of Caed Nua on a quest to either aid or stop the destructive god Eothas. You travel along with your companions by ship across a chain of islands called the Deadfire, exploring new lands, engaging with pirates, and fighting through encounters as you make your journey. On top of being able to explore all of these islands freely, you can also engage in ship versus ship combat to add another exciting element to the gameplay. The fate of Eora is in your hands once again!
Pillars of Eternity was critically acclaimed and loved by a lot of people, so of course, everyone is excited about its sequel! Along with keeping the features that many people loved about the first title, Deadfire introduces some new things as well. Most significantly, this includes a companion relationship system. That means you can change your relationship with your companions, and their relationships with one another will also change based on their experiences! Fans of PC games and open world games with a lot of freedom to explore and upgrade your character and ship will hopefully love Pillars of Eternity II: Deadfire. Hopefully, it can live up to its predecessor's success!
---
5. A Total War Saga: Thrones of Britannia

System: Microsoft Windows
Publisher: Sega
Developer: Creative Assembly
Release Dates: Apr. 19th, 2018
A Total War Saga: Thrones of Britannia is a massive empire-building campaign game. It's set in a very specific time in the history of Britannia, when the Viking settlers, Gaelic clans, and Anglo-Saxons were all competing for the same territory. You can choose which of these hopeful empires you will support and play as, building your kingdom and engaging in large-scale battles. These battles are real-time but with a turn-based campaign system, and they're absolutely massive! A Total War Saga: Thrones of Britannia promises not only a strategy game but an action game as well, finding a balance between both genres of gameplay to deliver an exciting experience.
A Total War Saga: Thrones of Britannia seems to have beautiful cutscenes and complete immersion into the time period. It's a game with huge promises of hundreds if not thousands of hours of potential gameplay as you play through the different campaigns. Being able to choose which empire to play as gives you multiple options for replaying the game as well, really giving you your money's worth. PC-only strategy games like this sometimes don't get as much attention as huge console games, but that doesn't make them any less significant in the gaming community. Lots of history and strategy game fans are awaiting the release of A Total War Saga: Thrones of Britannia in April!
---
4. Extinction

System: Microsoft Windows, PlayStation 4, Xbox One
Publisher: Maximum Games
Developer: Iron Galaxy
Release Dates: Apr. 10th, 2018
Extinction is set in a world where humans have been fighting one another for generations, all the while unaware that a much stronger enemy existed just beyond their borders—ogres, 150 feet tall and determined to destroy humanity. Few humans are equipped to fight back against something that powerful. You play as Avil, one of the world's last warriors and defenders from the ogres. Humanity's fate lies in your hands and in your ability to destroy these giant monsters. If you are successful, you can save humanity. But if you fail, humans face the reality of total extinction.
Extinction is an all-new action and adventure video game that is unrelated to a previous series. It's something original and unique, and from the combat footage that has been realised, it looks really cool! The combat seems to be fast-paced and exciting as you face off against huge monsters in this fictional world, fighting back with fantasy-style weapons like an awesome whip. The game also looks incredibly challenging as you fight these impossible bosses while trying to save civilians at the same time. It also has added the free-running element that has been popular lately with the ability to use the environment to your advantage and making gravity and physics a thing of the past. Extinction could be awesome or awful with how little is known about it, but gamers everywhere are hoping for the former.
---
3. Nintendo Labo

System: Nintendo Switch
Publisher: Nintendo
Developer: Nintendo
Release Dates: Apr. 20th, 2018
Nintendo Labo is a whole new way to play video games. Rather than just a new software title, it combines software with hardware to create a unique extension for the Nintendo Switch. Labo will come in various pre-cut kits that include cardboard pieces to be assembled into different objects, called Toy-Cons. They also come with a special software disk that includes instructions on it for how to assemble each Toy-Con. When built, the Toy-Con interacts with the Nintendo Switch display and/or the Joy-Con controllers to do different things. For example, one is a piano that can sense when the keys are being touched to make the appropriate notes, and others are robots that move with the Joy-Con vibration function.
Nintendo Labo is an entirely new concept of blending video game software on the screen with the real world. It is very different from the rest of our anticipated games on this list for April release. Meant to teach basic ideas of physics and construction, Nintendo Labo introduces a new way to play and customise your gaming experience. While many people feel that Labo will appeal mostly to children, it has another element that creative and experimental adults might like as well.
It includes a system in which you can use basic programming commands to change what Toy-Cons can do, and you can add whatever you want to outside the kits to be creative. No one knows exactly how Labo is going to go over, but Nintendo fans are unlikely to have any other Switch hardware updates any time soon, so everyone is waiting to see how Labo is!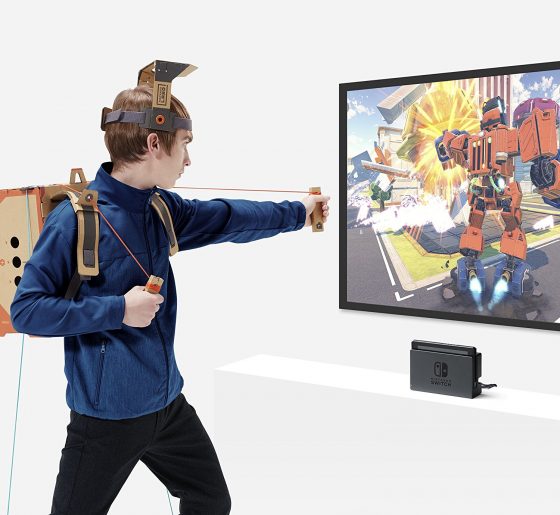 ---
2. Yakuza 6: The Song of Life

System: PlayStation 4
Publisher: Sega
Developer: Sega
Release Dates: Apr. 17th, 2018 (WW)
Yakuza 6: The Song of Life is the 7th instalment in the popular Yakuza game series. Kazuma Kiryu returns as the main hero, and the game begins with him being nearly arrested by the police for the crimes of his past while he is recovering from the injuries he sustained in the previous game. He decides to accept the arrest and spends three years in prison, hoping afterward to spend his days with the children he fostered. But when he finally gets out of prison, he learns that his daughter Haruka has gone missing. He later learns she is actually in a coma from a hit-and-run incident, and may not recover. Taking her newborn son with him, Kiryu travels to Hiroshima to find out what happened to his daughter.
Yakuza titles are always highly anticipated by their loyal fans, partly because they release in Japan so much before the West. Yakuza 6 is no different; it came out in Japan back in 2016, and was reviewed as being incredible! Then after waiting over a year for a planned March release in English, the game was delayed again to April. That means that fans have been waiting not so patiently for Yakuza 6 for quite some time now, and now that it's on the cusp of finally releasing, as well. Of course, everyone is excited! Soon we will know the next chapter in the story of Kazuma Kiryu's life... as long as the launch isn't delayed again!
---
1. God of War

System: PlayStation 4
Publisher: Sony Interactive Entertainment
Developer: SIE Santa Monica Studio
Release Dates: Apr. 20th, 2018
God of War (commonly referred to as God of War IV or God of War PS4) is the direct sequel to 2010's God of War III. It takes the long-running story in a whole new direction. Rather than continuing to focus on Greek mythology, this new God of War turns instead to Norse mythology. Not only do you play as the returning character Kratos, you know also play his son Atreus. Kratos has to not only be a warrior, but also a father and mentor to his growing son. That means finally mastering the rage that he has always allowed to drive and control him. Because the Norse gods know that Kratos destroyed Olympus, they are also taking extra precautions against him and his son. Both have to find their place in this new world and learn what it means to be who they are.
The series has always been a hit and has many fans excited for every release. With a shift towards Norse mythology, it gives a series that already has seven games a fresh start. That means you can expect all new monsters, enemies, and environments to explore that will be different from any of the previous games. With the addition of Atreus, we also get to see a new side to Kratos has a father—not to mention a new element of gameplay! With eight years having passed since the last release of a God of War game, it goes without saying that fans of the series are more than a little bit excited about this all-new story.
---
Final Thoughts
April 2018 is bringing new titles to old series, as well as original stories. Some of the series haven't had a new game in them for ages, which makes them even more anticipated by loyal fans as well as curious newcomers. And of course, original games are always welcome to bring something fresh to the gaming industry! So whether you're here for strategy, action, role-playing or more, April 2018 is here to deliver a new game for you. The only hard part is deciding where to start!
Which of these games are you anticipating the most? Do you think they're going to go over well? Are you planning to buy any at launch, or are you going to wait for the reviews to come out? Have you been waiting for any of these for a long time? Let us know in the comments below!
---