With March just only weeks away, it sparks the beginning of when killer app games start to come out of the woodworks. So what are some games in March to look forward to (unless anything changes)? Read our list to find out!
10. Sea of Thieves

System: Xbox One, PC
Publisher: Microsoft
Developer: Rare
Release Dates: March 20, 2018 (US)
Ever since their N64 days, Rare is best known for their innovative titles from GoldenEye to Banjo and Kazooie. Sea of Thieves takes us into a world of pirates as we can loot and plunder, but that is not going to be easy. As pirates, players will need to learn the ins and outs of navigating the seas such as steering the ship, positioning sails, and various other jobs that are necessary to operate.
With its multiplayer feature, anyone in a crew can assume a position and become an online legend in this game. Since this game is exclusive to Xbox One and Windows, it allows cross-platform playing. So be prepared to be the next Captain Hook or re-enact your grandparents' favorite scenes from a classic swashbuckling Errol Flynn film. This is a must-have for people who truly love online multiplayer and is a fan of pirates.
---
9. A Way Out

System: PlayStation 4, Xbox One, PC
Publisher: EA
Developer: Hazelight
Release Dates: March 23, 2018 (US)
Some of you may have seen Prison Break, the hit Fox series from the 2000's. So what if you could make that into a game? You are going to get that with A Way Out, where you and another player take the roles of Leo and Vincent as you plot your escape, execute the plan, and hide from the authorities. The game emphasizes on split screen multiplayer either local or online in order to fully experience. The relationship between Leo and Vincent can get very intense so players have to do what they can to make sure that their escape plan goes off without a hitch.
Another unique feature is that while one character is having a cutscene, another character can be controlled to do something else. Sometimes in order to do a task, one must make a distraction while another gets the job done. So anything can happen and can be the most innovative 2-player game of this generation. So if any of you readers have an upcoming sentencing hearing, maybe this game can help you formulate your escape.
---
8. Steins;Gate Elite

System: PlayStation 4, Switch, PS Vita
Publisher: 5pb
Developer: 5pb
Release Dates: March 15, 2018 (Japan)
While this game is a Japanese exclusive, the fact that it's also on the PS4 should allow international fans to import it without any modifications to their consoles. This edition of Steins;Gate is not only an upgrade to the original game, but Chiyomaru Shikura, the game's creator, says he is making it the way he always intended, to be a fully animated visual novel game.
Thanks to using footage of the anime series, it can finally realize that vision along with some new animated footage to introduce some new scenarios. It will still follow the same plot as the original game and maintain the dialogue. Famitsu says despite being a remake, its upgrade feels fresh and truly feels like you're controlling an anime. So for those who loved the original game or anime, feel free to import a copy if you feel confident in your Japanese language abilities.
---
7. Valkyria Chronicles 4

System: PlayStation 4, Xbox One, Switch
Publisher: Sega
Developer: Sega
Release Dates: March 21, 2018 (Japan)
In addition to Yakuza 6 (SPOILER: It's on this list), another post-Dreamcast era Sega franchise that is getting a new installment in March is Valkyria Chronicles. However, this March release is in conjunction with the Japanese one. So if you have a PS4, American games that either want to play it with or without Japanese comprehension can get it. While previous installments always had a unique artistic expression, one of the main objectives of this game is to further deepen that quality by taking influence from late-19th century/early-20th century watercolor paintings, which feels like the beginning of World War I. From the looks of the trailers, that characteristic is expressed very well in representing its serene setting that is now being ravaged by war.
Just like previous installments, it is a strategy/RPG game where you are fighting for liberation. You can command your army in strategy mode, and use a character of your choosing when fighting on the battlefield. You can use a tank or fight on the ground with only your firearm. You can also use cannons and other long-distance weaponry to win. One new feature or class of soldier that is going to be introduced is the Grenadier, a soldier who throws grenades. While this is the fourth game, no exposure to the previous 3 games is necessary since this game features new characters, tells its own story, and more or less maintains its standard gameplay for newbies and veterans alike to easily jump right into. So if you love a mix of old school and new school Japanese RPGs, this is the game for you.
---
6. Attack on Titan 2

System: Multiplatform
Publisher: Koei Tecmo Games
Developer: Omega Force
Release Dates: March 15, 2018 (Japan), March 20, 2018 (US)
While the first game got some mixed reviews in the Western media, it was well received in its native Japan and by fans of the anime and manga series. With the rise of hack 'n' slash games, it is only natural to make an Attack on Titan game for that genre and as new episodes and chapters are scheduled for release, a new game is only inevitable. Judging by the first game and the footage you can watch on YouTube, the game is very straight to the point with its gameplay and should satisfy fans of the series. It does a great job of capturing the anime with its design of the walled cities, the use of three-dimensional maneuvering gear in order to combat the Titans just like in the anime.
Thankfully, voice cast members are back to reprise their roles and the game maintains the intensity that the original series is known for with a mix of the adrenaline pumping excitement of hack 'n' slash. In addition to the standard combat of 3D maneuvering, it offers other combat features fans of Attack on Titan should love such as fighting in Eren's titan form. So fans of Attack on Titan should be getting this.
---
5. Yakuza 6: The Song of Life (Ryu Ga Gotoku 6: Inochi no Uta)

System: PlayStation 4
Publisher: Sega
Developer: Ryu Ga Gotoku Studios
Release Dates: March 20, 2018 (Worldwide)
Though the game has been out in Japan for the past year, it is finally coming out to international shores this March. After serving a few years in the slammer for his role in the events of Yakuza 5, Kiryu is back home in Okinawa only to find Haruka is now in a coma after being hit by a car and discovering she has a son! Now he must solve the mystery behind her hit and run and who the father of her child is.
The hype behind this game is that this marks the end of Kiryu's story in the Yakuza franchise, and he is now the only playable character in the game. While he has been the face, he is getting old and Sega knows they can move on without him and fans who are waiting for this English release can't wait to see how his story ends. In addition, this game uses the new Dragon Engine system, which improves the franchise's graphics and load times between going in and out of buildings and entering fights. The combat has some new features such as being able to take fights into convenient stores and restaurants for some more mayhem.
To Japanese audiences or to those that are fans of Japanese cinema, it features three of the country's biggest actors in supporting roles. Those big-name actors are legendary yakuza actor Beat Takeshi, Tatsuya Fujiwara (who co-starred with Takeshi in Battle Royale), and Shun Oguri (who you may know in GTO and Gokusen). Another new mini-game fans may come to love is the Clan Builder where you start your own gang to fight against another.
The guests for this mini-game happen to be the young stars of New Japan Pro Wrestling such as Tetsuya Naito, Hiroshi Tanahashi, and the present IWGP champion himself, Kazuchika Okada. Last, this game could be the ultimate gateway for people to hear one of the best Japanese musicians of all time, Tatsuro Yamashita since he contributes some songs to this installment. For fans of the series, this is a must-have! For newbies, while playing previous games do help, they are not necessary since this game tells its own story apart from the others despite being a continuation.
---
4. Kirby Star Allies

System: Switch
Publisher: Nintendo
Developer: HAL Labs
Release Dates: March 16, 2018 (Worldwide)
In addition to Mario, another big name longtime Nintendo fans have been waiting to see on the Switch is Kirby. He is finally getting his own Switch game from Star Allies. Its base gameplay stays true to its initial debut as a side-scrolling adventure game but in HD 3D graphics. It's like the old Kirby but with some major upgrades to keep the franchise as good as new and some characters who have been MIA since the Super Nintendo game are making a comeback!
While Kirby's iconic trait has always been to inhale his enemies and steal their abilities and is still retaining it, this time, he gets to make friends through friend hearts to make a party of 4. So when he makes an enemy a friend, they become a party member to him and they can even do some heavy-duty double team attacks. While Adeline isn't confirmed for the game, her ability to paint pictures to assist Kirby is now passed on to the main character himself.
---
3. Ni no Kuni 2: Revenant Kingdom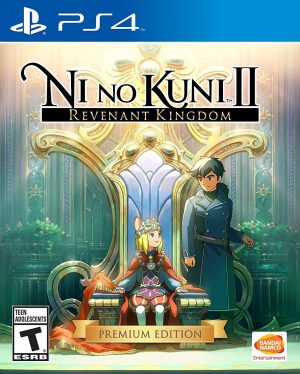 System: PlayStation 4, PC
Publisher: Bandai Namco Games
Developer: Level 5
Release Dates: March 23, 2018 (worldwide)
After 5 years of waiting, the sequel to Ni no Kuni is finally going to get a worldwide release. Since the game's story takes places long after the first game, we can safely assume that any exposure to the first game to enjoy the Revenant Kingdom is by no means a requirement in order to enjoy it. Its artistic presentation is very much a nice tribute to Ghibli films, and Joe Hisaishi, a long time composer for the studio and for the first Ni no Kuni is back to contribute to the soundtrack of this game. While Studio Ghibli played a role in the development of the first game, their influence is still very strong for this upcoming installment.
In this game, players take the role of Evan, a boy king of a cat kingdom that has been taken over by the mice. Now Evan goes out to reclaim his kingdom with the help of some friends. Now a mysterious old man from the real world has been transported to the world of Ni no Kuni and assumes how he looked at twenty and a young sky pirate help Evan on his unique journey. Level 5 promises the game is going to be bigger and better than the first game, which was a great game, to begin with.
Since new enemies are being introduced into this installment, the combat system is being modified to suit these changes such as being more free with your three party members as opposed to using the old school turn-based method. Last, you get to build your own kingdom and manage it. So long time fans of Japanese RPGs and fans of the first game should be able to enjoy it.
---
2. Detective Pikachu

System: 3DS
Publisher: Nintendo
Developer: Creatures Inc.
Release Dates: March 23, 2018 (US)
In addition to Kirby Star Allies, Nintendo is also releasing another game for March, Detective Pikachu. Like Yakuza 6, this game has already been exclusive in Japan for a while now. Unlike Yakuza 6's Japanese release on the PS4 that can play on an American PS4 console, Nintendo 3DS is region locked. The novelty of this game is not only in its title, but the very fact that the Pikachu featured in this game can talk. As opposed to being Ash's companion, he befriends a boy named Tim and they go on adventures that are reminiscent of The Hardy Boys stories. As opposed to gotta catch 'em all, Tim and Pikachu work together to solve mysteries. In order to do that, they have to investigate scenes for clues and interview witnesses both human and Pokemon alike.
While it is still a Pokemon franchise game, it is appropriate to prepare for something entirely new. While fans are used to hearing the cute squeaky call of Pikachu, the titular character in this game talks in a rather deep and rough voice like he's Rocket Raccoon from the Guardians of the Galaxy movies. It gives a fresh take on the franchise and allows longtime dedicated fans to experience something entirely different. Due to the distinct departure, it takes from the regular games, we can assume that no exposure to them is necessary to enjoy this one.
---
1. Far Cry 5

System: PC, PlayStation 4, Xbox One
Publisher: Ubisoft
Developer: Ubisoft Montreal
Release Dates: March 27, 2018 (worldwide)
Thirteen years after its debut, Far Cry gets its fifth installment and promises to expand on features from previous games in addition to introducing some new ones. Since the franchise has traditionally always used different stories and characters for every installment, prior exposure to the previous games are by no means necessary to get a contextual idea of its story. For Far Cry 5, as opposed to taking place in a jungle like the first game, you play a sheriff's deputy in a small town in Montana and it turns out it is being taken over by a crazy cult. However, some fans and journalists misinterpreted the synopsis as a response to the rise of the alternative right due to the election of Donald Trump but Ubisoft said the game's development preceded these events and are purely coincidental.
As a departure to its predecessors, the game allows players to play as a character of their own personal creation as opposed to a pre-existing main character. In addition, the development team wants to make the multiplayer and open world features to be anecdotal. As stated in some articles, players can split up and explore the world and share with each other what they saw. Within the game, you can also recruit local residents in your war and how the player develops their relationships with the town residents contributes to how they progress in the game. With a balanced mix of new and familiar, it is a great balance to appeal to those who may be veterans or newbies to Far Cry, or to the FPS genre as a whole.
---
Final Thoughts
While most of these upcoming games are spin-offs and/or sequels, these are franchises that have stood the test of time. While some sequels may require exposure to previous games in order to contextualize a story or to further understand its gameplay, all games shared on this list do not at all require any installment to these upcoming games. The only time we can recommend the prior games is if in the event some of these games end up being delayed by a season or two. If that does happen and you're interested in these games, then getting a copy of a previous installment wouldn't hurt so you can get an idea of what you like.
---