Do you sense that, gamers?! It's a brand-new year! Thus, that means one thing folks, new games to enjoy. That's why we here at Honey's Anime need to discuss what are some of the games that we know we're looking forward to as well as you as well. Here is our Top 10 Most Anticipated Games for January list!
We here at Honey's Anime went through various places online and searched what games were soon to be released in January of 2018. We noticed that there actually quite a lot of titles and that might make your wallets suffer if you don't choose the best of the best to buy. Thus, we took the titles we think are some of the most popular ones to release this month based on fans reactions and have listed them below. If you want to get the best games this January, then get ready to scroll down to begin our list of the Top 10 Most Anticipated Games for January.
10. Subnautica

System/Platform: PC, Xbox One, MacOS
Developer: Unknown Worlds Entertainment
Publisher: Unknown Worlds Entertainment
Release Dates: Jan 23, 2018
In a not too distant future, humanity has begun seeking a home out in space. Thus, humanity has developed colonizing ships that are sent to terraform planets to make them hospitable to humans. One ship called the Aurora usually would be responsible for this but was sent on a construction mission and a rescue one as well. Something goes wrong however, and the Aurora crash lands on a water planet. Now, you must survive in this world and seek a way to get rescue.
Subnautica wasn't as well known as many titles releasing this year but we here at Honey's Anime had eyes on it. A first-person exploration game with survival elements set on a water planet seemed fun and intriguing to us. Will it be an amazing open world survival title? We don't know yet, to be honest. However, we can say that we have high hopes for Subnautica and if you like water-based games—which is a rarity in this gaming age—then keep your eyes peeled for its release sometime in January.
---
9. The Impatient

System/Platform: PS4
Developer: Supermassive Games
Publisher: Sony Interactive Entertainment
Release Dates: Jan 23, 2018
The Impatient is PSVR title that acts as a prequel to developer Supermassive Games' Until Dawn title. Players enter an asylum known as Blackwood Sanatorium where they are allegedly suffering amnesia. Under the watchful eyes of a doctor, the player is told they are being treated for their illness. However, something is amiss in this asylum and quickly events begin to show something dark occurring in Blackwood Sanatorium. Like Until Dawn, every choice made in The Impatient will have an effect on the story and can lead to numerous endings.
Here at Honey's Anime, we love the PSVR. There have been a ton of games to release in 2017 that made us gleefully put our helmets back on and explore various worlds and stories. The Impatient is 2018's first major PSVR title and has us in high anticipation since its being created by Supermassive Games. With a mixture of narrative and horror, The Impatient seems like a spooky title but one that will require multiple playthroughs to get the various endings and see each scene play out differently based on your actions. The Impatient should be releasing around January 23 so get ready for it!
---
8. Celeste

System/Platform: PC, Nintendo Switch, PS4, Xbox One
Developer: Matt Makes Games
Publisher: Matt Makes Games
Release Dates: Jan 25, 2018
Celeste is a soon to be released indie title from developer Matt Makes Games. Assuming the role of a young girl, players will need to navigate various traps and hazardous environments to guide her to safety. With amazing art that's very retro in nature and a captivating story, Celeste aims to be a fun title with a high level of difficulty. Celeste will be releasing for multiple consoles like Nintendo Switch, PC, PS4 and Xbox One this January.
Celeste reminds us at first glance of a mix between Super Meat Boy and Cave Story. The original art style that seems straight out of the 80s makes Celeste look colorful and retro. Add to that the platforming elements that seem to take a lot of precision as well as trial and error and we're sold on picking this game up when it drops. Needless to say, we're pretty excited for Celeste. Let's just hope we don't find it too be too difficult or rage inducing.
---
7. Kirby Battle Royale

System/Platform: Nintendo 3DS
Developer: HAL Laboratory
Publisher: Nintendo
Release Dates: Jan 19, 2018
Kirby is back and this time he's in a battle royale! Kirby will have to do battle against one of the hardest opponents he's ever faced, himself! Players will take the round pinky protagonist through various game modes filled with cute but tough mini games. Players can either team up with friends online or battles others via online play. Kirby Battle Royale will be like the Mario Party games but with our pink here as the main player instead.
Who doesn't love Kirby? The pink round hero has always wowed players with his high level of adorableness but equally fun gameplay that's usually 2D focused. However, Kirby Battle Royale changes the game with a mini game focus. Players can team up with others or play against others for some exciting party games. Kirby Battle Royale will be a solid Nintendo 3DS title and we're eagerly awaiting it here at Honey's Anime HQ.
---
6. Lost Sphear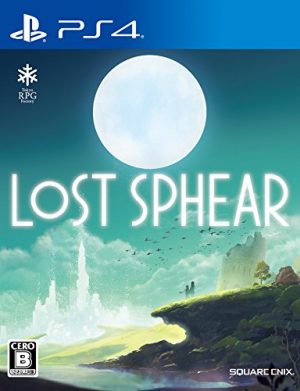 System/Platform: Nintendo Switch, PS4, PC
Developer: Tokyo RPG Factory
Publisher: Square Enix
Release Dates: Jan 23, 2018
From developers Tokyo RPG Factory, creators of I am Setsuna, comes Lost Sphear. Players will enjoy a new RPG experience as they control a young hero named Kanata. A mysterious white fog has invaded and Kanata with his friends must find a way to stop it. Lost Sphear will incorporate RPG battle mechanics similar to titles like Chrono Trigger and Final Fantasy. Kanata's mission begins this January for the Nintendo Switch, PS4 and PC.
Back at New York Comic Con 2017, we here at Honey's Anime noticed a demo for Lost Sphear and eagerly went to play it for ourselves. Immediately upon picking up the controller for Lost Sphear and entering Kanata's world, we noticed some truly amazing old school battle mechanics and a high level of detail in the environments and character models. With the team who helmed I am Setsuna, we have some high hopes for Lost Sphear. As we are currently actually reviewing Lost Sphear, be sure to come on back for our full review of this ambitious RPG sometime when it releases in January.
---
5. Digimon Story: Cyber Sleuth-Hacker's Memory

System/Platform: PS4, PS Vita
Developer: Media Vision
Publisher: Bandai Namco Entertainment
Release Dates: Jan 14, 2018
Digimon Story: Cyber Sleuth-Hacker's Memory takes place within the world of its predecessor. Once more, players will enter the digital space of Eden but this time taking the persona of Keisuke Amazawa. Keisuke has had his Eden account recently hacked and must now join a group of hackers to clear his name. Along the way, Keisuke will rely on Digimon companions to fight against various threats within Eden. Explore new areas and older areas from the original Digimon Story: Cyber Sleuth title as well as gain tons of new digital monsters in Digimon Story: Cyber Sleuth-Hacker's Memory.
In 2016, Digimon Story: Cyber Sleuth was released and met with some high praise from fans of Digimon and RPG fans alike. Digimon Story: Cyber Sleuth-Hacker's Memory continues the story with a new protagonist and a new story taking place in the same world as the previous entry in this now growing series. We're excited to once more enter the various turn-based battles and are excited to see the new Digimon that can be tamed within Digimon Story: Cyber Sleuth-Hacker's Memory. Are you ready to once more enter Eden and fight some bad guys? If you said yes, prepare to dive into Digimon Story: Cyber Sleuth-Hacker's Memory this January!
---
4. Street Fighter V: Arcade Edition

System/Platform: PS4, PC
Developer: Capcom, Dimps
Publisher: Capcom
Release Dates: Jan 16, 2018
Did you think Street Fighter V was done and couldn't get any bigger? Well, we have news for you, Street Fighter V is getting a massive update which will add a slew of new fighters and gameplay modes. Now titled Street Fighter V: Arcade Edition players will gain a revamped arcade mode that takes classic moments from previous Street Fighter titles as well as new moves and special attacks. Plus, those who own the original version of Street Fighter V will get this DLC expansion completely free of charge! Street Fighter V: Arcade Edition will make you want to get back in the arena and spar once again online and or offline.
Those who know Capcom aren't ever too surprised to see Street Fighter titles get multiple version. Street Fighter IV, for example, had several versions and most cost money to buy but did offer updated characters and perks for upgrading making the purchase worth it. Though Street Fighter V: Arcade Edition is a truly surprising thing. Not only is it free to those who own the base Street Fighter V title but offers up a slew of upgrades and new additions expanding an already big Street Fighter title. We're exciting to get our hands on Street Fighter V: Arcade Edition this January!
---
3. Dissidia Final Fantasy NT

System/Platform: PS4
Developer: Team Ninja
Publisher: Square Enix, Koei Tecmo
Release Dates: Jan 30, 2018
The dimension known as World B has a new conflict between two powerful forces one being the Goddess of Protection and the other the God of Destruction Spiritius. Both are in dire need of champions to fight for their respected sides and thus begin to summon warriors from various worlds and dimensions. The various heroes and villains of Final Fantasy are about to face one another in pitched combat. Dissidia Final Fantasy NT allows players to take 3 of their favorite heroes and villains and do battle with one another in either story mode or online against others around the world. With music and environments from the Final Fantasy franchise, Dissidia Final Fantasy NT will be a game made for both fans of the franchise and those who love RPG-like fighters. Look forward to Dissidia Final Fantasy NT to release near the end of January.
Back on the PSP—the PlayStation Portable for those who don't know—two Final Fantasy fighting games released under the Dissidia name. Now after nearly a decade since those releases, we're seeing a brand-new title under the name of Dissidia Final Fantasy NT. Players will be able to use heroes Cloud, Lightning, Ace and villains such as Golbez, Exdeath and Jecht. With updated fighting mechanics courtesy of Team Ninja—who are well known for their Dead or Alive series—Dissidia Final Fantasy NT will be truly appealing to those who love the original Dissidia titles and Final Fantasy in general. One of us here at Honey's Anime was able to play the closed beta and said they enjoyed Dissidia Final Fantasy NT a lot. Thus, that makes us think it's a title to look out for near the end of the month.
---
2. Monster Hunter: World

System/Platform: PS4, Xbox One, PC
Developer: Capcom
Publisher: Capcom
Release Dates: Jan 26, 2018
Monster Hunter: World is the latest Monster Hunter title but now for the PS4, Xbox One and PC platforms. With an emphasis on a larger world, fans and newcomers will enjoy monster slaying on a whole new level. Players will have the ability to assist others at anytime on various hunts to take down large behemoths using strategy and force. Utilizing the power of the newer consoles like the PS4 Pro and Xbox One X, Monster Hunter: World will look stunning and be a true treat as it pushes the consoles to their furthest. Get ready to slay some dinosaur-like creatures alone or with friends in Monster Hunter: World.
The Monster Hunter series has been a franchise that shows no signs of stopping. Released in 2004, Monster Hunter continues to release but as of the last several years, Monster Hunter seemed to be rooted on Nintendo systems. With Monster Hunter: World however, Monster Hunter returns to its original roots. We're pretty pumped for Monster Hunter: World as it already has shown tons of new enemies to take down and new gameplay mechanics like the grappling hook—named the Slinger—to explore new heights and take down monsters in brand new ways. We here at Honey's Anime recently obtained a code to review Monster Hunter: World so we should be telling you our thoughts sometime in January when the game releases.
---
1. Dragon Ball FighterZ

System/Platform: PC, PS4, Xbox One
Developer: Arc System Works
Publisher: Bandai Namco Entertainment
Release Dates: Jan 26, 2018
Goku and his friends are about to get into some real trouble. A new threat by the name of Android 21 has cloned Goku, his friends and enemies and have begun to attack the Earth. Making matters worse is Goku has seemingly been changed somehow! Now, the Z warriors will need to face this new threat head on or see their world be destroyed in front of their very eyes! It's time for a new adventure and battle for Earth in Dragon Ball FighterZ.
Easily, the most anticipated game and worthy of being on the top of our Top 10 Most Anticipated Games for January list is Dragon Ball FighterZ. Created with a focus on making the animations/visuals mirror the anime, Arc System Works—known for their popular Blazblue and Guilty Gear series—made sure to put their heart and souls into Dragon Ball FighterZ. With gameplay mechanics similar to Marvel Vs Capcom as well as Blazblue, Dragon Ball FighterZ is a truly stunning 2D fighter with a ton of style and solid fighting mechanics. Dragon Ball FighterZ will also have a lengthy single player mode to offer up a nice new narrative experience utilizing characters from the Dragon Ball Z and Super stories. However, for many, Dragon Ball FighterZ will be best experienced online as players fight to see who is the best and we're excited to join them online this January 28th!
---
Final Thoughts
Honestly, looking at the list above we feel this year is going to be a good one for gamers everywhere. Already developers seem roaring to go with different titles based on some new IPs and even popular franchises. There isn't a single game on the list above that we aren't excited about and we feel you're probably thinking the same. Comment down below what games from our list you're most excited for and tell us why as well. For more lists like this one and other gaming related articles, be sure to keep returning to our hive here at Honey's Anime.
---