También puedes leer este artículo en:Español
It is well known that there's a lot of anime about music which is a big plus to a lot of fans who are looking not only for a good story, but also for something good for their ears. But when the main plot of the anime is about a band, usually the singer is the one who takes all the credit, while musicians remain in the shadows. So this is our humble tribute to musicians, but not any musician. Only female musicians are allowed here. There are a lot of extremely good female musicians in anime and we think it's time for them to get their own Top 10.
10. Kanata Sorami (trumpet) from So Ra No Wo To

Episodes: 12
Aired: Jan 2010 – Mar 2010
The Clocktower Fortress is the home of the 1121st Platoon of the Helvetian Army. Kanata Sorami is the newest member, who enlisted to become a bugler. She is full of energy, innocent, cute and a little bit clumsy; a good example of a Moe character. She loves the sound of the trumpet and she wants to be a professional bugler.
She is always in a good mood, filled with curiosity and optimism. But, sometimes she is not good at reading the atmosphere. Thanks to that unawareness, it's easy for her to be happy. In regards to music, she has perfect pitch, being able to identify any musical notes. However, she still needs to work hard in her performances.
---
9. Veffidas Feaze (Drums) from Macross 7

Episodes: 49
Aired: Oct 1994 – Sep 1995
This muscular former wrestler is the drummer for the band Fire Bomber. Veffidas hardly speaks, so nobody knows much about her past, but when she does, it is a short sentence having a great impact. Despite her reclusive personality, she really cares for the other members of the band.
When she is not practicing the drums she is drumming on something with her drumsticks, from tables to jet engines. Later, she and her band mates join the independent military group Sound Force, sharing a variable fighter with Ray Lovelock. She is a powerful drummer, quoting The Stone Roses: "she bangs the drums".
---
8. Michiru Kaiou (violin) from Sailor Moon S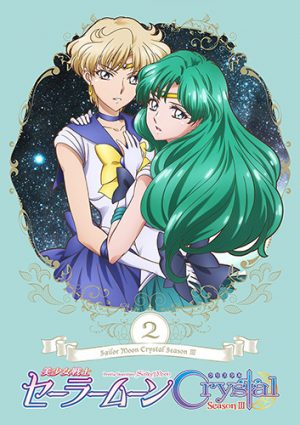 Episodes: 38
Aired: Mar 1994 – Feb 1995
Michiru appears in the third story arc of Sailor Moon, fighting together with another four soldiers in order to defend the Solar System. Michiru is known as Sailor Neptune, and her influential element is the sea, although she can't manipulate water. She has natural psychic powers, being able to detect dangerous situations.
Michiru is one of the most beautiful characters of this anime, not only because of her physical appearance, but also because of her way of being. She is caring and kind, always with a smile on her face. Brilliant and intelligent, she is a talented and admired young violinist who is already performing her own concerts. She also belongs to the music club and the swimming club of her school: Mugen Gakuen, an elite academy where only brilliant students are enrolled. Her violin, a Stradivarius named Marine Cathédrale, is also used as a weapon in the deep sea violin tide attack, but only in the manga.
---
7. Yuki Nagato (guitar) from The Melancholy of Haruhi Suzumiya

Episodes: 14
Aired: Apr 2006 – Jul 2006
Yuki is an artificial human with a lot of paranormal abilities such as creating a baseball bat than only hits home runs or reconstructing a classroom which was totally destroyed. She can manipulate the properties and the materials of the environment anyway she wants to, and also is capable of doing things that require superhuman strength, agility, or stamina.
Yuki is the only member that joined "voluntarily" to the SOS Brigade. She was reading a book in the empty Literature Club when Haruhi claimed from that moment on it would be the SOS Brigade's clubroom, and Yuki was just fine about it. She is a rational thinker, but prefers body language instead of words. Because of her high level of intelligence she can understand any subject almost instantaneously and that's why she was able to play the guitar a few moments after receiving one and to memorize a piece of music just from one glance.
---
6. Touma Kazusa (piano, sax, guitar) from White Album 2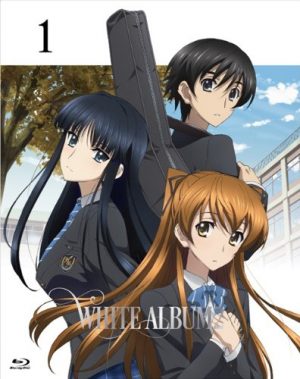 Episodes: 13
Aired: Oct 2013 – Dec 2013
Touma is a solitary and sometimes arrogant student of the Houjou University Attached High School. As she usually skips classes or falls asleep in the middle of a lesson, most of the teachers have given up on her. She is distant to anyone except from Haruki Kitahara, her seatmate.
At the beginning of the anime, when Haruki is practicing his guitar, he hears a saxophone playing in the room next to him. They play together every day after school without knowing each other. When Haruki finds out his mysterious partner is Touma, he and Setsuna insist that she join the Light Music Club. She is not only good with the saxophone, but also with the piano. She wants to be as great as her mother, who is a famous trumpeter and by the end of the anime she moves to Vienna to be with her.
---
5. Reina Kousaka (trumpet) from Hibike! Euphonium

Episodes: 13
Aired: Apr 2015 – Jul 2015
Influenced by her dad, who is a professional player, Reina has been playing the trumpet almost all of her life. She is a calm, quiet and cool girl, not very social, but really passionate when it comes to music. She is the tsundere type of girl, but when she smiles, she is unbelievably beautiful.
She is portrayed like a mysterious girl focused on her way to success. She's usually distant and only shows her real feelings to her loved ones. Kumiko's friendship breaks Reina's walls, and a nicer and more tender side of her character is revealed. Then, Reina confesses that she plays the trumpet because that is her way of being special.
---
4. Mio Akiyama (bass) from K-on

Episodes: 13
Aired: Apr 2009 – Jun 2009
She started playing the bass because Ritsu suggested her to do it. She chose the bass because due to her shyness, she didn't want to be the center of attention, like the guitarist. She plays a left-handed Fender Jazz Bass named "Elizabeth", and she does it really well.
Mio is very mature despite her age, but she is totally afraid of scary or gore stories. She is a very good student, always getting the top grades of the class. Actually, besides playing the bass, I think studying is her other hobby. She is totally devoted to the Light Music Club and quite technical with regard to music. She taught Yui a few guitar lessons and tutorials. Although she doesn't like to be in the spotlight, she agreed to act like the lead vocalist in the school festival. Unfortunately, by the end of the concert she fell to the floor exposing her panties, causing her a new trauma.
---
3. Kaori Miyazono (violin) from Shigatsu wa Kimi no Uso (Your lie in April)

Episodes: 22
Aired: Oct 2014 – Mar 2015
Kaori is a beautiful violinist who helps Kousei Arima return to the piano and face the music again after his mother's death. Kaori's playing style is just like her personality. She is a free spirit, unpredictable, and sometimes irritable. She doesn't like to depend on anyone, but she is friendly and supporting of the ones she cares about.
Although her interests were changing during her lifetime, the only thing that remains intact was her love for the violin. But her playing style is quite particular as she never follows the music score sheets while performing. Anyway, she is an amazing violinist whose abilities easily exceed the other players. She plays with her heart and with all her emotions.
---
2. Masami Iwasawa (guitar) from Angel Beats!

Episodes: 13
Aired: Apr 2010 – Jun 2010
I have to confess I have a sort of crush on Masami. She is one of the coolest anime characters I've ever seen and she deserves the 2nd place in the list. She isn't only a great guitar player, but also a talented singer and that is why she formed the Girls Dead Monster band in the Afterlife. Masami is also the lyricist and the music composer of the group.
Even though she is usually quiet and silent, she expresses herself through her music. She is described as a "music nut" by her mates because she is really serious and responsible when it comes to music. She had a tough life, her parents were always fighting, and she found shelter in music. Now it's her life… or rather her afterlife.
---
1. Megumi Noda (piano) from Nodame Cantabile

Episodes: 23
Aired: Jan 2007 – Jun 2007
Also known as Nodame (Noda – Me/gumi), is a second year music student at Momogaoka Music Academy who plays the piano by ear in an amazing way, so amazing that she tops this ranking. She is the perfect mix between cute and weird, being totally terrible at cooking, living in a messy apartment and referring to herself in third person. But when talking about piano, she is an incredibly talented artist playing in a cantabile style.
She has a crush on Chiaki since she first found him drunk in front of her apartment. She follows him everywhere claiming to be his wife and being completely dependent on Chiaki. She also has little ambition to become a professional musician, what she really wants is to become a kindergarten teacher. She gradually changes her attitude toward music because of Chiaki, and starts to be a more serious student. But it really doesn't matter if she can read a musical score or if she plays by ear, because she plays with so much feeling and passion that you can fly away with her to Nodame's world.
---
Final thoughts
As I said in the beginning, anime has a lot of talented female musicians; from pianists to buglers, the list is quite extensive. So extensive that we thought they deserved their own top 10. The positions were determined not judging the technical skills but the passion and personality when playing a musical instrument.
I hope you enjoyed the selection, remember it was only about musicians, this time singers were left out. I tried to include different music players to make a varied selection; there are more guitarists and violinists in anime than drummers or saxophonists, for example. If you think there is a great female musician that I left out of the list, please leave a comment and I'll be happy to answer it.
---