También puedes leer este artículo en: Español
Music has always been a very magical and powerful thing. It has the unseen ability to affect a person's emotion, making them feel a variety of feelings depending on the kind of song that was played. This amazing form of art was already enjoyed by many and since then, has evolved through the ages, corresponding with the timeline of human evolution. From instrumental classics, punk, rock, EDM (Electronic Dance Music), folk, pop, we humans seem to be inseparable from music.
In the world of anime, the same wondrous magic applies, as writers come up with amazing storylines and plot, not to mention great music to create the perfect concoction to get anime fans hyped up for the series. Wonder what kind of Music Anime that has the same magic? Here's an updated list of Top 10 Music Anime! Let's go!
10. Show by Rock!!

Episodes: 12
Aired: Apr 2015 - Jun 2015
So to kick start the list we have 'Show by Rock!!' on the number 10 entry. Initially, this anime might differ slightly from most anime in terms of the animation style. The anime has a sort of 'chibi' cartoonish added to some of the plot-pertinent scenes, which to be fair, might turn some people off. But this anime does make up for it, in terms of the characters' personalities. Aside from the character development of the main protagonist, side characters are just as fun to watch as they interact with each other.
Cyan Hijirikawa is the average girl next door, who seem to be pretty good at playing the guitar. Having her shyness overshine her guitar skills, Cyan struggles to find the courage in her to actually audition and join in a band. But on one faithful night, when she decides to play a rhythm game on her cellphone, she was suddenly sucked into another dimension, where she transform into a cat-like figure and ultimately utilizes her musical prowess to defeat evil monsters!
---
9. K-On!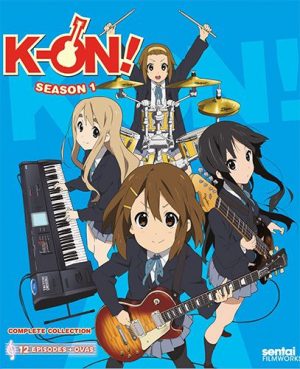 Episodes: 13
Aired: April 2009 - June 2009
For the next entry in the list, we have K-On! By far, K-On! has become one of the most well-known music anime that existed. Aside from the great original music piece this anime produced, it also seems to be delivered in a distinctive moe-like anime style, that seem to attract a huge fanbase for K-On! and its similar genre anime.
K-On!'s main storyline is centered on Hirasawa Yui, a carefree, airheaded young girl that somehow becomes the lead guitarist of the Sakuragaoka High School's Light Music Club. Prior to her joining the club, she had no guitar experience whatsoever and was only interested in joining the Club because she thought "Light Music" meant easy music. But eventually, it becomes apparent that she was actually talented even though she still needed some work to it. Join Yui and her struggles, as she balances out her music as well as her school in this series that's full of cute and moe stuff!
---
8. Beck (Beck: Mongolian Chop Squad)

Episodes: 26
Aired: Oct 2004 - Mar 2005
Moving on to the number 8 of the musical anime list, we have Beck! Beck has been known by people and became popular for quite some time now, from its manga to the anime, and even the live action movie.
The story centers on a 14-year-old boy named Yukio Tanaka, who is on a journey of seeking his identity in life. Feeling lost and basically cut off and misunderstood from the rest of the world, Yukio eventually stumbled upon a weird dog named Beck, which was bullied by some kids. Upon saving the peculiar dog, Yukio met Ryusuke Minami, the owner of the dog as well as the lead guitarist of the BECK band.
What's so great about this anime is how a lot of teenagers was able to relate to Yukio, the protagonist of the series. The emotional rollercoaster that every teenager went through during their adolescent years was emphasized in this series, and thus making this anime not only a great music anime but also a touch of slice-of-life genre anime. So sit back relax, prepare your guitar, and get ready to jam together with Yukio and Ryusuke in BECK!
---
7. Nodame Cantabile

Episodes: 23
Aired: Jan 2007 - Jun 2007
Next, on the list, we have Nodame Cantabile. Taking the number 7 spot on the list, this anime has some quality traits to vouch for that position. To start it all, the character chemistry between the two protagonists is quite enjoyable. Although some might find it a bit cringy, but nonetheless, it's quite the breath of fresh air you needed to get away from the dullness of watching other anime. Not to mention the storylines and music pieces that will leave viewers entertained.
Initially, Nodame Cantabile is a story about how the tense, square personality conductor Chiaki Shinichi, met with the "unique" pianist Noda Megumi and how she fell in love with Chiaki through the music that they share. Watch as these two characters come together and brings the laughter out of you!
---
6. Uta no☆Prince-sama♪ Maji Love 1000% (Uta no Prince Sama)

Episodes: 13
Aired: Jul 2011 - Sep 2011
Taking the number 6 spot on the list is Uta no☆Prince-sama♪! In hindsight, this anime is considered to be very colorful, as the animation and overall settings were filled with extravagant color palettes. With its peculiar set of male protagonists and its Shoujo-themed genre, this anime is likely to attract and appeal to the female audience better. Nevertheless, this is still a decent music anime to watch.
Uta no☆Prince-sama♪ features a girl named Haruka Nanami who has a lifelong dream of becoming a composer for her idol. In efforts to achieve that goal, Haruka enrolls at Saotome Academy, a prestigious academy of performing arts, where she meets other students such as Ittoki Otoya, Kurusu Shou, Jinguuji Ren, Shinomiya Natsuki and much more! Will Haruka be able to achieve her goal as well as developing a romantic interest along the way? Find out more in Uta no☆Prince-sama♪ Maji Love 1000%!
---
5. Angel Beats!

Episodes: 13
Aired: April 2010 - June 2010
Although Angel Beats! is not necessarily an anime about music, but this anime still deserve recognition, thanks to its interesting story flow and plot. If you're the one who likes shootings, action, suspense, and music as a side dish then this anime would probably appeal to you as it brings you the thrill of fighting between life and death, well technically they are already dead but, still Angel Beats! is the anime to watch!
Upon waking up, Otonashi Yuzuru had realized that he was already dead and was existing in the after-life. After some time, Yuzuru finally accepted his fate of being dead and was recruited by Yuri Nakamura to join the Shinda Sekai Sensen or SSS in a rebellion to defeat Angel or Tenshi.
---
4. Hibike! Euphonium (Sound! Euphonium)

Episodes: 13
Aired: Apr 2015 - Jul 2015
Having placed on the number 4 of the list, Hibike! Euphonium is a decent music anime. To begin with, its character development of the protagonist Kumiko Oumae, having her to rediscover her passion in playing the euphonium once again. What's great about this anime is that it develops in a nice pace, able to bring viewers the touch of 'slice-of-life' genre, making the experience of watching this an overall heartwarming one.
Kumiko Oumae who plays the euphonium, decides to give up after an unpleasant experience during a regional brass band competition in the middle school. Now, upon entering high school, she seeks to start a new leaf. But as fate would have it, Kumiko managed to found herself surrounded by friends that were interested in joining the high school brass band, ultimately helping her to find her lost passion for playing the euphonium again.
---
3. Love Live! School Idol Project

Episodes: 13
Aired: Jan 2013 - Mar 2013
As you might already noticed from the title, this anime is some sort of School Idol thing, and it's not just about the idols that made this anime popular amongst the other musical genre themed anime, it's also about the journey and overall character development of each individual that boosts the appeal. Having great music piece from the anime was just a mere bonus.
Kousaka Honoka is a student of the Otonokizaka High School which was inconveniently located at the border of three major cities, causing it to lose popularity, and ultimately making the school under threat of shutting down due to lack of students enrolling. Being enthusiastic of saving the school, Kousaka came up with the idea of creating a school idol that might help gain popularity of the school itself. But will her plan be successful? Find out more in Love Live! School Idol Project!
---
2. Macross Δ (Macross Delta)

Episodes: 26
Aired: Apr 2016 - Sep 2016
Singing its way to the number 2 spot is Macross Δ, or often referred to as Macross Delta. This anime is a very unique one if compared to the other anime that are on the list, having a mix of futuristic mecha vibe, with action and suspense, the combination might seem a bit weird when paired with the musical genre, but the writers of this anime did a great job of making viewers 'adapt' to this flow, slowly pulling you towards the story and you'd only notice how great and exciting this anime is.
The plot starts with the mass evacuation of people on Earth to another planet to avoid extinction, and how humans have grown to live amongst the stars and planets. Whilst roaming in space, they discovered a disease, Var Syndrome that could turn people violent, making it unsafe. That's where Walkure, a tactical sound unit was established. With their voices they sing to protect what humans call home in space.
---
1. Shigatsu wa Kimi no Uso (Your Lie in April)

Episodes: 22
Aired: Oct 2014 - Mar 2015
Taking the number 1 spot of the Top 10 Music Anime [Updated Recommendations] is Shigatsu wa Kimi no Uso! Basically strap on your seatbelt and get ready to board the feels train because that's what this anime will do to you. Shigatsu wa Kimi no Uso is an emotional anime that successfully pulled the heartstrings of many, even jerking some tears out of your eyes along the way with its amazing plot.
Kousei Arima, having to be a prodigy in piano, suddenly just loses it after his mother passed away. Claiming to be unable to hear out the sound of his piano, he dropped piano altogether. But as fate would have it, he met with Kaori Miyazono, a cheerful violinist, and slowly, Arima was able to gain back his old self again, eventually feeling the lost music he had long forsaken.
---
Final Thoughts
Music has been a great inspiration for many, people have sought closure in music, warmth, comfort, and for some music is a path of self-discovery, a seasoning spice added into our lives. It's really how music is able to touch us as humans on a very deep level. With that being said, kudos to all the great anime writers and producers that have managed to create so many musical anime that amazes us! Special shout outs to Nana, Kiniro no Corda: Primo Passo, and many more!
And that concludes the Top 10 Music Anime [Updated Best Recommendations]! What's your favorite music piece from anime titles above? Or do you have any other music-genre anime that deserve a mention! Be sure to leave them down the comments below!
---
---
Anime is awesome! So much, that if a series is very popular with its storyline, theme, character development and illustration, it can attracted fans to appreciate everything about.
For example, the music. Lots of anime fans have not only come to love the above said chracteristics, but also find themselves loving the music for the shows. I don't think I've ever met a fan of anime who didn't like the music. In fact, its the second best characteristic in anime.
So in this Top 10 segment, there will be a list of the best anime series about music. This is based off of bands, musicians or singers in the anime; while trying to stick with a good sense of the story, character development and art.
The selections below are chosen because of how popular the series is and not just the songs in them, just so we're on the same page. It was hard narrowing down the best choices for this "Top 10 Music Anime" list, so I hope you enjoy the selection.
Let's begin!
10. K-ON!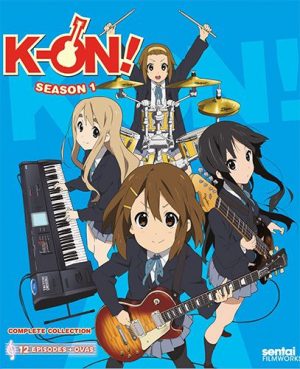 Episodes: 13
Aired: Apr 3, 2009 to Jun 26, 2009
This is another great anime about music that's on the moe side of animation.
The series follows Yuri Hirasawa's first year in high school as she is eagerly looking for a club to join. While searching, other school students are looking for one more member to join their light music club or else they'll be disbanded because of the lack of members.
Yuri feels they're distress and joins the club thinking it would be an easy experience to be in as the castanet player. Little did she know, the other members have her fixed as the guitarist and with practice, she becomes a prodigy.
---
9. Full Moon o Sagashite

Episodes: 52
Aired: Apr 6, 2002 to Mar 29, 2003
This anime has some great musical use in it as its a supernatural, drama, comedy.
The anime follows a twelve year old girl who is diagnosed with a malignant tumor in her throat. Devastated, she keeps a promise she made with a boy she loves by becoming a singer one day, even though her illness is making it impossible to achieve.
Just when things couldn't get any worse, two angels of death appear and inform her that she only has one year to live. The sudden news shocks her, but also gives her more motivation to fulfill her dreams.
This begins her quest of becoming a professional singer while keeping her promise and reuniting with the boy before her time runs out.
---
8. Your Lie in April (JPN: Shigatsu wa Kimi no Uso)

Episodes: 22
Aired: Oct 10, 2014 to Mar 20, 2015
This anime is a beautifully crafted and poetic series to watch.
Following a young boy who is a piano prodigy until his mother unexpectedly dies when he was eleven years old. Because of her death, he loses interest in playing the piano and his life begins to feel dull. It was until he turned fourteen, a childhood friend introduces him to her classmate, who is a violinist.
She brings back the excitement and enthusiasm in his life as he continues to pursue his musical interest. If you like classical music, you'll love this anime!
---
7. White Album2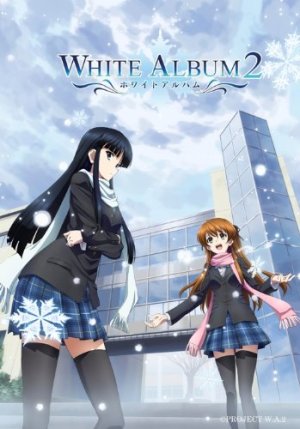 Episodes: 13
Aired: Oct 6, 2013 to Dec 29, 2013
Although, some may not have liked the first White Album, the 2nd is much better.
The anime is about a young boy who dreams of being on stage at the schools culture festival, performing an original song. The only thing is, he's got thirty days to do it. With the light music club being dissolved due the lack of members, he comes across two talented individuals with the ability to harmonize with his guitar.
This begins the journey of the semester that brings him closer and closer to making his dream come true.
---
6. Macross Frontier

Episodes: 25
Aired: Apr 4, 2008 to Sep 26, 2008
This series was marked the 25th anniversary of the Macross franchise and is a direct sequel to Macross and Macross 7.
Following the lives of Alto Saotome, Ranka Lee, and a pop idol named Sheryl Nome who are all on board the Macross Frontier colonization fleet.
Since the war has ended, mankind spreads across the universe in order to ensure the existence and survival of the species. The Macross Frontier fleet is part of an effort to keep the culture of humanity intact. That's where the music comes in, and its great.
---
5. Beck: Mongolian Chop Squad

Episodes: 26
Aired: Oct 7, 2004 to Mar 31, 2005
This is a great rock band anime everyone loves.
Following a 14 year old boy named Koyuki who feels he's disconnected from the general population. That's until he rescues an odd-looking dog from some mischief kids. Returning the dog to its owner, he finds out that he's an upcoming rock musician who ends up influencing Koyuki to play the guitar.
This begins his new life full of trial and tribulations with the rock band and its members as they struggle towards fame.
---
4. Kids on the Slope (JPN: Sakamichi no Aporon)

Episodes: 12
Aired: Apr 13, 2012 to Jun 29, 2012
Filled with friendship and attributes for the coming of age, this anime is a great music drama/romance series.
Beginning in the Summer of 1966, a young boy named Kaoru moves in with some relatives in the town of Kyushu. He's always been calm and kept his distance from others his whole life as a honor student, but that all changes when he meets the schools notorious bad boy, Sentaro.
Not knowing how to act at first, Kaoru learns through the Sentaro the importance and love for jazz music. Because of this interest, they develop a bond that becomes Kaoru first friendship, ever.
---
3. Angel Beats!

Episodes: 13
Aired: Apr 3, 2010 to Jun 26, 2010
This anime is easily a fan favorite filled with fighting, life after death, girls with guns, and much more. Oh, and an all girl band!
This series takes place in a world after death, where angels fight for the fate and their future. Following a boy who has lost his memories of life after dying, he meets a girl who is the leader of the Afterlife Battlefront (Shinda Sekai Sensen (SSS)). This organization fights against God for all the negative experiences they were forced to live while alive.
They attempt to fight against God as well as Angel, who uses supernatural powers. The SSS has an all girl band with four members that provide diversions against Angel in hopes of defeating her.
Whether or not it works, the music is great!
---
2. NANA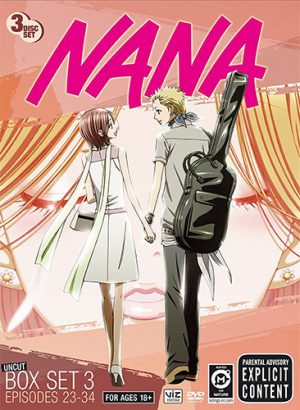 Episodes: 47
Aired: Apr 5, 2006 to Mar 28, 2007
Probably one of the most popular series about music is this drama/romance of punk rock.
Nana Osaki is a guarded and ambitious young woman with a heart of gold, but had a rough past. She's the vocalist for a punk rock group called the Black Stones and she strives for fame and recognition more than anything she's ever wanted.
While traveling to Tokyo one day, she meets a girl with the same named Nana Komatsu, who is the exact opposite of Osaki with a weak will and stable past. The one thing Komatsu wants more than anything is to find her true love and be married. As they continue to know each other, their friendship grows and they become very close.
Together, they find out if life will grant their dreams while still having time for each other as best friends.
---
1. Nodame Cantabile

Episodes: 23
Aired: Jan 12, 2007 to Jun 15, 2007
Not only does this series have some influential musical references, it also has one of the best stories and character development in a anime series.
Following Shinichi Chiaki who is a first class musician that dreams of playing amongst the elites of Europe one day. He's not only a perfectionist and highly critical of himself, but of others around him as well. While his dream is to go to Europe, he's stuck in Japan due to his fear of flying. Isn't that something.
After getting into a fight with the teacher of the music school, he is demoted and forced to attend a class of musicians who are not so talented. Until he meets Nodame who seems misdirected and sloppy at first, she plays the piano leaving Chiaki amazed at how well she does.
Not really liking her habits, this begins the story of the two as they learn to deal with one another, while also learning from each other, they strive in rising to the top of the musical world!
---
I hope you all have found this "Top 10 Music Anime" list to up to par with your standards. I know music is really important in the world of anime, which is why it was hard to rank the right ones.
Some honorable mentions of other series that didn't quite make it, but deserve the recognition is Love Live! School Project, Uta no Prince Sama, Corda D'Oro, Tari Tari, AKB0048, and my personal favorites (Don't Judge Me, Please) Detroit Metal City, and INTERSTELLA 5555.
Which music anime is your favorite? Is there a series you would like to add to the list?
Let us know in the comments below!
---