También puedes leer este artículo en:Español
Music and anime go very well together, and there are a lot of shows to prove it. Yes, the music genre has proved successful even in printed versions, such as light novels and manga, but we can't deny that the audiovisual aspect of anime is the best way to experience these stories. There's nothing better than listening to our favorite characters' music and watching their performances!
From pop idols to rock stars, there's a lot of characters and exciting plots to choose from, no matter your taste in music. With that in mind, how about refreshing our anime lists with some music anime recommendations to watch at maximum volume?!
10. Aikatsu Friends!

Episodes: Unknown
Aired: April 2018 - ongoing
When Aine, a girl working at the Penguin Café, delivered lunch to one of her clients, she never imagined what would happen next. That client was none other than Mio Minato, a rising idol and the most popular student at Star Harmony Academy, who hours later would become her best friend. Since Mio was looking for a partner, she invited Aine to perform with her for an event, without knowing this was their first step towards the Diamond Friends Cup.
Mio and Aine are perfect opposites so you may know what to expect from Aikatsu Friends!, right? One is an exceptional dancer and singer, and the one to watch at Star Harmony Academy's idol division; the other is just a regular girl working at her family's café, who doesn't even know who Mio is. When Aine's hidden talent appears, stardom looks like a matter of time, and Mio finds somebody who inspires her while also keeping her feet on the ground. That's what friends are for!
---
9. Fuuka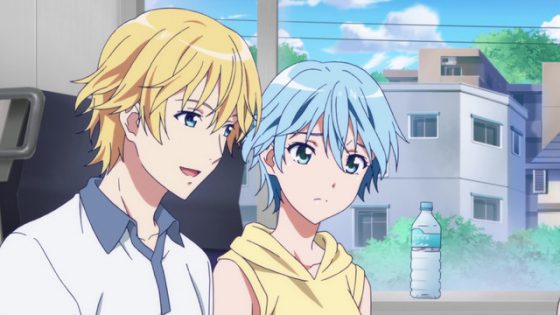 Episodes: 12
Aired: January 2017 - March 2017
If we can't mention a giant spoiler, as big as a truck, it's hard to explain why many people consider Fuuka's anime version to be bland compared to the manga. It's a key moment where the story finally achieves the mature tone it tries to transmit, and the anime not having it makes everything that comes after a little cheap. However, if you're are new to the story maybe you can enjoy it for what it's worth.
Fuuka starts with the titular character and transfer student Yuu forming the school's light music club. Before that, their relationship started with the left foot when she mistook him for a pervert, but it quickly improved as they shared a passion for music. To complete the love triangle, we have famous pop singer Koyuki, Yuu's childhood friend... and Fuuka's idol. Expect a lot of drama with some pop rock songs added to the mix!
---
8. Wake Up, Girls!

Episodes: 12
Aired: January 2014 - March 2014
Mayu, Yoshino, Minami, Kaya, Miyu, Nanami and Airi are 7 girls taking their first steps in the idol business, while the actresses behind those names are 7 ladies who won the open auditions held by the production companies, earning the right to voice these characters. In fiction, the Wake Up, Girls! just gave their first concert, but only a few days later the president of the agency cheated everyone and left with the money.
Both in the anime and in real life, the 7 WUG will do everything possible to reach a place among the best pop idols, although in the anime things will be harder, as you can see. After receiving a mysterious offer, Three Leaves Entertainment and the girls have a second chance, and we get to see how the girls and his manager finally get close to their dream.
---
7. Tenshi no 3P!

Episodes: 12
Aired: July 2017 - September 2017
Kyou Nukui, also known as Hibiki, is a NEET teenager who devotes his days to create music and upload it to the web. Dreaming of a career as a music producer, Kyou is contacted by email by someone who seems like a businessman interested in his music and could offer him a job, so they meet up at a near park. To his surprise, the sender turns out to be a 10-year-old orphan girl, who seeks help from him to give a concert with her friends.
How many times have you enjoyed 3 moe orphans who rock in a church's basement? Tenshi no 3P! is an anime full of cliché characters, but the rather uncommon plot is enough to keep lolicon fans busy. If you don't mind tsundere girls in your music anime, then Tenshi no 3P! could be what you're looking for, warming your heart while also not skimping on ecchi vibes.
---
6. Fukumenkei Noise (Anonymous Noise)

Episodes: 12
Aired: April 2017 - June 2017
Are you still hungry for more light rock and love triangles that end badly? Well, then you should check out Fukumenkei Noise, a Fuuka alternative but with a girl and two boys. Nino, the protagonist, is a girl with a troubled past, who lost her only 2 friends in a traumatic fashion. When she was in love with Momo, his family moved, and she never saw him again; then we have Yuzu, a music lover who couldn't sing because of a throat disease and fell in love with Nino's voice, missing her since she suddenly stopped showing up at the beach where they used to meet.
Now in high school, Nino is reunited with Yuzu, and he convinces her to join his rock band as the lead singer. While she doesn't want to, Nino accepts because it seems the best way to gain notoriety and finally find Momo. But when Momo appears... well, you better go watch Fukumenkei Noise. As you see, this is a romantic drama for the most part, but the music is really good!
---
5. BanG Dream!

Episodes: 13
Aired: January 2017 - April 2017
Kasumi Toyama is the new girl at school, and she introduces herself as someone who seeks the "Star Beat", a magical sound produced by the stars. One day, on the way back home she follows a mysterious path of sparkling star-shaped stickers that led her to an old pawn shop, where she finds a star-shaped guitar. However, she's surprised by a girl who seems to work there and confuses her with a thief!
After a few misunderstandings, Kasumi and Arisa end up in a venue called Space, where they both witness Glitter☆Green's performance. And that's what rang a bell on Kasumi: she wants to start her own band! After some days of convincing her classmates and practicing in Arisa's basement, the girls form Poppin'Party, dreaming of one day performing on Space's stage. This is the journey of 5 girls looking for the "Star Beat", rocking in cute uniforms and overcoming every hurdle in their music career.
---
4. Piano no Mori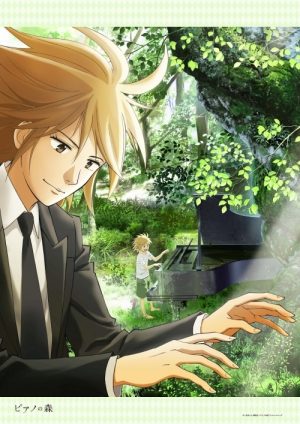 Episodes: 12
Aired: April 2018 - July 2018
If a boy plays an abandoned piano in the forest, does it make a sound? It doesn't matter if there are people around to hear it, because the haunted piano in the forest is more like an urban legend. However, trouble kid Kai Ichinose claims to be the owner of the piano, and the only one who can play it. After skipping classes on his second day, transfer student Shuuhei Amamiya follows Kai to see if the infamous piano really exists... and it sure does!
Piano no Mori is the anime series based on the manga of the same name, although an anime movie version was released back in 2007. It follows the story of Kai and Shuuhei, two boys who share a passion for piano but come from very different worlds. While Kai is poor and nobody takes him seriously, Shuuhei is the son of a world-famous pianist. So, does your background really matter when you're so clear about your vocation? If you like playing piano as much as these boys, you will love Piano no Mori and its heartwarming story!
---
3. Lost Song

Episodes: 12
Aired: April 2018 - June 2018
In the middle of a war, and after witnessing how the enemy soldiers burned down their house and murdered their grandfather and older sister, step-siblings Al and Rin finally understand why Rin's singing was forbidden. Although her dream was to sing in the Capital City, Rin's voice has a magical power that, if it were to fall into the wrong hands, could become a devastating weapon, and that's why her grandfather kept her hidden in the forest.
Lost Song is a very different anime compared to others on the list since it uses music as a magical element, ditching any trace of realism to transport us to a fantasy world of its own. Rin is not an aspiring idol nor is trying to form a band; all she wants to do is to bring peace to the world, just like fellow songstress Finis, who also has a tragic story. With a beautiful art-style, an intriguing story that mixes magic and politics, and two girls with captivating voices, this is an anime that music lovers shouldn't miss.
---
2. The iDOLM@STER SideM

Episodes: 13
Aired: October 2017 - December 2017
As you can tell, The iDOLM@STER SideM is a spin-off of the famous idol franchise, this time focusing on males. Sure, there are indeed a lot of popular male idols franchises in anime, but SideM isn't just about pretty boys dancing and singing. Enter 315 Production, a new agency trying to earn a spot in this business with an out of the ordinary idea: scouting ikemen who until then had worked in jobs totally unrelated to music.
The protagonist unit is "Dramatic Stars", composed of a lawyer, an airline pilot, and a doctor. With a very particular past, but all with the same dream of becoming idols, they use their personal experience to shape the spirit of the group, giving a new meaning to the word "drama" when it comes to idol anime. After a rough start, Teru, Kaoru, and Tsubasa finally understand what it means to be an idol, but don't think they're the only ones here! The iDOLM@STER SideM features every male unit working for 315 Production, so you'll find plenty of handsome men to make your day.
---
1. IDOLiSH7

Episodes: 17
Aired: January 2018 - May 2018
Still craving for beautiful boys? Then let's talk about IDOLiSH, a more classic idol anime with that mix of reverse harem, comedy, and BL vibes that every fujoshi loves. With little work experience and the pressure of being the daughter of the agency owner, Tsumugi Takanashi faces her first day as an idols manager, meeting the seven candidates the agency already scouted. Following her father's rules, Tsumugi must pick the best 3 boys to form the unit, but watching them act as a group of friends makes her take her first important decision: she's keeping them all!
IDOLiSH7 may seem like every other idol anime, but it does a wonderful job of combining the innate talent that every idol character has with a somewhat interesting and believable plot, while at the same time not failing the reverse harem premise. All seven boys are charming enough to keep you asking for more, with a top-tier cast of voice actors to support it. If we add outstanding music to all this, then you know why IDOLiSH7 did so well this year, and why it ends up like our best recommendation regarding music anime!
---
Final Thoughts
When looking for music anime, do you prefer classic shows following the career of an idols unit or rock band until their rise to fame, or would you rather watch anime trying to innovate and use music in other context? What we can be sure of is that every new season has something for us, so we can already look forward to new music anime coming soon!
And now you're here, go ahead and tell us what's your favorite music anime and what's that song that you can't get out of your head! For us, that would be all of them, and we're not even mad about it. See you soon, people!
---
---
Music has always been a very magical and powerful thing. It has the unseen ability to affect a person's emotion, making them feel a variety of feelings depending on the kind of song that was played. This amazing form of art was already enjoyed by many and since then, has evolved through the ages, corresponding with the timeline of human evolution. From instrumental classics, punk, rock, EDM (Electronic Dance Music), folk, pop, we humans seem to be inseparable from music.
In the world of anime, the same wondrous magic applies, as writers come up with amazing storylines and plot, not to mention great music to create the perfect concoction to get anime fans hyped up for the series. Wonder what kind of Music Anime that has the same magic? Here's an updated list of Top 10 Music Anime! Let's go!
10. Show by Rock!!

Episodes: 12
Aired: Apr 2015 - Jun 2015
So to kick start the list we have 'Show by Rock!!' on the number 10 entry. Initially, this anime might differ slightly from most anime in terms of the animation style. The anime has a sort of 'chibi' cartoonish added to some of the plot-pertinent scenes, which to be fair, might turn some people off. But this anime does make up for it, in terms of the characters' personalities. Aside from the character development of the main protagonist, side characters are just as fun to watch as they interact with each other.
Cyan Hijirikawa is the average girl next door, who seem to be pretty good at playing the guitar. Having her shyness overshine her guitar skills, Cyan struggles to find the courage in her to actually audition and join in a band. But on one faithful night, when she decides to play a rhythm game on her cellphone, she was suddenly sucked into another dimension, where she transform into a cat-like figure and ultimately utilizes her musical prowess to defeat evil monsters!
---
9. K-On!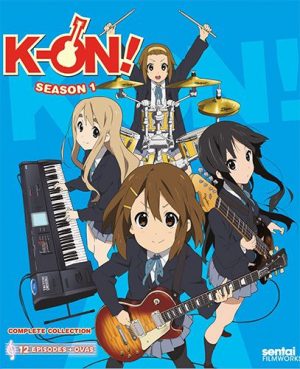 Episodes: 13
Aired: April 2009 - June 2009
For the next entry in the list, we have K-On! By far, K-On! has become one of the most well-known music anime that existed. Aside from the great original music piece this anime produced, it also seems to be delivered in a distinctive moe-like anime style, that seem to attract a huge fanbase for K-On! and its similar genre anime.
K-On!'s main storyline is centered on Hirasawa Yui, a carefree, airheaded young girl that somehow becomes the lead guitarist of the Sakuragaoka High School's Light Music Club. Prior to her joining the club, she had no guitar experience whatsoever and was only interested in joining the Club because she thought "Light Music" meant easy music. But eventually, it becomes apparent that she was actually talented even though she still needed some work to it. Join Yui and her struggles, as she balances out her music as well as her school in this series that's full of cute and moe stuff!
---
8. Beck (Beck: Mongolian Chop Squad)

Episodes: 26
Aired: Oct 2004 - Mar 2005
Moving on to the number 8 of the musical anime list, we have Beck! Beck has been known by people and became popular for quite some time now, from its manga to the anime, and even the live action movie.
The story centers on a 14-year-old boy named Yukio Tanaka, who is on a journey of seeking his identity in life. Feeling lost and basically cut off and misunderstood from the rest of the world, Yukio eventually stumbled upon a weird dog named Beck, which was bullied by some kids. Upon saving the peculiar dog, Yukio met Ryusuke Minami, the owner of the dog as well as the lead guitarist of the BECK band.
What's so great about this anime is how a lot of teenagers was able to relate to Yukio, the protagonist of the series. The emotional rollercoaster that every teenager went through during their adolescent years was emphasized in this series, and thus making this anime not only a great music anime but also a touch of slice-of-life genre anime. So sit back relax, prepare your guitar, and get ready to jam together with Yukio and Ryusuke in BECK!
---
7. Nodame Cantabile

Episodes: 23
Aired: Jan 2007 - Jun 2007
Next, on the list, we have Nodame Cantabile. Taking the number 7 spot on the list, this anime has some quality traits to vouch for that position. To start it all, the character chemistry between the two protagonists is quite enjoyable. Although some might find it a bit cringy, but nonetheless, it's quite the breath of fresh air you needed to get away from the dullness of watching other anime. Not to mention the storylines and music pieces that will leave viewers entertained.
Initially, Nodame Cantabile is a story about how the tense, square personality conductor Chiaki Shinichi, met with the "unique" pianist Noda Megumi and how she fell in love with Chiaki through the music that they share. Watch as these two characters come together and brings the laughter out of you!
---
6. Uta no☆Prince-sama♪ Maji Love 1000% (Uta no Prince Sama)

Episodes: 13
Aired: Jul 2011 - Sep 2011
Taking the number 6 spot on the list is Uta no☆Prince-sama♪! In hindsight, this anime is considered to be very colorful, as the animation and overall settings were filled with extravagant color palettes. With its peculiar set of male protagonists and its Shoujo-themed genre, this anime is likely to attract and appeal to the female audience better. Nevertheless, this is still a decent music anime to watch.
Uta no☆Prince-sama♪ features a girl named Haruka Nanami who has a lifelong dream of becoming a composer for her idol. In efforts to achieve that goal, Haruka enrolls at Saotome Academy, a prestigious academy of performing arts, where she meets other students such as Ittoki Otoya, Kurusu Shou, Jinguuji Ren, Shinomiya Natsuki and much more! Will Haruka be able to achieve her goal as well as developing a romantic interest along the way? Find out more in Uta no☆Prince-sama♪ Maji Love 1000%!
---
5. Angel Beats!

Episodes: 13
Aired: April 2010 - June 2010
Although Angel Beats! is not necessarily an anime about music, but this anime still deserve recognition, thanks to its interesting story flow and plot. If you're the one who likes shootings, action, suspense, and music as a side dish then this anime would probably appeal to you as it brings you the thrill of fighting between life and death, well technically they are already dead but, still Angel Beats! is the anime to watch!
Upon waking up, Otonashi Yuzuru had realized that he was already dead and was existing in the after-life. After some time, Yuzuru finally accepted his fate of being dead and was recruited by Yuri Nakamura to join the Shinda Sekai Sensen or SSS in a rebellion to defeat Angel or Tenshi.
---
4. Hibike! Euphonium (Sound! Euphonium)

Episodes: 13
Aired: Apr 2015 - Jul 2015
Having placed on the number 4 of the list, Hibike! Euphonium is a decent music anime. To begin with, its character development of the protagonist Kumiko Oumae, having her to rediscover her passion in playing the euphonium once again. What's great about this anime is that it develops in a nice pace, able to bring viewers the touch of 'slice-of-life' genre, making the experience of watching this an overall heartwarming one.
Kumiko Oumae who plays the euphonium, decides to give up after an unpleasant experience during a regional brass band competition in the middle school. Now, upon entering high school, she seeks to start a new leaf. But as fate would have it, Kumiko managed to found herself surrounded by friends that were interested in joining the high school brass band, ultimately helping her to find her lost passion for playing the euphonium again.
---
3. Love Live! School Idol Project

Episodes: 13
Aired: Jan 2013 - Mar 2013
As you might already noticed from the title, this anime is some sort of School Idol thing, and it's not just about the idols that made this anime popular amongst the other musical genre themed anime, it's also about the journey and overall character development of each individual that boosts the appeal. Having great music piece from the anime was just a mere bonus.
Kousaka Honoka is a student of the Otonokizaka High School which was inconveniently located at the border of three major cities, causing it to lose popularity, and ultimately making the school under threat of shutting down due to lack of students enrolling. Being enthusiastic of saving the school, Kousaka came up with the idea of creating a school idol that might help gain popularity of the school itself. But will her plan be successful? Find out more in Love Live! School Idol Project!
---
2. Macross Δ (Macross Delta)

Episodes: 26
Aired: Apr 2016 - Sep 2016
Singing its way to the number 2 spot is Macross Δ, or often referred to as Macross Delta. This anime is a very unique one if compared to the other anime that are on the list, having a mix of futuristic mecha vibe, with action and suspense, the combination might seem a bit weird when paired with the musical genre, but the writers of this anime did a great job of making viewers 'adapt' to this flow, slowly pulling you towards the story and you'd only notice how great and exciting this anime is.
The plot starts with the mass evacuation of people on Earth to another planet to avoid extinction, and how humans have grown to live amongst the stars and planets. Whilst roaming in space, they discovered a disease, Var Syndrome that could turn people violent, making it unsafe. That's where Walkure, a tactical sound unit was established. With their voices they sing to protect what humans call home in space.
---
1. Shigatsu wa Kimi no Uso (Your Lie in April)

Episodes: 22
Aired: Oct 2014 - Mar 2015
Taking the number 1 spot of the Top 10 Music Anime [Updated Recommendations] is Shigatsu wa Kimi no Uso! Basically strap on your seatbelt and get ready to board the feels train because that's what this anime will do to you. Shigatsu wa Kimi no Uso is an emotional anime that successfully pulled the heartstrings of many, even jerking some tears out of your eyes along the way with its amazing plot.
Kousei Arima, having to be a prodigy in piano, suddenly just loses it after his mother passed away. Claiming to be unable to hear out the sound of his piano, he dropped piano altogether. But as fate would have it, he met with Kaori Miyazono, a cheerful violinist, and slowly, Arima was able to gain back his old self again, eventually feeling the lost music he had long forsaken.
---
Final Thoughts
Music has been a great inspiration for many, people have sought closure in music, warmth, comfort, and for some music is a path of self-discovery, a seasoning spice added into our lives. It's really how music is able to touch us as humans on a very deep level. With that being said, kudos to all the great anime writers and producers that have managed to create so many musical anime that amazes us! Special shout outs to Nana, Kiniro no Corda: Primo Passo, and many more!
And that concludes the Top 10 Music Anime [Updated Best Recommendations]! What's your favorite music piece from anime titles above? Or do you have any other music-genre anime that deserve a mention! Be sure to leave them down the comments below!
---