También puedes leer este artículo en:Español
Music has captured many of our hearts for centuries, and it dates all the way back to the classical era. Whether you enjoy the soothing sounds of Jazz, or the high tempo beats of house and techno, there's a genre for just about anyone to listen to. There's just something about the form of music that resonates deep within our spirits, and it magically brings everyone together universally regardless of your language, etc. Honey's Anime truly loves any type of music and so we thought it would be great to turn up the volume a little bit on our articles, and bring you a list of the top ten music manga. These ten are sure to keep you entertained, so be sure to read all the way down to number one to see who brings home the music manga award!
10. Seishun Pop!

Mangaka: Kitakawa, Touta
Genres: Music
Volumes: 6
Published: February 2009 - June 2013
Gotou just can't seem to get enough of his favorite band Incest, because every time he listens to them he feels at peace. This band however is known to be very secretive and to this day, has yet to perform in front of a live audience. When an odd opportunity came his way to see his favorite idol live, he beamed with joy and excitement. One thing that came as a shock to him was that this very same idol was a new transfer student who's in the classroom next to his, and even more off beat was that she stops the entire concert to inform Gotou that she's been wanting to see him for some time. With all of this flooding through his mind all at once, what is Gotou to do!
Seishun Pop! is a comedy music and romance infused manga that looks at the life of Gotou and his obsession with this pop band. We all have come to love our favorite genre and then have an obsessive crush on the lead singer, but never have we encountered a scenario like this. What would you do if you knew your favorite band's lead singer was right next to your classroom? We'd surely be buzzing with energy and probably beg for free tickets. In Gotou's case not only does he get instant access to the group's secretive lifestyle, but there seems to be a budding romance happening and Gotou is about to receive VIP access to all the love he can get!
---
9. Sayonara Piano Sonata

Mangaka: Sugii, Hikaru
Genres: Music
Volumes: 3
Published: February 2011 - July 2012
Hiwaka Namoi is the son of a well known music critic, while Ebisawa Mafuyu is a young prodigy who mysteriously vanishes from the music world. The two cross paths and decide that their futures just might be more satisfying if they came together to create a new project. So they both agree upon taking the big leap into creating a rock band, which uniquely fuses classical and rock music together. Their journey starts from the bottom, but as they start to gain more followers, their ideas and unique sound continue to catch the ears of their new audience.
Music is all about creativity and setting a new standard in terms of sound. In Sayonara Piano Sonata this is proof that just about any type of music can be made, so long as you have a passion for it. Both main leads of the series weren't too enthused about their normal journey in the music world, and decided that to truly stand out they would need something more profound and captivating to their audience. Blending the soothing sounds of classical melodies, with the more aggressive approach to rock, Naomi and Mafuyu embark on a melodic adventure to say bye to their pasts and say hello to a harmonious experience.
---
8. Bremen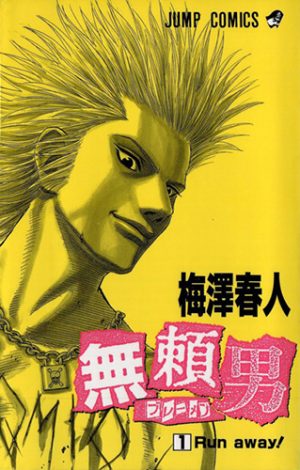 Mangaka: Umezawa, Haruto
Genres: Music
Volumes: 9
Published: December 1999 - September 2001
Following your heart and living out your dreams is something we all strive for in our lives, because of the tremendous amount of happiness we'd receive from it. Reiji and Kasuga have that burning passion, as they head out to Tokyo to prove themselves as the gods of rock. Unfortunately for them many obstacles lie in their path, as they constantly seem to attract trouble wherever they go, and it puts a toll on them. As we know however nothing in life ever comes easy and sometimes, you just need some helping hands to carry you forward. The two encounter new friends Ryo and Ran as they all come together to embark on a quest to live out their outstanding gods of rock lifestyle.
We've all been there before, where we have this amazing dream set in stone for our lives but end up with constant roadblocks that slow us down. In Bremen, this is a common occurrence for the two main protagonists, but those setbacks don't stop them from pursuing what they love most, and that's to rock out! This slice of life music comedy is sure to raise the tempo in your life, with countless moments of amusement to keep you entertained, and a lot of life lessons that we can all learn from these two devoted characters who want nothing more than a lifestyle they can celebrate about.
---
7. Nousatsu Rock Shounen

Mangaka: Kikuchi, Kimaro
Genres: Music
Volumes: 4
Published: February 2005 - June 2013
Maki's life was full of peace and relaxation up until she encountered Nobitani. Nobitani was known for being constantly bullied, and so Maki decided to step in to avoid further pain and suffering. In spite of that, Maki now has become the victim and is always being pushed around by coldhearted punks. Nobitani feels bad for how things turned out and gives Maki tickets to a local band called East Robo, to which she complied. Maki packs her things and goes off to the concert, excited to see the live show. When she arrives she's in awe at the beautiful band but even more so, the lead singer is staring right at her. With her heart pounding a mile a minute at this handsome lead singer, we start to see her interest for the band grow more and more in this wonderful continuation from Nousatsu Rock Star.
Some may call them very passionate fans, while the majority see them as groupies. Is Maki one of them? Not really, but her immediate infatuation with the band is sure to manifest into something bigger real soon. This shoujo manga looks at the life of Maki, who goes through turmoil in the beginning but winds up in a world full of sweet melodies and heartfelt emotions. Music can surely do that to you over time, and Maki is about to go on an adventure she's never been before. If you want to see how things turn out in Maki's life, then be sure to pick up a copy of the romantic music shoujo comedy Nousatsu Rock Shounen.
---
6. Fukumenki Noise

Mangaka: Fukuyama, Ryouko
Genres: Music
Volumes: 9
Published: April 2013 - Present
Nino has some real deep feelings for her friend Momo, who is completely unaware of just how deep it goes. Just before Nino is about to spill the beans on how she truly feels, she comes across a young boy who composes his own music. This new feeling perplexes her but she continues to go forward to get to know this mysterious musical genius. She soon knows his name as Yuzu, and immediately falls in love with the compositions he makes. Unfortunately, just like her friend Momo, Yuzu immediately disappears from her life. Fast forward six years later and the two reunite at school, but unfortunately for Nino, her promise to have her song reach out to Momo still hasn't found its way.
Nino made a promise to Momo that someday when her music would resonate with many, that it would reach her as well long after they've spread apart. The song doesn't make it out to her, but for Nino a new love finds its way into her life with many new challenges in store. Yuzu and Nino have this really nice youthful love connection that really keeps you interested in the story, but you're really curious as to whether Nino will ever get her song to reach her first love Momo with all that's happening around her. It's a story of twists and turns that's sure to turn up the volume on your imagination.
---
5. Full Moon wo Sagashite

Mangaka: Tanemura, Arina
Genres: Music
Volumes: 7
Published: December 2001 - April 2004
Mitsuki truly has a knack for singing, but due to a severe tumor in her throat, it has prevented her from pursuing her passion any further. The guardians angels weren't having any of that, and so one day two shinagami appear in front of her and grant her a temporary release from her serious illness, and to provide the gears to launch her much sought after singing career. This touching story is bound to strike a chord in your heart, as you'll be lured into a world that has its moments of sadness, but then springs you back up into moments of pleasure.
Tanemura Arina is very well known in Japan for creating very touching stories that not only embark on love and relationships, but also many aspects of life. In the case of Full Moon wo Sagashite, Arina really tries to put the reader in Mitsuki's shoes, as she has to go through so many painful ordeals only to be released of her pains by magical spirits. It truly lifts you away because you can really relate to Mitsuki as she truly had a passion to become a global sensation, but major setbacks hindered her progress. As you read on through the manga, you'll continue to see more and more inspiring moments that we encourage you to pick up and read in this romantic fantasy musical masterpiece.
---
4. Sakamichi no Apollon

Mangaka: Kodama, Yuki
Genres: Music
Volumes: 9
Published: September 2007 - January 2012
Kaoru just hasn't had an opportunity to live a stable life as he's traveled from school to school, and city to city with his family. Due to this unfortunate scenario and Kaoru being incredibly intellectual, he's typically seen as an outcast by many, and so he endures the pain up until he relocates once again. However this recent transfer was much different than the last ones, as he began to grow a relationship with class president Ritsuko, and then suddenly grew closer with class buddy Sentaro. Sentaro was notorious for getting involved with fights, but behind that bad boy exterior was a drummer like no other. These three students somehow come together to form a musical band due to their common love for Jazz music, and Kaoru finally finds himself falling in love with his new lifestyle.
Nothing is more annoying than having to relocate to another school, make new friends, and then do it all over again. It's rough for just about anyone who's been in that position before, and Kaoru was having none of it. That was until he came across two individuals who shared the same passion as he did, and ended up enjoying himself so much more than before. If there's one thing that Sakamichi no Apollon teaches us it's that, so long as you surround yourself with like minded people, you'll always find happiness no matter what corner you turn. When you find something you really love and people around you love it too, it just makes life skip a beat and you find yourself moving to the tempo over time.
---
3. Nana

Mangaka: Yazawa, Ai
Genres: Music
Volumes: 21
Published: May 2000 - May 2009
Nana Komatsu decides to move to Tokyo in hopes that she can create a fresh start and leave her tormenting past far behind her. On the other hand lies Nana Osaki, who arrives in Tokyo at the exact same time, but with aspirations to become a popular rock star. Despite dancing to a different beat, the two connect through the art of destiny and we follow their interesting lives, as they come to learn about the intricate aspects of life such as love, sex, music, and more in this fantastic story of companionship and passion.
The awesome thing about music is just how simple it is to turn on an online radio such as spotify and be immediately greeted by something fresh and innovative. That same vibe is what we get from the story of Nana, as the two somehow tune into each other's energy waves and find a strong connection that carries them in all different directions. They both just wanted to live a better life, and to escape the trap that the past sometimes set upon us to lure us back in. Nana Osaki's passion to pursue music and Komatsu's passion to embrace a better life fuse together to create a very moving story, that is sure to capture the many hearts of those who read through it all.
---
2. Beck

Mangaka: Sakuishi, Harold
Genres: Music
Volumes: 34
Published: February 2000 - June 2008
Tanaka just can't seem to get a break in life, as 14 years have gone by and nothing has been accomplished. He lacks drive, has no hobbies, no taste in music, and just an overall bore. He truly yearns for an exciting life but due to his extremely shy behavior, it becomes a noose for him over time. Little does Tanaka know that fate was watching over him, and one day he meets a young boy named Ryusuke Minami, a wild and spontaneous 16 year old from America who just so happens to be in a rock band named after his dog, Beck.
Life can be a total drag sometimes, and no matter how many times you try to dig it out on your own it just doesn't help. Fate has its way of saving lives, and for Tanaka it was joining a rock band that would change his life forever. We can't reach the upper echelon of success without some helping hands to get us there, and in Beck Ryusuke comes to Tanaka's rescue and transforming his mundane life into a musical rollercoaster ride. We see plenty of character growth between the two, with various pop culture references thrown into the mix to keep you entertained. This exciting manga is sure to have you rocking out once you dig deep into the story, so check it out.
---
1. Watashitachi no Shiawase na Jikan

Mangaka: Sahara, Mizu / Gong Ji-young
Genres: Music
Volumes: 1
Published: March 2008 - August 2008
Juri, a talented pianist, attempted to take her own life several times but is then rescued by her aunt, who takes her to a prison to work alongside her. Upon her time in prison she meets a young man named Yuu, who took the lives of 3 people. With the two clearly in severe internal pain and suffering, they somehow come together to create a close bond but focus their intent on violent rebellion as their form of release. However, before any of this can escalate the two come to realize how important their lives are, and aspire to live instead of create harm.
While the premise of the manga isn't solely based around music, it does seem to play a different melody in your heart once you read through it. You're constantly thrown into a whirlwind of emotions as we see two people who have deep scars embedded within, and just want to let it all out. This adaptation from the original novel created by bestselling novelist Gong Ji-young, takes a look at two youths who initially sang a bitter song but over time they embrace their sorrows and tragedy to create a touching tale that's sure to grab your heart strings and play with them a lot.
---
Closing Statement
Music is so magnetic that it can turn the worst of moments into the most profound memories. It takes us into a world that's full of color and zest, and brings everyone together as one which is truly what this world needs. We've only knocked out ten of our favorite music manga, so if you have any other great choices that you'd like to share , let us know in the comments below!
As always, if you want to know about all the latest buzz straight from the bee's nest in Japan, be sure to keep it locked here at Honey's Anime.
---