Evidence of music can be found throughout every culture in our timeline, unconfined to structure, technique and apparatuses used. Music is used to convey emotion, speech, customs, and so much more. Musical education is also unlimited; growing rapidly as advancing technology gives aspiring artists easily accessible outlets for learning the art. In the world of anime, there isn't a shortage of films, series, and manga that capture the joy and sorrows that music brings to people. So without further ado, here is our list of top 10 music anime movies! Now, it's time to face the music!
10. Yoake Tsugeru Lu no Uta

Episodes: 1
Aired: May 19, 2017
The story of Yoake Tsugeru Lu no Uta centers on a young middle school boy named Kai. Kai recently suffered a tremendous loss when his parents divorced. Adding more to his grief, his life is altered from this circumstance when he moves from Tokyo to Hinashi Town. Unable to sort out his thoughts and emotions regarding all that concerns the divorce, move, and everything else that follows, Kai's spirit does improve when he composes and uploads his songs online. With a steady passion for music, his new classmates invite him to play music together. Reluctantly, he goes to practice with them at their regular spot on Merfolk Island. A place rumored for mermaid sightings, it's been said that once you see one, bad luck will follow. However, a chance encounter with the mermaid Lu changes Kai's outlook on life completely, and on a larger scale, the townspeople's perception on these mythical beings.
Many of us can agree that music can sometimes be our saving grace when life throws a curveball. Tuning out the world and drowning oneself song after song, we can easily say that this method of dealing can only go so far. Although Kai is hesitant at first, Yuho, Kunio, and eventually Lu, help him climb out of his pity party, ensuring that music and feelings can be shared with people who care. Yoake Tsugeru Lu no Uta, in its entirety is such a fantasy filled film, with so much fun and excitement along the way. As it was just released this year, it's definitely an instant favorite of the season.
---
9. Nitaboh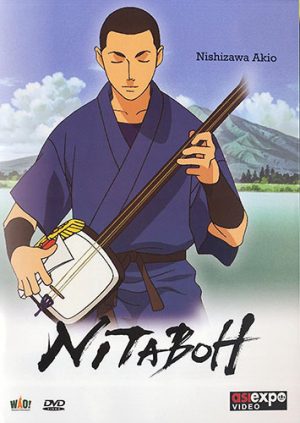 Episodes: 1
Aired: February 21, 2004
Nitaboh is a touching, coming of age story that takes place at the end of the Edo period and into the Restoration period. We follow young Nitaro, an illness-stricken boy whose affliction causes untreatable blindness. After his father abandoned him, Nitaro is left to fend for himself. One day, Nitaro hears a Samurai monk perform on his shamisen, inspiring him to learn how to play himself. Playing as if his life depended on it, Nitaro's skill on this instrument develops over time. As we see him perform into his adult years, Nitaro's overwhelming talent establishes its own specific regional sound of shamisen playing.
In hard times, music becomes Nitaro's refuge, growing a great appreciation for the shamisen. When watching this film, a similar feeling and respect for this historical, Japanese instrument can also be acknowledged. Nitaboh highlights not only a myriad of shamisen solos, but also the emphasis of the Tsugaru origination. As the Tsugaru shamisen is the most recognized genre to date, we take away historical background information and the heritage of this particular area.
---
8. Ongaku Shoujo

Episodes: 1
Air Date: March 22, 2015
Ongaku Shoujo follows the story of a dynamic duo. Haru Chitose is an energetic music enthusiast who loves to sing, but is extremely tone deaf. Eri Kumagai is a musical talent who is very shy, introverted, and one that suffers from stage fright. One day, the two polar opposites bump into each other forming an unlikely friendship. Ongaku Shoujo shows these two girls going through the motions of preparing for the annual music festival, struggling and succeeding as musicians and buddies. With a lot of comedy, drama, fan service, and music, this film is very entertaining!
Although only 25 minutes in duration, we are able to distinguish the lengths friends will go to help each other accomplish their dreams. In addition to this task, we journey with the girls doing everyday things including school, practice, karaoke, and just hanging out. Breaking up work-mode with tons of sillies throughout, Ongaku Shoujo is a feel-good, amusing film that'll urge you to start up your own group!
---
7. Kowarekake no Orgel (Movie)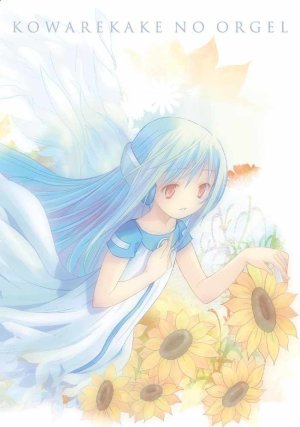 Episodes: 1
Air Date: September 11, 2010
Kowarekake no Orgel also known as Half-Broken Music Box (Movie) is set in a time when android usage is common and its function is to anticipate humanity's needs. It is the year 2039 and we focus on a young guy named Keiichiro. After suffering the loss of his family in a tragic car accident and losing interest in his band, Keiichiro has been down in the dumps, literally. In this instance, Keiichiro finds an old android model tossed away and decides to bring it home. After he brings the android to a repair shop, he learns that it is unsalvageable. Getting ready to toss the junk out, Keiichiro discovers the morning after that the android is preparing his breakfast! From that moment, we observe that "new beginnings are often disguised as painful endings."
Another short film on this list, Kowarekake no Orgel offers a simplistic outlook on the budding friendship between Keiichiro and Flower. This film bares a serious yet elementary message of not letting your past overwhelm your life. As terrible of a tragedy Keiichiro's suffered, we can reflect that the deceased would not let him waste his life remaining stagnant, but instead find happiness and passion to move forward. With music as an outlet, Flower encourages him to keep on dreaming on.
---
6. Hibike! Euphonium Movie: Kitauji Koukou Suisougaku-bu e Youkoso (Sound! Euphonium: The Movie – Welcome to the Kitauji High School Concert Band)

Episodes: 1
Aired: April 23, 2016
Hibike! Euphonium Movie: Welcome to the Kitauji High School Concert Band is a slice of life anime film that involves the daily events of Kumiko Oumae and her high school brass band mates. After a terrible incident occurred at her middle school regionals, Kumiko never wanted to play her euphonium again. Looking to rebuild her image as she starts high school, Kumiko's instrument unfortunately fails to escape her. As she makes friends who are interested in playing in the school's brass band club, once again, it is Kumiko and her euphonium! In this film, we watch the drama and excitement unfold, as disorder and disagreements ignite the various members of the club when the time comes for them to compete again.
Spotlighting the anime series, we observe Kumiko and her bandmates tackle the challenge of making it to nationals. Selecting the best tracks and incorporating them into this film, the sound and set list for this film are absolutely superb. The characters, in a school environment set towards musical education and performance, are a motivational source for those who strive to learn the ins and outs of theatricality and entertainment.
---
5. Aki no Kanade

Episodes: 1
Air Date: March 22, 2015
Drumroll please! This film captures the story of Aki Miyagawa and her history and cognizance of taiko drumming. After moving to Tokyo on her quest to become a professional, she receives a phone call from an old friend/sensei, Michio Yoshioka. Yoshioka-sensei tells her that the Kariyama Autumn Drum Festival is reviving and that she has been invited to do some coaching. From this phone call, Aki is reluctant because her perceived success is not all it's chalked up to be. As it's been 15 years since the whole band has been together, will she finally find the confidence behind her talent to teach the new taiko students?
"I can't describe it very well, but that sound was special. I was captivated by the drums. Beating the drums with everyone was really fun. But above all, it was that feeling of being engulfed in the sound."
From this film, we observe all of the passion, hard work, disappointments, and bonding experiences between Aki and her friends throughout the many years of taiko training. Besides learning the technique and rhythm of drumming, Aki and the other characters get the chance to bring a craft that was once buried back to life again, making Kariyama boom with sound once more. In complementing Japanese culture, this short film offers great exposure to the taiko art.
---
4. Wake Up, Girls! Shichinin no Idol (Wake Up, Girls! The Movie)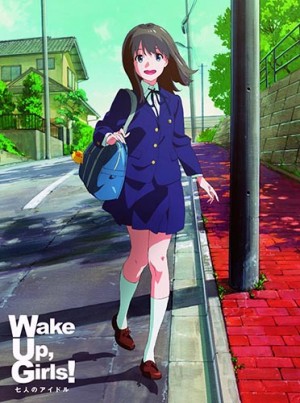 Episodes: 1
Air Date: January 10, 2014
In Wake Up, Girls! The Movie, we begin the film seeing how the seven members link up to form the idol group. Off to a rough start, the girls make their debut having little luck establishing their fan base. After their performance, the girls are knocked down a peg, as their manager takes off unexpectedly, resulting in their label diminishing and leaving the band on the brink of nonexistence. As we see the girls experience a turn of events, they're finally offered a second chance at their dream; of course, paired with much turmoil, but nonetheless, the girls are willing to bear it. With the good fortune and big break they've been waiting for, we watch the girls take on the demands of the musical industry.
In Wake Up, Girls! The Movie we watch a group of young girls, Airi, Nanami, Minami, Kaya, Yoshino, Miyu and Mayu, fight hard for the place they want to be at and the goal they want to attain as top idols. We experience their heartfelt crusade, recognizing that this lifestyle and field of work, is more than just fame and flashing lights. Music, coming from every walk of life, is something they all truly enjoy. More so, every one of these girls is ambitious, an admirable trait that is especially essential in such a competitive environment.
---
3. Piano no Mori

Episodes: 1
Aired: July 21, 2007
Piano no Mori documents the story of a young boy named Shuuhei Amamiya who moves to the countryside from Tokyo due to his ailing grandmother. Shuuhei's father is a famous pianist, and with talent just like his father, Shuuhei has trained immensely to follow in his footsteps. In transitioning to the move, Shuuhei is having some difficulty, as his classmates constantly pick on him. One day, when the kids dare him to play the cursed piano in the forest, Kai Ichinose accompanies him. The story surrounding the cursed piano in the forest says that if it is played, no sound will emerge from it. So as Shuuhei proceeds to play, he fails. However, in unlikeliness, when Kai starts to play, a wonderful sound transpires.
Highlighting both the natural abilities and technical training of Shuuhei and Kai, Piano no Mori is an adventurous and musical delight that is visually and melodiously stimulating. Sound is key in this film, as it captures the beauty of classical piano. Friendship and rivalry are also a major element of this story, as any musician can point out that there must be something or someone to compete against in order to progress and develop as an artist.
---
2. Love Live! The School Idol Movie

Episodes: 1
Air Date: June 13, 2015
Love Live! The School Idol Movie follows the events occurring after the second season of the anime series. This time, the idol band Muse has become a huge success. Climbing to the top, the group receives an invitation to New York to perform at a big event. In this performance, the industry hopes to increase idol following and gain exposure to the Love Live Project. Starting off small, the group had no idea that Muse would last this long. Overall, we observe the ups and downs of the girls working to become rising idols, maintaining humility, and making sure that the fame and success doesn't get to their heads.
Love Live! The School Idol Movie contains a colorful and likeable cast, with vibrant, bright animation. To create realism in this film, it highlights the journey in reaching your dreams and the difficulties that you will encounter. In addition to the idol music, Love Live! School Idol Movie includes drama, the girls then making up after heated arguments and a lot of the comedic relief to ease the tension. More so, the girls of Muse have such a positive outlook to every situation, even when things may appear grim and worrisome.
---
1. K-On! Movie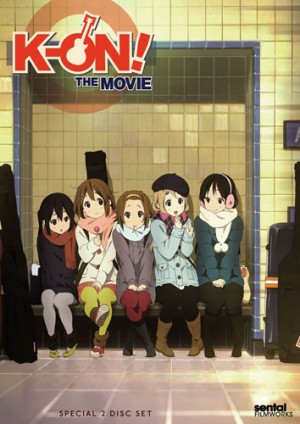 Episodes: 1
Air Date: December 2, 2011
K-On! Movie starts with Azusa Nakano making her way to the Light Music Club and upon entry of the club room, finds Yui Hirasawa, Mio Akiyama, Tsumugi Kotobuki, and Ritsu Tainaka arguing…. psyche! They were just pranking her. As graduation is around the corner, the girls come up with a plan to give Azusa a graduation present, ultimately deciding that a farewell trip would be a fantastic idea, London specifically. When the girls arrive in London, they make their way to find a bite to eat. Sushi it is! Upon entering the restaurant, they are shockingly mistaken for another band, resulting in an impromptu performance! Taking in the sights and having a blast, the girls then return to Japan to give Azusa one final performance. In this journey, what will come of the Light Music Club after Azusa leaves? Watch and see!
K-On! Movie is an essential musical, slice of life film that documents these five girls growing up, sharing their love for music, and having a lot of fun along the way. It is a simple, endearing movie that captures the message of memories not truly having an ending, but marking the occasion of something new coming in the distance. Broadcasting an array of musical genres, both in performances and in the background, K-On! Movie is more than just about music, as it emphasizes the closely-knit friendship of Azusa, Yui, Mio, Tsumugi and Ritsu.
---
Final Thoughts
We hope you enjoyed our choices for top 10 music anime movies! If you haven't already, make sure to check out all of these great titles, as they are music to our ears! Whatever type of sound gets your feet thumping, your booty shaking, and your soul moving, music overall is an expression of emotions that resonates passionately with everyone. From this sentiment, let us know if we've missed any other great musical movies by commenting below! See ya!
---