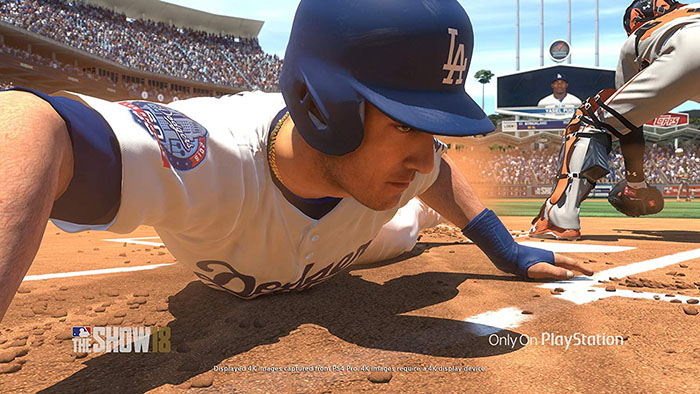 With so many different consoles out on the market right now, it can be hard to decide which one to buy. It becomes even harder when you realise just how many console specific games release each year. Well, for those of you who chose PlayStation 4, you're in luck! We are here to bring you our top picks for the Top 10 PlayStation Games in 2018. Most of these games are exclusive to the PS4, so you won't see any games where you can also get on Xbox One, Nintendo Switch, or a computer. We have only included the best ones that are available on multiple consoles!
Making console specific games is not the most popular choice by game companies since they want to reach the widest audience possible, but it does still happen with quite a few titles each year. Whether due to special deals and contracts, trying to promote the system, or needing something specific (like the VR headset) to run, these games were only released on the PlayStation 4. That means you can enjoy them and your gamer friends that have different consoles just have to be envious! So if you're looking for the best PS4 exclusive games from 2018, look no further. And of course, there are a few non-exclusive games that are also too great too not include! Here are our top choices!
10. Moss

System: PlayStation 4, Microsoft Windows
Publisher: Polyarc
Developer: Polyarc
Release Dates: Feb. 27th, 2018
Moss mysteriously begins in a library, where you find yourself drawn to an old book. When you start to flip through it, you find yourself whisked away to a magical land of fantasy, where reality becomes part of the story hidden in those pages. Upon entering the book, you meet a young mouse named Quill. Quill's kingdom has been overthrown by an evil snake named Sarffog, who can breathe fire. Things only get more complicated when Quill's uncle is kidnapped by Sarffog! It's up to you to help rescue her uncle and to free the land from Sarffog's evil reign.
Moss is a puzzle game that makes use for the PlayStation's VR headset. It really transports gamers into the whimsical and beautiful fantasy world and is a true form of escapism if that is what you're looking for. Quill is controllable by the player to solve the puzzles, but Moss is played in first-person, so you have to work as a team! Don't worry, Quill is very aware you are there and interacts with you to do everything. Moss really makes use of the VR capabilities of the game by allowing players to lean and look around corners or stand to have a higher view, giving even more of an immersive feeling. Moss is a feel-good kind of game that fantasy fans won't want to miss.
---
9. The Inpatient

System: PlayStation 4
Publisher: Sony Interactive Entertainment
Developer: Supermassive Games
Release Dates: Jan. 23rd, 2018
The Inpatient is actually a prequel to the 2015 game Until Dawn but uses a first-person perspective this time. The Inpatient takes place sixty years earlier. Set in the same sanatorium as Until Dawn, called Blackwood, you play as a patient suffering from amnesia. Your goal is to find out just who you are, and why you are at the sanitarium in the first place. The ending of the game is changed based on how you interact with non-player characters, who react via voice recognition, and the choices that you make. The Inpatient has a branching narrative, and every choice can have a drastic effect on how the story ends.
What makes The Inpatient really special is that it's a PlayStation VR game, and it takes immersion to a whole new level. Did we mention it's a survival horror game, by the way? The Inpatient makes you feel like you really are in Blackwood by letting you choose your gender at the start, and then allowing you to see your whole body if you look down and to the side with the VR headset rather than just empty space. NPCs characters are also voice-responsive. While The Inpatient is a horror game, it has more than just jump scares to deliver; it actually is a really deep and engaging story that will keep you playing no matter how scared you may get!
---
8. Detroit: Become Human

System: PlayStation 4
Publisher: Sony Interactive Entertainment
Developer: Quantic Dream
Release Dates: May 25th, 2018
Detroit: Become Human is set in the near future in Detroit, Michigan. America has become dependent on android help, and they serve as everything from housekeepers to construction workers, shopkeepers to policemen. But not everyone is happy about them, with some humans opposing what they see as androids as "replacements" for humans. As for the androids, some are beginning to question if they deserve to have the same rights and freedoms as humans do. You step into the shoes of three different androids whose stories all overlap as you are swept up in a revolution for android freedom. The outcome of the revolution and the future for androids is entirely in your hands.
Detroit: Become Human has unique gameplay that focuses on exploration and interacting with the environment as well as conversations with NPCs more than combat and survival. It doesn't have health bars, mini-maps, inventory, or a levelling system. Instead, you see the story played out by the choices you make and how you interact with the environment and others. Your choices with one android affect the world of the other two, and at the end of each chapter, you can see a story "tree" that shows you what "branches" you have explored and what you have yet to discover. Detroit: Become Human as a lot of replay value because of this, and you can have a different experience each time you play. It's a great challenge for completionists!
---
7. MLB The Show 18

System: PlayStation 4
Publisher: Sony Interactive Entertainment
Developer: SIE San Diego Studio
Release Dates: Mar. 27th, 2018
MLB The Show 18 is the latest and thirteenth instalment in the baseball simulation series. Like previous games in the series, MLB allows you to manage and control your favourite baseball teams. You can play single games, multiplayer against friends, or run campaigns to build up your team over an entire season. All of the rosters have been updated to include all teams' current players and infields for a realistic experience. Even the in-game commentators are real sports broadcasters, so you feel like you're part of a real baseball game when you're playing. Only it's even better than just watching a game; with MLB The Show 18, you're in control!
Of course MLB The Show 18 is meant for baseball and sports games fans. But for those people, it's a must-buy. The graphics are great, the gameplay is fun, and it's the next best thing when there isn't a game to watch on TV. Some fans might even argue playing the game is better than watching a real game! MLB The Show 18 cares about even the smallest details, bringing the game to life. Plus the controls are arguably the best out of any baseball simulator on the market, with gameplay that feels as authentic as it possibly can be. This latest instalment in the MLB has a really polished feel, bringing the best things the series has to offer over the years and presenting it all in one neat package for fans to enjoy.
---
6. Yakuza 6: The Song of Life

System: PlayStation 4
Publisher: Sega
Developer: Sega CS1
Release Dates: Apr. 17th, 2018 (worldwide release)
Yakuza 6: The Song of Life continues the story of Kiryu Kazuma in the seventh instalment in the series. The beginning of the game sees Kiryu, whom you play as, going to prison for his past crimes just after his adopted ward, Harris, quits her life as an idol to spend time with him. The two make a plan to meet at the orphanage they started together in Okinawa after Kiryu finishes his three-year sentence. But when he gets out of prison, Haruka isn't anywhere to be found. When Kiryu does finally find her, it's user tragic circumstances; she's the victim of a hit and run accident. And what's more, she has a baby! Kiryu sets out to find the baby's father, and uncover what really happened to Haruka.
Yakuza 6: The Song of Life actually released in Japan in 2016, but didn't get its English adaptation until 2018. The game was worth the wait for fans of the series, however. It took all the fun parts of past Yakuza games and streamlined them into a more concise and cohesive story. Of course, there are plenty of mini games and side quests to explore too! You can go to cabaret clubs, play games at the Sega arcade, sing karaoke, and help out a struggling cat cafe. And then there's the intense street battles with thugs and opposing yakuza members, too! Yakuza 6 is a game that lets you role-play some of the fun parts about living in modern Japan, and also delivers its intense story about being one of the most powerful members of the yakuza.
---
5. Monster Hunter: World

System: Microsoft Windows, PlayStation 4, Xbox One
Publisher: Capcom
Developer: Capcom
Release Dates: Jan. 26th, 2018
Monster Hunter: World is the latest in a long line of Monster Hunter games, but this one had a new goal in mind. It wanted to bring the Monster Hunter series to the rest of the world! You play as a totally customisable hunter and their palico companion, which is basically a giant cat. You have the choice of either hunting or trapping giant monsters across a variety of different landscapes for harvest. The biggest the monsters you can bag, the better the rewards. And with better rewards comes better equipment, which means you can keep hunting bigger and bigger monsters!
In the past, Monster Hunter games have always found great success and popularity in Japan. However, abroad they fell flat, with only a small and devoted fanbase mostly due to their steep learning curve and being seemingly unapproachable. Monster Hunter: World set out to change that, creating a system that is easier to understand and more approachable by even gamers that are new to the series. And they were successful! Finally, Monster Hunter gained traction in the global market, being praised for its exciting battle system, creative monsters, flexibility in how you play, and engaging multiplayer quests. Especially for online fans, Monster Hunter: World is a game you can lose hundreds of hours in.
---
4. Ni no Kuni II: Revenant Kingdom

System: PlayStation 4, Microsoft Windows
Publisher: Bandai Namco Entertainment, Level-5 (JP)
Developer: Level-5
Release Dates: Mar. 23rd, 2018
Ni no Kuni II: Revenant Kingdom is the direct sequel to the 2013 game Ni no Kuni: Wrath of the White Witch. You play as a young king named Evan Pettiwhisker Tildrum who has been usurped from his kingdom. Evan is on a quest to find a new kingdom. Along with his party of companions, all of which you can also control in battles, Evan travels the world on his quest. Battles are assisted by special elemental creatures called Higgledies, which help with casting magic. Their end goal is to create a new kingdom where people can finally be happy and free.
Ni no Kuni II: Revenant Kingdom is set hundreds of years after the first game, but in the same location, so fans of the series will be happy to see a return to some familiar places. Ni no Kuni II has many gameplay elements nostalgic to fans of older RPGs, such as traveling on a huge world map and exploring smaller places within, and a battle screen that is separate from main gameplay. But it's not turn-based combat, letting players run freely around the battle stage controlling one character at a time and doing both melee and magic attacks. Ni no Kuni II is a beautifully animated game with anime-style cinematic cutscenes, bright colours, whimsical characters and locations, and a heartfelt story. For gamers looking for something that isn't just the usual violence that games tend to have, Ni no Kuni is a breath of fresh air.
---
3. Red Dead Redemption 2

System: PlayStation 4, Xbox One
Publisher: Rockstar Games
Developer: Rockstar Studios
Release Dates: Oct. 26th, 2018
Red Dead Redemption 2 is the third game in its series and serves as the prequel for the 2010 hit game Red Dead Redemption. It is set in 1899 in a romanticised version of the American Old West, and the time when cowboys and outlaws were starting to decline in place of modernity. You control Arthur Morgan, an outlaw in the Van der Linde posse. The game begins throwing you into the middle of a mysterious story where the whole gang has had to leave the town of Black Water, and they simply allude to the bad things that happened there. As you play, the story of what really occurred slowly unfolds, and you learn the truth about the past.
Red Dead Redemption 2 had a long wait for its release, and thus a lot of expectation by both old fans and new. And it lived up to it! Red Dead Redemption 2 was more than worth the nearly ten years' wait. It really throws you into the Old West with so many great details that really bring the game alive. Even the soundtrack helps you feel completely immersed in the atmosphere. It's a challenging game, but once you learn all of its complexities you just realise how much fun it is and how satisfying it is to play. The narrative is fantastic as well, but we don't want to spoil too much about it here! Even if you never considered yourself to be a Western fan, check out Red Dead Redemption 2. You won't regret it once you get into the story.
---
2. God of War

System: PlayStation 4
Publisher: Sony Interactive Entertainment
Developer: SIE Santa Monica Studio
Release Dates: Apr. 20th, 2018
The newest instalment in the God of War series, often written as God of War (2018) takes the long-running series away from Greek mythology. This time, it's all about Norse mythology as you travel to ancient Norway and the realm of Midgar. You play as the god Kratos once again but are also joined by his young son, Atreus. After the death of his son's mother, Kratos and Atreus are trying to fulfil her dying wish of having her ashes scattered at the highest point of the nine realms. Kratos is driven not only by violence and power as he has been in past games, but also by his ties to his family and love for his son and late wife. And of course, there are plenty of awesome monsters to fight along the way, all based on Norse legends!
God of War is an award-winning game in 2018 for many reasons. The story is fantastic, and is a critical look at our own society today and what it means to be a man and a father. You can really put yourself into Kratos' head this time, and his character has become more empathetic. Plus you get to feel like you're part of an epic legend yourself as you fight through a land that has been mostly neglected by other video games. With great visuals, intense gameplay, and a story that will keep you playing for hours on end to find out what happens, God of War is easily one of the best games to be released on PlayStation 4 - possibly ever.
---
1. Spider-Man

System: PlayStation 4
Publisher: Sony Interactive Entertainment
Developer: Insomniac Games
Release Dates: Sep. 7th, 2018
When Insomniac Games made a game deal with Marvel, they were given the pick of any character they wanted to use. They chose Spider-Man, and the result was the 2018 release of Spider-Man on PlayStation 4. Spider-Man tells an all-new story, not from any previous comics, movies, or television. Still set in New York, you play as Spider-Man himself as he learns of a dark plot by Mr. Negative. Mr. Negative is trying to unite New York's criminal underground by using a deadly virus on the city. Of course, it's up to you to stop him - with Spider-Man's incredible arsenal of moves at your disposal.
If you think a game based on a movie or comic book can't possibly be that great, think again. Spider-Man met everyone's expectations and more, delivering fun and engaging gameplay and a great story. Swinging around the streets of an open world map of New York is great on its own. Add in fights that make full use of Spider-Man's web-slinging and parkour abilities and you've got a fun package. Plus it's full of the funny quips and jokes that Spider-Man is known for, balanced with a problem that you feel driven to solve due to its seriousness. Overall Spider-Man delivered a game that is genuinely entertaining for everyone to play, which is really what most gamers want at the end of the day.
---
Final Thoughts
Coming from a wide array of genres from action-adventure and horror to puzzles and old-school RPGs, a wide variety of games were released in 2018 just for PlayStation 4. You don't want to miss grabbing at least a few of these since you're in the limited audience of gamers who can play them! After all, there's nothing more satisfying than playing a great game and knowing you bought exactly the right console since you wouldn't have been able to experience it otherwise. So get out there and get some of the best games released just for the PS4 in 2018!
Did you play any of these PS4 exclusive releases? Are you planning to play some now? Did we miss out on your favourite from 2018, or would you change our ranking order? How do you feel about console exclusive games anyway? Be sure to drop us a comment before you navigate away!
---