También puedes leer este artículo en:Español
For years, the Samurai have been revered all across Japan and the world as a cultural inspiration, with many western movies even depicting the lives of legendary samurai warriors some hundreds of years ago. Even today in modern society you can still see the influence that it has when it comes to entertainment, and one of them is especially manga. The samurai history is rich and remains as one the centerpieces for the overall infrastructure of Japan. With their deadly sword battles, dramatic heartstopping moments, and vagabonds who search the vast lands for tranquility, let's take a look at some of Japan's best samurai manga, and see who takes the number one spot.
10. Basilisk: Kouga Ninpouchou

Mangaka: Yamada, Fuutarou
Genres: Action, Fantasy, Historical, Mature, Romance, Samurai, Seinen, Tragedy
Volumes: 5
Published: February 2003 - June 2004
Ten ninja, which come from the Kouga and Iga clans, are ordered by the legendary Ieyasu Tokugawa to take part in a fierce battle to the death to determine who will take the throne as the next Tokugawa Shogun. The one who survives the bloody onslaught will reign supreme for the next thousand years. Unfortunately, love has collided between the two opposing clans as Gennosuke from the Kouga clan, has fallen deeply in love with Oboro of the Iga clan. As the battle begins, these now fated lovers must fight against each other, but which battle will truly be victorious? Their clan or their battle for freedom?
Basilisk is a truly remarkable piece of work as it depicts Japanese history quite vividly, using very historical characters to help the reader visualize just what times were like back in the very turmoil stricken era of Japan. Samurai and ninja would battle out until the bitter end, in hopes that their clan would rise to the top and eventually take rulership as the next superpower. Amazing sword fights, incredible dialogue to keep you drilled into the emotional story, and a powerful bond between two people who put a lot on the line to maintain their everlasting love are what make Basilisk an epic tale and a must read.
---
9. Samurai Deeper Kyou

Mangaka: Kamijyo, Akimine
Genres: Action, Adventure, Comedy, Drama, Fantasy, Historical, Romance, Samurai
Volumes: 38
Published: April 1999 - May 2006
The dawn of the 17th century in Japan brought about much turmoil, which led to many civil wars between opposing clans and eventually erupted into the great battle of Sekigahara. Through all of the bloodshed, one man was able to stand atop the hill who many claim to have unfathomable power. They nicknamed the warrior 'the unconquerable' but many have not seen this mysterious warrior for some time now. Kyoshiro's job is a medicine peddler but behind this demeanor lies the soul of a deadly assassin. He travels alongside a young bounty hunter across Japan in order to find a murderer, but to also uncover the dark truth behind his own identity.
Many rivalries had taken place during the earlier years of the Tokugawa era, and Kyoshiro found himself deep in the middle of it all. Shortly after the gruesome battle of Sekigahara, Kyo's soul was taken from his body and placed into Kyoshiro's body who is actually his close friend. So for most of the story Kyo is on a constant search for his actual body, while teaming up with other samurai to uncover more details behind his mysterious body shifting fiasco and also look for a deadly killer with a scar on his back.
---
8. Drifters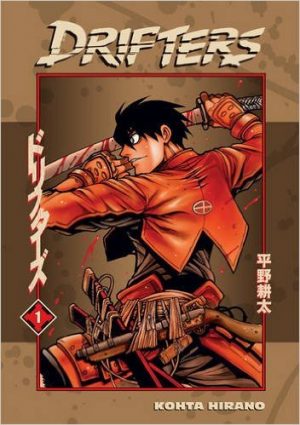 Mangaka: Hirano, Kouta
Genres: Action, Adventure, Comedy, Drama, Fantasy, Historical, Samurai, Seinen
Volumes: 5
Published: April 2009 - Present
Toyohisa Shimazu is a well known samurai who fought in the great Battle of Sekigahara in a Japanese era riddled with civil wars. Moments away from succumbing to his fatal injuries, Toyohisa is transported to an unknown world by a mysterious and eerie looking man in glasses. He is then discovered by some villagers who then take him to a house where he's met with the legendary Nobunaga, and other fearsome warriors known throughout Japan's history. Now his next battle is to fight his way out of this new world with the help of his new comrades, as they search for the truth behind why they were chosen in the first place.
The manga, when compared to the recently aired anime, is where all the meat and bones are since you truly get to see all of the gore, brutality, and sheer detail in every battle that these warriors encounter. There are a handful of historical references thrown into the mix as well. If you really love samurai history along with some crazy swordplay, plenty of exaggerated and funny moments, then Drifters is most certainly up your alley.
---
7. Peace Maker Kurogane

Mangaka: Chrono, Nanae
Genres: Action, Drama, Historical, Romance, Samurai, Shounen
Volumes: 11
Published: October 2002 - Present
Japan is knee deep in a bloody civil war, and one elite team of samurai known as the Shinsengumi, must protect Kyoto at all costs. Tetsunosuke has spent most of his life trying to land a position within the Shinsengumi, and he finally is able to fulfill that dream now. Now working as a page under the watchful eye of Hijikata Toshizo, many secrets are shared and now Tetsunosuke finds himself as one of the higher ranked officials alongside other famous historical figures. Unfortunately one day, Ryoma, a skilled swordsman, enters the fray and recognizes Tetsunosuke as the son of the peacemaker, which then results in him getting branded as an outsider and kicked out of town.
Much of the manga focuses primarily on the rise of the samurai, which ultimately leads to their demise and the opening of western doors. It demonstrates how much of a struggle the samurai had to deal with during those times, and Tetsunosuke was there to witness it all and eventually learn from it. Many battles ensued with thousands of lives brutally taken away, but the manga does a great job of incorporating laughter into the mix to give a reader a more toned down perspective on just how things were.
---
6. Shigurui

Mangaka: Nanjou, Norio
Genres: Action, Adult, Historical, Martial Arts, Mature, Samurai, Shounen, Tragedy
Volumes: 15
Published: June 2003 - July 2010
Lord Tokugawa decides to hold a fighting tournament that pits other skilled swordsmen against each other for the title of honor and respect. In previous tournaments, every warrior must use a wooden sword when engaged in battle, but the rules have now changed as real swords must now be wielded to prove the true victor. Now two extremely skilled swordsman must fight to the death, one who is completely blind, while the other must fight with only one arm, and use their skills to determine their intertwining fate.
Shigurui is a powerful story about two men who constantly fought one another under the watchful eye of Iwamoto Kogan, but when romance enters their life and tragedy strikes, their friendly rivalry turns into a bloody battle of pride and leadership. Due to their ruthless ways, the two ended up biting off more than they could chew which resulted in them losing parts of their body. This tale takes you on an historical adventure when serious rivalries were rampant, samurai warlords were battling for the shogun throne, and two young men must now put their lives at stake for the sole purpose of love and betrayal.
---
5. Gintama

Mangaka: Sorachi, Hideaki
Genres: Action, Adventure, Comedy, Drama, Historical, Samurai, Sci-Fi, Shounen
Volumes: 64
Published: December 2003 - Present
Gintoki has nothing better to do than galavant around looking for a part time job, because all of the other premium positions are taken and he just doesn't want to settle for less. So he takes to the main streets of Edo to see what he can dig up along the way, running into constant trouble at every corner. Tired of just wandering and ending up with nothing, Gintoki, along with his pal Shimura, alien Kagura, and giant dog named Sadaharu, these four create a business known as Yorozuya which take them in all types of directions in this action adventure comedy.
Gintama is a classic manga that takes place in an era where everyone was struggling to find success in some way, but it turns everything upside down into a full out comedy full of tear dropping laughter. There are so many references to other famous manga that you feel like you're a part of an entire universe, with Gintoki and his friends causing havoc everywhere they go. While the story itself is all over the place when compared to the more serious gems on our list, it's certainly a great way to take yourself away from all of the blood and hardship and just kick back with some random samurai adventures.
---
4. Blade of the Immortal

Mangaka: Samura, Hiroaki
Genres: Action, Adventure, Drama, Historical, Mature, Samurai, Seinen
Volumes: 30
Published: June 1993 - December 2012
Manji is a ronin warrior who found himself in a deep pit of misery when he was cursed with immortality for his cruel and unforgiving ways. In order to reverse this spell and return back to a normal human, he must seek out and kill one thousand evil men as soon as possible. Desperate to rid of his misery, Manji seeks out these men, but runs into a young woman who gives him a head start in his thousand man journey, as she seeks help in getting revenge on the killers who murdered her parents. Now the two must travel together as they both seek out retribution in this bloody samurai tale.
Manji's misery and painful regret is something to learn from, as he reflects on his troubled past and tries to mend it by taking care of real criminals that plague the town. Every encounter is deadly and unforgiving but you feel for Manji because you can clearly see he wants to cleanse himself of the pain he's caused upon others. He's become more like a samurai of justice than a bloodthirsty villain, whose mission is to seek inner peace while still battling the demons that confront him along the way.
---
3. Rurouni Kenshin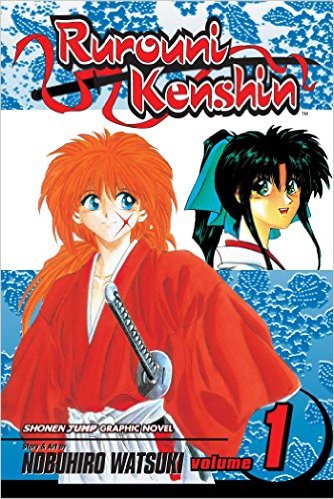 Mangaka: Watsuki, Nobuhiro
Genres: Action, Comedy, Drama, Historical, Romance, Samurai, Shounen
Volumes: 28
Published: April 1994 - September 1999
Rurouni Kenshin is an exceptionally wonderful tale of a young wanderer named Kenshin, who previously was known to be a ruthless assassin by many. After participating in the Bakumatsu war, Kenshin seeks atonement for his sins by helping others out in need, rather than committing vicious acts. As he arrives in Tokyo, Kenshin is confronted by a beautiful young woman named Kaoru, who found herself in trouble when confronted by a man claiming to be the Hitokiri Battosai. Kenshin shows her that he is the real deal after taking care of the fake. For saving her life, Kaoru offers him a place to stay and Kenshin works hard to restore his life back to its peaceful ways, and creating lasting relationships.
The powerful tale of Kenshin and his devotion to seek inner peace is one of the reasons why this manga is still very popular to this day. Kenshin realizes just how much innocent lives he's taken and now seeks to restore peace around him by rekindling relationships with past enemies, but also having to confront new ones along the way. It's gripping because you have a man who's clearly tormented emotionally and spiritually, but with the love and tender encouragement from Kaoru, the two build a deep bond for each other and Kenshin's life continues to transform over time.
---
2. Kozure Ookami

Mangaka: Koike, Kazuo
Genres: Action, Adventure, Drama, Historical, Mature, Samurai, Seinen
Volumes: 28
Published: September 1970 - April 1976
Ogami Itto is known by many to be a ruthless executioner for the Shogun, but is then framed by the Yagyu Clan in hopes that they could gain his position. Now with his name tarnished and his wife slain, Itto and his infant son Daigoro must wander the vast and uncertain lands looking for assassin jobs, under the name of Lone Wolf and Cub. With a lust for revenge embedded in his soul, Itto and his son will do whatever it takes to see that the Yagyu Clan are eliminated by his own hands.
A gripping and emotional story of a man with a purpose is what Kozure Ookami is all about. His entire life was shattered in one blow and now must seek out his killers to return the favor, by any means necessary. When a man's family is harmed you damn well know that he's not going to be holding anything back, especially when his life is on the line as well. Daigoro is all apart of this as well, as the young warrior watches over his father's shoulder as he slays every enemy down, and takes no prisoners. You really truly feel Itto's pain and so the more you dive deeper into this classic, the more you come to understand the human psyche but also just how cruel the samurai era truly was.
---
1. Vagabond

Mangaka: Inoue, Takehito | Yoshikawa, Eiji
Genres: Action, Adventure, Drama, Historical, Samurai, Seinen
Volumes: 37
Published: March 1999 - May 2015
Vagabond is the one manga that truly paints an incredibly realistic picture of just how turbulent times were in an era struggling to find solace and plagued with constant wars. Takezo was seen as an outcast by his local villagers, and now sets out on his own to find meaning. He joins the Toyotomi army at 17 but unfortunately is defeated at the hands of the powerful Tokugawa clan during the Battle of Sekigahara. After the bloody battle concluded, Takezo and his surviving friend both decide that their lives as samurai would need to change and so the two go their separate ways to seek inner peace. Unfortunately for Takezo, his journey continues to be plagued with misfortune as he's labeled as a criminal and must now change his name to escape imminent death.
The entire story of Vagabond is centered around Japan's most renowned swordsman, Musashi Miyamoto, who still to this day holds great respect in modern day Japan. The fictitious story looks at a young man who was feared by many and self claimed to be 'Invincible Under the Heavens', but eventually turns to spirituality and slowly begins to truly understand the importance of self love, reflection, and the rewarding side of life itself. Each volume is spectacular in its own way, as you follow the young Miyamoto as he matures through every battle both inner and outer, until he comes to realize the starting truths that lied in front of him the entire time.
---
Closing Statement
Samurai culture is deeply woven into the fabric of Japan's rich history, and anywhere you go in Japan you'll most likely see or hear of samurai who've helped change the economic infrastructure of today. Whether it's the legendary Battle of Sekigahara, or the captivating story of Musashi's rise to enlightenment, the life of the samurai will live on in Japan for eternity. If you have any other great samurai manga that you'd like to share, be sure to leave your list in the comments below!
As always, if you want to know about all the latest buzz straight from the bee's nest in Japan, be sure to keep it locked here at Honey's Anime.
---