También puedes leer este artículo en:Español
You'll have a hard time finding more badass sword-wielding warriors than samurai. The depictions of samurai tend to vary: they can be lone swordsmen wandering the lands, members of an organization upholding the law, saints, or even bandits. Of course, when you decide to depict them in anime, then the possibilities multiply endlessly. We've seen it all: samurai mechas, samurai fighting like they're hip-hop dancers, and even time-traveling samurai! With these near endlessly varied depictions of samurai, we had a lot of fun narrowing down the contenders for the Top 10 Samurai Anime.
10. Yoroiden Samurai Troopers (Ronin Warriors)

Episodes: 39
Aired: April 1988 – March 1989
There are nine legendary suits which, when gathered, make up the armor of the evil emperor Talpa. He has obtained four of these armors and is seeking to gather the other five so he can renew his attempts to conquer Earth after he failed thousands of years ago. The other five are worn by five of Earth's bravest humans, but when Talpa scatters them across the earth, it's up to a young boy named Yuli and a student-teacher named Mia to reunite them and stop Talpa's invasion.
Ronin Warriors is a classic anime that takes the aesthetic of samurai and does something new with it. This series takes extreme pleasure in giving its nine armor-wearing characters particularly great poses to highlight their one-of-a-kind samurai armor. This is especially true of the protagonist Ryo's Inferno Armor which is basically a samurai armor in mech form, or alternatively, Talpa's armor which screams evil samurai emperor. Ultimately, Ronin Warriors is a classic shonen about five warriors who live up to the standards of an idealized samurai to overcome great evil, and it's always a comforting watch.
---
9. Onihei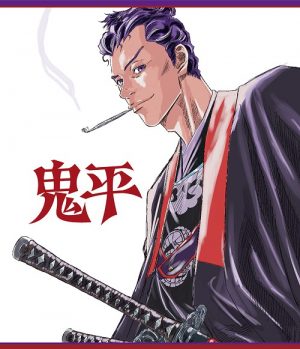 Episodes: 13
Aired: January 2017 – April 2017
Heizou Hasegawa is the Chief Officer of the Arson Theft Division. It's the Edo period and peace reigns thanks to the rule of the Tokugawa shogunate. Even so, there are always people intent on disrupting the peace for their own selfish needs. The man known as Demon Heizou isn't one to allow crimes to go unpunished. Investigating incidents, taking in criminals, and helping the misguided to repent, Heizou is determined to uphold the law and order granted in Japan during the Edo period.
If you want to enjoy a show about the everyday life of a samurai in Japan when they weren't busy waging war, then Onihei will satisfy your needs. It's basically a police procedural with samurai that reflects on its own society and general musings on life. Heizou doesn't see the world as black as white and is a widely compelling character both to see his views on his society and the human condition and to see how he interacts with the other well-developed characters he encounters and analyzes. Onihei is about as straightforward a samurai show as you can get, and you're missing out if you haven't checked this well-written series out.
---
8. Mushibugyou (Mushibugyo)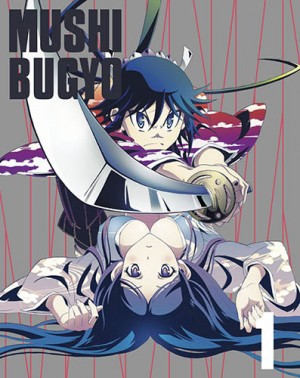 Episodes: 26
Aired: April 2013 – September 2013
During the Edo period, there is one group of people capable of saving the people of Japan from invading giant insects: the Insect Magistrate Office. Composed of the finest warriors in Japan, it's the responsibility of the warriors of the IMO to exterminate the monstrous bugs that plague their land. Jinbee Tsukishima is an aspiring swordsman who joins the Insect Magistrate Office after an accident prevents his father from doing the same and he hopes to play a part in the extermination of insects from Japan.
Mushibugyo props up a ragtag group of samurai, ninja, and priests against giant insects and it's a complete load of fun. Aside from the general idea of giant bugs being outright disgusting, it's hard not to enjoy the awesomeness of samurai going head to head with what basically amounts to kaiju. The characters and action carry the outlandish but straightforward plot, and ultimately it lives up to the samurai spirit of protecting Japan against invading forces even if, in this case, they are giant bugs.
---
7. Peace Maker Kurogane

Episodes: 24
Aired: October 2003 – March 2004
Tetsunosuke and Tatsunosuke Ichimura's parents were murdered by Chosu rebels, a pro-imperial group. While Tetsunosuke is determined to avenge his parents, his older brother is content to live a life free of violence. All that said, Tatsunosuke happens to become the accountant for the Shinsengumi, the legendary samurai group Tetsunosuke happens to want to join to achieve his vengeance. Tetsunosuke ends up joining the Shinsengumi as a page but will quickly discover the price of being a member of the group.
The most famous samurai are undoubtedly the Shinsengumi, a group of samurai tasked with preventing revolutionaries seeking to re-establish the emperor as the true seat of power in Japan. Peace Maker Kurogane depicts all the popular historical members of the Shinsengumi and is truthful to the grey-morality of the conflict between the revolutionaries and those seeking to uphold the shogunate. The main attraction is the development of Tetsunosuke, who matures from a bratty and loud 15-year-old into one of the finest swordsmen in Japan.
---
6. Juubee Ninpuuchou (Ninja Scroll)

Episodes: 1
Aired: June 1993
Jubei Kibagami is a samurai disenchanted with the politics of feudal Japan. He's a swordsman-for-hire but finds himself embroiled in the political webs of his country once again when he saves Kagero, last ninja of their clan, from a man with skin-hardening powers. He's blackmailed with an antidote into helping Kagero figure out the connection between a village-killing plague and the skin-hardening man after he's poisoned by a government spy. Jubei will find himself pulled in deeper into the political web with every discovery he makes.
It's hard not to enjoy seeing Jubei, a lone samurai, being a one-man army against a faction of superpowered ninja. That isn't to discredit Kagero, the poison-testing ninja he teams up with, or Dakuan, the old and clever government spy who helps Jubei out in key moments and even save him from grizzly fates on more than one occasion. Ninja Scroll is a grim tale combining violence, sex, and tragedy to make for a thrilling story.
---
5. Donten ni Warau (Laughing Under the Clouds)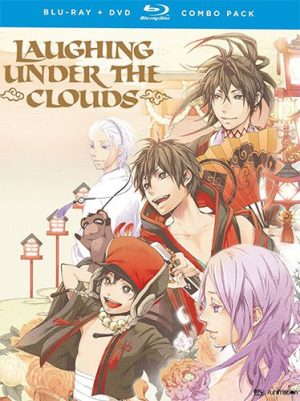 Episodes: 12
Aired: October 2014 – December 2014
It's the Meiji period and the emperor has been restored. As a result, swords are now being banned from Japan and that's the final nail in the era of samurai, at least for those who don't rebel. A combination of rebelling samurai, rising crime because of the lack of samurai to enforce the law, and prisons overflowing with those criminals who are caught has made the early part of the Meiji period rather tumultuous. A giant prison is built to accommodate the many criminals and three brothers called Tenka, Soramaru, and Chutaro have the responsibility of ferrying them across the lake and into the prison. There's more to the job than they expect, the prison is situated where a legendary creature is said to appear every 300 years, and many factions want their hands on it.
Laughing Under the Clouds is set during the downfall of the samurai, but don't let that fool you, there's plenty of sword-wielding samurai in this one. The best part of Laughing Under the Clouds is the family dynamic between the three brothers; Tenka, the eldest, feels like he has a responsibility to protect his younger brothers, Soramaru is desperate to catch up to Tenka in skills, and Chutaro outright idolizes his eldest brother. They may be the main focus of the show, but Laughing Under the Clouds also has many other family dynamics in play that make for a show full of interesting relationships.
---
4. Afro Samurai

Episodes: 5
Aired: January 2007 – February 2007
Afro Samurai's father was the number one samurai in the world until he was killed by the only man capable of challenging him, the number two samurai Justice. Years later, he has obtained the status of the only man capable of challenging Justice, he is now the number two samurai. Of course, while he wants to get his redemption as soon as possible, he now must contend with the fact that every other samurai can challenge the number two and will be desperate to take that mantle for themselves. Juggling overcoming every other samurai while pursuing Justice will push Afro Samurai as far as he can go.
Surprisingly, Afro Samurai isn't the only anime to have thought of combining samurai with hip-hop culture, but it seems to be a match made in heaven because it produced another tremendous series. This short series is particularly delightful if you watch it in English thanks to Samuel L. Jackson lending his voice to the titular Afro. It's a straightforward revenge tale, but stick around for the hip-hop aesthetic and the great fights.
---
3. Basilisk: Kouga Ninpou Chou (Basilisk)

Episodes: 24
Aired: April 2005 – September 2005
The two legendary ninja clans Iga and Kouga have finally entered an era of peace thanks to the order of the Shogun Ieyasu Tokugawa. This temporary peace has an opportunity to become permanent when the heirs to the respective clans fall in love and plan on marrying. Unfortunately, a conflict with the successor of the title of shogun causes Ieyasu Tokugawa to engage the Iga and Kouga clan in a battle royale with each clan representing one of their heirs. The clans will pick 10 of their best warriors to compete, and the winning clan will gain the favor of the winning shogunate. The heirs of the clans, Gennosuke Kouga and Oboro Iga, will have the challenging decision to decide between clan loyalty and personal love.
Basilisk puts a new spin on the classic rivalry between the two legendary ninja clans Iga and Kouga, with a Shakespearean star-crossed lovers tale under the narrative push of a battle royal. The stakes are high from the very first episode combining a tragic love story with the thrilling fast-paced action of the last man standing tale. You aren't likely to find a lot of anime that will mix these two elements and somehow excel at both, and part of that might just be because you'll quickly find all the characters embroiled in this conflict extremely compelling.
---
2. Mutsu Enmei Ryuu Gaiden: Shura no Toki (Time of Shura)

Episodes: 26
Aired: April 2004 – September 2004
The Mutsu family is legendary for practicing a unique unarmed martial art called the Mutsu Enmei-Ryu. Throughout history, the Mutsu family has been involved with many historical figures and have fought many great warriors but managed to remain undefeated. Time of Shura is the story of the fighters of the Mutsu family and their adventures.
Time of Shura picks up heavily from Japanese history and has plenty of historical figures like Musashi Miyamoto, the Shinsengumi, the Tokugawa shogunate, and many more. In a show full of samurai, it's the Mutsu family's unique unarmed fighting style that stands out the most. There's a thrill in seeing the members of the Mutsu family go swordless against some of the most formidable samurai ever and come out victorious, as well as seeing the sort of influence and impact this fictional family has had on real-life iconic figures.
---
1. Drifters

Episodes: 12
Aired: October 2016 – December 2016
Toyohisa Shimazu was on the brink of death when he woke up in a room full of doors. He is sent through one of these doors and emerges in an alternate fantasy world. There, he meets other historical figures like the legendary warlord Oda Nobunaga and the archer Yoichi Suketaka Nasu. They are Drifters and must work together to combat the Ends, historical figures with evil ambitions for the world they now all live in.
Drifters grabs iconic warriors from across history and tosses them in a fantasy setting with elves, dwarves, giants, dragons and basically any European traditional fantasy race you can think of and lets them hash it out in an epic war. The show doesn't let off either, it seems there's another epic figure brought in every episode to up the stakes. If the premise of seeing our world's greatest warriors wield fantasy armies against each other doesn't excite you then I'm not sure what will.
---
Final Thoughts
The samurai class continues to be a perfect place to mine stories for anime and combined with all of the anime genres out there, it always provides a unique world to explore. Not to mention how many outright great samurai there have been across history with a tale worth telling, or even whole groups like the Shinsengumi. This list sees anime combine many historical figures and factions and explore them in the case of series like Onihei, Time of Shura or Peace Maker Kurogane, or outright put them in completely unusual fantasy worlds and see how they overcome their supernatural foes. Did we miss out on one of your favorite samurai anime? Let us know in the comments below!
---
---
Samurai are fascinating, aren't they? As warriors, they charge head-first into battles, cutting through hordes of enemies with one of the best swords the world has ever seen. At the same time, they're also loyal vassals to their lords, and can even be loners who have their own take on bushido ("way of the warrior"). Their mystique is so strong, they've even inspired non-Japanese to create films like The Last Samurai, Red Sun and Shogun Assassin.
Of course, no one knows the samurai better than the Japanese themselves. Although most of the anime below embellish the samurai's image a bit (but then, what fictional work doesn't?), they're still awesome enough to deserve a place on anyone's "must-watch" list. Without further ado, let's start off with:
10. Hakuouki: Shinsengumi Kitan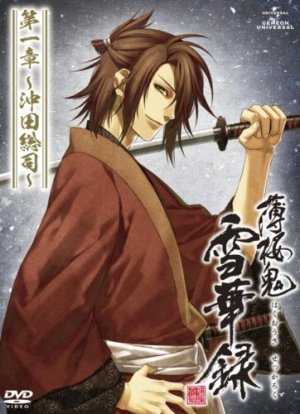 Episodes: 12
Aired: Apr 2010 – Jun 2010
The Shinsengumi, an elite police force, existed at a time when the Tokugawa shogunate was beginning to lose power, and Japan was beginning to open its doors to foreigners. Historically, their main function was to keep anti-foreigner rebels at bay, though Hakuouki extends this further to include battling against monsters called Rasetsu.
In the midst of it all is Yukimura Chizuru, a young woman who wanders into Kyoto while searching for her doctor father. She gets attacked by criminals, but is thankfully saved by the Shinsengumi (which, according to Hakuouki, is an all-bishounen group). Coincidentally, Chizuru and the group happen to be searching for the same person, and so she ends up staying with them for a while.
Even though this show is pegged as a "reverse harem," it doesn't focus much on the romance. Instead, it has well-done fight scenes, great character development for each of the Shinsengumi members, and a mystery puzzle you can solve one episode at a time. Whether you're a fan of pretty boys or not, this show has something for you.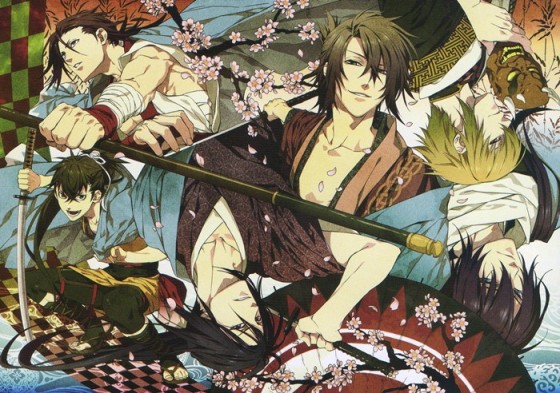 ---
9. Sengoku Basara

Episodes: 12
Aired: Apr 2009 – Jun 2009
On the other hand, Sengoku Basara takes us back to the years before the rise of the Tokugawa shogunate. At the time, warlords from all over Japan fought for ultimate control of the country. None of them, however, came as close to their goal as Oda Nobunaga, who was willing to use any means necessary (read: massacring innocent people) to fulfill his ambition. Naturally, the other warlords decided to band against him…
…and that's about as historically accurate as this show gets. Otherwise, it's one over-the-top scene after the other: Generals that literally wipe out entire armies with a single swing of the sword/axe/spear, horses decked out like Harley Davidson motorcycles (I'm looking at you, Date Masamune), and heaps of insanity all around. (That may be a good thing or a bad thing, depending on your preferences.) At any rate, this is definitely one of the most memorable shows to come out within the last decade — what with Masamune's random Engrish and Sanada Genjirou Yukimura's passionate declarations about his "oyakata-sama" and "burning soul," among other things.
---
8. Samurai 7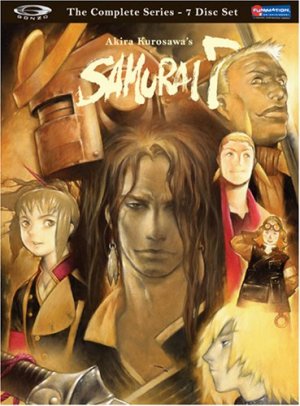 Episodes: 26
Aired: Jun 2004 – Dec 2004
Can't have a "top samurai shows" list without a Kurosawa-inspired piece, can we? Like its internationally-acclaimed predecessor, Samurai 7 revolves around a village constantly attacked by bandits. One day, the village elder decides that they've had enough, and tasks a group to recruit seven samurai in exchange for rice (since the village is too poor to offer money). The group had a bit of difficulty at first, until they encounter a shell-shocked veteran named Shimada Kambei, who helps them gather the rest of the warriors.
Make no mistake, though: Samurai 7 isn't a carbon-copy of Kurosawa's film. It puts a steampunk twist to the story, with the bandits becoming mechas called Nobuseri. Additionally, the relationship between Kirara and Okamoto Katsushiro is further explored, and ends differently from that in the film. Lastly, the pacing is just right for each episode, and eventually leads to a bittersweet, but satisfying, conclusion.
---
7. Saraiya Goyou (House of Five Leaves)

Episodes: 12
Aired: Aired: Apr 2010 – Jul 2010
Although Akitsu Masanosuke is a skilled samurai, he never stays employed for long due to his awkward personality. This changes when he meets Yaichi, who offers him a job as a yojimbo (bodyguard) for a group called the "Five Leaves." As Masanosuke soon finds out, the group isn't what it seems, but he's intrigued enough to stay with them all the same.
Unlike the shows we've listed so far, Saraiya Goyou isn't action-oriented. Instead, it slowly rounds out its characters, none of whom can be considered truly "good" or "evil." The art style and music also fit the show's gray themes perfectly, though the art can take time to get used to. Overall, if you want something different from the usual samurai show, Saraiya Goyou might just fit the bill.
---
6. Hyouge Mono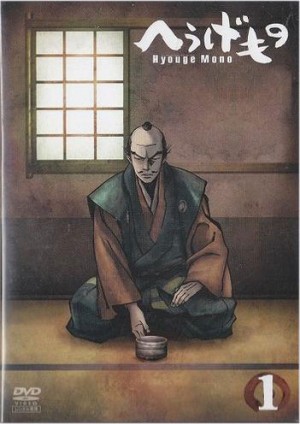 Episodes: 39
Aired: Apr 2011 – Jan 2012
Another slow samurai show is Hyouge Mono, which takes place during Japan's Warring States Period (Sengoku Jidai). Now, you normally wouldn't put "slow" and "Warring States Period" in the same sentence — until you realize that, hey, even samurai need to chill out once in a while.
When samurai aren't slashing at each other, they participate in cultural pursuits like tea ceremonies. Such is the obsession of Furuta Sasuke, a vassal of none other than Oda Nobunaga himself. At the end of episode's run, a question is posed which sums up Sasuke's dilemma: "To be an aesthete or a warrior?" (Note: An aesthete is a person who appreciates art and beauty more than anything else.)
To be fair, Hyouge Mono isn't for everyone. If 39 episodes of old men chattering about tea doesn't interest you, it'd be a total pain to sit through this show. But if you're willing to give it a chance, this show is great at showcasing a different, quieter side of the Sengoku era.
---
5. Stranger: Mukou Hadan (Sword of the Stranger)

Episodes: 1
Aired: Sep 2007
And now, let's get back to the action, shall we? This time around, we have a young boy named Kotaro, who's on the run from a group of elite Ming soldiers. Among these soldiers is Rarou (Luo-Lang in Mandarin Chinese), a blonde-and-blue-eyed Westerner who wants nothing more than to fight a worthy opponent. Fortunately for Rarou, Kotaro hires Nanashi — a mysterious but skilled samurai — as his bodyguard, and so the destinies of the three collide.
First off, this movie's fight scenes are some of the best in anime. You can see every swing of the sword, every dodge of the foot and every cut into skin, but the action doesn't slow down for even a single frame. Also, everyone in this film is a badass (including the dog!), so you'll have a heck of a ride when characters go into Fight Mode. Lastly, the art and animation are fantastic, thanks in part to the efforts of Tsunenori Saito and Nakamura Yutaka — both of whom also worked on Cowboy Bebop, Fullmetal Alchemist and Eureka Seven, among others.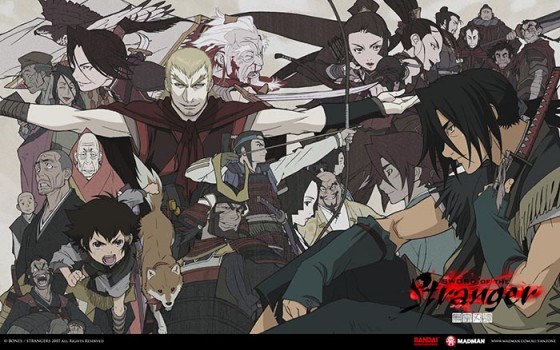 ---
4. Shigurui: Death Frenzy

Episodes: 12
Aired: Jul 2007 – Oct 2007
Oh yeah, I forgot to mention that "Sword of the Stranger" is a violent film, but most of the violence happens off-screen, or is blurred. Shigurui, on the other hand… Well, if you liked Ninja Scroll and Basilisk, Shigurui is pretty much on-par with them in terms of the "gore" factor.
This anime follows Fujiki Gennosuke and Irako Seigen, both of whom are potential successors to the school of Iwamoto Kogan, Japan's greatest swordsman. Only one of them can take the post, however, so they battle it out in a bloody tournament that'll test not only their worth as warriors, but also their humanity.
Shigurui may be one of the most disturbing shows — samurai or otherwise — you'll ever watch. There's the man who gutted himself to protest against a fight, and another whose bizarre sex scene will burn into your brain for days after you see it. If you can stomach all that, however, Shigurui offers an interesting — if extremely cynical — perspective about the samurai mythos.
---
3. Samurai Champloo

Episodes: 26
Aired: May 2004 – Mar 2005
On a lighter note, we have Samurai Champloo, which is on so many "Top X Anime" lists, I'm not sure what else I can say about it that hasn't been said before. But I'll recap the basic plot all the same.
At the heart of this show is Fuu, a somewhat air-headed but plucky waitress who wants to find a "samurai who smells like sunflowers." When a violent fight breaks out in her workplace, and the participants were about to be executed, she saves two of them: Mugen, a bad-tempered warrior with a breakdance-like fighting style, and Jin, a straight-laced but strong samurai in his own right. Together, they set out to help Fuu complete her quest, and have zany adventures along the way.
As many have pointed out, this show has awesome music. You'll bob your head in time with Nujabes' songs, and the soundtrack hits all the right notes (pun intended) with scenes like Mugen's flashbacks. Also, the combination of Edo period and modern elements may seem odd, but in true Watanabe Shinichiro fashion, they blend together as well as Samurai Champloo's main trio.
---
2. Rurouni Kenshin: Meiji Kenkaku Romantan

Episodes: 94
Aired: Jan 1996 – Sep 1998
This show is a classic in the samurai genre, and for good reason. It's about Himura Kenshin, who was formerly known as Battousai, a hitokiri ("man-slayer") for the government during the Bakumatsu. For some mysterious reason, he decides to leave that old life, and now that he is in the peaceful Meiji era, he wants nothing more than to be a rurouni ("wanderer") who will never kill again. Unfortunately for him, former enemies keep coming back to haunt him.
Rurouni Kenshin revolves around a simple, but powerful, conflict: Will Kenshin remain true to his "no-kill" vow, or will he become Battousai again to protect his country from powerful, bloodthirsty enemies? Granted, the TV series' quality can be uneven, with fillers taking up most of the latter part, but when this show is good, it's awesome.
---
1. Gintama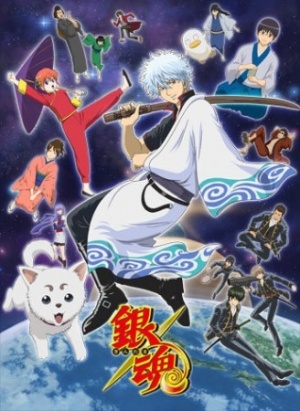 Episodes: 201
Aired: Apr 2006 – Mar 2010
To be honest, I wasn't sure whether to put this in the top spot or not. After all, Gintama is best known for its toilet humor, and this probably isn't the right list for Sorachi Hideaki's obra maestra to be number one. But, after taking into account everything that happened during the serious arcs, I think I've made the right decision.
See, Gintama presents multiple perspectives on what it means to be a samurai. To the main character, Sakata Gintoki, being a samurai is about protecting what he wants to protect (read: his oddball group of friends). To Katsura "Zura" Kotaro, a joi rebel, it's about freeing the country from the Amanto. To Sakamoto Tatsuma, it's about bringing smiles to others through his business ventures. To Takasugi Shinsuke, it's about reclaiming the honor of the samurai — and avenging Shouyou-sensei — by any means necessary.
And that's just the tip of the iceberg. You also have the Shinsengumi (made up of "country samurai"), the Shimura siblings and many others. Even the Yato — the universe's strongest mercenary race — view the samurai as worthy opponents. What I'm saying is, behind all of its dirty jokes and self-deprecating humor, Gintama is a show that handles its samurai themes unlike any other.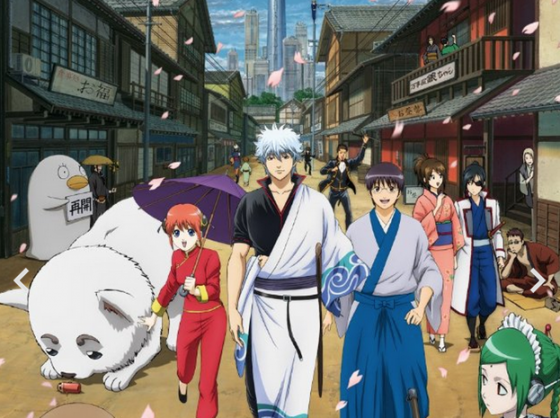 ---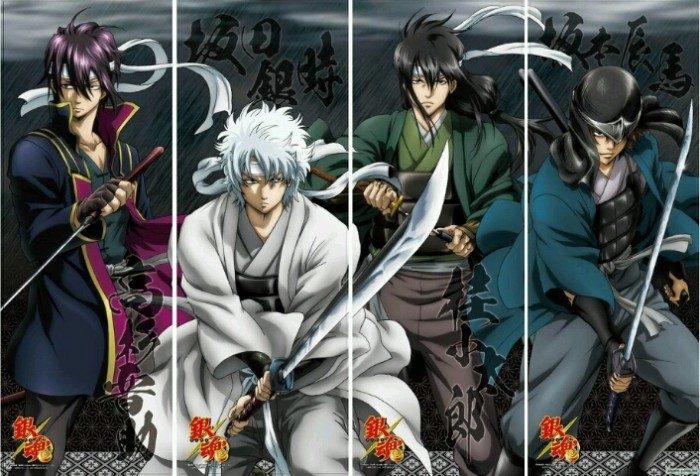 Considering the overall quality of the samurai genre, I'm sure plenty of gems were left out, like Peacemaker Kurogane, Kazemakase Tsukikage Ran, Afro Samurai, Mushibugyou, Mutsu Enmei Ryuu Gaiden and many others. So if you have anything to say about my choices, let's have a friendly(!) discussion in the comments.
---