INTRODUCTION
For most, reading can be a mixed experience. Here at Honey's Anime, we love to read anything and everything we can get our hands on. However, for others, reading can be boring or tedious. Though we always think the reason someone doesn't like to read is simply because they don't have interesting things to enjoy. If that's your issue, then our Top 10 Seinen Light Novels list may help you out.
Want stories filled with action? Desire tales of mature romance in a fantasy world? Or are you interested in a story that has guns and dangerous job careers? If you said yes to any of these, then trust us, you're going to want to see our recommendation for what we consider the best seinen light novels around. Say goodbye to your boredom, folks, as we enter our seinen light novels list.
10. Gate: Jieitai Kanochi nite, Kaku Tatakaeri

Authors: Yanai, Takumi- Kurojishi- Izuka, Daisuke
Genres: Action, Adventure, Fantasy, Military
Volumes: 10
Published: Apr, 2010- Dec, 2011
Youji Itami is a 33 year old soldier who also happens to be an otaku. Spending his hard-earned money on anime and all things otaku is the only thing Youji knows. However, Youji is about to put his otaku knowledge to appropriate use when a strange portal opens in Tokyo. Strange monsters begin to spew in and while the JGSDF—Youji's soldier unit—is able to fight them back, they know that exploring the gate's origins is the most appropriate course of action. Luckily for them, they have Youji who seems to be the perfect man for a job such as exploring a new fantasy world.
Fantasy stories can, at times, be unoriginal. Sure there is magic and action to be found but that isn't always enough to grab a reader's attention. Thankfully Gate: Jieitai Kanochi nite, Kaku Tatakaeri exists to change up the fantasy seinen world. Filled with just the right amount of otaku themes to make anyone smile, Gate: Jieitai Kanochi nite, Kaku Tatakaeri is a fun story that will hook anyone who loves a good seinen right away from the first chapter. Maybe one day, we here at Honey's Anime can show our skills to the world via some weird incident like in Gate: Jieitai Kanochi nite, Kaku Tatakaeri to happen but for now we'll stick to writing articles.
---
9. Koten-bu Series

Authors: Yonezawa, Honobu
Genres: Drama, Adventures, Mystery, School, Seinen, Romance
Volumes: 6
Published: Oct, 2001- Present
While most students try to live their lives to the fullest, this doesn't seem to apply to Oreki Houtarou. Oreki would rather do whatever it takes to keep his energy from being wasted. That's why Oreki has avoided joining any school club as long as he could. That is until Oreki gets a letter from his sister forcing him to join a dying club known as the Classics Club. Now Oreki must help out Chitanda Eru—one of the club members—whose love for mystery and adventure is second to none. Oreki's peaceful life is about to become a lot busier.
We completely understand Oreki. Sometimes we here at Honey's Anime like our days to be peaceful and uneventful. Though solving mysteries and going on adventures isn't a terrible thing once in awhile. That's why we love the Koten-bu Series as it reminds us of what it means to have a mind that wants to find a journey in even the simplest things. With a beautiful story by author Yonezawa Honobu, you'll find yourself captivated by different mysteries and some rather fun adventures. Though the Koten-bu Series makes us wish we had a club like this in our schools, we'd be there every day.
---
8. Arslan Senki

Authors: Tanaka Yoshiki, Tanno Shinobu
Genres: Action, Adventure, Drama, Fantasy, Seinen
Volumes: 15
Published: 1986- Present
Arslan has lived his life happily in Pars as the prince for many years. Finally, Arslan reaches the age of 14 and can participate in battle. Arslan hopes this battle will allow him to show his skills to his father and kingdom thus proving he has the qualities to be king one day. However, during a battle, Arslan finds his world shattered as his soldiers die around him and his once proud Parsian Kingdom goes up in flames. Now Arslan must go forth and try to reclaim his kingdom with what little experience he has.
As we grow up in the world we face many challenges along the way. These challenges in turn help us grow as humans and as individuals. That's why while Arslan Senki may be very heavily focused in a fantasy world filled with swords and battle, there's a story here of facing adversity and proving what you can do along the way. That right there makes it a must recommend for anyone who likes seinen stories. While it may finally be reaching its conclusion—a rumor we've heard floating online—after nearly 30 years of being published, we can honestly say we will miss Arslan Senki. That's why before it ends you need to go and check out Arslan Senki to see a seinen work that truly deserves to be on our Top 10 Seinen Light Novel recommendations.
---
7. Psycome

Authors: Namanie- Mizushiro, Mizuki
Genres: Comedy, Ecchi, Romance, Seinen, Harem, School, Psychological
Volumes: 6
Published: Feb, 2013- Aug, 2014
Kamiya Kyousuke is a guy who usually lets his fist do the talking when he's in a jam. Despite that, Kamiya isn't someone who would kill anyone. However, try convincing the police as Kamiya has found himself being wrongfully convicted of killing several delinquents. While he should be facing prison time, Kamiya is sent to Purgatorium School of Rehabilitation with students who have actually killed people! Can Kamiya survive this nightmare inducing school with girls who may look attractive but are quick to show they shouldn't be messed with?
Are you tired of the typical harem stories? Why not try Psycome then? This odd comedy and romance light novel series is filled with everything you love about the genre but with some rather interesting twists that make Psycome a good seinen story. Let us know in the comments section down below who your favorite girl of Psycome is. Though we don't blame you if you choose none of them seeing as how they are all apparent killers.
---
6. Another

Authors: Itou, Noizi- Ayatsuji, Yukito
Genres: Mystery, Horror, Thriller
Volumes: 2
Published: Oct, 2009
Every school has things it would like to hide from the world. However, no school will ever be as bad as Yomiyama Middle School. 26 years ago, one class lost a bright and well-loved student and ever since then the class has been cursed to have students die every several years. Unfortunately for Sakaibara Kouichi he will be transferring Yomiyama Middle School in a year where the curse is active. Now Kouichi alongside several others will have to try to solve how to end the curse all while keeping themselves alive.
We here at Honey's Anime know about the usual school rumors of cursed rooms or hallways. However, haven't you ever wondered what a true school curse would look like? Well wonder no more and read Another by Ayatsuji Yukito. This short 2 volume light novel series will send chills down your spine with some gruesome deaths and creepy events that befall those who exist in Another. Just don't feel bad if you begin to wonder if those school horror stories you hear about might actually be true…
---
5. Black Bullet

Authors: Kanzaki, Shiden- Ukai, Saki
Genres: Action, Mystery, Sci-Fi, Seinen
Volumes: 7
Published: Jul, 2011- Present
Sometime in the future, a deadly virus spreads across the world. Regardless if a person or an animal is infected, the virus mutates the host and creates something monstrous. Titled the Gastrea, this virus decimates the world's landscape and humanity now lives in constant fear of extinction. Rentaro a young man living near Tokyo happens to be one of the few chosen to fight against the Gastrea menace alongside his partner Enju who just so happens to be infected but can use the virus to enhance her skills. Together these two must try to save what's left of humanity all while surviving this nightmarish landscape.
Black Bullet is one of those sci-fi stories that hits all the right notes. Created by Kanzaki Shiden, Black Bullet is a seinen light novel that will keep you on the edge of your seat with a mixture of action, mystery and sometimes even horror. Follow Rentaro's quest at keeping those he loves safe all while keeping his mind intact from the various threats he deals with. We hope Black Bullet continues again soon—it seems to be in a hiatus at the moment—but for now, the seven volumes that are out will be plenty enough to enjoy. We knew going in that Black Bullet was something we needed to recommend for our Top 10 Seinen Light Novels list, that's how much we know you're going to like it as well.
---
4. Ookami to Koushinryou (Spice & Wolf)

Authors: Hasekura, Isuna- Ayakura, Juu
Genres: Adventure, Drama, Fantasy, Historical, Romance, Supernatural, Seinen
Volumes: 17
Published: Feb, 2006- 2011
Traveling and selling supplies is Kraft Lawrence's life. While Kraft dreams of his own store to put his traveling life to an end, for now this is the only means of accomplishing his dream. One day Kraft's journey brings him to a small village where a wolf ceremony is being held. It is here that Kraft will meet the wise wolf Holo and have his life entwined with hers going forth. Where will this simple salesman and ancient wolf god end up next? Find out in Ookami to Koushinryou.
Ookami to Koushinryou is a series many know all too well. Filled with a great fantasy adventure and some cute romance, we also believe many forget this can also be an all too interesting seinen light novel series. There are plenty of mature and interesting moments that occur during Kraft and Holo's journey. What are these grand events you may be wondering? Well, go and read Ookami to Koushinryou to find out, you don't need to thank us later either as we know you're going to love it.
---
3. Baccano!

Authors: Narita, Ryohgo- Enami, Katsumi
Genres: Action, Mystery, Fantasy, Seinen
Volumes: 22
Published: Feb, 2003- Present
In the year 1711, something very amazing happened on the ship Advenna Avis. Here, several alchemists used a spell to summon a powerful demonic being. They wished for immortality and gain it through an elixir though they are warned that only being devoured by one another will grant them death if they should ever wish for it. After an argument breaks out about who should and shouldn't have the power, the alchemists find one of their members devouring another as they sleep. The remaining alchemists scatter across the world to avoid being hunted. Over 200 hundred years later a very interesting meetup is going to happen aboard the train called The Flying Pussyfoot.
Being immortal does intrigue most people. However, as you'll discover in Baccano, there are some rather large drawbacks to being able to last so long. With some remarkable storytelling and unique themes, Baccano really is one of those stories that you could read forever. Seriously, 22 volumes in and we just can't wait for the next one to be released! Why not read this tale of magic, mystery and action alongside with us?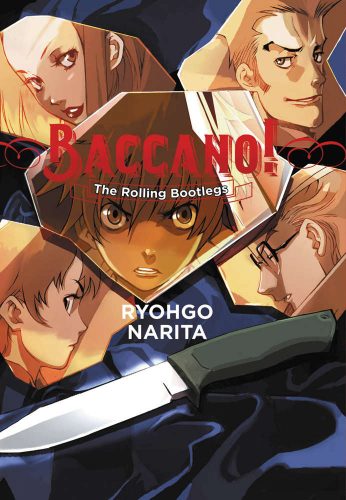 ---
2. Black Lagoon

Authors: Hiroe, Rei- Urobuchi, Gen
Genres: Action, Adventure, Comedy, Drama, Seinen
Volumes: 2
Published: Jul, 2008- Jun, 2011
Rock—though his original name was Okajima Rokuro—was once a normal Japanese Businessman. However, during an odd hostage situation Rock was taken in by the Lagoon Company. Alongside Revy, Benny and Dutch, Rock has lived a life of corruption and darkness in Roanapur. Though our story takes place after all this has happened and as Rock and Revy return from their eventful Japan trip. It all starts with a soldier and an interesting reunion.
The Black Lagoon light novel is a must for not only fans of seinen but also of Black Lagoon. Within this 2 volume light novel series, we see a cool story unfold. We won't spoil too much of it—as we do want you all to read it—but trust us, it contains all that you loved about Black Lagoon and more. Plus, since we're all still waiting on more manga volumes to be released, the Black Lagoon light novel acts as a good way to pass the time before then. Gun, dark pasts and action…doesn't that just sound like a good seinen work?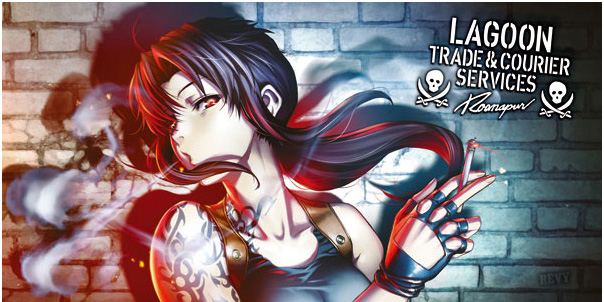 ---
1. Overlord

Authors: Maruyama, Kugane- so-bin
Genres: Action, Fantasy, Seinen, Game, Magic, Supernatural
Volumes: 11
Published: Jul, 2012- Present
Yggdrasil, a MMORPG enjoyed by many, is finally shutting its servers down for good. Momonga and his proud guild of monster-like members decide to stay on as long as they can to witness the game's end. However, since most of the members have jobs and lives outside Yggdrasil, they sign off leaving Momonga by himself. As the clock hits 12 signifying the end of the game, something odd happens. Momonga finds himself inside the game world and the NPCs seem to become more advanced. What happened and what will Momonga do now?!
It shouldn't be a surprise why Overlord is first on our Top 10 Seinen Light Novels list. Action, fantasy, supernatural concepts and an isekai theme? That should be more than enough to convince you all to go read it now. While Overlord isn't done yet—only 11 volumes so far released—we can only say that when this series ends, we will miss it fiercely. If you want to feel like Momonga, then let yourself be lost in each page as you witness one of the coolest isekai seinen we've ever gotten to enjoy. Let us not forget pay close attention to the art after each chapter as it is just incredible to say the least.
---
Final Thoughts
For a book to be considered enjoyable, it needs something to capture its target audience. Luckily with seinen works—like the ones above—those who need stories with just a bit more maturity can get that. What do you think of our list everyone, let us know in the comments section below. While you're at it why not check out our site? We have plenty more articles like this one for you to read and enjoy.
---