También puedes leer este artículo en:Español
Many of us manga fans have grown accustomed to the more popular Shounen genre, since there are a ton of excellent material to choose from. We shouldn't shy away from some of the other genres however, since they come packed with a variety of fantastic pieces of work that are sure to amaze you. One fine example is the Seinen genre, which is mainly catered towards young male teens but many people of all genders find them interesting to read. We thought that it would be time to shed some light on the very popular Seinen genre, and provide you with some of the best in terms of entertainment and quality. If this is your first time venturing into the world of Seinen then strap yourself in and get ready for an exciting ride!
10. Nozoki Ana

Mangaka: Honna, Wakou
Genres: Seinen
Volumes: 13
Published: January 2009 - February 2013
Tatsuhiko was determined to start a new life so he decides to pack his things and move to Tokyo to pursue art school. As he unpacks his belongings in the room, he notices a small hole in the wall. Initially Tatsuhiko thought it was nothing more than a hole, until one night, curiosity peaked as he looked through again and sees a young girl in the middle of performing some lewd acts. From this very moment his entire life changes as this girl becomes more than just a sight to see, but a major impact on Tatsuhiko's journey.
Tatsuhiko didn't know what his life would turn into the minute he peeped into that small hole in the wall. This adult comedy harem manga has so many random moments that you're likely to fall over laughing at everything that happens to Tatsuhiko. Emiru, the girl who was caught masturbating, ends up trying to blackmail him by persuading him to get naked with her, and take a snapshot. All of this is just too much for him as he tries to get himself away from her, but she has the weapon to turn his life into a living hell if he plans to escape. Will Tatsuhiko get a chance to live a normal school life? Only one way to find out, and that's to pick up a copy!
---
9. Black Lagoon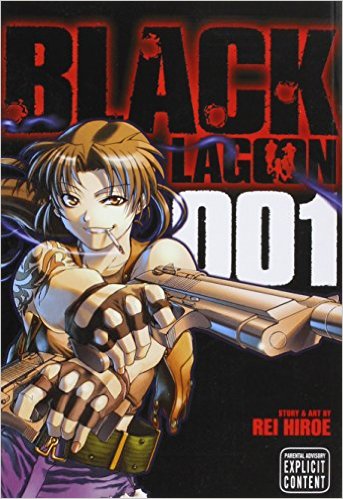 Genres:
Volumes: 10
Published:
" mangaka="Hiroe, Rei" genres="Seinen"]
Revy Two Hand has a dark history but so too does her comrades. She, alongside Dutch the Boss, Benny the Mechanic, and Rock the Salaryman all work together to deliver contraband just about anywhere. However in the world they live in that's scattered with corruption, crazed mafia, and ruthless mercenaries, the job is never easy. They encounter countless battles and deal with extremely dangerous situations, but this team of fearless travelers don't care who stands in their way, so long as their package is delivered on time.
Black Lagoon is one action packed thrill ride that's always bound to keep you on the edge of your seat. Once you get to know more about each main character's back story, you become a lot more involved in the overall plot and come to understand just why so much is happening. Data gets hacked, enemies are riddled with bullets, mafias are forced to take each other out, there's just so many directions this story takes that you'll need a map to ensure you stay on track.
---
8. Solanin

Mangaka: Asano, Inio
Genres: Seinen
Volumes: 2
Published: June 2005 - April 2006
We've all been through very rough moments in our lives that have us questioning our existence, and just why we were meant to be on this planet. The very same thoughts race through Inoue's mind as she deals with a job she hates, a boyfriend who can't afford to cover his own expenses, and a fridge that's full of rotting vegetables which were sent by her parents in the country. Inoue starts to question whether her life is even worth living with everything that's currently happening around her. This continuous struggle is what she endures day to day in this slice of life seinen manga.
Inoue goes through her daily routine of going to work, dealing with relationships, and coping with self defeat. She just can't seem to get through life the way she wants to, and every obstacle she encounters seem to become more challenging. This manga deals with contemplating suicide and human existence in a way that really touches the reader as you dig deeper. Inoue really tries her hardest to somehow turn things around, with her boyfriend there to support her when needed. Unfortunately her boyfriend's job isn't stable enough, so she feels like that needs to change as well. However one thing she begins to realize is that it's not the external world that needs to evolve, but rather her internal being.
---
7. Pluto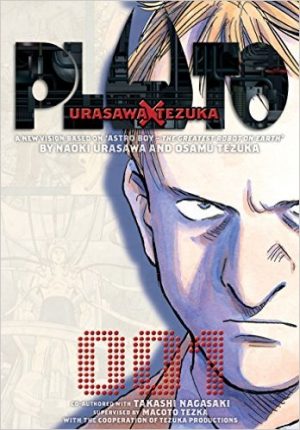 Mangaka: Urasawa Naoki /Tezuka Osamu
Genres: Seinen
Volumes: 8
Published: September 2003 - April 2009
There's someone or something that is tracking down and destroying robots, with seven of them being extremely powerful. Each body that's found is dismembered gruesomely and left in a state to show the world that they have no mercy for them. Gesicht, who is one of the seven powerful robots, works for the European Federation as a detective and is trying to uncover just who's behind all of these brutal killings. His life is on the line and he needs to unlock the mysteries and unmask the killer before he becomes another victim.
There's a ton of conspiracy going around and Gesicht is not really amused by any of it. Robots are dying by the minute due to an unknown being that's terrorizing society. Tezuka Osamu is known as the "god of manga" or the "father of manga" and you can clearly see why in this incredible story. The alternate story to this is the famous Astro Boy series, so be sure to check that powerful classic out if you haven't already. Much of Gesicht's world is full of twists and turns, and through sleepless nights doing detective investigations, he finds himself scouring for whatever information he can find to lock this criminal up. If you love suspense, corrupt politics, and detective work then be sure to read up on Pluto.
---
6. Boku Dake ga Inai Machi

Mangaka: Sanbe, Kei
Genres: Seinen
Volumes: 8
Published: June 2012 - March 2016
Satoru was just doing his normal delivery service for his part time pizza job, when a serious accident was about to occur and somehow everything rewinded back to the beginning just before the accident happened. From this moment his entire life changed as he realized he had an ability to change the events that took place in the past, which directly affect the future. After becoming a suspect to a crime he didn't commit, Satoru uses his ability to travel back in time to solve a murder that plagued most of his life, and to find out who the real killer is.
This manga has grown in popularity due to the extremely entertaining anime adaptation that finished around last year. The reason this manga drew so much attention was because of how Satoru's ability to go back in time to prevent certain events from taking place, to save someone's life from a sick and twisted murderer. The direction of the story was so powerful because we all can relate to Satoru in so many ways. We'd all like to somehow travel back into our pasts to alter some events that perhaps could change our future dramatically, especially if it's to save a life or create a stronger relationship with people we love. We most definitely recommend reading this manga as well as to check out the side story to learn more about Satoru's life.
---
5. Watashitachi no Shiawase na Jikan

Mangaka: Yumeka, Sumomo / Gong Ji-young
Genres: Seinen
Volumes: 1
Published: March 2008 - August 2008
Watashitachi no Shiawase na Jikan is a story about a young talented girl who felt that her life was no longer worth living, and tried to attempt suicide many times. Juri, the main protagonist is an extremely talented pianist, but much of her past haunts her to the point where it feels unbearable. That is until one day, her aunt takes her to the prison she works at to work alongside her. While in prison Juri discovers a young troubled prisoner named Yuu, who took the lives of 3 people. The two grew closer and begin uncovering more about one another, and the two decide to become violently rebellious due to their dark rooted history. However, the two come to a realization of just how valuable their lives are, and aspire to live. This award winning work by female Korean novelist Gong Ji-young is a story about overcoming tragedy, looking deep within oneself for answers, and using love as a compass to find your way out of the darkness.
Yumeka Sumomo took Ji-young's work and created her own adaptation of the work because of how powerful of a story it portrayed. It's a story about two young individuals who have much to learn in their lives, and need to overcome their past mistakes in order to pursue a better life. It's a tragic tale of love and sorrow as Juri comes to realize more about her inner struggles, while grabbing the reader's attention to the real problems that current society faces when it comes to suicide and murder.
---
4. Vagabond

Mangaka: Inoue, Takehiko / Yoshikawa, Eiji
Genres: Seinen
Volumes: 37
Published: Date: 1998 - Present
Takezo was seen by many as a wild and evil child due to his violent nature. Growing up in the Sengoku Era where many wars and battles ensued, Takezo decides to join the Toyotomi army to fight against the Tokugawa Clan, who at the time were merciless warriors who feared no one in the Battle of Sekigahara. The battle ended in a strong victory for the Tokugawa Clan which cemented their place in the Shogunate rule for 300 years. Takezo and his friend survive the bloody battle and swore that they would never lift a sword to harm anyone in their lives again. However, Takezo and his friend split apart and Takezo soon becomes a wanted criminal and now must change his name to escape imprisonment and death.
For those who really love Japanese history, this award winning masterpiece is surely for you. Musashi Miyamoto is a name in Japan that still resonates in many Japanese hearts to this day. His philosophy entailed in his book of five rings discusses many truths about the world, and many top businesses in Japan use Miyamoto's advice to create successful business practices. It's a powerful story of a young man who's had enough of the bloodshed and insists on turning his life around, but his dark past continues to haunt him as he tries to escape death. He becomes a vagabond in search for truth, and stumbles across many ideas that help to reshape the world he lives in.
---
3. 20th Century Boys

Mangaka: Urasawa, Naoki
Genres: Seinen
Volumes: 22
Published: September 1999 - April 2006
They created a symbol in 1969 that to them had no influence at the time, but fast forward several decades later and their symbol makes a return as more disaster unfolds. Kenji's past comes back to haunt him and a sudden death from his close friend has him questioning what's unfolding. He tries to connect his friend's death to a mysterious cult that's been tied to several other murders, but he simply can't do it alone. That is where Kenji and his group of friends come together to avoid human extinction and to restore peace back into a desolate world.
20th Century Boys is full of weird adventures and constant mind boggling moments, but that's what makes this award winning manga so striking. You're pulled into a world where countless murders and disappearances are taking place, and there's just no definitive answer as to where it's all happening from. As you read through the manga you feel as if you're part of this group of boys, constantly searching for clues to unlock the dark mystery that's plaguing their world. It's truly a remarkable journey as every page you read guides you down a different road, and you need to pick up every piece of information to crack the code in this psychological thrill ride.
---
2. Oyasumi Punpun

Mangaka: Asano, Inio
Genres: Seinen
Volumes: 13
Published: March 2007 - November 2013
Punpun just wanted to live a life that didn't deal with constant pain and just have great relationships. When he finally meets Aiko Tanaka in his class, he comes to realize just how challenging relationships can be especially when you had no prior experience. One night he's terrified when he catches his father physically abusing his mother, leaving a permanent scar in his mind about the inner working of relationships. Punpun came to realize that the examples he once looked up to were not very good role models to live by. Through these events he becomes more reclusive, sending him down a dark tunnel of deep depression and sadness.
Oyasumi Punpun is a gripping tale of a young man who tries to come out of his shell, but is then greeted with a harsh reality that pulls him back inside. He desperately tries to break the mould that was placed upon him as a child, and somehow he finds it through a budding relationship in his teens. However, he's constantly bombarded with several situations that he simply can't rid himself of, which latch on this state of mind and create a dark path for him to walk on. The story is definitely very emotionally riveting as you get to see just how real things can be, and realize that we all need to be more grateful of the relationships we have, but more so our existence.
---
1. Berserk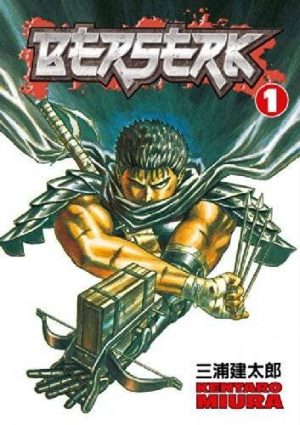 Mangaka: Miura, Kentarou
Genres: Seinen
Volumes: 39
Published: August 1989 - Present
Guts has only one purpose and that's to save the life of the one he loves most. He had been betrayed in the past by one whom he claimed as a friend, but left him behind to die in a pool of his own blood. The once beloved Taka no Dan or Hawk Clan was now a piercing pain in Guts' heart, and he vowed to get revenge by any means necessary. Casca meant a lot to him and when catastrophe struck his life, it turned Guts into a merciless beast who felt that he had no more choices going forward, and all that he could turn to was his sword and his desire to rip anyone apart who stood in his way.
Berserk is one heck of a story that entails a man who loses everything, even his limbs, and now must somehow climb his way back up over a pile of dead corpses that he's left behind to save the he loves. You're constantly rooting for Guts because of just how much he's been through, and how much people have turned their backs on him. He's become a lone wolf in world full of demons and corruption, and he can only rely on himself to get the answers he needs. We highly recommend watching the recent anime adaptation of this extremely popular manga, because you'll be wanting more after tuning in.
---
Closing Statement
Seinen manga is a very popular genre and is continuing to show growth in a world that's filled with constant Shounen comics. While the genre does tend to focus more on the older male demographic, there are so many extremely well made manga that you surely can't miss out on. These very popular top ten are just a glimpse of what's to offer, but if you have any more seinen manga you'd like to share, feel free to do so in the comments below!
As always, if you want to know about all the latest buzz straight from the bee's nest in Japan, be sure to keep it locked here at Honey's Anime.
---