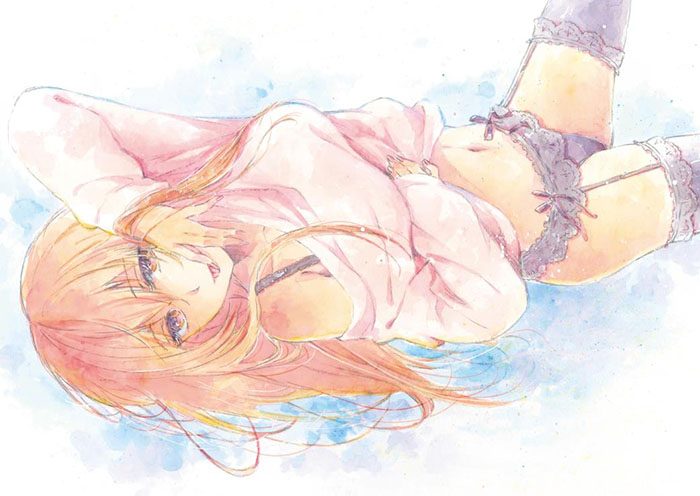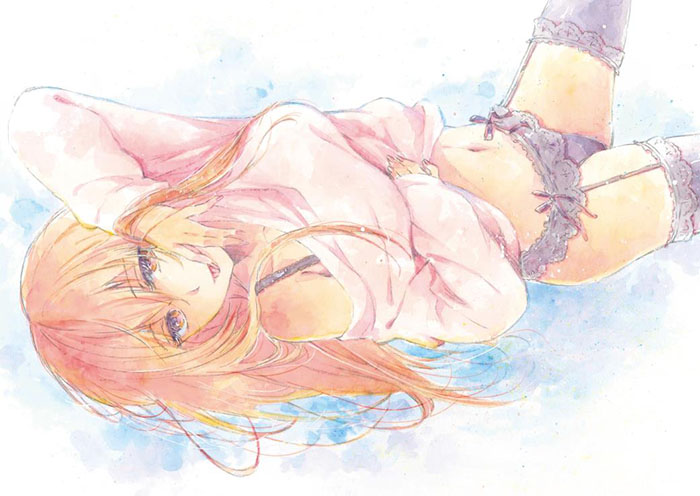 We may have entered 2018, folks, but that doesn't mean we can forget 2017. Anime was quite good to us last year providing tons of enjoyable titles for us to watch for hours at a time. Though there was also one other element that was great about 2017. Without a doubt, there were some very sexy anime girls to ogle last year and we wish to not forget about them. That's why we here at Honey's Anime have a list we think many of you will enjoy.
Gathering our team, we here at Honey's Anime got to work on a list we knew wouldn't be easy to do. It would cause us to enter fits of rage and frustration as we wrote our choices. We knew debates would fly because we had to defend our favorites on this list. However, we here at Honey's Anime also knew this was a list that would be enjoyed by many and thus we calmed ourselves as we begun. Welcome one and all to our Top 10 Sexiest Anime Girls of 2017 list. Let the sexy girls duke it out from here onwards to see who earned the top spot for 2017.
10. Chisato Mizusawa from Osake wa Fuufu ni Natte kara (Love is Like a Cocktail)

Episodes: 13
Aired: Oct, 2017-Dec, 2017
Chisato Mizusawa is a calm and seemingly no fun assistant manager at the company she works for. However, many don't realize there is another side to Chisato that only her husband Sora knows about. When Chisato has even one glass of an alcoholic beverage, she changes from serious to flirty and very open. How does this drunken style change Chisato's life at home with Sora? Let us find out in Osake wa Fuufu ni Natte kara.
At first glance, Chisato might not seem like much, especially when she's just in her business attire. Though once Chisato becomes slightly inebriated she goes from calm to a Yoidere or Drunken Dere. It is here where Chisato becomes quite sexy with her super silly attitude and her very affectionate acts towards Sora in Osake wa Fuufu ni Natte kara. Though if we're being honest here, even when Chisato is in her business mode, we still think she's pretty sexy.
---
9. Nayuta Kani from Imouto sae Ireba Ii. (A Sister's All You Need)

Episodes: 12
Aired: Oct, 2017-Dec,2017
Though he's only 20 years old, Itsuki Hashima is already proving to be quite the novelist. Beginning around high school, Itsuki has already released not 1 but 20 novels! What does Itsuki write you may ask? Well, for Itsuki, he writes what he loves the most in life, little sisters. Here is the story of a young siscon whose life is quite interesting due to his love for sisters.
Nayuta Kani is yet another example of a girl who seems so normal and simple when you first see her. Though for our Top 10 Sexiest Anime Girls of 2017 list, normal wouldn't get you anywhere. Nayuta is obsessed with our main man Itsuki—we're not jealous, we swear—and goes quite far to show it in Imouto sae Ireba Ii. Add to this the fact that Nayuta usually is naked—though its censored—when she writes and you're just bound to fall for her innocent charms. Though once Nayuta begins to show off her assets and such, you'll realize there really is nothing innocent about her and is nothing but one sexy anime girl.
---
8. Rindou Kobayashi from Shokugeki no Souma: San no Sara (Food Wars! The Third Plate)

Episodes: 12
Aired: Oct, 2017-Dec, 2017
A new festival at Tootsuki Academy is starting up called The Moon Festival and you can bet Souma Yukihira is ready for it. The best of the best will be having stalls up at The Moon Festival to prove they're the best chefs around. Wanting to challenge one of the Elite Ten, Souma decides to open a stall at the festival and prove his worth. Souma Yukihira has endured numerous trials at the academy, but none has prepared him for what's coming soon…
Some girls try hard to be sexy. Then you have girls like Rindou Kobayashi from Shokugeki no Souma: San no Sara who doesn't try to be sexy but just flat out is. With her outfit usually revealing her rather large oppai and lust for food, Rindou can appeal to many anime fans without much of an issue. Rindou might not play a huge role in the third season of Shokugeki no Souma but we know one thing: We hope Rindou gets some more air time in the next season so we can see her even more on screen.
---
7. Lucifer from Sin: Nanatsu no Taizai (Seven Mortal Sin)

Episodes: 12
Aired: Apr, 2017-Jul, 2017
Many know of the story of Lucifer's fall from Heaven. Though in Sin: Nanatsu no Taizai, we get a slightly different version. Sure, Lucifer still is tossed from Heaven and sent to Hell, but during her fall, she meets a young girl named Maria Totsuka and infuses her with some blood. Following this, Lucifer finally ends up in Hell and has her powers sealed by angelic beings. Lucifer has a plan to begin her path of revenge and it starts with gaining an army of followers to help her, beginning with Maria on Earth.
In Sin: Nanatsu no Taizai, there are plenty of girls we could call sexy, which makes sense for a show focused on mortal sins. However, one girl stands above them all in Sin: Nanatsu no Taizai and that is the main protagonist herself, Lucifer. With her large battle axe, beautiful armor and quite impressive oppai, Lucifer is the pinnacle of sin in Sin: Nanatsu no Taizai. Regardless of your thoughts on Sin: Nanatsu no Taizai, we know many of you can agree that our demon queen Lucifer is one sexy girl.
---
6. Akane Minagawa from Kuzu no Honkai (Scum's Wish)

Episodes: 12
Aired: Jan, 2017- Mar, 2017
At school, Mugi Awaya and Hanabi Yasuraoka appear to be the ultimate couple. Though this union between the two is actually just a front. Secretly, both Mugi and Hanabi are in love with people they can't be with and to ease their suffering, they have joined together for the benefits they could offer one another. However, as time passes, these two begin to realize something. Their false love may be harming them both more than they could imagine…
Let's first say that Akane Minagawa isn't a good person. Seductive, abusive and quite cold, Akane is a teacher who has a kind smile hiding an icy and cruel soul. Though regardless of how cruel Akane is, there is one thing that is undeniable about her character: Akane is extremely sexy, and she acts it throughout a majority of Kuzu no Honkai. That's why Akane makes our list of the Top 10 Sexy Anime Girls of 2017 even if she's pretty evil in many ways.
---
5. Mikasa Ackerman from Shingeki no Kyojin Season 2 (Attack on Titan Season 2)

Episodes: 12
Aired: Apr, 2017-Jun, 2017
It only seemed like yesterday when Eren Yeager and his friends Mikasa and Armin joined the military to fight against the Titans and remove them from their home. Though even with their skills growing as scouts, the Titans have not faltered in the slightest. Making matters worse is that a new threat seems to have shown itself within the walls. Eren and his friends have faced horrors before but now the threat is growing and betrayals are coming with it. Can Eren and the rest of the scouts endure the new threat that will begin within their ranks?
Maybe it's her cool attitude or maybe it's her fighting skills, regardless of what it is exactly, there is no denying Mikasa Ackerman from Shingeki no Kyojin Season 2 is one sexy warrior. Mikasa isn't like most of our girls on our list of the Top 10 Sexy Anime Girls of 2017. While she doesn't show cleavage or wear skimpy clothes, Mikasa just screams sexy in the way she's both tough against Titans and caring for her "brother" Erin. When Mikasa fights the Titans, we can only stare in awe with our mouths agape. Though what do you expect from one of the most beloved Shingeki no Kyojin characters?
---
4. Yukana Yame from Hajimete no Gal (My First Girlfriend is a Gal)

Episodes: 10
Aired: Jul, 2017-Sept, 2017
Junichi Hashiba is a plain and ordinary guy in every sense of the word. Maybe that's why Junichi is failing at finding love in school. Even as spring, the so-called season of love, fast approaches, Junichi is still failing to find the girl he's destined to be with. Then upon a dare, Junichi is forced to ask out the beautiful but scary Yukana Yame in his class. Despite expecting a "no" from Yame, Junichi instead gets a yes and finds his high school life soon approaching a significant change.
Yukana Yame is a typical gal through and through. Wearing tons of makeup and a very revealing school outfit that shows off her ample chest, Yame is indeed a girl who doesn't follow the rules of the school. Though by Yame's doing this, we get to enjoy easily one of the sexiest anime girls of 2017. Whether she's rocking her school clothes or a very revealing swimsuit, Yame just screams sex appeal. That's why Yame was a no brainer for our list and we're sure many of you will agree with us here at Honey's Anime.
---
3. Yukihime from UQ Holder!: Mahou Sensei Negima! 2

Episodes: 12
Aired: Oct, 2017- Dec, 2017
At one-time, magic was basically unknown to all normal humans. Then events revealed magic to the world and everything changed. Humanity has now become reliant on magic and most big cities welcome the magical change in their lives. Though in a rural town far from most cities, a young man named Touta Konoe still lives in a rather magic free world. However, when an incident occurs involving his guardian/teacher Yukihime Touta's life will change forever and he will get closer to magic than he ever could imagine he would.
Before UQ Holder!: Mahou Sensei Negima! 2, Yukihime was actually a small vampire girl—who happened to be 500+ years old—named Evangeline McDowell. Yet if you have never saw the original story, you wouldn't believe the voluptuous teacher/magic user Yukihime was the same girl in adult form. Yukihime is quick to get agitated and even quicker to fight against those she considers enemies but never does that change her sexy nature. We miss the fiery nature of Evangeline McDowell but equally we don't. Yukihime is way sexier in her adult form and that makes her quite easier on the eyes.
---
2. Nemuri Kayama "Midnight" from Boku no Hero Academia 2nd Season (My Hero Academia 2)

Episodes: 25
Aired: Apr, 2017- Sept, 2017
Despite the attack on the students of the UA Academy, the school sports festival hasn't been canceled and the students are anxiously awaiting its arrival. Izuku Midoriya—Deku to most—is also quite excited for this event to show what's he learned as a hero. Deku, however, doesn't realize that this school sports festival isn't going to be his only worry this year. A villainous threat is beginning to form as Deku and his classmates try to better themselves as hero. Eventually, Deku will come face to face with numerous threats and whether he's ready or not doesn't matter. Let us begin year 2 of Boku no Hero Academia 2nd Season!
Nemuri Kayama is her name by birth but her hero alias is better known to everyone and that name is Midnight. Wearing her S&M outfit and quick to make rather seductive poses, Midnight is one of the sexiest girls of Boku no Hero and of 2017 in general. While Midnight didn't get a lot of screen time in the first season of Boku no Hero Academia, the second season was a different story entirely. Though we won't complain about Midnight being around more on screen. Heck, we wouldn't mind Midnight become a main character in Boku no Hero Academia and we're sure many of fans of the series wouldn't mind either.
---
1. Yumeko Jabami from Kakegurui

Episodes: 12
Aired: Jul, 2017- Sept, 2017
Hyakkaou Private Academy isn't what anyone would consider a normal school of higher learning. Sure, kids still go to class and have teachers who monitor them. However, here on the campus, students are less required to be book smart and instead need to show their skills off in the world of gambling. Betting money and even influence, the students all go against each other to hold prestige at the school. Though young woman is soon to enter the premises of Hyakkaou Private Academy and with her arrival things will change.
Coming in at number one on our list of the Top 10 Sexiest Anime Girls of 2017 is Yumeko Jabami from Kakegurui. What can we say about this sexy gambling fiend that isn't obvious? Not only does Yumeko have an amazing body and a cute personality but she is also one heck of a gambler who gets even hotter when she becomes lost in a game. Yumeko even has that amazing scene at the end credits which we enjoyed watching every time we saw an episode of Kakegurui. That's why we feel Yumeko is deserving of being on the top of our list and we wouldn't mind going a few games with her in any game of her choice.
---
Final Thoughts
Quite a list wouldn't you folks agree? The 2017 anime season was full of sexy anime babes and making this list wasn't an easy venture. That's why we know many of you will want to now input your choices for the sexiest girls from last year. Comment down below to tell us who you think deserved to be on our list of the Top 10 Sexiest Anime Girls of 2017 and please be respectful while doing so. If you loved this article by the way, we got good news for you then. Our site here at Honey's Anime is filled with top 10s like this one so be sure to read them all for maximum enjoyment.
---