También puedes leer este artículo en:Español
We have met many heroines from Japanese manga, but how about Korean heroines? The magical world of Shoujo manhwa also awaits in this country. Don't worry, because not everything is about pretty dresses and flowers. Let's go an adventure with some of the best Shoujo Manhwas!
10. 100% Perfect Girl

Authors: Wann
Genre: Action, drama, harem, mature, psychological, romance, shoujo
Volumes: 11
Published Date: Aug 22, 2006 to Nov 5, 2009
We start strong with this classic, romance, shoujo manhwa between people from different backgrounds, social class and even country! Jay Jin is a dynamic Korean girl who dreams of becoming an artist. One faithful day, he meets a guy named J who turns out to be a prince from a European country! However, cultural differences and politics will always keep the couple at bay. Will love triumph? Read 100% Perfect Girl to find out!
Although the premise of this shoujo manhwa has been remade over and over again, 100% Perfect Girl is not your regular fluffy shoujo. It starts like a fairy tale only to spiral into a drama, full with mafia and conspirations. Jay Jin and Jartre both have complex personalities and clashing wills, but we should also add the royal responsibilities that tear them apart, regardless of their feelings for each other. Plus, one of the mafia guys and a person close to Jartre fall in love with Jay! All in all, 100% Perfect Girl is the perfect mix of emotions, aesthetics and action.
---
9. Habaek e Shinbu (The Bride of the Water God)

Authors: Mi-Kyung Yoon
Genre: Drama, fantasy, romance, shoujo
Volumes: 24
Published Date: 2007 to 2014
These are difficult times, as rain has not fallen in several years. To appease the Water God, the villagers send a girl named Soah as a sacrifice. However, instead of killing her, Habaek (the Water God), saves Soah and marries her. Now, the new bride will have to live among Gods and deal with court intrigues.
This is the perfect shoujo manhwa for a dreamy girl. It has all the cute guys you can imagine, the most perfect dresses, jewels and court buildings… And how beautiful are the landscapes! Yoon's artistry is most exquisite in the color illustrations, though. The Bride of the Water God is like a painting in motion… plus a fairy tale in the most pure Korean style! We also have to mention the love triangle between the protagonist, the Water God and someone else… you will be a bit surprised by the result 😉
---
8. Angel Diary (Destination Heaven Chronicles)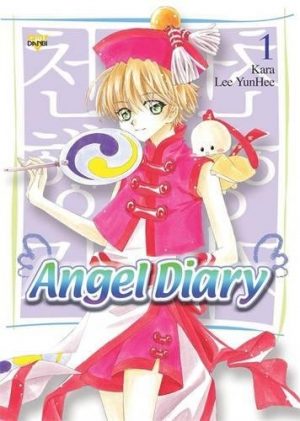 Authors: Yun Hee Lee
Genre: Action, Adventure, Comedy, fantasy, gender bender, romance, school life, shoujo, supernatural
Volumes: 13
Published Date: 2005 - 2010
If you are more into shoujo series like CardCaptor Sakura, Angel Diary might be the shoujo manhwa recommendation for you. It turns out that the Angel Princess of Heaven is betrothed to the Emperor of the Underworld. So, what does she do? Cry in despair? Nah, she just escapes disguised as a guy, and with this, both Angels and Demons descend to Earth!
As we mentioned before, here we have the cozy and at the same time, relatively simple drawing style that might remind you of Cardcaptor Sakura. However, this shoujo manhwa gets serious more often, with interesting battles full of magic. And of course, let's not leave the cute romance behind! If you like mid-length manga, you might want to give Angel Diary a try to for that reason.
---
7. Absolute Witch

Authors: Tae Yeon Kim
Genre: Adventure, fantasy, romance, shoujo.
Volumes: 12
Published Date: 2006 - 2010
In this world, witches are rarely seen anymore. That is why Skyla Pendleton is such a rare and precious treasure. Absolute Witch starts with Skyla on a journey to meet her husband Jewel Valentine, alongside her magical toad Will. Nevertheless, things are not as simple as they look. There will be a love triangle and Skyla's final destiny awaiting…
Good epics with a flavor of historical fantasy are rare to find. Although Absolute Witch takes place in an imagined universe, the color of folklore and fairy tales is present. Skyla is a charismatic lead and there is enough action to keep you awake. So, what are you waiting for? If you love magical stories, Absolute Witch is the shoujo manhwa for you.
---
6. Savage Garden

Authors: Hyeon Sook Lee
Genre: Drama, Historical, School, Gender bender, shoujo.
Volumes: 7
Published Date: 2008 - 2011
Another gender bender shoujo manhwa, yay! Only this time, we go back in time to England in the 18th century. Yes, these are the times when boys got a longer and better education than girls, among other things. Our protagonist, Gabriel, has to take the place of her best friend Jeremy, who is rumored to have something to do with royalty.
Sometimes, Lee's drawing is rather simple and plain. Nevertheless, this let's us focus our attention in the action or in a specific character in a given panel. Her watercolors are flooded with pastel colors and delicate harmonies. They grab your attention and transport you to the old times, where Gabriel has to survive to the harsh classist system in the school while she impersonates a guy. Her adventures get trickier and darker at every turn, because love also is in the air. If you love mysterious historical shoujo manhwa, you definitely have to try this one!
---
5. Evyione

Authors: Young Hee Kim
Genre: Romance, shoujo.
Volumes: 12
Published Date: 2007 - 2013
If you love classical tales like the Little Mermaid, you are in for a ride with Evyione. King Laedonti decides to leave his world in the sea. Why though? Well, the answer is to be found on the land, in a beautiful princess that shines like the sun.
Evyione will catch your attention if you are into French culture. More specifically, the author got inspiration from the Louis XVI era. The heroine, princess Evyione, does more than simply fall in love with someone other than Laedonti. We not only have a love triangle but also the intrigues of the court and a heroine who has to stand for herself. So, if you ever wanted a better Little Mermaid, you better watch out for Evyione.
---
4. Ciel: The Last Autumn Story

Authors: Ju Yeon Rhim
Genre: Adventure, Fantasy, Romance, Shoujo.
Volumes: 23
Published Date: 2005 - 2013
Maybe you like fairy tales, but also witches. Even better; you like Harry Potter, with all its mysteries and magic. In that case, you might find some common ground with Yvienne Magnolia, a humble girl who has to flee an attempted kidnapping. She ends up in Lowood, a school for witchcraft and wizardry, where she will live the most marvelous adventures along her new friends.
Yvienne is a dynamic girl who can't have a worse start in the story. However, she manages to make the best of the situations she encounter. Yvienne's world may look a bit plain compared to the elaborated drawing from other of our recommendations. However, the mysteries and adventures in this shoujo manhwa will keep you interested. Of course that there is some good old romance in the mix!
---
3. Vanilla Ice

Authors: Woo Hyun Kim
Genre: Comedy, Romance, School, Gender Bender, Shoujo.
Volumes: 4
Published Date: 2002 - 2004
A beautiful girl called Yoon Sul and a rude looking guy called Tae Hee are friends. What happens when Si Jun, the class representative, shows interest in Tae Hee? Well, we get a romantic triangle. The twist lies in Yoon Sul becoming guy-like and having bad ass fighting skills.
In contrast with most of our other recommendations, Vanilla Ice has very little fantasy to rely on. You will not encounter flowers, glitter and dreamy situations on a daily basis either. Instead of that, we get all the comedy! If you are more into shoujo manhwa set in the modern day, you can read Vanilla Ice. You might also want to try it if the sugary heroines are not your type. Plus hey, it has the ideal length for a quick read!
---
2. The Pale Horse

Authors: Hae Yun Choo
Genre: Action, Mystery, Drama, Fantasy, Historical, Romance, Supernatural, Shoujo.
Chapters: 197
Published Date: 2010 to present
Bullying is a regretful practice that has been in vogue since old times. That is why we see it in this shoujo manhwa set in France in the 19th century. So, meet Rose Dupre, a girl who looks pretty normal… and is told that she is the daughter of an evil witch. However, it turns out that Rose truly can be considered a witch. Together with her friends Marie and Peter, she will try to find out her past and destiny.
The Pale Horse is a webtoon in full color that transports us to a dynamic world full of the contrasts between action and the calmness of the countryside. The drawing is a bit less in the style of manga, manhwa and manhua; The characters are given more occidental comic-like faces. However, they resort to the asian style in the comic panels. All in all, the interesting plot is enhanced by the ability of Choo as an artist. There is much more about Rose than what meets the eye. Haunting and sometimes plainly scary but also touching, The Pale Horse is one of the best shoujo manhwas.
---
1. Princess

Authors: Seung Won Han
Genre: Adventure, Drama, Romance, shoujo.
Volumes: 37
Published Date: 1995 - present
Finally, we got to the #1 spot, handsomely occupied by nobles from an age long gone. We are at the middle ages, in a fictitious country called Ramira. This empire has been ruled by great women. In Princess, we get to know the current empress Preia, who fights to recover her kingdom aided by the people who are loyal to her.
If you are into more classical and historical inspired shoujo, you are in for a long ride in Princess. The drawing is detailed, the architecture breathtaking and the coming of age story enchanting and uplifting at the same time. Of course, the shoujo manhwa takes its time to develop the characters, as it is long. We can appreciate how difficult is to do the right thing when there are so many players and factors at bay. And even when doing the right thing, Preia sometimes will lose. In short, Princess is truly one of the bests shoujo stories of all times!
---
Final Thoughts
The world of shoujo has invited us many times to enjoy the adventures of the female sex as we grow, get to know the world and other people. Who knows, perhaps a love is right around the corner! Or maybe a wonderful destiny awaits? Tell us, which other great shoujo manhwa have you read? Don't forget we are open to all your comments and suggestions. See you soon!
---