Superman and other American comic heroes may have originated super powers, but anime and manga have taken them to a new expression of creativity that is just hard to top. In most anime and fictional stories, characters can fly, have super strength, super speed, and things that have been done for the past 80 years. However, anime just has this really stylish way of demonstrating these same powers and can also present something fresh. For this edition, we'd like to re-explore some powers from anime we would like to have. While some may be familiar, anime just has this really cool way of making you want them even more.
10. Solid Script Magic from Fairy Tail

Episodes: 175
Aired: October 12, 2009 – March 30, 2013
We'll admit this is a weird way to kick off this list but for those who love memes, what if your words or jokes can appear as solid matter like an onomatopoeia from a comic book or the old 1960s Batman show starring the late great Adam West? That's what Levy can do with Solid Script Magic. But not only do Levy's words materialize in the alphabet, they can also literally become their very meaning. If you want fire or water, not only do they physically manifest written in the alphabet, but they come out in the form of water and fire as well. So, if you want to change the script on "sticks and stones may break my bones but words will never hurt me," then you can have that power with Solid Script magic. To the ordinary layman, what you can do with this power can be crazy (try saying "awesome" or "epic fail" to see how it would turn out). This is the kind of power that is best left to the intellectuals of our time such as Jordan Peterson and Elon Musk. But we have to admit, it would make a good stand up routine if Richard Pryor or George Carlin were still with us. Then again, one would have to wonder if Trump had this power, how would "covfefe" turn out?
---
9. Gekkaju from Bungou Stray Dogs

Episodes: 12
Aired: April 7, 2016 – June 23, 2016
Turning into a werewolf or a vampire is just so trendy these days, and Twilight made them way uncool. What if instead, you could turn into a big white tiger? That is what Atsushi can do in Bungou Stray Dogs. So, what can he do as a white tiger? Naturally, he has strength, speed, healing, and toughness! Eventually, Atsushi can manipulate this ability by lets say exclusively transforming his hand into a tiger's paw, or grow a tail. Plus, you don't need the full moon or need to be sucked by a vampire in order to turn into use this convenient super power. Once you master this power, you can transform at will, and if you ever find yourself in any kind of situation, we are sure turning into a vicious white tiger will get you out of a jam, or you can make some money by joining Siegfried and Roy for their latest Vegas act.
---
8. Summoning from Tensei shitara Slime Datta Ken (That Time I Got Reincarnated as a Slime)

Episodes: 24
Aired: October 2, 2018 – March 19, 2019
Rimuru may be a slime who can look like a moe girl, but he's a master magician. So, out of all of his tricks, what are the powers you want to have? He can summon demons! With that kind of power, you have lots of demons at your command for good and/or evil, but thankfully Rimuru is the good kind of slime. Thanks to his summoning magic, he can do almost just about anything. Just like vector manipulation (which is included on this list), this power alone has a lot of flexibility for offense and defensive purposes. Want to be resistant/immune or strong against other forms of magic? Hopefully, your pact with other demons and other mythical creatures can help you with that. Need to be a lean mean fighting machine? They can also help out. In a sense, think of them as a spoof of Billy Batson gaining the powers of Shazam to some extent.
---
7. Time Jumping from RErideD: Koku Koe no Derrida (RErideD: Derrida, who leaps through time)

Episodes: 12
Aired: September 22, 2018 – November 21, 2018
An experiment has gone wrong, you end up in a coma, and wake up 10-years later to find that the world has gone to Hell. Thankfully, Derrida, the main character, has ability to time jump in order to make right what was once wrong. While time travel seems cool in a Delorean or a bathtub, or maybe even in a phone booth, what if your super power was to time jump to a certain point? In this anime, you need the memories of a certain time in order to go back, so if you remember where you were the day before-let's say-that $1 billion mega millions from a couple years ago, you can just go back to that time and use the winning numbers to make yourself rich! As a result (intentional or not), you're going to create a new timeline and new memories that you can't recall, so if you mess up, you can't go back since certain memories won't exist anymore!
So, for some people, they may want to fix the world with this ability. For others, they might as well figure screw the world, use their knowledge of the future to get rich or die trying. Since this form of time jumping is within the confines of your memories, there are somethings (some of) you can't do such as going to events that have happened prior to your birth such as stopping 6 million people from getting slaughtered in Nazi Germany, JFK from getting shot, or the Warriors messing up their 3-1 lead.
---
6. ESP from Mob Psycho 100

Episodes: 12
Aired: July 11, 2016 – September 27, 2016
We've said it before and we've said it again, with great power, there must always come great responsibility, and this is what Shigeo demonstrates in regards to his God given ESP. Through most of the series, Shigeo, or Mob, tries to keep his emotions in check since it could be catastrophic if he gets upset (thankfully, they learned from Akira, or so we hope). While the fear of such powers are understandable, it would still be cool to have. Worried about your spouse cheating on you? Well, you know what you can do there if you had such abilities. Want to know the answers to a test? You can read your teacher's mind! Want some insider trading on the stock market? Did Trump really conspire with Putin? What did Hillary delete in her e-mails? Where is Jimmy Hoffa hiding? Then with those powers at your disposal, you can solve life's greatest mysteries! We have to admit, out of all the powers on this list, this is without a doubt the easiest to abuse because we want to know so much. Eventually, these powers evolve to so much more such as making plants grow, being able to project oneself in astral form, and drain the energy of others. Of course, it is a burden to take if you don't use such power correctly.
---
5. Explosion Magic from Kono Subarashii Sekai ni Shukufuku wo! (KonoSuba: God's Blessing on This Wonderful World!)

Episodes: 10
Aired: January 14, 2016 – March 17, 2016
If you're a pyromaniac or just want to make the coolest fireworks show ever, then Megumin's explosion magic is another cool super power to have. But like any other fantasy story akin to a traditional RPG, it does take "MP," but hey, the bigger the risk, the bigger the reward. What's also cool about explosion magic is that you can even control the trajectory so if you find yourself in a dire situation, you can manipulate it in a way to not hurt innocent civilians. If you're some country bumpkin that likes to go out and shoot their rifle at cans, then Megumin's explosion magic is something you would love to do with large barrels, or it could get you a good gig at a rock concert. Heck, if monsters were to ever appear in the real world, they could be a useful skill but unfortunately, as said before, it does take MP so use wisely!
---
4. Immortality from K: Missing Kings

Episodes: 1 (movie)
Aired: July 12, 2014
As the classic Queen song goes, who wants to live forever? That is pretty much what Yashiro/Adolf has as the Silver King. Through the power of the Silver King, not only does he have immortality, he's invulnerable to disease, hunger, and other wounds. Though he can feel pain to some extent, it's not going to kill him. With immortality, what can you do? You can use all the time in the world to gain knowledge in just about everything which Yashiro/Adolf effectively does in both military and scientific matters. And with immortality, you can use all the time to accumulate wealth. It may take centuries, but hey, better late than ever, right?
---
3. Vector Manipulation from Toaru Majutsu no Index (A Certain Magical Index)

Episodes: 24
Aired: October 5, 2008 - March 19, 2009
Vector Manipulation is essentially a much cooler way of saying telekinesis and can be used for both offensive and defensive purposes. Naturally, telekinesis is one super power most people wish they had, but vector manipulation just puts a really fresh spin on it. While it is magical in nature, it largely uses the law of physics in order to be applied masterfully. If something is coming at you, you can create a force field to stop its motion, and also reverse the trajectory back to attacker. Eventually, it evolves to flight, manipulation of speed and vibration for devastating energy attacks. It goes to the point where you can teleport and have control of the space-time continuum at the palm of your hand. Like any other power, it does have its limitations if you're not trained enough, but in the end, practice makes perfect.
---
2. Gold Experience from Jojo No Kimyou na Bouken: Ougon no Kaze (JoJo's Bizarre Adventure: Vento Auero)

Episodes: 39
Aired: October 6, 2018 - Ongoing
The stands from JoJo are without a shadow of a doubt what makes that series unique. Not only can they be used for combat purposes, they each have their own distinguishing powers. As opposed to having a destructive power, what about something more constructive like Giorno's stand, Gold Experience, which can turn an inanimate object into a living thing whether it would be a plant or animal? What if someone lost a limb in an accident or war? Thankfully, Gold Experience can take lets say a brick, and can make it a new hand for you. Need a new eye or tongue? Gold Experience can take the cap of a drink bottle and use as a new eye. Want a pet snake? Then Gold Experience can make you one. So, if you want to be in the business of helping people, then Giorno's Gold Experience can best provide that and also give you close quarter combative abilities when necessary.
---
1. Creation from Boku no Hero Academia (My Hero Academia)

Episodes: 13
Aired: April 3, 2016 – June 26, 2016
The world of My Hero Academia is full of individuals with distinguishing abilities known as quirks. Yes, having One For All would be cool, but Creation, which belongs to Momo, just feels way more convenient. As the name suggests, she can create just about any inanimate object from her body. Naturally, it does consume energy so she has to eat in order to make anything of a larger size and/or of a higher volume. Need the latest iPhone? Just pull it from your body! Want a PS4? Just pull it from your body! Want a chainsaw? Just pull it from your body! Want a wad of cash? Just pull it from your body! Want an official Elon Musk flamethrower? Just pull it from your body! And you can do that with the comfort of eating the largest Venezia's Pizza has to offer (if you got a Venezia's pizza in your town that is), or just eat out at your local Golden Corral and try to make yourself a Tesla or a Ferrari. Due to the creative convenience of Creation, we thought it would be a cool to make it number one.
---
Final Thoughts
Having a super power can be the most awesome thing that could ever happen. Of course, every power has their physical, mental and moral limits as seen in the stories of the anime we listed. Some take energy, some can be self-destructive, and some can make you lonely and isolated. Either way, they can be life changing for you and the people around you based on how you use it. It is within human nature to be greedy and selfish to want to use such powers for lets say financial gain. However, when we have the ability to make a difference for the betterment of the less fortunate, we should use that power to help them. Long before Superman fought alien invasions, he fought for unions, abusive husbands, and racism in his older stories. If we evolve to something like My Hero Academia, our education and society will have to change in order to adjust to that.
---
---
Special powers or special abilities are pretty awesome to have. I mean, how kick ass would you be if you have some sort of super power? Who wouldn't want to live in their own super powered fantasy? I am willing to bet that at least once, you have thought to yourself: "I wish I had that power!" I know I have. Anime is so varied and creative, if a genie could grant you one power, where would you even start?
This is entirely objective, though depending on how much havoc you want to wreck or how useful you want your powers to be, but let me tell you what powers I would love! I put a lot of thought into this list so I hope you enjoy it. This is my list of top 10 special powers in anime!
10. Voice Pheromone Alice - Reo Mouri (Gakuen Alice)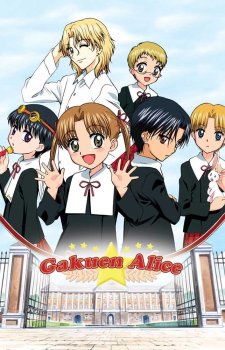 Episodes: 26
Aired: Oct 2004 - May 2005
Possessed by Reo, the voice pheromone alice proves to be quite dangerous at it can manipulate people and control them so long as they can hear the user's voice. You do not even have to be in the same room, the user can use the voice pheromone alice through different devices like phones, microphones, and speaker systems. This makes this ability dangerous to any listeners. With the voice pheromone alice, you can brainwash people, use the power of suggestion, or completely control someone's will. This is definitely a strong power!
With this power, there is no need to get violent or spill anyone's blood to get the outcome I want or defeat my own enemies. With a position of power, having a voice pheromone alice could help you rule the world!
---
9. Power of Destruction - Rias Gremory (High School of DxD)

Episodes: 12
Aired: Jan 2012 - Mar 2012
A power passed down through the Gremory clan of demons, the Power of Destruction utilizes demonic energy to destroy anything. Rias Gremory is able to manipulate the power and even give it a magnetic field to draw people in to destroy them. This is a truly destructive power that can destroy everything.
Defeating other demons or enemies might be a breeze with the Power of Destruction. It is no wonder why Rias is the worship of all of her chess pieces. While bestowed upon humble users like Rias, the destructive force that is the Power of Destruction can be used for good. Using this power, I could protect my friends and destroy my enemies! Who wouldn't want ultimate power?
---
8. Vampire Ninja - Seraphim (Is This a Zombie?)

Episodes: 12
Aired: Jan 2011 - Mar 2011
Vampire ninjas in Is This a Zombie have an arsenal of great powers. They are able to move quickly as needed, fight using the Tsubamegaeshi sword style, use red energy beams, and utilize ninjutsu.
It is the best of both worlds: vampire and ninja. You could be part assassin and creature of the night! With the stealth of a ninja and the bloodlust and immortality of a vampire, who can defeat you?
---
7. Sharingan - Sasuke Uchiha (Naruto)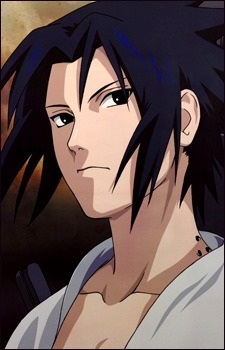 Episodes: 220
Aired: Oct 2002 - Feb 2007
Love him or hate him, Sasuke's Sharingan is pretty impressive. It gives the user the ability to copy jutsu, manipulate opponents, perform genjutsu, and see another person's chakra. The Sharingan also gives the power of perception which allows users to do things like read lips or mimic the movements of a pencil in order to cheat.
The Sharingan can also evolve into a Mangekyou Sharingan and even the Rinnegan. It is an ability with great potential. I think it would be so useful in combat for copying and reading an opponent's movements. If I was still in school and ignored the honor code, I can see some serious practical applications. You know, for those bullies?
---
6. Lightning Dragon Slayer Ability - Laxus Dreyar (Fairy Tail)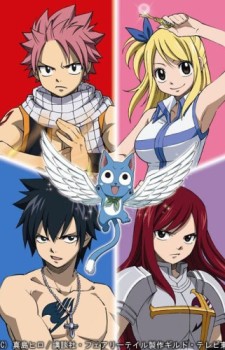 Episodes: 175
Aired: Oct 2009 - Mar 2013
The Dragon Slayer ability is truly limitless in power in the world of Fairy Tail, but my favorite has to be Laxus' power of lightning. Laxus is able to produce electricity from his body and manipulate electricity. The lightning dragon slayer powers seem to be especially destructive. The user is able to consume electricity or lightning to restore the user's energy and strength to continue fighting longer than most magic users.
I love the lightning dragon slayer ability because lightning is one of my favorite elements, but can you imagine how useful that power is in this day and age? Electricity is almost everywhere so you can recharge so easily and destroy anything that gets in your way. I also like the idea of being my own generator. Imagine the possibilities!
---
5. Super Hella Masochist - Taro Sado (MM!)

Episodes: 12
Aired: Oct 2010 - Dec 2010
Featured in MM!, the power to become the Super Hella Masochist may seem silly as it is a parody of the Super Saiyan ability, but I happen to think it is super powerful. Super Hella Masochist uses the power of masochism and perversion to give the user an incredible amount of power that can extinguish enemies. This power is so strong that the user will grow in strength if physically harmed by anyone. How do you even defeat that? Use the power of pervert energy to defeat your enemies!
---
4. Exquip - Erza (Fairy Tail)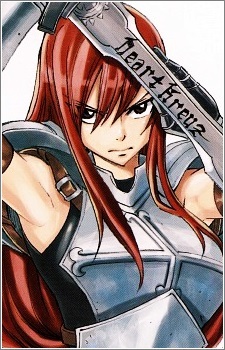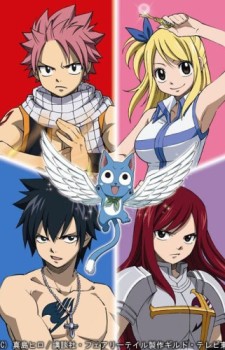 Episodes: 175
Aired: Oct 2009 - Mar 2013
Exquipping is one of my favorite abilities in Fairy Tail! Erza, also known as Titannia, possess exquip magic that allows her to switch between different armors within seconds and summon hundreds of weapons to destroy her enemies. Even when her magic is running out, Erza is able to switch her armors and use her physical abilities to fight her enemies. The ability to exquip is a combination of magic and physical strength. This power makes Erza a power to be reckon with.
I believe this power is incredibly powerful and capable of taking out as many enemies as possible. I would love to be able to change my weapon as needed per my enemy's method of combat. Who wants to be stuck with Pikachu against Onyx? I want to be able to adapt to my enemy's technique and change my own to better suit me. Also, ay favorite feature of this power is the ability to switch between my street clothes and pajamas in seconds. Yup, this power has so many uses in and out of battle.
---
3. Dr. Blythe - Neferpitou (Hunter x Hunter)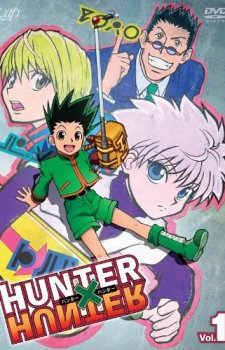 Episodes: 62
Aired: Oct 1999 - Mar 2001
Dr. Blythe is an ability that the Chimera ant, Neferpitou, is able to activate using nen. When the Chimera ant king, Mereum, rips his arm off, Neferpitou is able to repair his arm and restore complete mobility of Mereum's arm with ease. It is an impressive ability that surpasses even modern day medical science because it can completely repair internal organs and injuries that may otherwise lead to death. It does not even require anything aside from nen on the user's part seeing as Neferpitou is able to repair his own arm after destroying it.
It may just be the medical professional side of me that is interested in this ability, but I can only see the possibilities it has for healing those that are fatally injured like those in the military or harmed during war. The power of Dr. Blythe could even surpass the most technologically advanced surgery centers to create miracles never with far fewer errors than believed possible. How could I not include such an amazing power on this list?
---
2. Ability to Control Blood - Mirai Kuriyama (Kyoukai no Kanata)

Episodes: 12
Aired: Oct 2013 - Dec 2013
Mirai Kuriyama is the sole survivor of a clan that is able to manipulate her blood. Mirai uses her power to shape her blood into weapons in order to destroy youkai that may otherwise hurt others. Although it causes anemia in the user, it gives the user a power that is fueled by the user's imagination. The only real limit of this power is the limit of the user.
I think I just like powers that allow you to create a weapon out of your body, but I think this power is incredibly handy for battle as you will never be caught without a weapon. Even in day to day uses, it Is helpful for self defense. Still, I find that using one's blood as a weapon to be a wonderfully interesting idea and I wish I had it at my disposal!
---
1. Shikotsumyaku - Kimimaro (Naruto)

Episodes: 220
Aired: Oct 2002 - Feb 2007
Much like Mirai's blood manipulation, the power of Shikotsumyaku enables Kimimaro to manipulate his bone cells to use his skeletal structure in combat. Kimimaro, who is capable of changing the density of his bones to make them stronger than steel, is able to wield his bones as incredible weapons to fatally injure his opponents. He can create the ultimate defense with his bones as well making Kimimaro an incredible force to be reckon with.
I love that this power is something that uses something the body already contains (your bones) to create an powerful offense and defense that can withstand most attacks. It is one of my greatest wishes to be able to use my body as a weapon so Kimimaro's power is the top of my list. It would make the most incredible close combat fighting power!
---
Now I have shown you a lot of special powers, but I believe there are a few that deserve honorable mentions like the ability to become a Super Saiyan from Dragon Ball, Vectors from Elfen Lied, Teleportation from Darker Than Black, and Magical Girl powers! There are so many out there that I have not gotten the privilege to be exposed to. Do you have any you want?
---