When you get really into anime and manga, the sheer volume of amazing stories you find is deliciously overwhelming. Then you realise that there's even more out there and you try and get yourself into the next overflowing trove of storytelling treasures – manhwa. The Korean take on comics is noticeably different from that of Japan and this is true of the art and the storytelling perspective. Webtoons also tend to be placed in the same bracket and there are several platforms which house some really amazing manhwa. The issue is always picking that first read. Well, not anymore, since you've stumbled upon this helpful post laying out some interesting titles that we think would be perfect ways to introduce one's self to the manhwa!
10. Girls of the Wild's

Manhwaga: Kim Hye-Jin (Art), HUN (Story)
Genres: Action, Comedy, Drama, Martial Arts, Romance, School, Harem
Volumes: 260
Published: November 2012 – October 2016
Wild's High is a prestigious all-girls high school with a 42-year history of training its students in some of the deadliest forms of martial arts on the planet. Every year, the school hosts a widely broadcasted tournament known as the Wild's League where only the most formidable succeed. This year, Wild's High has changed its policies, opening its doors to male students for the first time. The only male applicant is one Song Jae Gu, who has been granted a scholarship for the entirety of his time at the school. For the past two years, Jae Gu has been preoccupied with taking care of his younger twin siblings and with his new school journey underway, Jae Gu finds himself in a messy situation after accidentally spilling coffee on Queen, the current champion of the Wild's League! Can Jae Gu go through his school days quietly, or is everything already beyond repair from the word "go"?
Girls of the Wild's is a perfect starter manhwa due to the nature of its content. The manhwa feels familiar especially with the presentation of an unassuming male character surrounded by powerful beauties, a trope we see in anime and manga all the time. The characters are very likeable and the plot contains several elements that we see in Shounen anime and manga all the time – the journey of a character through tough times that see him meeting a host of amazing people and dealing with his own demons.
---
9. Orange Marmalade

Manhwaga: Seokwoo
Genres: Comedy, Drama, Romance, School, Shoujo, Vampire, Slice of Life
Volumes: 119
Published: February 2011 – December 2013
In a time where vampires are a known entity throughout human society and completely vilified, they are forced to keep their identities hidden. Two centuries ago, human beings and vampires signed a treaty prohibiting vampires from feeding on humans. Nowadays, vampires satisfy their hunger with pig's blood. Baek Ma Ri is a teenage vampire who has gone through many difficult periods in her life as a result of her vampirism. Her family has moved several times to start over after their secret is revealed. As a result, Ma Ri sees no value in making friends and getting close to people; however, when she first catches a whiff of Jung Jae Min's blood, she finds herself unable to resist. After the strange encounter, the young man finds himself falling in love with her.
Orange Marmalade is an interesting point to begin a manhwa journey due to the fact that it presents something supernatural as well as familiar. Most of us have seen vampires in popular culture; however, this particular take on vampires as an oppressed people in society mixed in with romance creates an addictive romantic story with a good dose of serious drama and light-hearted humour.
---
8. Tower of God

Manhwaga: SIU
Genres: Fantasy
Volumes: 323+
Published: July 2014 – Ongoing
Twenty-Fifth Bam is a boy who has lived his entire life trapped beneath a mysterious tower, with only his best friend, Rachel, to keep him company. When Rachel enters the Tower one day, Bam manages to open a door into it, with the intent of finding his friend in the labyrinth that awaits him within. On each floor of the Tower, Bam faces gruelling challenges that could very well cause him to lose his life.
Tower of God is the type of mysterious story that attracts you with the prospect of strange enigmas throughout the series, but keeps you reading through intense plot twists, action and the cast of interesting characters. The series has brilliant fantasy elements and expansive lore that seems to contradict the image given off by the notion of a tower. With a large number of chapters out currently, Tower of God is a great place to start reading manhwa and it comes highly recommended as one of the most read titles on LINE's Webtoon platform.
---
7. Skill of Lure

Manhwaga: Woo Sang Ho
Genres: Comedy, Ecchi, Romance, Shounen, Slice of Life
Volumes: 45
Published: March 2013 – January 2016
Jang Sung Gi is miserable because everyone who knows him thinks that he is a complete pervert. It doesn't help that he always gets into some of the most incriminating situations because of his poor social skills. However, hope arrives in the form of his friend Hwang Jae, who claims to be a master at attracting women and offers to help Sung Gi find the girl of his dreams. Suspicious at first, Sung Gi takes up Hwang Jae on his offer and begins improving his conversational skills and overall ability to interact with women. Soon he begins understanding the underlying cues being given off by a certain girl in his class and sets his sights on putting his newly-learned skills to good use.
Skill of Lure is a great romance manhwa with a heavy dose of comedy which makes it quite likeable from the get-go. An interesting aspect of Skill of Lure is the way in which it is written – While Sung Gi learns how to socialise better, readers are also given fairly detailed breakdowns of the concepts which inform the lessons Sung Gi learns. In that way, Skill of Lure doubles as a self-help book which briefly covers the nature of social interactions in addition to giving us great art, funny characters and a romance story that feels amazing to see come to a close the way it does.
---
6. DICE: The Cube That Changes Everything

Manhwaga: Yun Hyun Seok
Genres: Fantasy
Volumes: 255+
Published: July 2014 - Ongoing
What would you do if you could change your fate? Dongtae is a short, timid and unattractive high school boy who has a crush on Eunjoo, the most popular girl at his school. He has always been relentlessly bullied, shunned and dehumanised by the people around him, but she… she's different. When a transfer student named Taebin enters the fray, Dongtae's unrequited love bites differently as the near-perfect new kid asks her out. Jealous, Dongtae decides to stalk Taebin, hoping to find something suspicious. While spying on him, Dongtae finds a strange die and rolls it. He is surprised to realise he has become a "Dicer," a person who performs quests in order to earn dice which are then rolled and converted into points that can be used to boost one's own attributes. Excited for the prospect of a better life, Dongtae doesn't realise the darkness behind the cubes.
DICE is an action-packed manhwa which explores the greed of humankind but also what humans do when cornered. Things take a dark turn very quickly in this story and it becomes incredibly difficult to put down. Visually striking and psychologically alluring, DICE is a beautiful way to begin one's own manhwa journey because of the layered plot and decent characters, but mostly because of the intensity of it all from the very beginning. Don't be shy, take a gamble on DICE; it might turn out to be the manhwa equivalent of rolling two sixes.
---
5. Oh! Holy

Manhwaga: Ahyun
Genres: Comedy, Romance, Shoujo, Supernatural
Volumes: 107+
Published: October 2016 - Ongoing
Jamie Oh is a reserved high schooler who has been able to see ghosts for as long as he can remember. Unfortunately for him, he sees them so clearly and so frequently that he only befriends ghosts. So when the most popular girl in his class, Joo Holy, randomly speaks to him one day, Jamie is completely shocked! Not to mention the fact that Jamie and Holy have met before – they were childhood friends and promised to travel the world together! Now that they have met up in high school, they have a lot of catching up to do, but is it really that simple?
Oh! Holy is a really good dose of positivity in the form of a manhwa. The characters are quite likeable, especially Holy, who is energetic, enthusiastic and honest; contrasting Jamie's reserved nature. The art is also really good and it adds to the good vibe emanating from each panel. It is also quite humorous and much of the comedy comes out of misunderstandings, confusion and the odd supernatural presence! All in all, Oh! Holy is a really adorable comic about two people desperately trying to be each other's friend, but could there possibly be something more to it?
---
4. The Breaker

Manhwaga: Park Jin Hwan (Art), Jeon Geuk Jin (Story)
Genres: Action, Comedy, Drama, Martial Arts, School
Volumes: 72
Published: June 2007 – July 2010
Yi Shi Woon lives a pretty unfortunate life at Nine Dragons High. He is bullied and beaten every single day, but one day, a man named Han Chun Woo witnesses one of these incidents but doesn't help Shi Woon at all – instead he calls him a coward for not standing up for himself. Soon after that incident, Shi Woon is surprised to find out that Chun Woo is the new English teacher at his school. In an attempt to learn self-defense, Shi Woon enrolls at a martial arts school and on his way back, Shi Woon sees Chun Woo in a violent situation of his own. Chun Woo quickly dispatches his attackers and Shi Woon catches it all on camera, using the footage to blackmail Chun Woo into teaching him how to fight. Chun Woo agrees, introducing Shi Woon to the dark and dangerous world of martial arts. Will Shi Woon survive?
The Breaker is easy to identify almost immediately as the type of manhwa that bears all the markers of a Shounen work. With the weak and unassuming main character meeting someone who will mould him into someone formidable, The Breaker gives us something we've seen in anime and manga countless times and for that familiarity, it becomes an instantaneous starter recommendation. The art is also impeccable, meaning that if the lure of a Shounen-type story with a Shounen protagonist isn't enough, the art does amazingly at capturing attention.
---
3. Noblesse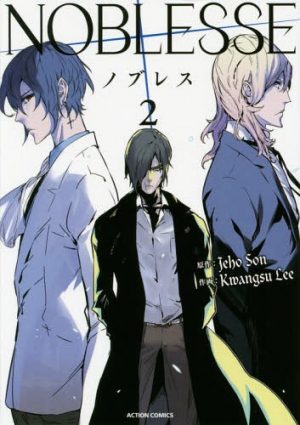 Manhwaga: Son, Jae-Ho (Story), Lee, Gwang-Su (Art)
Genres: Action, Adventure, Comedy, School, Supernatural
Volumes: 531+
Published: Ongoing
Cadis Etrama Di Raizel is a vampire of noble lineage who wakes up from an 820-year-long sleep, finding himself in modern day Korea. He starts a new life as a student, attending the high school established by his loyal servant, Frankenstein. However, the time for peaceful class attendance is short-lived as a mysterious group known as the Unions begins to threaten the peace in a society that has long forgotten about the existence of phenomena such as these.
Noblesse is an epic vampire story with loads of action and lore behind each page. The art is some of the best you'll see put together on a weekly basis and the manhwa has a run not unlike some of our favourite Shounen titles. With a hefty amount of chapters and characters, Noblesse presents an incredibly addictive start to a manhwa-reading journey. Again, the art is excellent – so much so that it had to be said twice.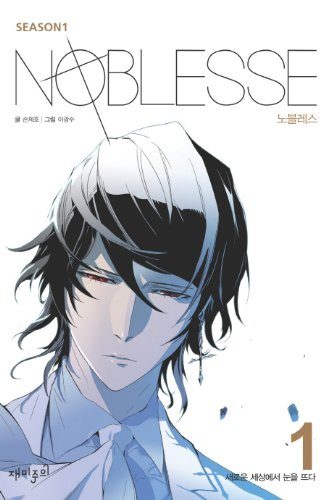 ---
2. Lookism

Manhwaga: Park Tae Jun
Genres: Action, Comedy, Drama, Supernatural
Volumes: 200+
Published: November 2014 – Ongoing
Park Hyun Suk is an overweight and unattractive boy who is constantly bullied and abused at school and he wishes things could be different. When his mother witnesses him being bullied, she refuses to stand for it and sends him to another town, where something strange happens: he wakes up one day to find that he has a second body, one that is attractive, tall and athletic! Maybe things are finally turning around for him… but is it really that simple?
Touching on topics from bullying to gang warfare, stalking, religious extremism and themes like friendship and romance, Lookism is one of the most interesting stories put together because of the sheer variety of stories and characters. The plot is interesting enough to prompt one to pick it up and read it but the way in which the characters are so beautifully crafted in their interactions and in their personalities makes it an incredibly special manhwa and a definite starter manhwa. The story is incredible and yet each arc is only really an extension of the main theme of the entire manhwa: the privilege that comes with beauty.
---
1. The God of High School

Manhwaga: Park Yong Je
Genres: Action, Adventure, Comedy, Fantasy, Martial Arts, Sci-Fi, Supernatural
Volumes: 380+
Published: April 2011 – Ongoing
17-year-old Jin Mo-Ri is a young Taekwondo specialist and high schooler who claims to be the best fighter in Korea. When a mysterious blonde-haired man invites Jin to a martial arts tournament known as "The God of High School", Jin agrees only after finding himself knocked out by the blonde in a single blow. Soon, Jin Mo-Ri learns that there is much more to this tournament than he initially thought.
Martial arts tournaments, insanely powerful characters and a strange conspiracy underpinning it all – The God of Highschool is an action-packed story of epic proportions! At over 300 chapters, the series' long run and large readership is testament to its brilliance. The Shounen elements are obvious and anyone who even mildly enjoys Shounen anime and manga will definitely like this!
---
Final Thoughts
With so many titles to choose from, choosing a starting point can seem extremely daring, but that's why we're here – to show you exactly what you're missing out on! Manhwa has a particular feel to it that makes it unique and a somewhat different experience to reading manga. A definite frustration is being unable to watch something that you've read because most of these brilliant stories aren't being animated – but enough doom and gloom, what other manhwa do you think would be perfect to start? Drop a comment below and tell us all about them!
---