También puedes leer este artículo en:Español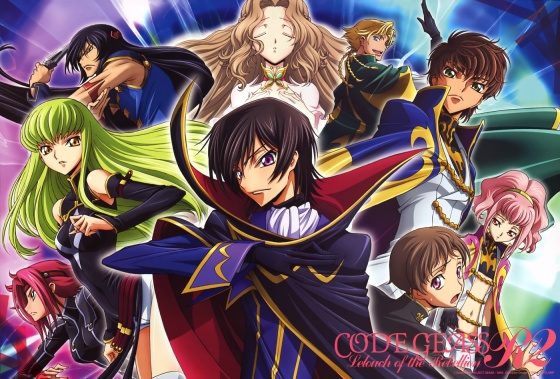 What You Need to Know:
A while back, we brought you our top ten picks for anime produced by Sunrise studio - now, Japanese fans have had their say!
Akiba Souken held a poll from March 8 to April 8 to find out which Sunrise anime had the most fans online, receiving a total of 1,576 votes.
So, how did fan picks from Japan compare with ours? Did your favourites make the list? Let's find out!
---
Top 10 - Top 6
---
10. Mobile Suit Gundam Seed / 39 votes
9. Kyoukaisenjou no Horizon / 42 votes
8. Cross Ange: Tenshi to Ryuu no Rondo/ 43 votes
7. Mobile Suit Gundam: Iron-Blooded Orphans / 44 votes
6. Danshi Koukousei no Nichijou / 45 votes
---
Top 5 - Top 1
---
5. Aikatsu!
Episodes: 178
Aired: October 2012 to March 2016
Synopsis
An idol's brilliance illuminates the dreams of humanity. Starlight Academy, a holy ground for celebrities in training, seeks to realize this belief. Behind its rigorous entrance requirements lie not only the top young stars in the entertainment business, but some of the best memories these students will ever have.
Or so Aoi Kiriya believes. Alongside her best friend Ichigo, Aoi decides to apply for the prestigious private school in hopes of living up to the praise of the biggest idol in the world: Mizuki Kanzaki. As they journey through the numerous laughs, friendships, and heartbreaks that await them, can the two girls light up the lives of others as Mizuki has done for them?
Whether it be chopping down Christmas trees, traversing obstacle courses, or even rock climbing, there's always a playful new adventure to be found in the world of Aikatsu!.
(Source: MAL Rewrite)
4. Accel World
Episodes: 24
Aired: April 2012 to September 2012
Synopsis
The year is 2046. Haruyuki Arita is a young boy who finds himself on the lowest social rungs of his school. Ashamed of his miserable life, Haruyuki can only cope by indulging in virtual games. But that all changes when Kuroyukihime, the most popular girl in school, introduces him to a mysterious program called Brain Burst and a virtual reality called the Accel World.
(Source: VIZ Media)
3. Code Geass: Lelouch of the Rebellion
Episodes: 25
Aired: October 2006 to July 2007
Synopsis
In the year 2010, the Holy Empire of Britannia is establishing itself as a dominant military nation, starting with the conquest of Japan. Renamed to Area 11 after its swift defeat, Japan has seen significant resistance against these tyrants in an attempt to regain independence.
Lelouch Lamperouge, exiled prince of Britannia, unfortunately finds himself caught in a crossfire between the two nations' armed forces. He is able to escape, however, thanks to the timely appearance of a mysterious girl named C.C., who bestows upon him Geass, the "Power of Kings." Realizing the vast potential of his newfound "power of absolute obedience," Lelouch embarks upon a perilous journey as the masked vigilante known as Zero, leading a merciless onslaught against Britannia in order to get revenge once and for all.
(Source: MAL Rewrite)

2. Love Live! School Idol Project
Episodes: 13
Aired: January 2013 to March 2013
Synopsis
Otonokizaka High School is in a crisis! With the number of enrolling students dropping lower and lower every year, the school is set to shut down after its current first years graduate. However, second year Honoka Kousaka refuses to let it go without a fight. Searching for a solution, she comes across popular school idol group A-RISE and sets out to create a school idol group of her own. With the help of her childhood friends Umi Sonoda and Kotori Minami, Honoka forms μ's (pronounced "muse") to boost awareness and popularity of her school.
Unfortunately, it's all easier said than done. Student council president Eli Ayase vehemently opposes the establishment of a school idol group and will do anything in her power to prevent its creation. Moreover, Honoka and her friends have trouble attracting any additional members. But the Love Live, a competition to determine the best and most beloved school idol groups in Japan, can help them gain the attention they desperately need. With the contest fast approaching, Honoka must act quickly and diligently to try and bring together a school idol group and win the Love Live in order to save Otonokizaka High School.
(Source: MAL Rewrite)

1. Gintama
Episodes: 201
Aired: April 2006 to March 2010
Synopsis
The Amanto, aliens from outer space, have invaded Earth and taken over feudal Japan. As a result, a prohibition on swords has been established, and the samurai of Japan are treated with disregard as a consequence.
However one man, Gintoki Sakata, still possesses the heart of the samurai, although from his love of sweets and work as a yorozuya, one might not expect it. Accompanying him in his jack-of-all-trades line of work are Shinpachi Shimura, a boy with glasses and a strong heart, Kagura with her umbrella and seemingly bottomless stomach, as well as Sadaharu, their oversized pet dog. Of course, these odd jobs are not always simple, as they frequently have run-ins with the police, ragtag rebels, and assassins, oftentimes leading to humorous but unfortunate consequences.
Who said life as an errand boy was easy?
(Source: MAL Rewrite)
Source: Akiba-Souken
---
This is so different from our list! Do Japanese fans not appreciate Cowboy Bebop?!
There seems to be a lot more lighthearted anime on here for sure... But check out that jump in votes between 3rd and 2nd place!
---
[ad_dfp position="bottom1" unit_pc1="true" unit_pc2="true" unit_sp1="true" class="mt40"]