INTRODUCTION
The future is an unknown concept. Everyday people wonder what awaits mankind in the next ten years or even hundred years. Thus it's not surprising that manga have delved into what our future could hold if a terrible incident or series of incidents were to befall upon the denizens of the world. That is why we at Honey's Anime have tapped into our latent potential to find manga that examine the darker side of what our futures can hold. Today we look at the top ten apocalyptic manga.
Our list of apocalyptic manga brings us into a wide range of different stories that are infused with multiple elements to allow for an excellent read. Some of the apocalyptic manga below are tales of humanity going astray from the normal morals and some look at possible viral outbreaks that lead to the horror that is zombies. We here at Honey's Anime have made sure to find the best of the best apocalyptic manga and have ranked them accordingly. The world of apocalyptic manga may seem bleak but we're sure you'll enjoy reading about these terrifying but exciting tales that show the struggle humanity could face in a maybe not so distant tomorrow. Thus without further delay let us dive into this list of world altering events.
10. Green Worldz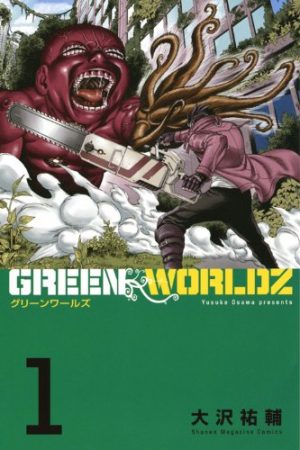 Mangaka: Oosawa, Yuusuke
Genre: Action, Drama, Horror, Sci-Fi, Supernatural
Volumes: 8
Published Date: Dec, 2013- Feb, 2016
Plants, not only do they provide us beauty but they can also be forms of sustenance, as well. However, in the year 2017 plants are beginning to take over the world. Retreating underground, humans have found temporary means of survival in the harsh underground subways but resources are beginning to dwindle. Urabe Akira and a few of his friends might only be high schoolers but they plan to show they can fight back against the plant menace. The tale of man versus plant begins here.
The mangaka Oosawa Yuusuke may have made a seemingly odd story but it works so well in his manga titled Green Worldz. The concept in Green Worldz is what will keep readers hooked. Incorporating a nice mixture of horror and action, readers will be blown away by amazing art and some interesting creatures based on plant like creations. Green Worldz is a scary reality of what could happen if plants truly decided to fight back against the humans who have treated them so poorly. We bet now you'll be weary of stepping on a helpless plant in the future,
---
9. Dolly Kill Kill

Mangaka: Kurando, Yukiaki- Nomura, Yuusuke
Genre: Action, Horror
Volumes: 9
Published Date: Aug, 2014- Present
Dolls shouldn't be anything more than poseable creations of either porcelain or wood. This reality changes dramatically however when wasp like beings and odd giant weapon wielding dolls appear on Earth. Iruma Ikaruga isn't about to let these dolls called "Dolly" win as he fights back armed with only an iron pipe. The fate of humanity now rests on this young man's shoulders in this odd tale titled Dolly Kill Kill. Who knew dolls could be the end of the human race?
There are a lot of people in the world that are deathly afraid of dolls and puppets. It's for that reason alone that Dolly Kill Kill by Mangakas Kurando Yukiaki and Nomura Yuusuke is a perfect setup for an end of the world horror tale such as this. Each page of Dolly Kill Kill will keep readers hooked in this apocalyptic setting that seems too surreal to even be plausible. Besides enjoying this intriguing story, readers will find the art very cool all while having a disturbing feel ensuring you don't forget this is a horror story. Overall we highly recommend Dolly Kill Kill if you need your apocalyptic manga filled with something that has a real life phobia added to it.
---
8. Biomega

Mangaka: Nihei, Tsutomu
Genre: Action, Horror, Sci-Fi, Seinen
Volumes: 6
Published Date: Jun, 2004- Jan, 2009
In a distant future an odd infection has already begun spreading across the world. Dubbed the N5S infection, once a man or woman is infected, they begin to change. Their once normal body begins to mutate and deteriorate and their minds become zombie-like. Zouichi Kanoe alongside his trusty AI companion Fuyu Kanoe are tasked by Toha Heavy Industries to find humans who seem to be immune to the effects of N5S. What awaits Zouichi and Fuyu in this desperate struggle to save humankind?
Biomega is a strange tale indeed. In many ways this is a spin on the typical zombie like apocalyptic scenario but with added elements of sci-fi as well as action. Mangaka Nihei Tsutomu is known for his brilliant art style from his other popular work Blame and Biomega stands to be another brilliant example of using simple dark themes in such an amazing way. Biomega will be a definite choice for readers who need a good element of sci-fi with their apocalyptic setting. Oh let us mention there is a literal bear who can talk…yeah we know you're interested even more now.
---
7. 51 Ways to Save Her (Kanojo wo Mamoru 51 no Houhou)

Mangaka: Furuya, Usamaru
Genre: Action, Drama, Romance, Sci-Fi, Seinen
Volumes: 5
Published Date: May, 2006- Aug, 2007
It should have been a normal day, a normal job orientation. That's what Jin Mishima thought at least as he started the day hoping that he could be hired by a well-known TV station in Odaiba. Parallel to Jin is a young woman by the name of Nanako Okana who also believed today would be pleasant as she headed to a concert her friends gave her a ticket to. However, both Jin and Nanako will find their lives shattered when an earthquake, the largest ever in Japan, turns the island into nothing but a ruined landscape. Watch as these two learn the true levels of humanity when survival becomes first and foremost in a person's life.
The idea of an apocalypse is made worse when humanity becomes the biggest threat. 51 Ways to Save Her by Mangaka Furuya looks at people's thoughts on self-preservation and that alone is a terrifying idea. 51 Ways to Save Her boasts an awesome story filled with life like characters and very strong art. Readers will be amazed at seeing the ideals that truly plague the current society of the world set in apocalyptic manga. If you're looking for a more possible apocalyptic event that could transpire you'll enjoy 51 Ways to Save Her.
---
6. Fort of Apocalypse (Apocalypse no Toride)

Mangaka: Kuraishi, Yuu- Inabe, Kazu
Genre: Action, Mystery, Horror, Sci-Fi, Shounen, Psychological
Volumes: 10
Published Date: Sep, 2011- Aug, 2015
In most zombie stories, the characters witness the world falling apart around them as humans become infected right before their eyes. Fort of Apocalypse changes the game up. Yoshiaki Maeda has just been convicted of murder despite being innocent and framed for it. Yoshiaki is thrown into Shouran Academy Juvenile Detention Center, where he finds himself in more chaos as the prison is dealing with hands vying for power in a desperate internal battle. However, outside the prison the world is facing a power struggle as well in the form of a deadly outbreak of zombies. Fort of Apocalypse story begins when a van arrives at the prison filled with those soon to become zombies themselves.
Zombie apocalypse stories are a dime a dozen if we're being honest. However, the mangaka Kuraishi Yuu and Inabe Kazu infuse a unique take on the starting point of the typical zombie story. Both zombies and humans are drawn incredibly well making each page of Fort of Apocalypse something utterly stunning. The addition of the jail setting also creates a very claustrophobic feeling of impending danger in Fort of Apocalypse. We here at Honey's Anime already are scared of a possible zombie apocalypse but now we're scared of being stuck with possible zombies in any small area thanks to Fort of Apocalypse.
---
5. Cage of Eden (Eden no Ori)

Mangaka: Yamada, Yoshinobu
Genre: Action, Adventure, Ecchi, Fantasy, Shounen
Volumes: 21
Published Date: Nov, 2008- Jan, 2013
A simple field trip that should have been full of laughter and joy turns deadly in Cage of Eden. Sengoku Akira, the resident class clown and his friends find their fun days over when their plane crashes leaving Akira and his class stranded on a strange island. At first it seems as if the island is normal but soon Akira and his friends learn the deadly secrets the island is carrying. Akira will have to change his whole personality if he hopes to help his friends survive the dangerous of this island they are now residents of. With no way to contact the outside the world and facing this strange island trails, Akira can only wonder what is happening beyond the island.
You may wonder why is Cage of Eden by Mangaka Yamada Yoshinobu is on a list for apocalyptic manga when it seems to be just a survival story. Well to avoid spoilers we can't reveal why exactly but we can say that this so called survival story is truly hiding many layers of an apocalyptic theme in each volume. As the story progresses revelation after revelation will be shown to the readers and trust us you'll be surprised. Strong art, a strong story filled with mystery, some ecchi for mild fan service, and a plot twist you'll want to read to believe all combine to easily make Cage of Eden one of the best apocalyptic survival manga out there. Seriously though that revelation always gets us, it's that good folks.
---
4. Alive- The Final Evolution (Alive: Saishuu Shinkateki Shounen)

Mangaka: Kawashima, Tadashi- Adachitoka
Genre: Adventure, Sci-Fi, Shounen, Supernatural
Volumes: 21
Published Date: Oct, 2003- Feb, 2010
Taisuke Kanou is living a normal high schooler life. Then one day during class Taisuke has an odd vision. What seems like a different universe floods his vision and as fast it happens, it's over. However on his way home from school, a young girl commits suicide in front of him and Taisuke's first thought is how he wishes that could happen to him. The odd thought that hit Taisuke isn't just a lone incident inside of him, various people of the world are beginning to be hit by similar phenomena and it only gets worse. Humans begin to think of only two thoughts, killing themselves or evolving. To those who choose the latter what exactly will happen to them? Find out in Alive- The Final Evolution and witness the apocalypse brought on by a changing society.
Evolution is a means for survival for any species on Earth. In Alive- The Final Evolution, the concept of evolution brings with it a twisted take on survival. The mangaka Kawashima Tadashi and Adachitoka bring this concept to life with a tag team in the form of a strong story and strong art. Readers will love how each volume and chapter bring forth a slew of emotions to the reader as Alive-The Final Evolution reaches an epic climax. You'll enjoy every second of reading Alive- The Final Evolution and don't worry there's no need to thank us later.
---
3. 7 Seeds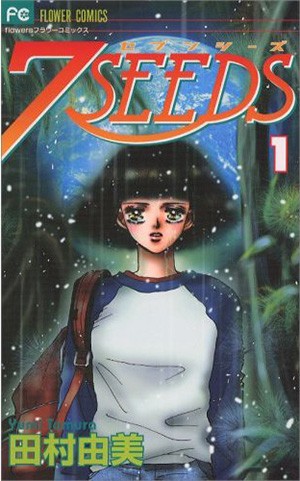 Mangaka: Tamura, Yumi
Genre: Action, Adventure, Mystery, Drama, Horror, Romance, Sci-Fi, Shoujo, Psychological
Volumes: 33
Published Date: Oct, 2001- May, 2017
The world has been hit by a gigantic meteorite. Most life on Earth has been obliterated. However, the government was aware this was a possibility. Taking several sets of men and women, they are frozen to hopefully preserve some life. When these humans eventually awaken, they discover the world has not gotten better but only worse. Survival has become even harder for those who survived the original destruction of the world.
7 Seeds has been a long running story. Spanning thirty three volumes, this apocalyptic manga has a vast amount of detail in not only its story but its theme development. Mangaka Tamura Yumi has really crafted an amazing manga through and through showing a scary possible future that has been feared by billions in the real world setting as a possibility. 7 Seeds will definitely become your favorite manga because of all the elements it casts and how each one is handled. Your mind will begin to really believe is the government really prepared for this type of even in the real world?
---
2. Eden: It's an Endless World!

Mangaka: Endo, Hiroki
Genre: Action, Drama, Sci-Fi, Psychological, Seinen
Volumes: 18
Published Date: Sep, 1997- Jun, 2008
The world is ushered into chaos one day when something horrifying happens. Fifteen percent of the human population is killed off by a secret organization named The Propater, as they begin to take over the world in the ensuing chaos. Two young kids, a boy and girl are raised in an imprisoned state because of an immunity to the virus that was used by The Propaters are attacked by said group but are able to escape. Twenty years pass and the boy has grown to be a powerful drug lord. Using his influence he helps his son escape The Propaters who are still chasing after him despite the time passage. The son now must fight for his father to take down The Propaters once and for all.
Eden: It's an Endless World starts with the apocalyptic concepts already in play. Readers will have several different plots thrown at the reader nonstop and you'll enjoy every single one fully. Created by Endo Hiroki, Eden: It's an Endless world is filled with gnostic mythology and deities to really allow for a unique setting. The story stands even stronger because of its original and interesting concepts used. If you have been wanting an apocalypse tale that stands on its own as being truly unique, we fully recommend Eden: It's an Endless World.
---
1. 20th Century Boys

Mangaka: Urasawa, Naoki
Genre: Mystery, Drama, Historical, Sci-Fi, Psychological, Seinen
Volumes: 22
Published Date: Sep, 1999- Apr, 2006
Kenji Endo is horrified by his friend's, nicknamed Donkey's, sudden death by suicide. Kenji believes it has to do with a cult by a man named Friend who leads itthat has been trending . As Kenji begins to delve into the cult he learns that secretly this cult is actually an organization that has big plans in place. Not only are they aiming for a world take over, they also want Kenji and his friends dead by any means. What is really going on and why is the case? If you seek the answers you will have to travel alongside Kenji in 20th Century Boys.
Rated highly, it's no surprise 20th Century Boys by Mangaka Urasawa Naoki takes the top spot on this list. 20th Century Boys is one of those manga that makes you constantly question every detail you learn in each chapter. Strongly well done art, a gripping story of political conspiracies and a good apocalyptic set up allows for most to enjoy 20th Century Boys from beginning to end. You will want to read this and we at Honey's Anime want you to read this as this is a true testament to an amazing apocalyptic manga. Morale of this manga though, beware of delving too far into the unknown.
---
Final Thoughts
Outlandish as some of these tales may be, they are ideals that mangaka have made to ensure the readers' enjoyment. While the future stands to be an unknown realm of what ifs, that doesn't stop people from creating wonderful works that give form to those possibilities of the world falling apart. We at Honey's Anime hope you enjoyed this list and would love to hear your comments below in regards to it. Did we perhaps miss a good recommendation or did we get it right? Let us known down below and make sure to stick to Honey's Anime for some more amazing lists.
---