I have to confess that I'm from the old school anime generation. My first exposure to anime was when I was a child. One day, I turned on the TV and there was Mazzinger Z. The plot of the series and that kind of drawing was something that I had never seen before, and I was completely fascinated. I remember that because of the violence degree, sometimes my parents didn't allow me to watch the show. Years passed by and Robotech came to my life. I know it isn't Japanese anime, but the style was really similar and it's based on Macross. I was totally addicted to Robotech while it was aired.
Sadly, all the most popular anime of the 90s were too childish for me. But everything changed by the beginning of the new century, the internet was here to stay. I realized that Japanese Anime was a whole new and different world. It was complex, deep and wide, and I wanted to explore it as far as possible. I found out that not only were there anime series, but also movies, and I discovered Ghibli and fell immediately in love.
Luck was by my side and in 2010 I moved to Japan to study for a Master's Degree on a scholarship. Once there, the beast that lay inside me woke up, and I started to watch anime like there was no tomorrow. So it wasn't easy, but here is my Top 5 anime list!
5. Crayon Shin-chan

Episodes: Currently Airing
Aired: Apr 1992 – now
"Do you like green peppers?" has become my favorite pick-up line. If you know what I'm talking about, we can be good friends and enjoy watching Shin-chan together.
In spite of the main character being a child, Crayon Shin-chan is not for kids, the humor is mainly adult-targeted and a little bit nasty. Shinosuke (Shin-chan) is a pervert, naughty and barely bearable, but there's some childish innocence in him that makes him look cute.
This isn't a common anime, many times while watching it you may feel you're watching a soap opera. The plot is about the daily life of 5-year-old Shinosuke, Misae and Hiroshi, his parents, and Himawari, his baby sister. The show is hilarious, full of awkward moments caused by Shin-chan's mischievousness; like the "elephant" gag.
Being everyday life humor, you can somehow connect with the Nohara family and eventually, they'll become part of your family too. The characters aren't superheroes with superpowers. They're just humans living their daily life.
Shin-Chan came to my life when I was living in Japan, since the anime wasn't aired in my country, even though it was dubbed into Spanish many years ago.
Shin chan - Season One
---
4. Kuroshitsuji (Black Butler)

Episodes: 24
Aired: Oct 2008 – Mar 2009
The 4th place goes to the anime starring the best butler you'll ever find: Sebastian Michaelis. He's the coolest, sexiest, and most stylish character in all anime history. Ok, I'm probably overreacting, but I'm a big fan of Sebastian.
Ciel Phantomhive is "the Queen's Guard Dog" being in charge of investigating many strange events occurring around her majesty. He and his loyal butler will do anything to accomplish their job. But the relationship between Ciel and Sebastian is far more complex than a simple butler and his lord. A few years ago, Ciel sold his soul to Sebastian, who is actually a demon, in order to get revenge for those who killed his parents.
I wouldn't recommend it if you are just looking for fun or killing time watching anime. From the very beginning, the atmosphere is so dark, and the plot is so twisted and deep, that you'll need to pay attention to every detail, and trust me, it isn't hard to do because it's captivating.
---
3. Neon Genesis Evangelion

Episodes: 26
Aired: Oct 1995 – Mar 1996
This anime marked my debut in the anime world in my adulthood. I discovered Neon Genesis Evangelion in the mid 2000s, almost 10 years after its release. But it took me only three days to completely watch it. It was like a drug, and I liked it. With Evangelion, I reached a point of no return.
The anime is set in the year 2015, when the world is about to be destroyed. The only hope of salvation lies on the agency NERV, and their Evas. The Evas, giant robots controlled by compatible pilots who must synchronize with them, are the only ones capable of defeating the Angels. Shinji is a 14-year-old boy who receives a call from NERV to be a pilot of an Evangelion, which actually can only be controlled by certain chosen 14-year-old pilots.
This is the initial premise, and you can say that it isn't very original. But starting from here, things get more and more complicated. Even though the most spectacular scene of every episode is the Eva fighting an Angel, this part sometimes is relegated to the background, because the most interesting is the characters' psychology. Shinji really doesn't want to be a hero; we can see and feel his daily mental struggle.
The end of the anime is a little bit disappointing and confusing, but thankfully, the OVA titled "End of Evangelion", rectifies it. It basically tells what actually happened during episodes 25 and 26 but from a point of view placed outside Shinji's mind.
---
2. Nana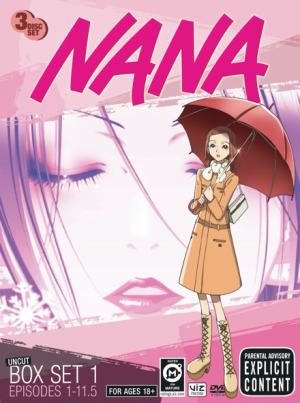 Episodes: 47
Aired: Apr 2006 – Mar 2007
If we are talking about josei anime (anime aimed at adult women), Nana is a must. I can tell that Nana is THE josei anime.
Nana Komatsu has moved to Tokyo to be closer to her boyfriend, with whom she has been with in a long distance relationship for a year. On her way to Tokyo by train, she meets Nana Osaki, a young woman who, although she shares her name, is almost her nemesis. While Nana K. (called also Hachiko) is innocent, naïve and insecure, Nana O. is a cool punk rocker with a strong character. Looking for a place to live, the paths of both women cross again and they decide to share the floor. Soon they begin a friendship that will change their lives forever.
The series of 47 episodes was aired until March 2007, but due to the author's illness, both manga and anime were canceled and remain inconclusive. Thousands of fans have been left with a bittersweet flavor in our mouths, wanting to know more about Nana and Hachiko's lives.
---
1. Shokugeki no Soma (Food Wars! Shokugeki no Soma)

Episodes: 24
Aired: Apr 2015 – Sep 2015
This is the newest anime on the list, and you may wonder how it managed to rank in the 1st position. The answer is easy: it's an ecchi anime about food… god made this anime for me! Not only is it about food, but also about cooking, and in addition provides the recipes for the dishes.
Yukihira Soma, a 15-year-old boy, has been working in his family's restaurant since he was a child. One day, his father decides to close the restaurant for a while and go to work around the world. Before departure, Soma's father enrolls his son in an elite cooking school named Tootsuki Culinary Academy. Overconfident about his cooking skills, Soma warns the rest of his classmates that he'll defeat all of them. But he doesn't know that all of them want to be the best.
The art and the animation of the show are just brilliant. The way the food is presented and displayed is magnificent, you can follow the whole cooking progress and feel the passion for food just like the characters do.
Another particular feature of this anime is that the main character is not the typical shounen protagonist. Yukihira is determined to be the best, he is arrogant, and by far, he doesn't seem to show any love interest for any of the female characters. Speaking of which, the two main female characters are like day and night. Megumi Tadokoro is clumsy, shy and tries to go unnoticed. At a first glance there is nothing special about her. However, she perfectly completes Yukihira, and together they make a good team. As the anime progresses, she will become confident about her skills and begin to stand out from the other students. Erina Nakiri on the other hand, is the typical tsundere girl, also known as "God Tongue". She is the granddaughter of Tootsuki's director, and a high level chef. She's the perfect rival for Yukihira, and every time they meet, you can breathe the tension in the air.
But without a doubt, the best of this anime are the "foodgasm" scenes. Those are the characters' reactions when tasting delicious food. If you remember Meg Ryan in When Harry met Sally, that was nothing compared to Shokugeki no Soma.
I highly recommend this anime if you are a food lover, and if you aren't, at least give it a try. This is an anime that offers something different.
TV anime "Shokugeki no Soma" PV
---
As you may see my top 5 is quite varied; it goes from mecha to ecchi, and from demons to chef candidates. But this top fits me really well, and I'm happy with the result. Anime is a whole universe where everyone could find their own glass slipper. I hope you enjoyed the reading as much as I enjoyed making my own personal ranking. If you agree with me in some of your favorite anime, please leave a comment and I'll be happy to reply to it.