Action, blood and some cute anime girls? Is that what men love the most or have we got them all pegged wrong!? This list is all the things men/guys like and it is the five best anime genres for men by men. ''huh!? , only for men? So if I'm a girl I should not be reading this?'' Of course not. I would say when it comes to anime genres in my opinion, most, if not all, the anime genres for men, also work for the ladies and vice versa.
I believe it is really good to check out all of the different genres of anime, because there is always something for someone in each of the different styles of story telling. So stick around, sit down, take a sip of that coffee, and find out the 5 best anime genres for men.
1. Horror

Horror is first up on our list of anime genres for men. Tokyo Ghoul and Attack on Titan are both two superb anime when it comes to horror. But before we go deeper into "why", we would like to say a few words first about horror itself.
I believe that Horror makes it's way really easy onto this list. Well, because a manly man as myself, a couple of years back I started to really get into this genre. I would definitely say that anime has a different way of approaching horror in a very scary way. Especially, in the case of facial expressions, gore and blood. There is something that really creeps me out when watching a horror anime, but isn't that the point as well? I must say, it does that in a very good way, because I truly love horror anime, movies, games, etc.
It's that kind of entertainment that gets your heart beating faster, and for a brief moment, you feel alive. The thing that anime is good at is how the art style can change. You see a normal cute girl, and just like that, in an instant she turns into a ghoul and getting that creepy evil smile, etc. That is truly the thing that separates anime from, let's say a normal movie on the big screen. Of course, there is some scary movies as well, but when it comes to anime, it really has that special thing about creeping the hell out of it's viewers when it tries too.
Tokyo Ghoul
Episodes: 12
Aired: July 4, 2014 – September 19, 2014
Truthfully, there is a lot of anime that can fall under the horror genre, because many anime these days can have a lot of gore, blood, and potentially insane evil villains. One of the anime that I am watching right now is Tokyo Ghoul and it falls right under the horror genre because of all the blood, gore and horror scenes that every episode in the anime contains. In Tokyo Ghoul the horror is set in the story itself. It's about Ghouls living among normal humans in a modern life Tokyo, Japan. I believe it's a really great anime to get you started into the horror genre of anime. But be warned, I have also heard that they actually have censured the anime version a little from the original manga, which I just have to read when I am done with the anime.
Attack on Titan
Episodes: 25
Aired: April 7, 2013 – September 29, 2013
Attack on Titan, or as it's called in Japanese "Shingeki no Kyojin", is an anime that has a different take on the horror genre. Sure it has all the blood and gore in the world, but the real horror lies in the titans. I can't even begin to even try to describe the feeling you get when you see the anime, and you really feel the hopelessness of the characters in the anime.
When the titans get hold of one of the humans and there is no escape, that kind of horror really gets under ones skin. While watching the anime you will will empathize with the characters in attack on titan. Which let you take part of their truth, you have to fight or die. In addition I can't even begin to think of what the live-action horror film will be like.
---
2. Action

Action is maybe the most common genre when one thinks of anime for men/guys. I for one will not object at all to that, because one of my favorite anime is in this category. I do believe that action anime is the best because they're always combined with a little bit of drama as well. But what makes them shine is the action. On a different note, maybe that's why Hollywood produces action movie, after action movie. But when it comes to anime, action is something that works so well, and it's so thrilling and exciting to follow a good story about a protagonist who fights his way to achieve a goal.
Naruto Shippuden
Episodes: unknown
Aired: February 15, 2007 – ongoing
About action anime, well, there are too many of them out there so I will introduce the one and only anime that really made me go serious about the anime universe. That anime was Naruto and Naruto Shippuden. Back home in Sweden, I remember seeing a commercial for Naruto on a TV-channel called Z-TV, and not long after that my friend recommended me to watch Naruto and gave me some DVD's with the first 120 episodes. It didn't take long to get hooked, and that was it for me. I would say it was because Naruto in itself is a action anime, but also it has drama, comedy, superpowers, etc. But nevertheless, one hell of a great action anime to start the love for other anime.
Bleach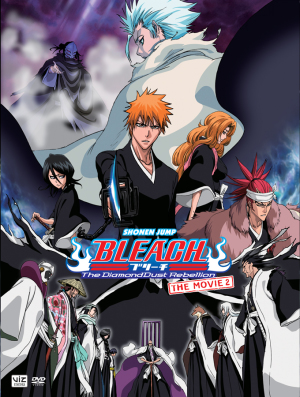 Episodes: 366
Aired: October 5, 2004 – March 27, 2012
One other anime for men that we are sure you will love is Bleach. In high school, I became friends with someone just by mentioning this anime. What can be more action oriented than slaying demons/Hollows? Anyhow, it's a very awesome anime that fits right into the action genre. Just like Naruto, it has a little bit of drama and comedy in it as well. But the main focus of the anime is action, with all the sword fighting and the thrilling story that Bleach has to offer.
---
3. Comedy

The next genre and anime for men/guys that we recommend is a no-brainer. It's comedy. I mean com'on, who doesn't love to laugh? Anime is so perfect for that reason. I know I am not the only one that loves the craziness of how a regular anime can surprise oneself with laughter by using that old funny bone. It's not difficult to come up with comedy anime to write about in this anime genre for men. I would say that my favorite comedy anime almost always has some part of a school life part.
Some of the things that make me laugh are when a main character gets a big surprise and the art style gets totally crazy in describing how insane that particular moment was. For example, when the main protagonist sees his roommate naked, which happens in most anime situations, but also with friends who really are too comfortable living together. There are just too many situations that can go so wrong in a comedy anime.
That's also the really good thing about comedy in anime. It can be crazy with all the jokes and people flying around in surprise. Even though it can be crazy with comedy, anime can still pull off comedy, and drama, because of the way in which it delivers.
The Pet Girl of Sakurasou
Episodes: 24
Aired: October 9, 2012 – March 26, 2013
I think almost all I described just now falls into the anime, The Pet Girl of Sakurasou. It's an awesome anime in the comedy and drama department. It will have you laughing instantly. It really has it's moments just like any great comedy show, movie, etc. It will surprise you in ways you were never prepared for, probably in a super awesome way. Even though it's a comedy anime, it also has a serious kind of storyline about school life and romance as well.
The Hentai Prince and the Stony Cat
Episodes: 12
Aired: April 13, 2013 – June 29, 2013
The Hentai Prince and the Stony Cat. That title says it all, it really gets one excited to check it out just because of the name. The anime itself is so great when it comes to the comedy genre, but also drama. The emotionless face of Tsukiko is one thing that really lifts the anime up in a comedic sense. It's a anime that leaves no room for surprise of what it's all about from the moment you start watching.
And I believe strongly this is one of the best comedy anime. Much because of the main protagonist Youto Yokodera. A young boy who, in secret, is a huge pervert and is always misunderstood. He makes a wish to the stony cat to be able to always speak his mind and never lie. What can go wrong with such a wish?
---
4. Game

Anime about playing a game is always really fun to watch and very interesting. It's so because in many anime like Sword Art Online for example, you have a futuristic machine that allows the players to really experience the gaming world. Imagine playing World of Warcraft, or something similar, with you as the character. It would be very addictive to play this type of game a game.
The interesting part is, what if you can't leave and you need to beat the game, or die in real life when your character in the game does. Anime about games is getting more and more popular. Just like regular games, it's really fun and exciting to watch while think about what oneself would have done in a similar situation. That is why the game genre is next in our list of anime for men/guys.
Sword Art Online
Episodes: 25
Aired: July 8, 2012 – December 23, 2012
How I began watching Sword Art Online is actually because of a friend who told me about it. Normally when someone says, "Oh! You gotta watch this one." At least for me, I never was able to sit down to actually watch it. I think it had to do with something about discovering it for yourself, so I looked around for a new anime to watch and I came across the name, Sword Art Online.
I became interested and started watching it. It's an awesome anime about a not so distant future where online games have jumped ahead in technology. The main story is about the online game, Sword Art Online, and to everyone's surprise, you can't sign off. If you die in the game, You die in real life. A truly exciting and different kind of anime.
Sword Art Online Trailer
No Game No Life
Episodes: 12
Aired: April 9, 2014 – June 25, 2014
No Game No Life is something I heard for the first time when I was in a book store, which sells video games, movies, anime, and so on. And I heard a bunch of guys talk about No Game No Life. I thought just the name sounded interesting and appealing, it is a great anime surrounding two siblings who are shut-ins who spend their time playing games. One day, they are summoned by a boy named ''God'' to an alternate world. In this world, God has banned war and has decided that everything in this world is determined by games. The two siblings, Sora and Shiro, must become the saviors of humanity. A really intriguing story about playing a game.
---
5. Adventure

Who doesn't love adventure!? It is an awesome genre and it is a perfect genre of anime for men/guys. You have so much in one awesome package. The main focus of an adventure is to actually enjoy the journey, and that is what the adventure genre in anime is all about. You get action, drama, and many other great moments in one package. I believe the most popular anime out there all have a great adventure in them. Also to think back and see how much the protagonists have learned during their adventures, is very interesting. With all great adventures, we wish so much that they never end simple, because it is such an awesome genre to be watching and to be a part of.
One Piece
Episodes: unknown
Aired: October 20, 1999 – ongoing
This takes us to the adventures of Luffy as a pirate in search for the great Pirate King's treasure, One Piece. It is an adventure anime about being a pirate and the search for treasure. Does an adventure need more than that? A funny and exciting anime for sure. An anime truly worthy of the adventure name and also extremely popular all over the world. This is a great anime for men!
Fullmetal Alchemist
Episodes: 64
Aired: April 5, 2009 – July 4, 2010
Fullmetal Alchemist: Brotherhood is the story about the famous alchemist, Edward Elric, also known as the Fullmetal Alchemist. He got his name from an alchemy accident in which he almost lost his little brother, Alphonse. Edward managed to seal his brother's soul into a large suit of armor. Even though he did save his brother's life, he paid a high price which costed his limbs.
I got to say, Fullmetal Alchemist is truly a favorite not only for me, but many others out there. It's truly a great story to be told and it's a really exciting adventure to be a part of anime for men.
---
There you have it, the top 5 anime genres for men/guys! Horror, action, Comedy, Game and Adventure. Of course, the examples for each genre are only a small taste of what each genre has to offer. So, I really recommend all out there to check out more anime for all the different genres. Be sure to comment on what genre you love the most.
---