For the past 20 years, Atsuko Tanaka has been one of Japan's leading female seiyuus. In fact, she found her way into the industry by accident. Originally, Atsuko Tanaka wanted to be a dancer but through her manager at the dancing group she was with, she was introduced to the Tokyo Announce Academy and her career took off from there. In addition to her work in anime and games, she serves as the official dub voice for Nicole Kidman and Monica Bellucci. If anything, this is probably thanks to her being recognized for having one of the sexiest voices on a Japanese poll. Though her voice is deeper and huskier compared to other notable female performers, Atsuko Tanaka is given roles that appropriately make use of it. So, what are some of Atsuko Tanaka's best roles in pop culture beyond dubbing famous actresses? Read our top 5 to find out!
5. Caster from Fate/stay night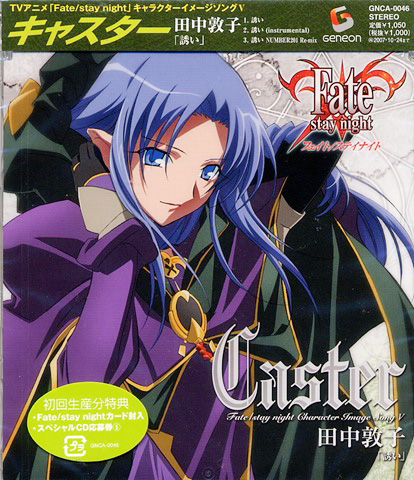 Episodes: 24
Air Dates: January 6, 2006 – June 17, 2006
Kicking off this list, we would like to start with Caster from the hit Fate series. What Caster has in common with other roles of Tanaka is that she can be morally ambiguous, but whatever she does, it serves some purpose. Tanaka's husky voice captures the character's sinister and somewhat sadistic personality, and some of her vulnerabilities. When it comes to her anger, audiences will also get a feel of how out of control she can get because this is a unique contrast to most of her other famous roles who tend to be calm and collected.
---
4. Trish from Devil May Cry

Platform: PS2
Publisher: Capcom
Developer: Capcom
Release Date: August 23, 2001 (Japan), October 16, 2001 (US)
From the world of video games, Trish in the Japanese version to Capcom's Devil May Cry series is the ultimate representation of Tanaka's talents. Tanaka has the voice that perfectly compliments Trish's buxom figure and her tough persona. She's someone who loves a good hunt, but in comparison to some of her other serious roles, as Trish, she is willing to show a more playful side by using that voice of hers to be teasingly seductive and talk trash. Though she enjoys working with Dante, Tanaka in the Japanese version shows that in the end, she's also an independent woman in her own right.
---
3. Nena Hagen from AIKa (Agent AIka)

Episodes: 7
Air Dates: April 25, 1997 – April 25, 1999
If you think what a woman wears is an excuse to try something on her, we dare you to try that line of thinking against Nena Hagen because when it comes to the tentacle genre, let's just say she's the aggressor in that sense. When it comes to being a villain, she can fight, use a gun, and is a top notch pilot. However, in comparison to let's say Kusanagi, Nena is more hinged due to her ODC protective nature of her brother. Tanaka shows more of her talents by showing that not only can she play independent and professional characters, but she is also capable of playing characters that have major dependency issues whose sadistic qualities come a close second to Mondo from Now and There, Here and There. When you compare this to her other roles, you can still recognize Tanaka's deep voice, but it is excellently used to apply Neena as an unstable villain.
---
2. Lisa Lisa from JoJo no Kimyou na Bouken (JoJo's Bizarre Adventure)

Episodes: 26
Air Dates: October 6, 2012 -April 6, 2013
When it came time to finally adapting the Battle Tendency arc of JoJo, Tanaka was more than the ideal choice to play Lisa Lisa. Not only does her voice balance her unbelievable age and beauty, she manages to portray the character's hidden maternal instincts and tough love for Joseph and Caesar, and that she's a master martial artist with the Ripple, a light manipulating technique meant to combat vampires. Lisa Lisa is someone who overcame adversity and does her best to live her life. She is also good at hiding her sadder feelings (since she has yet to tell Joseph that she's his mother), and Tanaka was perfect in the way she demonstrates those qualities.
---
1. Motoko Kusanagi from Koukaku Kidoutai (Ghost in the Shell)

Episodes: 1 (feature film)
Air Dates: November 18, 1995
If there's one role that made Tanaka a household name to international and domestic audiences alike, it's without a doubt the role of Motoko Kusanagi from Ghost in the Shell. In fact, a lot of people call Tanaka "Shousa," or "Major," in real life thanks to this iconic role. Tanaka initially played Kusanagi just less than two years into her career, and she masterfully captures the character's mystique and charisma. Thanks to her husky voice, she also has a grasp of how tough Kusanagi is and that she is more than capable of leading a squad of men, but leaves enough to also demonstrate her feminine qualities. Less than a decade later, she would return to the role in the Stand Alone Complex series which also further gave her the freedom to also portray the character's wry humor from the original manga. If you want to know Tanaka at her best, the Major in both the movie and the TV series is the role for you to learn from.
---
Final Thoughts
If you're someone who likes femme fatales, then the roles of Atsuko Tanaka are certainly what you're looking for. Many female seiyuus tend to use a higher pitch voice for comedy, or because they're teenagers. For the roles of Tanaka, you're getting characters who aren't only sexy, but independent (who don't need no man) and effective leaders. For some people, what's hotter than that? Thanks to her performance, Atsuko Tanaka manages to convince you that those characters have those qualities and more. In addition to our top 5, what are some of you favorite roles of Atsuko Tanaka? If you got any, please leave a comment!
---