For over 25 years, Maaya Sakamoto has been successful as a voice actress and as a singer. And the crazy thing is, she's not even 40 yet (at least upon the initial drafting and uploading of this list)! She's been in the industry since she was 12! Somehow, she still found time to attend Tokyo University where she majored in sociology. In addition, she happens to be married to a fellow seiyuu, Kenichi Suzumura, and they happened to co-star in numerous anime together. As for Sakamoto, we give you what we think are her best 5 roles!
5. Motoko Kusanagi from Koukaku Kidoutai: ARISE Alternative Architecture (Ghost in the Shell: ARISE -Alternative Architecture )

Episodes: 10
Air Dates: April 5, 2015 – June 14, 2015
Starting off this list, we have the Major in the ARISE edition to Ghost in the Shell. What makes this entry distinguishing is that this isn't the first time that Sakamoto has played her. She played the young Motoko in the original 1995 movie and in Stand Alone Complex! Considering that this series feels more like an origin story to Section 9, it contextually feels appropriate to cast her for the role. As Kusanagi, Sakamoto lives up to Atsuko Tanaka's performance by capturing the character's serious and professional demeanor. Not only that, she also masterfully demonstrates Kusanagi's charisma and still has the same commanding presence as her predecessor. Not only did Sakamoto grow up, you feel that Kusanagi grew up with her as well.
---
4. Honey Kisaragi from Cutie Honey Universe

Episodes: 12
Air Dates: April 8, 2018 – June 24, 2018
As opposed to the huskier voice of the Major in ARISE, Sakamoto appropriately and effectively uses a higher voice to play an android who takes the identity of a high school girl. What's also ironic is that she co-stars with Atsuko Tanaka, the original voice of Kusanagi, who plays Sister Jill, the main villain. Their chemistry both as partners (with Sister Jill working undercover as a police inspector with Honey) and as arch-rivals enhances each other's performances. As Honey, not only do you feel her charms as the popular girl, but you also feel her sense of justice and how she care for her friends. As ordinary Honey, Sakamoto finds a great balance of capturing an unassuming demeanor as a high school girl but when she's Cutie Honey, she brings a sense of confidence that a superhero requires.
---
3. Secret Sanders from Cobra the Animation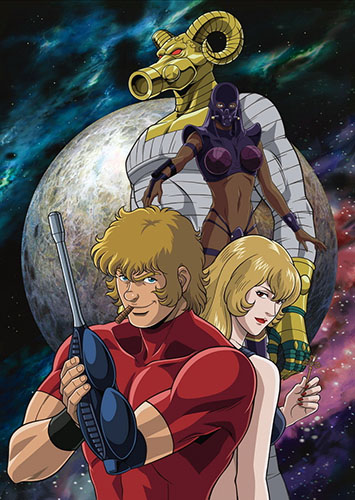 Episodes: 13
Air Dates: January 2, 2010 – March 27, 2010
In this edition to the pop sci-fi classic, audiences get a different side to Sakamoto. As opposed to being the sweet school girl or the serious soldier (who is something of a femme fatale), as Secret, you get the femme fatale of the James Bond variety. She may wear a thong bikini but don't let the way she dresses fool you because she happens to be a brilliant scientist, and Sakamoto does a great job of using a deep voice to make her both intelligent and seductive. Since she's not physically capable of defending herself, Sakamoto also does a great job of conveying she wants nothing to do with Cobra's shenanigans at first but eventually finds herself that with her knowledge, she can still be of contribution and become more confident. As Secret, audiences can feel that she truly cares about her work as a scientist and all she wants is to make the galaxy a better place, but once she finds herself in trouble, she comes to fall for Cobra's unconventional charm and willing to play his game once she knows the rules.
---
2. Mari Illustrious Makinami from Evangelion Shin Gekijouban: Rebuild of Evangelion: 2.0 You Can (Not) Advance (Evangelion 2.0: You Can (Not) Advance)

Episodes: 1 (feature film)
Air Dates: July 27, 2009
Mari may be of controversy to some viewers but when you listen to her Japanese performance, she is a rather unique role compared to Sakamoto's overwhelmingly large body of work. Sakamoto has played teenagers, soldiers, and mech pilots but Mari is a different kind of extremity in contrast to her other famous roles. She's unorthodoxly eccentric and demonstrates an unusual enthusiasm like Henge from Attack on Titan. In comparison to some of her other teenage roles where she has a high pitch voice, as Mari, she tends to speak with a crazier and deeper tone, and her personality just brings a different kind of comedy as opposed to Misato occasionally getting drunk. Her character may feel out of touch, but Sakamoto's portrayal of Mari shows she can play characters who are eccentric, but just a few fuses short of let's say Haruhi Suzumiya or Haruko from FLCL.
---
1. Hitomi Kanzaki from Tenkuu no Escaflowne (The Vision of Escaflowne)

Episodes: 26
Air Dates: April 2, 1996 – September 24, 1996
At number one, we have Sakamoto's breakout role as Hitomi from Escaflowne. Not only does she play the main character, audiences also get a feel of her singing talents when they listen to Yakusoku wa Iranai, the opening theme. It was thanks to this role that she had a long collaboration with Yoko Kanno. As for the role of Hitomi, it shows that thanks to Sakamoto being a teenager upon the broadcasting of the series, she plays the role not just convincingly to someone of Hitomi's age, but play someone who has to grow up fast in a completely new world but still stays true to being emotionally vulnerable. Thanks to her performance, you genuinely feel Hitomi's fear, curiosity, and her heart torn between Allen and Van. When you start from this role to where she is now, it gives you an amazing perspective of how she has both changed and hasn't changed at the same time these past 25+ years.
---
Final Thoughts
We understand that our top 5 may not be your best 5. So, if there are any other picks, please leave a comment!
---