For a fairly standard action harem series, Sekirei is surprisingly well known, and fairly well rated, perhaps due to the fact that it provides exactly what a good action harem serious should: decent fight scenes, a fun and easy to follow the story, and of course fan service every other minute. Some years since it's the last release now, it's unlikely that we'll see a Sekirei season 3, but the original two seasons plus OVAs boast plenty of great content, and with the manga now finished, you can turn to that for a perhaps more conclusive ending.
So with the series containing a significant serving of fanservice, we've put together another Top 5 Ecchi Scenes list, this time for Sekirei. Not a subtle show by any stretch, Sekirei likes to go straight from fully clothed, to nothing-but-panties in under a second, so look forward to plenty of bouncing chests and thick thighs in our list of the Top 5 Sekirei Ecchi Scenes.
5. Quite The Finale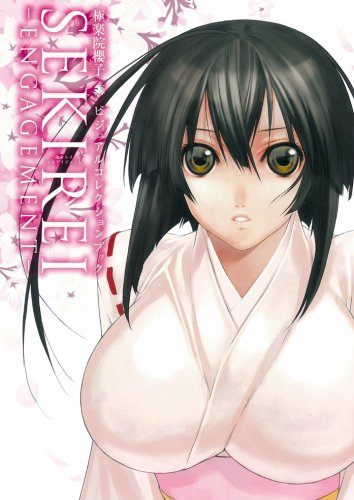 Episode: Season 1, Episode 12
Being both an action and an ecchi series, clothing doesn't tend to last very long in Sekirei. In fact, Musubi seems to require a new outfit just about every episode, which if nothing else sounds rather expensive. So of course, the longer the battle, the more comes off, and the series finale has by far the longest fight of all. After they broke the rules of the Sekirei Game, Musubi and Minato are caught in a standoff with the Disciplinary Squad on the outskirts of town, and there's no turning back.
This scene actually extends from episode 11 through to episode 12, with Musubi getting all torn up in the second half of 11, and so starting off in 12 with nothing but her panties on. As always, Musubi makes little attempt to cover her modesty throughout, which we suppose is, for once, reasonable given the gravity of the situation. But later on, when her true strength is revealed, she demonstrates a surprising competence for one handed fighting, using the other to cover her chest. Though really you need more than one arm to cover something of that size. Seeing the usually unabashed Musubi bothering to show some modesty is if nothing else amusing.
---
4. Fighting Fit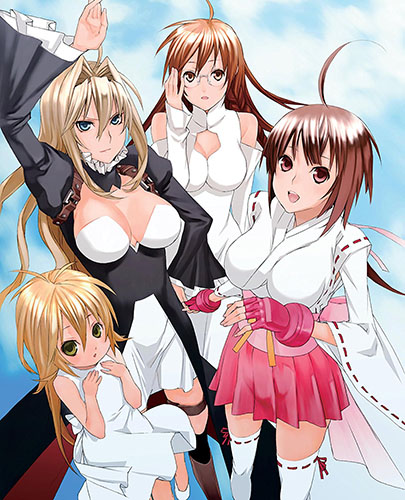 Lacking any and all story related relevance, ecchi OVAs are often plotted scarce, but rich mines of fan service and Sekirei's is no different, with almost half an hour of cute girls in cute outfits, or no outfit at all. The first part of the OVA features a trope normally reserved for school based anime: the annual health check. All the Sekirei in the city has been called to a neutral zone for a checkup, to make sure that they're in a tip-top fighting condition we suppose. Or perhaps it's to get their BWH measurements for important science reasons. Yes, very important science reasons.
The health check up gives all the girls a good reason to slip into something more revealing, in this case, a pink bikini, to get measured up. This scene is nice because we get to see some characters in an ecchi situation who often aren't, like flat, pink haired Disciplinary Squad member Benitsubasa or watery ojousama Tsukiumi. The highlight of this scene is poor Musubi getting all tied up when one of the other girls decides to take her measurements, which Tsukimi quite rightfully points out, is basically just S&M play. At least, we don't think they need to pull the measuring tape quite that tight.
---
3. It's Always Bath Time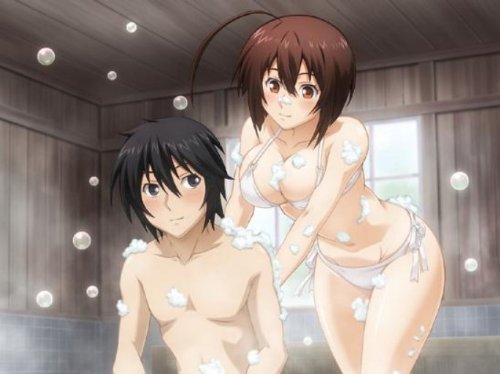 Episode: Season 2, Episode 4
When the series isn't sure how else to fit fan service into an episode, Sekirei never fails to slip in a bath scene, with every other episode seeming to have at least one. While these scenes are, surprisingly, used for the girls to have some of the more serious discussions in the series, they're also a place for naked fun times and comparing sizes. More often than not it's Musubi who's taking the spotlight, though somehow about half the heroines in the series end up in the Izumo Inn bath at some point.
There are several reasons why this is overall such a good episode: firstly the bath scene isn't just one scene, but lots of scenes throughout, giving this possibly the highest bathtime to episode length ratio in the series. Secondly, it features the three biggest busts in the series: Musubi, Tsukiumi, and Kazehana, a powerful combo. Finally, we get to see a very embarrassed Homura trying to hide his/her new female body from the other girls. Does Homura count as a trap? Maybe. It's a very complicated situation, but it is pretty cute.
---
2. Beach Chicks

Yeah, yeah, we've already had this episode, but honestly, it's just so good. Although Sekirei has a lot of ecchi, it's generally quite spread out, which is what makes this OVA so different. Before, we had the physical examination, but now it's beach time with Sekirei's obligatory seaside scene. Every ecchi series must have one (it was decided at some meeting a while back I hear), and Sekirei is no different. In fact, if you count the bath scenes, beach scene, and hot spring scene, Sekirei has managed to cover pretty much every water based ecchi trope in the book. If only there was a school pool.
There are two parts to the beach half of this episode: one part on the beach, and one in the hot spring hotel they're staying at. At the beach, we get to see the normally indoors type Matsu, as well as big sister Uzume and super loli Kuu hanging out in their bathing suits, which are pretty darn cute. Afterward, we follow poor swimsuit-less Musubi and Tsukiumi, along with some of the other girls to the hot spring, where towels are dropped, and all is laid bare. Overall this is wet and wonderful double dose of watery fun.
---
1. Good Morning Indeed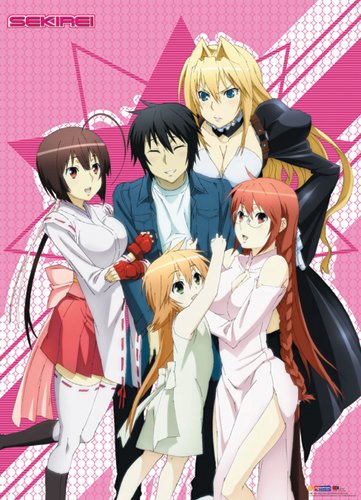 Episode: Season 1, Episode 5
As nice as it is having someone to wake up next to, I imagine having three people waking up next to you might be a bit warm in the summer. As Minato's harem increases though it's become something somewhat unavoidable, with him being fairly powerless against the girls' unrelenting advances. The most recent addition in this case is super hacker Matsu, who despite being a hikikomori is one of the only girls who seems to be fully aware of how to use her womanly wiles to charm a man, as many of the others seem to have a slight excess of air in their heads when it comes to the art of seduction.
The scene itself is a fairly short one, but a good'un, with Minato waking up alongside Musubi who's wearing a high schooler's gym clothes, and Matsu in a pink babydoll (and Kuu being cute off to the side). Trying to get a step ahead of the other girls with her new master, Matsu leans in for a good morning kiss, only to find that rather than Minato, Musubi is the unlikely recipient, and the two share a pretty special moment together. We thought it was special anyway. Although Musubi is unfazed by the whole thing, Matsu is left with some interesting, yuri thoughts, and frankly so were we.
---
Final Thoughts
Sekirei is, if nothing else, a very fun series. The ecchi and fanservice are definitely there, but it doesn't feel as reliant on it as some other shows and is fairly comfortable with focusing almost purely on storyline when it wants to, as well as having plenty of cute and funny moments with characters like Kuu and Miya the inn owner. It might sound like we're leaving the ecchi trail behind a bit here, but we consider this a good thing. Sometimes ecchi is most delicious not as the main course, but as a side dish to something else, and Sekirei is a good example of that.
So what did you think of today's scenes? Anything you remember here, or that's tempted you to check out the series? Perhaps you're a manga reader and would prefer to weigh in from that perspective? We'd love to hear what you think, so be sure to leave us a comment down below!
---