También puedes leer este artículo en:Español
I would say one of the most funniest and serious anime I've seen have been with the main protagonist being a shy or weak male that encounters a strong female that changes his life somehow for the better... In most cases. Sekirei is an anime that will have you thrown into the world of Japanese anime in a serious and funny way. I have not read the manga but I have watched similar anime like Sekirei and I must say I have started to become a fan of those. The funny thing though, my recommendations for fans who like Sekirei is quite wide and different.
Similar Anime to Sekirei / Similar Anime to Wagtail
1. Infinite Stratos (IS)

Episodes: 12
Aired: January 7, 2011 – April 1, 2011
In a not so distant future a exoskeleton called Infinite Stratos, brought peace to the world. A combat suit that could only be used by women until one day when Ichika Orimura, a 15-year old boy, enlist in the school for training to pilot the Infinite Stratos. In an all girls school, Ichika must train to become a Infinite Stratos fighter.
The similarities with Sekirei is a boy surrounded by very strong women, and he must learn from them to get stronger. And it's a weak young boy who gets ordered around by these girls. The genres are in the same class and the story is similar, but yet the opposite. Instead of super powered girls, they have super powered army suits that work in similar ways to fight.
Infinite Stratos OP
---
2. Akikan! (Empty Can!)

Episodes: 12
Aired: January 4, 2009 – March 29, 2009
Akikan is a different anime about a boy named Kakeru Daichi. One day he drinks a Melon soda and when his lips touch the can it magically transforms into a girl. And not long after that, more girls start to appear and they must battle each other until one winner remains.
A different kind of anime that is really funny and very similar to Sekirei. It has a weak lonely boy who encounters a strong woman with some kind of super power. And she needs to fight other women similar to her.
Akikan OP
---
3. Hyakka Ryouran: Samurai Girls (Samurai Girls)

Episodes: 12
Aired: September 4, 2010 – December 20, 2010
The anime is in a alternative version of Japan called, Great Japan. Where the Tokugawa Shogunate remain in power. And the story takes place in a school at the base of Mt. Fuji, where children of military families train to become samurai warriors. The story takes place where a power struggle between Yukimura Sanada and Matabei Goto of the Toyotomi faction and the powerful student council that rules the school.
This anime is similar in many ways, it's both in the genre of ecchi and with powerful girls that use an old fighting style. The main character is a strong male and is surrounded by powerful girls all the time. Thing that is different is the art style, which I personally was really surprised at, but love very much. I can definitely recommend this anime to those who want something similar to Sekirei, but also a bit different in a really good way.
Hyakka Ryouran: Samurai Girls OP
---
Any Animes Like Wagtail / Any Animes Like Sekirei ?
4. Highschool of the Dead

Episodes: 12
Aired: July 5, 2010 – September 20, 2010
Clear and simple it is a anime about a Zombie Outbreak in Japan at a high school, and it's about a few of the students who that survives the outbreak and it revolves around their survival when society collapses.
This has a more serious touch of ecchi. For me personally, I fell in love with this anime from the first shots of episode 1, because I love horror movies. I must say, anime zombies are quite different from tv-shows like, The Walking Dead. But it's a zombie anime with a touch of ecchi, and I love it.
Highschool of the Dead OP
---
5. High School DxD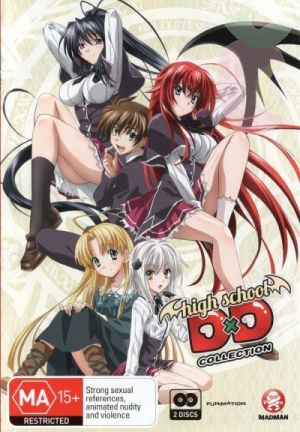 Episodes: 15
Aired: July 3, 2009 – June 25, 2010
This anime takes place at the Kuoh Academy, an all-girls school which turned co-ed recently. Normal students in this school are unaware there are angels, fallen angels and other devils. Issei Hyodo is a second-year student at the school. After a normal school day, he is asked out on a date by a girl, Yuma Amano. Who is a fallen angel and kills him. Rias Gremory, also a student at the school, uses a summoning card to revive him. The next morning, he wakes up with her and she tells him that he has also become a devil and she is his new master.
A very interesting anime which similar in many ways to Sekirei. The genres are both ecchi and it revolves around a weak younger boy who meets a powerful girl who isn't scared of taking charge. The stories are quite similar, as well as the way the characters fight too. A must watch for fans of both ecchi and people who want something similar to Sekirei.
High School DxD OP
---
6. Date A Live

Episodes: 12
Aired: March 31, 2013 – June 16, 2013
Date A Live is an original story about Itsuka, a high school student who witnesses a so called, space earthquake. This happens all over the world and in order to save everyone from more disasters he needs to make these spirits (girls) fall in love with him.
This anime is similar in the way of, yet again, a strong woman. Itsuka's younger sister is the big boss and his mission is not to join the ranks of the other girls who fight, but to make the enemy fall in love with him. I felt a very warm feeling from this anime. It is more lovey-dovey, because of the cute atmosphere Itsuka's younger sister gives throughout the anime. Sekirei and Date A Live are very similar but also very different.
Date A Live OP
---
All of these anime are special in their own way and I would think if you feel that Sekirei seemed interesting, then I can promise the other anime that I mentioned will be very easy to fall in love with. Most of them have similar concepts and I personally both like and dislike the anime with the male being a weakling, but have strong girls who push them through the story in order to achieve a greater goal. It builds something different and makes for a lot of funny moments. And it's nice to see a strong woman for once, instead of the male always being the strong one.
---