As 2017 went by and new seasons of amazing anime await us in this 2018, we really need to look back a little and recall some wonderful shows that delighted our days in the past year. 2017 has been a year full of wonderful shows, but among all the genres that anime cover, there have been some explicit BL shows, and some subtler ones. Shounen-ai lovers and multishippers around the world sure enjoy seeing BL even where it's absent, but we must admit that some anime of 2017 really helped the fans ship characters. In this ranking, we'll talk about the beautiful shounen-ai anime that broadcast in 2017, and some BL-esque, less explicit, anime that sure implied bromance, or skin ship between two hotties. Fans of the genre, please, stick with us until the end!
7. Vatican Kiseki Chousakan (Vatican Miracle Examiner)

Episodes: 12
Aired: July 2017 – September 2017
Let's start this ranking with Vatican Miracle Examiner, adapted from a josei manga by Rin Fujiki. This story revolves around Josef Kou Hiraga and Robert Nicholas, a scientist and an expert in archives and cryptanalysis. This duo works as a team for the Vatican, and their job is to verify the authenticity of the miracles, and possibly uncover the mysteries hidden behind certain miracles.
Vatican Miracle Examiner is one of the subtle BL we mentioned up above. In fact, as it's an anime adaption of a josei manga, a lot of bromance and skinship is to be expected between the two main characters, who are church partners and very good friends. The fandom began to ship Josef and Robert, right because they tend to rely on each other a lot leading to many a homoerotic moment or scene, but since there's nothing explicit, we can consider this show as one of the BL-esque of the 2017.
---
6. Youkai Apartment no Yuuga na Nichijou (Elegant Yokai Apartment Life)

Episodes: 26
Aired: July 2017 – December 2017
Let's go from the Vatican, to an apartment full of spirits! Yuushi Inaba is an orphan, and when he was about to begin his high school life, and move in the school dormitory, it burned to ashes. Strapped for money, he miraculously found a cheap room in an old house, where even Akine – a high school girl – lives. Soon after, Inaba discovers the truth: that house is inhabited by supernatural creatures, as well. And Akine can even exorcise the evil spirits; not only that, she is absolutely unfazed by those monsters!
As Elegant Yokai Apartment Life was full of bishounen, it was unavoidable to see hint of BL throughout the entire show. Inaba is a character who get scared very easily, and struggles to accept the existence of the spirits. This leads to Inaba's continuous misadventures, where he frequently ends up crying non-stop, and clinging for example to his friend Mizuki Hase. Elegant Yokai Apartment Life is a show full of gags and comedy parts, yet the BL hints are all there for those who want to see them! That's why we believe it is worth mentioning.
---
5. Katsugeki Touken Ranbu

Episodes: 13
Aired: July 2017 – September 2017
It's the year 1863 and Japan is divided into two factions: the pro-shogunate one and the anti-shogunate one. An army of historical revisionists sent from the future threatens to alter the history, so in order to protect the real course of it, the spirits of some swords are brought to life. Kunihiro and Kanesada, who were both Toshizou Ijikata's swords, together with other amazing swords brought to life, fight together to maintain the balances of the world!
Thanks to a huge range of hot male characters, Touken Ranbu–either in its online game version, or anime–left room for some BL-esque thoughts on the fandom side. In fact, this show is full of hotties, who are brave warriors wielding swords. When they're not fighting, these hotties spend time together, doing normal stuff: drinking, playing around, and even acting uncool. All in all, Katsugeki Touken Ranbu is a real feast for the eye, above all for those who like subtle shounen-ai hints.
---
4. Spiritpact (Ling Qi)

Episodes: 10
Aired: January 2017 – March 2017
You Keika was a 23-year-old poor fortune-teller, and a computer mechanic part-timer. He died hit by a truck, and when he woke up in his spirit form, he was ten years younger. One night, You Keika met Ki Tanmoku, an exorcist, who was fighting against an evil spirit. After an escalation of events, Ki asks You to form a pact with him and become his spirit shadow, in order to fight the evil spirits together. But can You Keika really trust the mysterious exorcist?
Spiritpact was born as a Chinese webtoon, and gained so much popularity that it got an anime adaption. It's a shounen-ai show, full of comedy on one side of the coin and sadness on the other. Throughout the show, we can see You and Ki's mutual trust increase, and their relationship turning from a mere partnership, to a real friendship. And when push comes to shove, an even deeper feeling pops up. With its second season approaching, we suggest the shounen-ai lovers to catch up on Spiritpact! It won't fail you.
---
3. Shouwa Genroku Rakugo Shinjuu: Sukeroku Futatabi-hen (Descending Stories: Showa Genroku Rakugo Shinju)

Episodes: 12
Aired: January 2017 – March 2017
The former yakuza member Yotarou has finally become Yurakutei Sukeroku III, as he was charmed by the figure of Sukeroku. At the same time, he began to fake being Konatsu's husband, in order to save the appearances, as Konatsu is a single mother. The world of Rakugo is experiencing a crisis: the audiences is almost non-existent. Yotarou has now an important role: as the new Sukeroku he needs to live up to the expectations, with Rakugo and in the eyes of Yakumo, Konatsu and his son.
As Showa Genroku Rakugo Shinju was originally born as a josei manga, a subtle BL plot is to be expected. In fact, this second season of the show highlights what became of Yakumo's life during the years without Sukeroku. Despite being part friends and part foes, it's undeniable how the two had a mutual trust, and an even deeper affection toward each other. The unruly Sukeroku, even after his death, influenced Yakumo's life, until his death. It's very indicative how Yakumo began to see Sukeroku when he was near to his last days. This touching story depicts a relationship which is more than friendship, but less than love. We really love a show like this!
---
2. Hitorijime My Hero (My Very Own Hero)

Episodes: 12
Aired: July 2017 – September 2017
Masahiro Setagawa is a lonely teenager who is often used as an errand boy by his neighbors, who are bullies. With careless parents, he is sure no one will ever save him. When Kousuke Ooshiba – alias the "Bear Killer" – actually rescues Masahiro from the delinquents, declares him his "underling" and swears to always protect him. One year goes by, and now high school student Masahiro discovers that Kousuke is going to be his math teacher...
Hitorijime My Hero is an amazing yaoi manga, and the shounen-ai anime adaption is wonderful just as much. We see the relationship between Masahiro and Kousuke develop, slowly but surely. On one side Masahiro sees Kousuke as his own "hero"; on the other side, Kousuke feels like he needs to protect Masahiro. In the middle, a lot of events trying to separate the duo will test our protagonists, but love is love, and it's stronger than anything! Embark Masahiro, Kousuke and their friends' journey; we guarantee true BL contents!
---
1. Super Lovers 2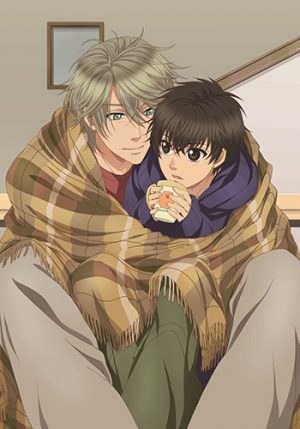 Episodes: 10
Aired: January 2017 – March 2017
Let's end this ranking with another amazing show! In this second season of Super Lovers, we saw what the cohabitation among the four Kaido brothers became. Aki and Shima started university and their part-time jobs, Haru opened a cafe, and Ren began to adjust to the high school life. But what happens when Haru's cousin enters the picture and tries to give Ren what Haru doesn't want to?
Super Lovers 2 is an amazing shounen-ai anime, which can easily pull the viewers heartstrings, as it's about abandon, loss, and marginalization among other themes. Haru and Ren have a big age gap, yet they are lovey dovey. In this second season we finally see how Haru actually treasures Ren, not wanting to lay his hands on him, out of consideration for his young age. Jealousy will enter the picture with Natsuo – Haru's cousin – who will try to draw Ren near. Misunderstandings, mild boy-on-boy action, tears and laughs characterize the entire show, so we can shout it out loud, Super Lovers 2 was the best BL anime of 2017. Catch it asap if you still haven't!
---
Final Thoughts
And so Super Lovers 2 puts an end to our ranking! How did you like it? These are the BL or BL-esque shows that gladdened all the fans of the genre during 2017. Mild boy-on-boy action, plain bromance, skin ship and much more is what these amazing shows gave us, and now we can't wait to see what other amazing BL and BL-esque shows this 2018 will bring us. We hope you enjoyed reading this ranking, and invite you all to share your thoughts in the comments below. See you next time!
---