1. Tsuritama Intro
Welcome back for another Anime Spotlight article. Continuing from the first article
I'd like to talk about another anime that you may or may not have heard of: Tsuritama. Just like last time I'll give you a brief introduction to the series, explain why you should watch it, and then direct you to a related or similar project.
Let's get started!
2. What is Tsuritama?
Tsuritama is show developed by A-1 Pictures that aired back in the spring of 2012. A-1 Pictures also developed other great anime such as: Black Butler, Blue Exorcist, Sword Art Online, Nanatsu no Taizai, and many more.
The show can be categorized under headings such as: sci-fi, aliens, and comedy. The show originally aired during the noitaminA (animation spelled backwards) block. Which basically means it aired at a particular Fuji Television programming block that was aimed toward a broader audience and not just toward the standard young male demographic. Now, what is Tsuritama's story about?
The basic premise revolves around a high school student named Yuki Sanada. He has always had trouble with public speaking. Most people consider public speaking as a time when you stand in front of a group of people and give a speech, say a few words about yourself, or give information for an activity or event.
However, Yuki also has trouble speaking to others one on one. He starts to sweat, he becomes flustered (which is dramatically animated as water rushing up to overwhelm him and prevent him from breathing), and his face contorts to what other students refer to as a "demon mask".
He desperately needs a change of pace and a fresh start.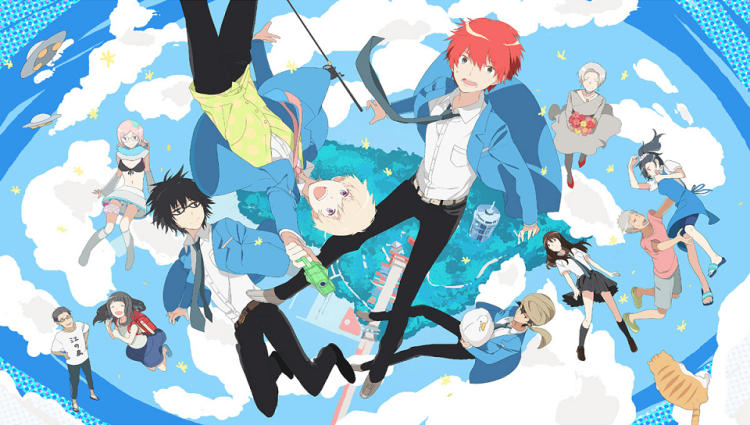 So, this boy relocates and moves in with his grandmother on the island of Enoshima.
Here he meets a strange boy named Haru who introduces himself as an alien. Haru moves in with Yuki and his grandmother which leads to an uncomfortable situation for Yuki. Someone who has trouble speaking to others now has to share a home with a boy he just met.
Through some strange circumstances he also befriends one of his fellow classmates and outstanding fisherman, Natsuki Usami. The three of them start spending time together when Natsuki agrees to teach them how to fish.
Of course, throughout this time Haru continues to act strange and stresses the importance of Yuki learning to become an excellent fisherman. Apparently, Yuki must learn how to fish and help Haru so that they can work together to save the world, at least in Haru's mind. Always hiding around a corner is a mysterious organization.
One member in particular, Akira Akargar Yamada, continues his surveillance on Haru and the others. It seems as though Haru may actually be an alien. He keeps a close eye on them and tries to figure out what exactly their intentions are. Haru's plans are unclear, but it's hinted that there may be something mysterious lurking in the water around Enoshima.
3. Why You Should Watch Tsuritama?
If the curious story is not enough to entice you, then here are a few other factors that'll tip you in its favor.
First off, the colors and animation draw you into the culture of Enoshima. They are vibrant, lively, and calming at the same time. They allow you to feel what Yuki feels when he first arrives there. You get the sense that this place is special, the people here are accepting, and you can start over and become a stronger person.
Speaking of growing as a person, Yuki's personal struggle is another reason to watch this show. He struggles with something that many people have trouble with. The physical embodiment of water trying to drown him perfectly exemplifies how someone feels when they can't express themselves and are overcome with the urge to escape the situation. Watching Yuki slowly develop as a person and fight against this phobia is captivating and inspiring.
Lastly, this is an anime about fishing! How many other anime focus on the art, sport, and discipline that is fishing? Not many.
Not only do the main characters bond over this activity, but it may also be the only way for them to save the world. Not to mention there is a moving scene where Yuki tries to master casting his line into a bucket during a dark and rainy night.
4. Future
This series does not have any animated sequels or movies. And that's just fine. This story stands strong on its own. I think it would actually take away for the uniqueness and brevity if it was followed up with additional story arcs.
But, if you become a fan of the show and enjoy the character designs then you may want to watch the new Digimon anime that will air this spring. Lead character designer Atsuya Uki worked on Tsuritama and will be a part of the team working on Digimon. More on that new series can be read here:
Just like last time I'll leave you with a few questions that I hope you'll respond to.
Have you seen this anime before? If not, do you plan to give it a try? Are there other anime that you feel were amazing shows but didn't get a sequel or the attention that the deserved?
Let me know what you think and comment below.