What You Need to Know:
It is pouring in Tokyo right now, but nevermind that, it's time for the weekly Light Novel chart from Honey's Anime!
Seishun Buta Yarou finally debuts! We were wondering when the enthusiasm for the series would drive sales of the light novel. The Sneaker LEGEND also rises up on the chart and we see the newest Konosuba as well as the original Imouto Sae Ireba Ii debut.
My Teen Romantic Comedy SNAFU falls down while other than that, it's all a slew of newcomers. Check them all out below!
---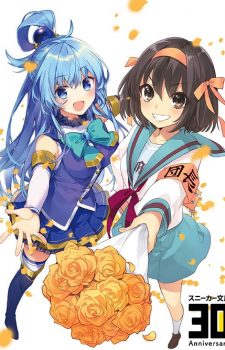 Seishun Buta Yarou wa Bunny Girl Senpai no Yume wo Minai
BLEACH Can't Fear Your Own World 2
KonoSuba (Kono Subarashii Sekai ni Shukufuku wo!) 15 Jakyo Syndrome
My Teen Romantic Comedy SNAFU (Yahari Ore no Seishun Love Comedy wa Machigatteiru.) 13
The Irregular At Magic High School (Mahoka Koko no Rettosei) 27 Kyuten Hen
Is It Wrong to Try to Pick Up Girls in a Dungeon? Spin-off: Ryu Gaiden
Chaos;Child - Children's Revive
Source: CD Japan
I just need a more risque cover for Seishun Buta Yarou! I already love the series.
Chaos;Child?! Has this ever been on a chart of ours ever?!
[ad_dfp position="bottom1" unit_pc1="true" unit_pc2="true" unit_sp1="true" class="mt40"]